In the Huddle: Q&A with Sam Joffray, President and CEO, Las Vegas Super Bowl LVIII Host Committee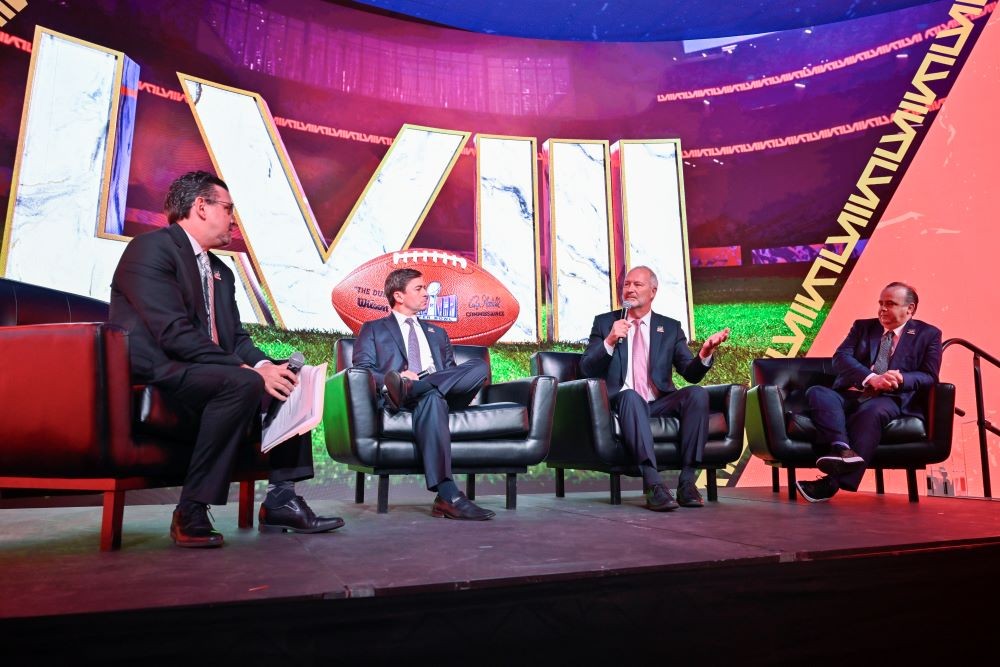 NFL Super Bowl Press Conference in August. Credit: David Becker
In 1995, Sam Joffray founded Concept Matters, an event and new media solutions company serving blue-chip clients including the New Orleans Saints, Louisiana Superdome and College Football Playoff Group. 
Through his relationship with the NFL Joffray has coordinated media solutions and technical services in the Super Bowl Media Center as an NFL vendor for the past 25 consecutive Super Bowls, starting in 1997 with the Host Committee for Super Bowl XXXI (31) in his hometown of New Orleans. 
Hired by the Las Vegas Convention and Visitors Authority (LVCVA) to coordinate Las Vegas's bid to host Super Bowl LVIII (58), Joffray now leads the Las Vegas Super Bowl LVIII Host Committee. Speaking with Meetings Today Senior Contributor Jeff Heilman ahead of the Big Game in February 2024, Joffray discusses the challenges, excitement and future opportunities that go with securing the first-ever Super Bowl for Las Vegas. 
Watch our exclusive video interview with Joffray at IMEX America 2023 below (timestamp 3:05) and read more details following.
Jeff Heilman: How did the Las Vegas bid come about?
Sam Joffray: There's a back story there. The 2024 Super Bowl was originally scheduled for New Orleans. I worked on that bid, my fourth working with the city in one way or another, including co-chairing the Host Committee in 2013. It was locked in, until the NFL Players Association's new collective bargaining agreement added an extra regular season game to the schedule. Bumping Super Bowl into Mardi Gras, which triggered fine print in the agreement that shifted the game to the next available date. I worked on getting the bid re-awarded for 2025, which will be New Orleans' 11th time hosting, tying Miami for the record. 
Leaving a hole in the 2024 calendar with only a two-year runway, there was no time for an exhaustive multi-city bid process. Having the requisite stadium, Allegiant, and host team, the Las Vegas Raiders, who collaborated on the bid, Vegas was on the radar and invited to bid exclusively.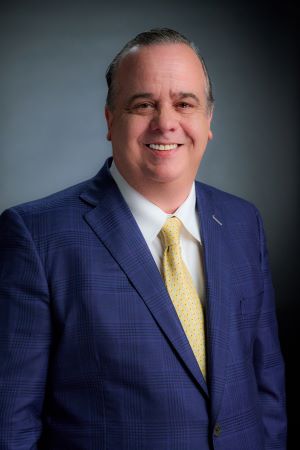 Jeff Heilman: A formality, given Vegas's global prominence for sporting and major events?
Sam Joffray: Not when it comes to the bid process. When I came on board, the LVCVA had already done significant legwork in building a relationship with the NFL through attracting the NFL Draft and Pro Bowl in 2022, and the latter again in 2023. While those were nice tee-ups, you still must check or exceed all the boxes on the 186-page bid document, which is where I came in. 
The bidding requires extreme diligence, with strict requirements to meet, often with negotiation, for the stadium, venue procurement, marketing, media, transportation, team hosting obligations and all else. The NFL has every opportunity to move on to another city—it was Vegas' to lose.
Jeff Heilman: All 32 NFL team owners approved the bid. What does that say about Vegas as a Super Bowl-capable city?
Sam Joffray: That's a good question, because hosting the first-ever Super Bowl in Vegas is about proving the concept. 
When making the case for Vegas in 2021, we lacked the usual key numbers you need when bidding on a Super Bowl. Because of COVID-19, no fans attended the Raiders' first season at Allegiant. That meant we had no data on traffic, police, security, ushers and other factors for a Raiders game, which are multiplied for Super Bowl. That was a big bid challenge. Now that we have that data, our job is to execute that first Super Bowl and establish Vegas' Super Bowl capabilities.
Learning and adapting are part of the planning process, which is a great luxury in a destination that manages major events year-round. From transportation and public safety models to venues and vendors, we are learning best practices as we go. That includes lessons from our counterparts at Formula 1 as they prepare for the Las Vegas Grand Prix in November. Not everything is the same or applicable between the events, but there are takeaways in common.
Learning curve aside, Vegas, offering 150,000 hotel rooms and millions of square feet of convention center space, has unmatched advantages. I don't know of another city that offers as much space and as many venues and options for hosting NFL fan and other events. 
In other cities, hotels are hotels, providing rooms and places for buses to pull in. In Vegas, the resorts are integral to the plan, from housing and security to transportation and event-hosting. They are the special event venues. Run by professionals who manage events year-round, these exceptional organizations are like cities within cities that form a portfolio of turnkey solutions for different elements of the Super Bowl. Working with them creates its own excitement.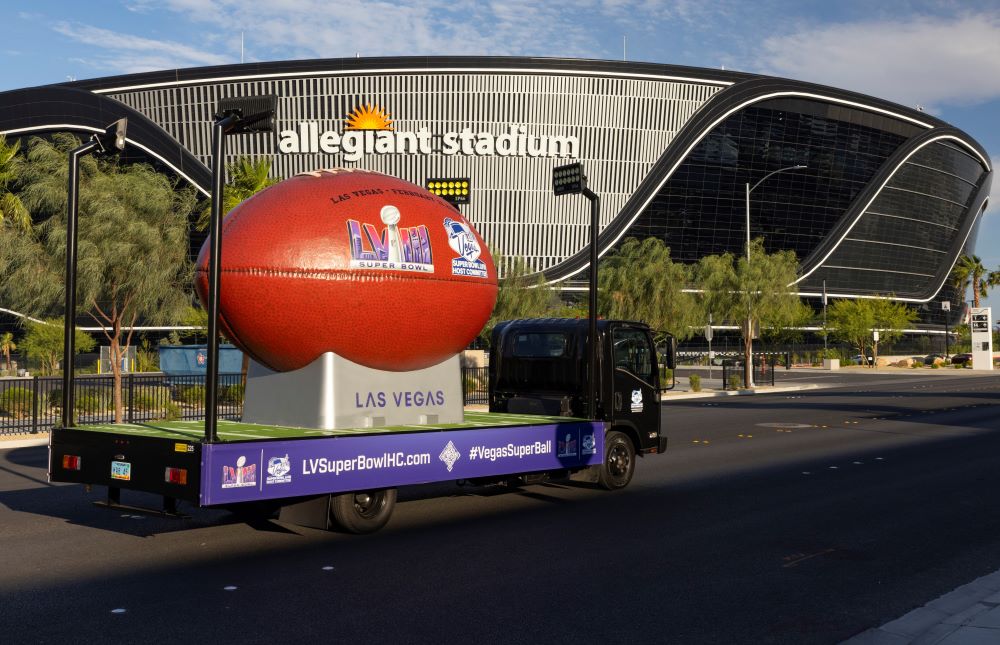 Jeff Heilman: Super Bowl planning must be monumental.
Sam Joffray: The Host Committee is formed as a 501(c)(6) non-profit organization as soon as the NFL owners award the Super Bowl. We sign the contracts with the NFL and are responsible for executing and making good on all the requirements, obligations and promises we made in the bid. Monumental is an understatement.
We have a core staff of 14 full-timers plus 11 subcommittees, each representing a chapter in the bid document. Each subcommittee chair or co-chair recruits 20 to 40 local experts to volunteer their time to solve all the different parts of the planning puzzle. These 300-plus professionals are the best and brightest at what they do. We meet monthly with each subcommittee to make sure we are going down the right paths and maximizing every efficiency we can. Much of our two-year effort, up to and through the Super Bowl, is focused on ensuring that Vegas and Nevada are well represented, and that the NFL delivers a great Super Bowl financially and operationally. 
We are also dedicated to efforts that directly benefit the Las Vegas community to ensure that Super Bowl happens for, rather than to, Las Vegas. These programs include partnering with the University of Las Vegas, Nevada (UNLV) and other entities to eliminate the unpaid internships that typically go with major sporting events. We pay our approximately 44 interns a decent hourly wage along with tuition for their time.
Through our Business Connect program, we have engaged some 200 local businesses, including those owned by disabled veterans, members of the LGBTQ community and other disadvantaged groups to make sure they get in on Super Bowl-related opportunities. The program incorporates seminars, workshops and certification assistance. We also work with the NFL on environmental and social justice initiatives.
[Related: How Los Angeles Planned and Executed Super Bowl LVI]
Jeff Heilman: This all sounds like a significant investment in future major event hosting in Las Vegas. 
Sam Joffray: That is precisely the case. Everything we design for Vegas' first Super Bowl has a legacy component. After recruiting thousands of volunteers and building up the database and all that knowledge, we want the door to be open for more Super Bowls, the Final Four, the College Football Championship and more. Business Connect, our fundraising mechanisms, and all other programs are part of ensuring that a new wave of major events follow the Super Bowl. We view ourselves as an incubator for future Host Committees. 
Jeff Heilman: It's the day after Super Bowl XVIII. How will you measure success?
Sam Joffray: I have two benchmarks. Firstly, we want all of Vegas, including the resorts, local businesses, Allegiant Stadium and other stakeholders, to say it was an awesome experience and that they want the Super Bowl back as soon as possible. And we want the NFL, owners, teams, sponsors and media saying the same thing. That's where we want to stick the landing on Monday morning.
We think of ourselves as wedding planners. Vegas is the bride, which makes us the father who pays for most everything! For years you could not say the NFL and Las Vegas in the same sentence, so there's a Romeo and Juliet element, too. After dating with the NFL Draft and Pro Bowls, this is the big wedding that should seal the deal between Vegas and the NFL.
Jeff Heilman: Last question: How does it feel to be back in the hot seat for your 26th Super Bowl? 
Sam Joffray: The chair feels new in many ways. I could have stayed in New Orleans and tweaked the plans for the city's 11th Super Bowl, but no way was I going to pass on the opportunity to author the plan for such a highly anticipated first-time Super Bowl in such a unique destination. The hospitality and networking here are next-level. The city is geared for success after the Vegas Golden Knights won the Stanley Cup this year. And remember, Vegas has a built-in audience of some 300,000 people who come here every year to celebrate the Super Bowl in sportsbooks, at watch parties and around town. Layering the actual game on top of that excitement is just one way that I think Super Bowl XVIII is poised to redefine the Super Bowl experience—and I am thrilled to be part of it. 
Read this next: IMEX America 2023: All of Our Event Coverage In One Place