5 Phoenix Offsite Event Venues Making Waves in the Desert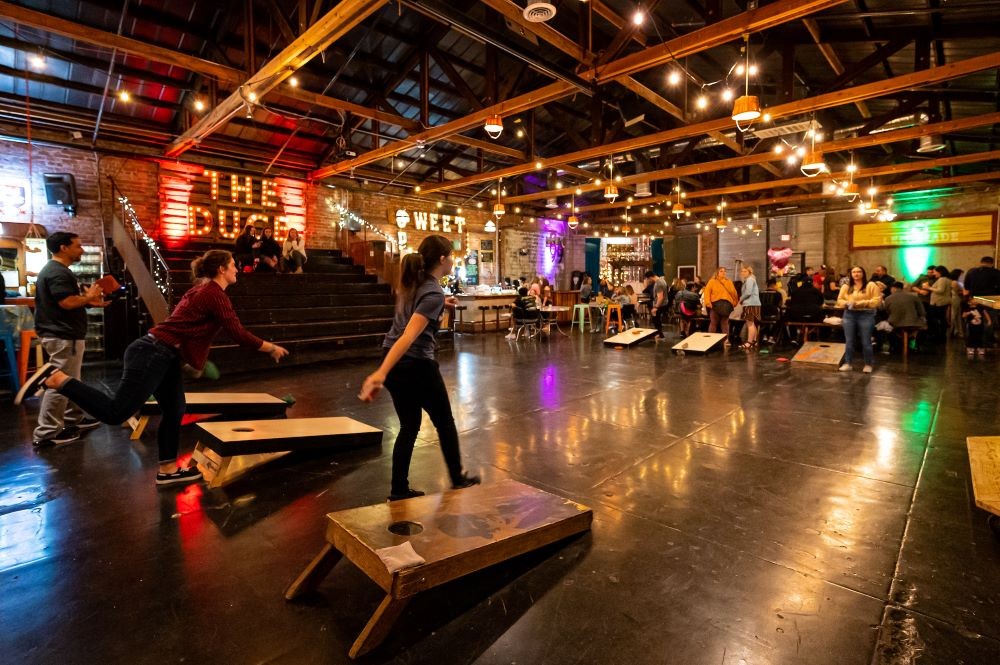 The Duce. Credit: The Duce.
Phoenix and its surrounding Valley of the Sun communities have grown by leaps and bounds in recent years, with Phoenix ascending to become the fifth-largest city and 10th largest metro area in the U.S.
Arizona's capital beckons a burgeoning tech industry to the "Semiconductor Desert," which is most recently evidenced by the new 36-acre Phoenix Bioscience Core in the heart of downtown.
Its top meetings properties have also undergone massive renovations, and new-builds such as The Global Ambassador, Fairmont Phoenix, Caesars Republic Scottsdale, VAI Resort and The Ritz-Carlton, Paradise Valley, are set to make big waves in the Valley.
[Related: Phoenix Is Enjoying an Economic Expansion That Is Fueling Stunning New Hotels and Renovations]
While the new-builds and major renovations at its iconic properties have seized headlines, meeting groups are always interested in the destination's signature event venue lures and eclectic districts such as Roosevelt Row, bursting with murals and local artwork and the location of the popular First Friday Art Walk that hits cultural sites large and small.
Another major Phoenix development is a new 24/7 entertainment district that received approval in summer 2023. 
"It's going to have a focus on restaurants and retail and it'll be located by our South Building of the convention center close to Chase Field as well as Footprint Center," said Deborah Lahti, director of hotel and resort sales for Visit Phoenix. "We're working to find a company that will help bring the vision to life before we move forward with it, but we're excited to say it's been approved. So, that will be coming up within a few years."
For groups wanting to venture outside of their meeting venue, the following are five Phoenix event venues that should be on planners' radars, from tried-and-true favorites to new entrants on the offsite scene, and even one that brings the party to you.
[Related: Visit Phoenix's Deborah Lahti on the Explosive Growth in the Valley of the Sun]
5 Top Phoenix Offsite Event Venues
Heard Museum
With 10 exhibit galleries and outdoor courtyards filled with traditional and contemporary Native American Art, the Heard features the 4,500-square-foot Steel Auditorium that can fit 330 for banquets or 500 for a reception. Groups of up to 750 standing can utilize the sprawling 10,500-square-foot Freeport McMoRan Plaza, which offers panoramic views of the grounds.
"The Heard is definitely one of our iconic venues," Lahti said. "It started out promoting American Indian history and art, but they also have great options for groups whether you're looking for something small and intimate or on a larger scale, and you're just surrounded by this amazing history."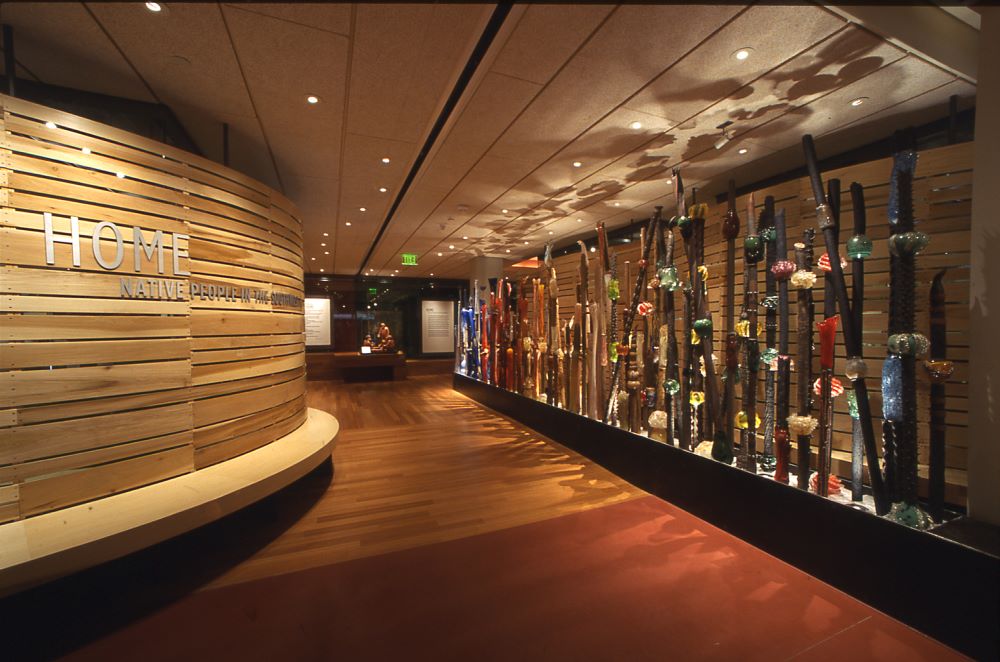 Desert Botanical Garden
This 140-acre stunner showcases the flora of the surrounding Sonoran Desert, from towering saguaros to seemingly delicate plants that have evolved to thrive in this unique desert environment. A popular event venue, the garden also boasts rotating art installations and various open-air pavilions and courtyards that are primed for receptions after the sun goes down.
"We've got 4,000 species down there," Lahti said of the Desert Botanical Garden. "It's just amazing to walk through in itself, but with the different art exhibits that they have coming through, it's a different experience every time you come through. They have tremendous indoor and outdoor spaces, and not to mention the culinary is fantastic!"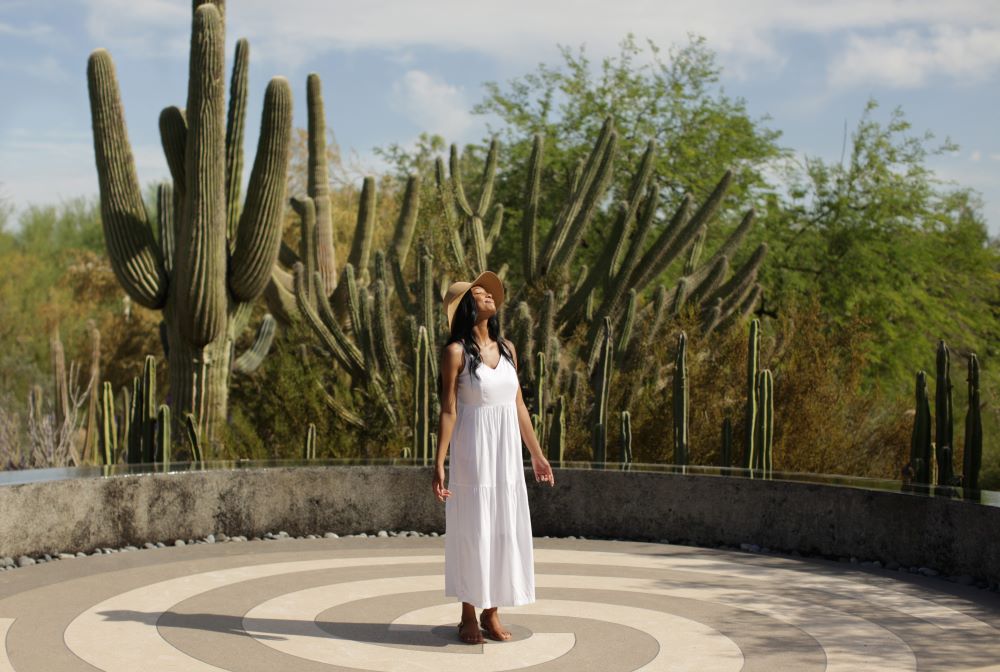 The Duce 
Billed as the Warehouse District's most unique party venue and carrying the tagline "where pretty meets gritty and produce meets prohibition," The Duce is able to host events for up to 2,000. The nightspot was repurposed from an old produce warehouse and boasts the bar from Chicago's iconic The Black Orchid nightclub as frequented by the likes of Americana legends like Harry Belafonte, Johnny Mathis and Nate King Cole. The Duce was named for the Prohibition-era nickname of the downtown Phoenix neighborhood, which was filled with speakeasies in those days.
"We're also developing a lot of new stuff, especially downtown in the Warehouse District," Lahti offered. "One of the more popular I would say is The Duce, which is an old produce warehouse—kind of like 'produce by day, prohibition party site by night.' They've kind of kept that tradition. They've got these fantastic, handcrafted cocktails, comfort foods, and it definitely has the atmosphere built within the building. It's very nostalgic, and just a really fun venue."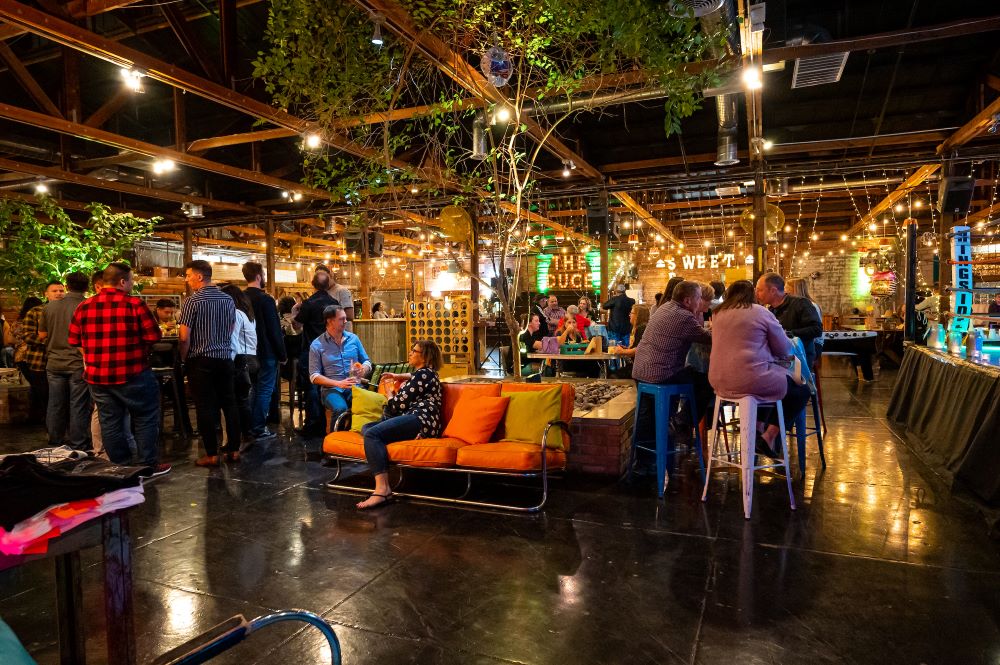 Warehouse 215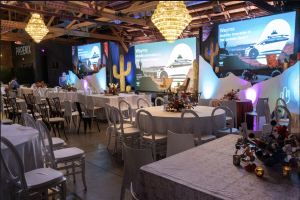 Located in a century-old former linen factory, this full-service event venue offers a dedicated events manager and catering and bar packages to make event planning painless. The expansive venue offers 13 rooms in all their exposed-brick glory, with an industrial chic look that makes it a blank canvas for decor. 
"Warehouse 215 was an old linen and towel company where they just blew out the entire building," Lahti said. "You still have that amazing brick and the wood beams— so you've got that history within it—but it's really a blank canvas that you can do whatever you want with. It comes in different sizes; they've got the main room and some other sections off of it. So, if you want more intimate, or you need that big party, you've got a great venue for it."
Cloth & Flame
From farm-to-table dinners in unexpected places to sunset dinners in Arizona deserts, Cloth & Flame helps meeting attendees connect with the land, with others, and themselves.
Guests can escape the hustle and bustle of the work week and city life at a Cloth & Flame event. The organizers have gone as far as flying tables into the Grand Canyon and built tables overlooking bridges. There's nothing like enjoying a chef-prepared meal among wild landscapes and under the stars. With Cloth & Flame, anything is possible.  
"We have a fantastic company called Cloth & Flame that will set up the party wherever you want," Lahti said. "Whether you want to be in one of these historic warehouses, or maybe you want to be out in the desert under the stars, they will set up these beautiful tables—it's very family-style. You can really have the experience anywhere, but it's really kind of helped elevate what we have to offer in downtown as well."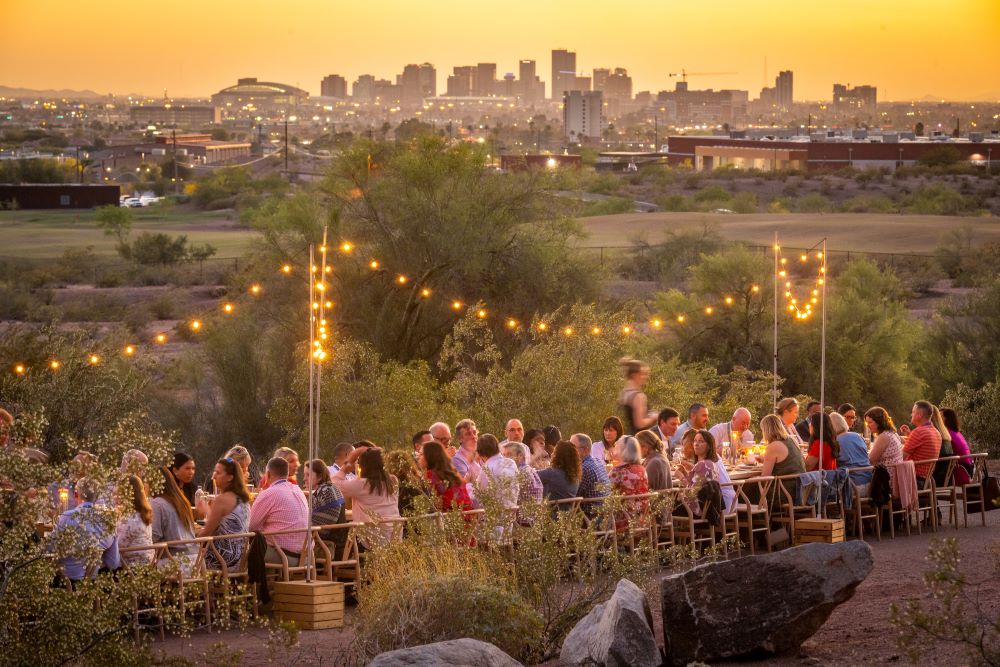 Connect
Visit Phoenix
(877) MEET-PHX
This content was produced in partnership with Visit Phoenix.