Hawaii Braces for Hurricane Lane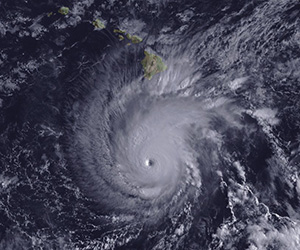 Hawaii is preparing for the worst as it begins seeing the first signs of Hurricane Lane Thursday, August 23, 2018, although reports indicate the storm will likely not have a direct hit on any of the islands.
The category 4 storm is moving closer to the Hawaiian Islands with winds of 145 mph, and it is estimated that if the storm doesn't make landfall, the islands will experience winds of 39 mph to 73 mph and rains of 5 inches to 15 inches. The National Weather Service announced on Wednesday night that a hurricane warning is now in effect for Oahu, meaning that hurricane conditions should be expected.
The island of Hawaii, as well as Maui, Lanai and Molokai, are also under a hurricane warning. Kauai is currently under a hurricane watch, meaning that hurricane conditions are possible.
As of Wednesday night, the hurricane is projected to pass south of the island of Hawaii by late Wednesday night and then pass south of, but close to, Maui, Lanai and Molokai starting Thursday afternoon and Oahu and Kauai sometime Friday lasting through Saturday. Hurricane Lane has the potential of causing very high winds, dangerous surf, storm surge, torrential rainfall and flash flooding.
[Related Content:
The Hawaii Tourism Authority is advising visitors planning to travel to or who are already in the Hawaiian Islands to contact their airlines, accommodations and activity providers for information on being prepared and make adjustments to travel plans as needed.
The following airlines are offering travel waivers and flexible flight options in preparation of Hurricane Lane: Air Canada, Air New Zealand, Alaska Airlines, American Airlines, Delta Air Lines, Hawaiian Airlines, United Airlines and WestJet. 
More information on Hurricane Lane is available via the Hawaii Tourism Authority website.
Have a flight booked to Hawaii? Airlines are waiving change fees. Find out more here.