How Nevada Is Navigating the Near-Term and Beyond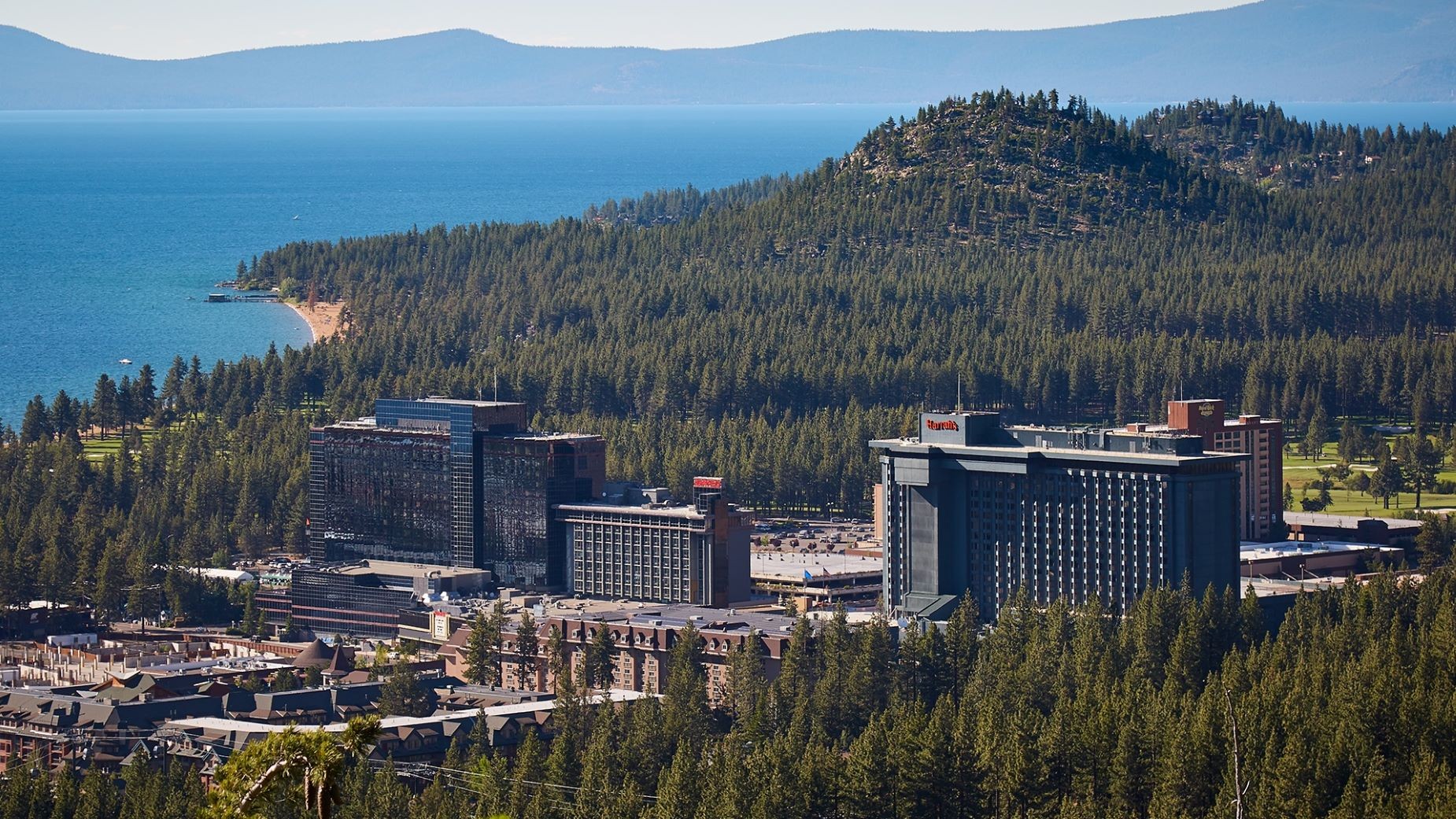 Harveys and Harrah's Tahoe; Credit: Caesars Entertainment
Nevada has long hit the visitor jackpot with inviting tourism slogans such as "Recreation Unlimited" in the mid-1950s and the recent "Don't Fence Me In" program. While principally targeted at inspiring Nevadans to get out and roam their own backyard, the current "Discover Your Nevada" campaign is equally a COVID-ready siren call for groups.
As Las Vegas, Reno, Lake Tahoe and secondary group locales such as Carson City and Elko continue to navigate what the Nevada governor's office calls "The Great Balancing Act" in addressing the pandemic, those discoveries are limited for the time being. Yet, there are always innovative solutions for group gatherings, and as reports from the field indicate, there is sound reason for optimism. 
Caesars Entertainment Has Reno on the Rebound
Covering eight square blocks in the heart of Reno, Caesars Entertainment's The ROW Reno unites the Eldorado Resort Casino, Circus Circus Reno and Silver Legacy Resort Casino to form Northern Nevada's largest resort complex. Seamlessly connected across the length of the second floor, the trio encompasses 4,000-plus rooms and 180,000 square feet of function space.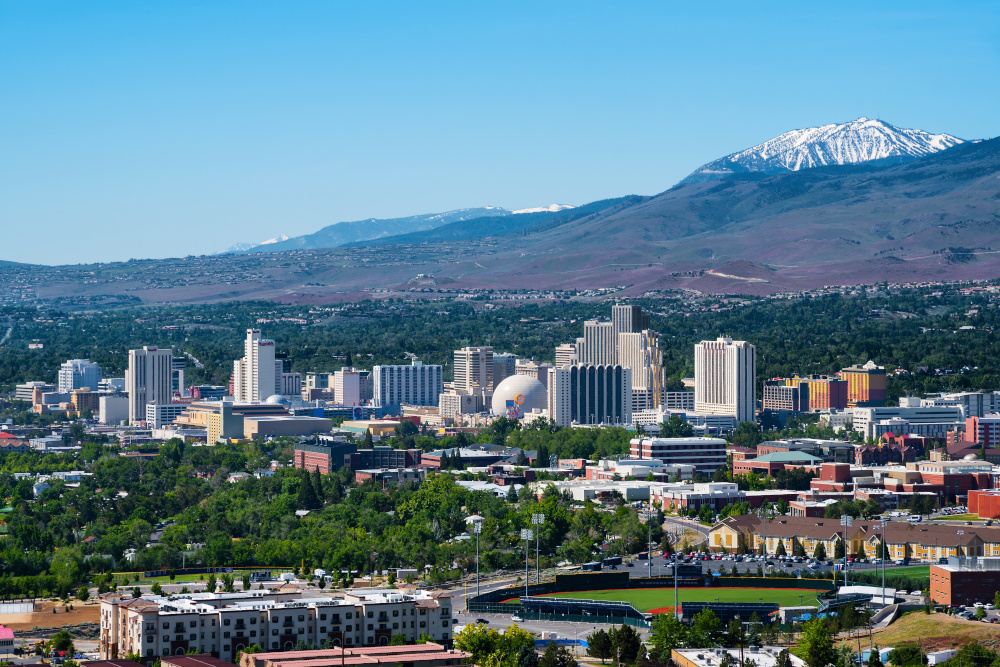 When the building closed in March because of COVID-19, Don Goodman, executive director of sales, "often went days without seeing anybody." Daunting, too, were the group cancellations for 2020. Yet, during the stall, Goodman and his team were hard at work.
"We were pedaling uphill for a while," said Goodman, who has been in Reno since 1993. "By June, though, team members were returning to the building, and we have since rebooked all but two of some 400 pieces of business. This has really energized our team and created a semblance of normalcy going forward." 
Caesars Entertainment is bringing in all the group business it can under the current guidelines.
"We are hosting SMERF, golf and other small groups, where there is significant pent-up demand," Goodman said. "People want to travel, which we are seeing reflected in better-than-projected airlift into Reno from destinations up to two hours flight time away."
Goodman and his team are also transforming the pandemic challenge into innovation.
"Being forced to rethink our meetings platform, which frankly has not really changed in recent years, has inspired creative new ways to keep people connected and engaged," he said. "With stringent distancing and safety protocols in place, we have leveraged our large spaces and technology to successfully host a number of hybrid association and corporate meetings these past months."
Exemplary reconfigurations include bringing in 50 live attendees and another 150 on Caesars' Zoom-like platform for an association client's annual meeting this summer.
[Related: 8 Outdoor Venues in Lake Tahoe That Surround Attendees in Nature]
"With the board and keynote speakers attending, all delegates were able to experience the different presentations, roundtables and breakout sessions," Goodman said. "It worked so well that they planned another event in November."
With The ROW's 25 restaurants providing yet more options for safely separated gatherings, Goodman believes that virtual will outlast the pandemic.
"It works well and presents an effective solution for people still reluctant to fly," he said. "Embracing creative change is helping us both land and create business."
With some $160 million in room and other renovations underway at all three properties, groups can also look forward to an entirely refreshed experienced. Expansion of the Caesars Rewards program to The ROW and 50-plus properties nationwide following the merger with Eldorado Resorts is another positive. "It's attracting new customers to the destination, which is very exciting," Goodman said.
The View from Lake Tahoe
The merger created a combined Northern Nevada sales team that also looks after Lake Tahoe, where in October, Harveys Lake Tahoe Hotel & Casino completed the renovation of all 519 Tahoe Tower guest rooms as part of a $41 million total property investment over the past two years. This follows the January 2020 opening of Gordon Ramsay HELL'S KITCHEN Lake Tahoe at the resort, where along with Harrah's Lake Tahoe, restaurants are among unique venues for safely separated set-ups.
Located 58 miles southwest of Reno, Lake Tahoe is the largest alpine lake on the North American continent. Being a premier four-season outdoor destination is another advantage in COVID, as Lake Tahoe Visitors Authority President & CEO Carol Chaplin explained.
"The continuing trend is unique venues and locations, with outdoor recreation opportunities more in demand than ever," she said. "We are getting RFPs from small corporate groups seeking buyouts at boutique properties like Coachman Hotel."
With encouraging developments like the Lake Tahoe Resort Hotel rebooking all their groups back for 2021, Chaplin believes that "much like the leisure market, South Lake Tahoe will have organic demand over cities and conference centers in the coming years."
Enhancing that appeal, she added, is the new Tahoe South Events Center. Symbolically breaking ground this summer, the 132,000-square-foot facility, located at the Montbleu Casino Resort, is slated for 2022.
4 Creative Outlets for Groups
AREA15, Las Vegas
Following a partial debut in February, the phased opening of this long-anticipated "experiential art and entertainment complex" had a broader reveal this September. Located just west of the Center Strip, the wonderland venue offers 40,000 square feet of versatile indoor and outdoor event space amid immersive next-gen design, technology, installations and activities.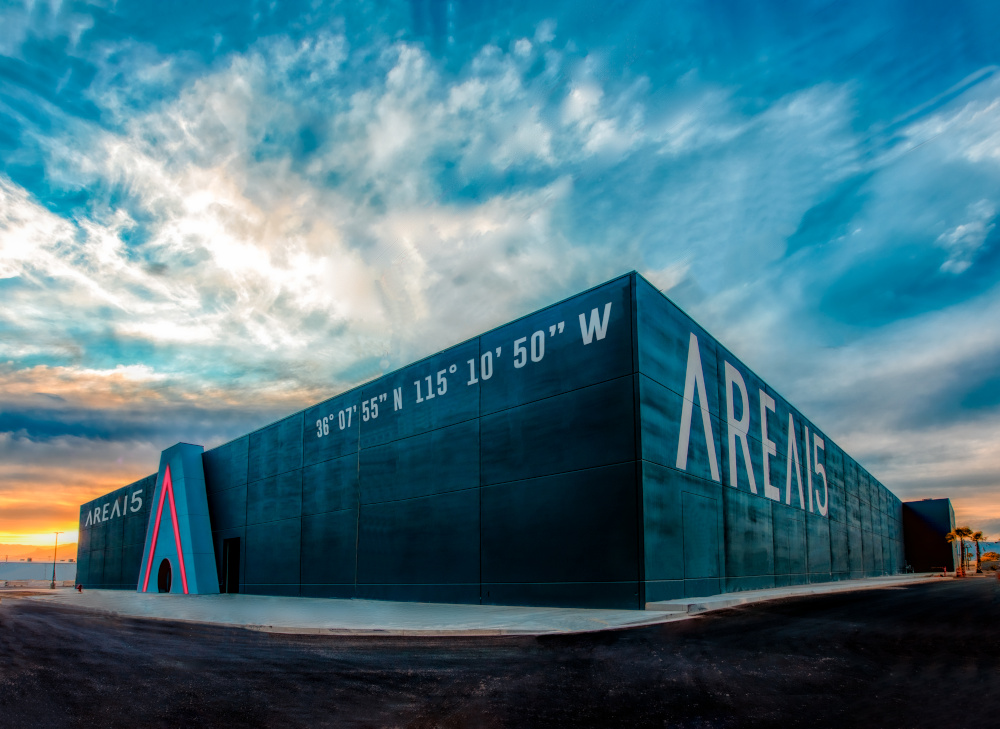 With high-tech safety measures in place, venues include Art Island, a permanent outdoor gallery for displaying monumental festival-inspired artwork, while the art-filled SPINE corridor offers unique retail and dining outlets.
[Related: Las Vegas Tech Sure to Amaze and Engage Attendees]
In 2021, Director of Content and Cool Shit Chris Wink, co-founder of the Blue Man Group, is scheduled to unveil "Wink World: Portals to the Infinite," his "equal parts psychedelic art house and carnival funhouse." Other venues planned for next year include Omega Mart, "an interactive superstore where things are not quite as they seem" from Santa Fe, New Mexico-based interactive art pioneer Meow Wolf. 
Desert Ranch Experience by Camel Safari, Bunkerville
In 2016, Vancouver native Guy Seeklus relocated his caravan of camels from Washington state to a historic homestead some 80 miles north of Vegas in the scenic Virgin Valley. Accredited by the Zoological Association of America, his 176-acre animal ranch is ideal for socially distanced 18-capacity group excursions, with 10 traditional Mongolian gers for daytime sojourns or overnight stays. Programs include up-close encounters (no rides) with the camels and other exotic animals. For teambuilding fun, groups can construct their own yurt-style ger.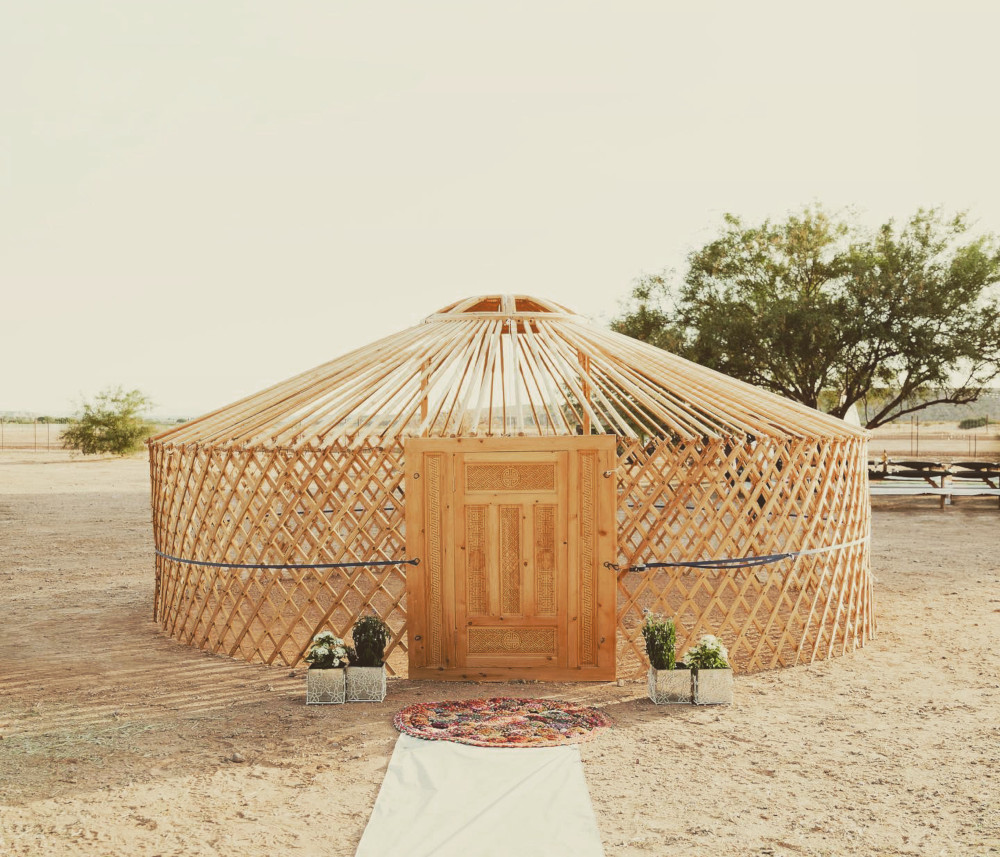 Seeklus partners with vendors in nearby LVCVA-promoted Mesquite for catering and other services. Attendees preferring not to rough it in a ger can overnight at the Eureka Casino Resort. More adventurous delegates can book the "Canna-Camels" day trip experience, which includes round-trip transportation from the Strip and exclusive discounts from select Vegas cannabis dispensaries.
Lake Tahoe Adventures, South Lake Tahoe
Small groups can enjoy naturally distanced outdoor recreation with snowmobile tours from this leading year-round tour company. The rides explore a variety of trails winding through mountain meadows and peaks of 10,000 feet and above with stunning lake views. Summertime programs include backcountry ATV and RZR tours.
Rail Explorers, Boulder City
Groups looking to really stretch their legs can ride the rails in custom-built pedal-powered bikes on excursions, including the Southwest Ramble, an exhilarating four-mile desert ride from the Nevada State Railroad Museum to historic Railroad Pass.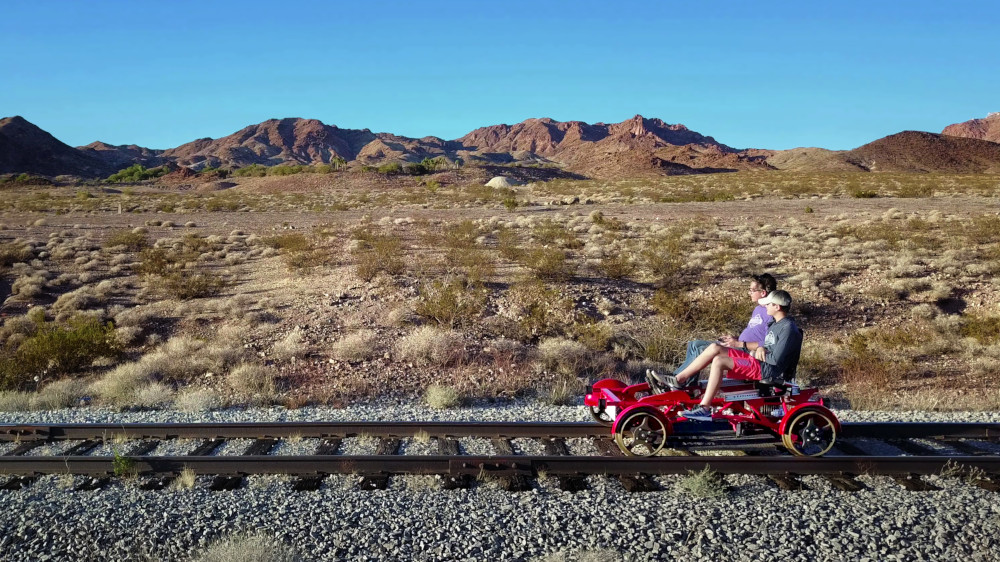 Read Next: On the Scene in Laughlin, Nevada—A Meetings Magnet Near Las Vegas
Nevada CVB Information (2020)
Carson City Visitors Bureau
775.687.7410
Elko Convention & Visitors Authority
775.738.4091
Lake Tahoe Visitors Authority
775.588.5900
Las Vegas Convention and Visitors Authority 
702.892.0711
North Lake Tahoe CVB
530.581.8703
Reno-Sparks Convention and Visitors Authority
775.827.7600