3 Ideas for Safe, Clean Teambuilding Activities in Kansas City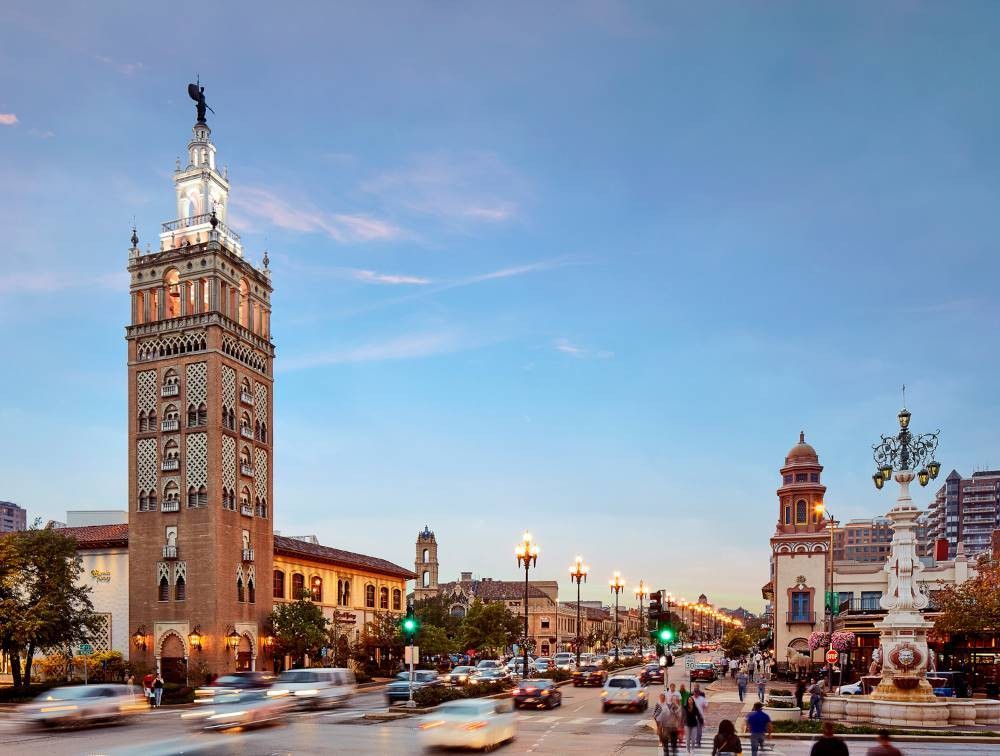 A metro spread across two states, planners might be surprised by what they can see and do in Kansas City, especially when it comes to teambuilding. Groups can zipline through beautiful Swope Park on the Missouri side, or get a taste of authentic Mexican tacos on the Kansas side's KCK Taco Trail.
And in the era of COVID-19, the Kansas City CVBs and its partners want planners to know that health and safety is at the forefront of their group offerings.
"From hotels to attractions, more than 100 Kansas City businesses have banded together to pledge the KC Clean Commitment," said Nathan Hermiston, senior vice president of sales and services for Visit KC. "It's our way of showing that Kansas City is dedicated to a safe return to meetings."
Through the initiative, local businesses commit to encouraging the use of face masks by all staff and customers, limiting occupancy, complying with social distancing guidelines, providing hand-sanitizing stations, sanitizing high-touch surfaces thoroughly and frequently within their location, and enhancing staff protocols and safety measures both front and back of house.
Below we break down three KC teambuilding activities suited for groups and the protocols those businesses have in place for safe, clean fun.

Photo: Downtown Skyline David Arbogast; Courtesy of Visit KC 
1. Culinary Center of Kansas City
Located in downtown Overland Park, a suburb of Kansas City, the Culinary Center of Kansas City is the perfect place for attendees to get their hands dirty—metaphorically, of course.
Groups can still meet on site in the kitchens, where masks are required when not eating or drinking. The center can also host groups virtually, with classes ranging from how to make apple pie, how to deep fry a turkey to how to create healthy lunches.
"It opened up whole new possibilities for group events, and they're sure to continue in the post-COVID future because they've allowed groups to gather from literally all over the world," said the culinary center's owner Laura Laiben.
2. Ziplining
"For teambuilding in the fresh air, I recommend Go Ape," Hermiston said. "It's a huge outdoor adventure area in our historic Swope Park with five zipline courses, swings and rope climbs to keep everyone active and engaged."

Photo: Ziplining; Courtesy of Visit KC
At Go Ape Zipline & Adventure Park in Kansas City, Missouri, (which also offers axe-throwing) corporate groups will first be led through a safety training, then can spend one to three hours working their way through obstacles and cruising down ziplines. Go Ape can also create customized games for groups for fun, collaborative teambuilding.
[Related: New Hotels and Group Venues Rise in Kansas City's Metro]
Because of its outdoor location, Go Ape is suited well for social distancing and keeping groups out in the fresh air. The adventure park has also reduced capacity limits and requires all staff and guests to wear face coverings when checking in, during the safety briefing and any time social distancing cannot be maintained.
Guests can also complete their waivers online, and the park has implemented additional cleaning and disinfecting procedures.
On the Kansas side, Zip KC can take attendees through the treetops of Bonner Springs, located about 20 minutes west of downtown Kansas City. Along with the Tower Tour, where guests can enjoy panoramic views, Zip KC also offers a ziplining-plus-hiking package. Attendees can get a tour of four bluff-to-bluff ziplines next to the Kansas River with short hikes in between.
Groups can also book "on the ground" activities such as a teambuilding ropes course. Zip KC can also bring the fun to you: Planners can rent a mobile zipline that's set up in front of your venue or business.
As of publication time, Zip KC requires all staff and customers to wear face coverings when checking in and harnessing. Groups on site are also limited to no more than 10 people.
3. Taco Trail
New this year, the KCK Taco Trail is perfect for groups looking to get a taste of what the local cuisine in Kansas City, Kansas, has to offer. Visit Kansas City Kansas spearheaded the culinary challenge and launched it in October.
The trail features nearly 50 local taquerias, offering everything from street tacos from Las Palmas to Tex-Mex-style tacos from Tarahumaras Authentic Mexican Restaurant.
"One of the things we have in Kansas City, Kansas, is we have a lot of authentic Mexican restaurants in the area," said Justin Stine, meetings and sports sales manager for Visit Kansas City Kansas. "So we put all of that information together and created a sort of challenge of: How many spots can you hit and check in on?"
Guests can download the pass for free, which can be delivered to their email or via text. With the pass, prizes can be unlocked by checking into a certain number of restaurants. For example, five restaurants gets you a KCK Taco Trail decal, while checking into all restaurants gets your name on the Taco Trail Wall of Fame. The taco trail is ongoing, but participants have until October 31, 2021 to win prizes.
Craving Kansas City's famous barbecue? The taco trail has that covered, too: You can find beef burnt-end tacos, as well as pulled pork barbecue tacos, at Slap's BBQ.
[Related: 4 Iconic Foods and Drinks of Kansas City and St. Louis]
What Else Is New?
Fun and health/safety can go hand in hand when teambuilding in Kansas City. And the destination seems more poised than ever to welcome groups and help planners create a successful program.
"Kansas City has long been appreciated by planners for its central location, Midwestern hospitality and overall affordability, but Kansas City has a new story to tell these days with its $10 billion renaissance," Hermiston said. "Our free and modern KC Streetcar and the 800-room Loews Kansas City Hotel are the latest downtown developments to debut."
And more is on the way. Kansas City International Airport plans to welcome a new single terminal, on track to be completed in 2023.
Connect
Visit Kansas City Kansas
913.321.5800
www.visitkansascityks.com
Visit KC
816.691.3800
www.visitkc.com
 
Read Next: 5 Sweet Venues in Sugar Land, Texas