Anaheim and Orlando Are Ready to Host Large In-Person Events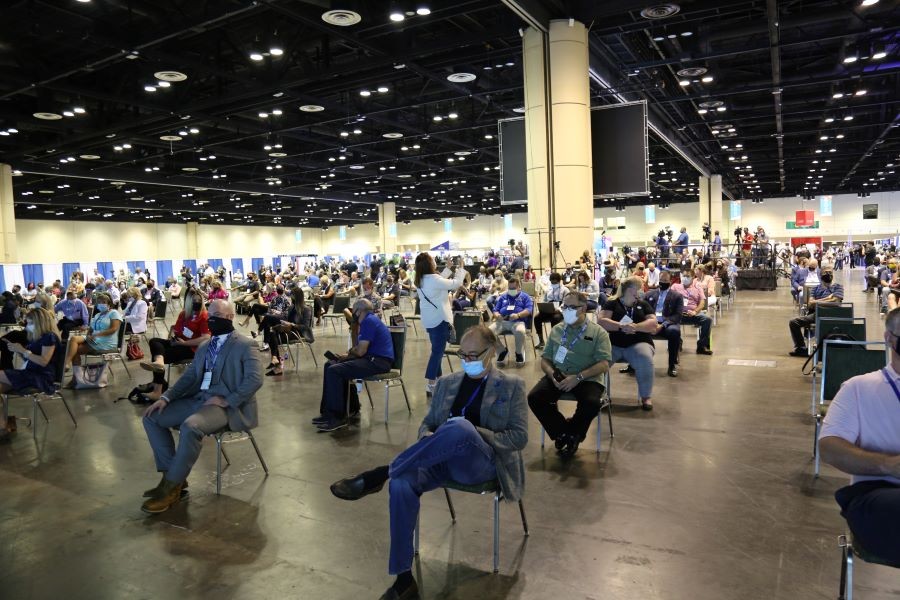 Credit: Together Again Expo, Orlando Convention Center.
With the meetings and events industry anticipating a return to large in-person events, Meetings Today thought it would be a good time to reach out to executives at the largest convention centers on each coast of the U.S., Southern California's Anaheim Convention Center and Orlando's Orange County Convention Center, to gauge their progress on the road to recovery. 
Anaheim Convention Center
California has been particularly restrictive during the COVID-19 pandemic, clamping the lid down tight on large group gatherings since the early days of the pandemic. Gov. Gavin Newsom, however, recently began issuing public statements pointing to the relaxation of the state's strict protocols. 
Like its counterparts, those who promote and operate the largest exhibition facility on the West Coast, the 1.8 million-square-foot Anaheim Convention Center (ACC), are eager to get back to the business of large in-person meetings and also for firm guidelines from the state about how to make that happen.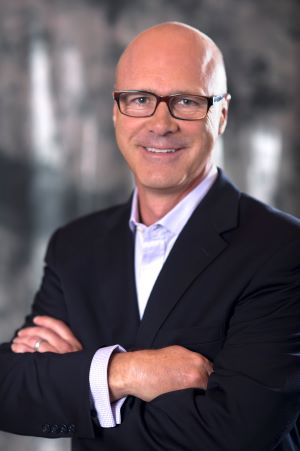 "I think the travel industry can fulfill the needs that are there with the protocols and procedures," said Jay Burress, president and CEO of Visit Anaheim. "Just tell us the rules, and we'll make sure it happens." 
Having entered Orange Tier status and allowed to operate under reopening guidelines for outdoor and indoor youth and recreational adult sports, Anaheim welcomed the 500-attendee Starpower Talent dance competition April 23-25. The low-contact youth dance competition was the first traditional event at the mammoth convention center since the onset of the pandemic. 
"To provide a safe environment for this event, room capacity will be capped at 25% and all attendees will be required to wear masks," Burress said shortly before the event was scheduled to take place. "These competitions and amateur sporting events are just champing at the bit to get out there—this is the first activity in the last 13 months outside of vaccine distribution and testing." 
The ACC is set to welcome a number of additional groups that were brought in through the efforts of the Orange County Sports Commission, a countywide collection of DMOs and other community partners that promote and secure sporting events. 
Other upcoming sports segment events at the ACC include: 
May 5-9: JUMP―by Break the Floor  
May 29-31: Fortune Fencing Cadets, Juniors & Veterans Region 5 Championships  
June 11-13: Southern California Volleyball Association Boy's Classic  
June 25-27: Southern California Volleyball Association Girl's Summer Soiree  
July 4-9: Revolution Talent Competition (dance) 
The first major convention scheduled for the ACC is MD&M West, an annual medical device show that normally attracts 35,000 attendees but expects to draw 17,000 August 10-12.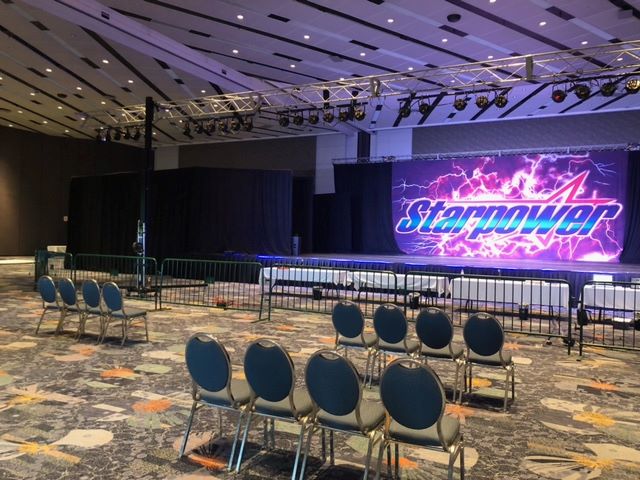 Like his colleagues in the hospitality industry, Burress had to adapt to a radically disrupted business environment in which in-person meetings basically came to a halt. 
"It's very much a helpless feeling, and you do what you can to help your community, but it was all new—we don't normally distribute food and toilet paper to senior centers and the needy, but that's what we did because that's what was needed," he said of how the local hospitality industry and facilities pitched in to help. "But with the tiers starting to go away, it's allowing us to do more. It's a great sign, and we've seen many of the hotels that have closed are reopening and hiring people. 
"[The pandemic has] shown that working from home can work when it needs to, but I think it's emphasized the value of face-to-face meetings, and people are just starved for that," Burress added. 
Burress said Anaheim is looking forward to a fairly full schedule of major events in the last quarter of 2021 and start of 2022, including its hallmark event, the NAMM Show, scheduled for January 20-23. The NAMM Show, billed as "the world's largest trade-only event for the music products, pro audio and event tech industry," has welcomed up to 150,000 attendees to its most recent, non-pandemic-era events.  
Visit Anaheim maintains a website dedicated to COVID-19 health and safety information at www.visitanaheim.org/meetings. 
[Related: Anaheim's New JW Adds a Luxe Option to a Booming Destination]
Orange County Convention Center, Orlando 
The largest exhibition facility on the East Coast of the U.S., Orlando's 2-million-square-foot Orange County Convention Center (OCC), has had the benefit of working in a state with less stringent restrictions on in-person meetings and events.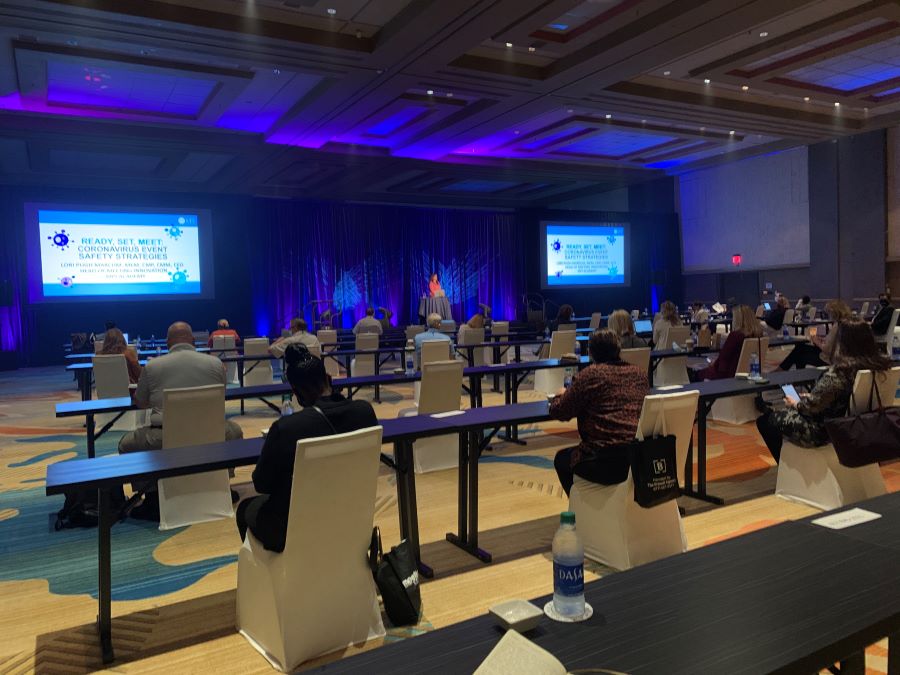 "We have hosted over 65 live in-person events since July of last year," said Mike Waterman, chief sales officer for Visit Orlando. "We held our first big event, AAU [Amateur Athletic Union] in July, and then the Together Again Expo." 
[Related: Together Again Expo: Face-to-Face With the Brave New World of Meetings] 
Waterman said Visit Orlando forged a partnership with Orlando Health to provide free medical concierge advice at events in order to reassure groups about the health and safety protocols in the destination, which typically is one of the top three U.S. meetings destinations in terms of total number of attendees.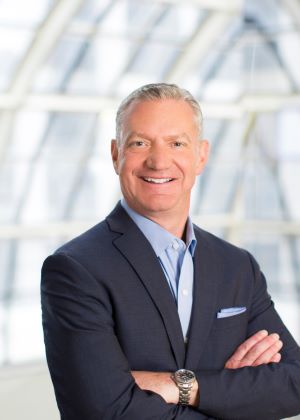 "We know the desire is there, it's just the comfort level, and we knew we were going to need an expert [onsite]," Waterman said. "We learned a lot. When we had the Together Again Expo, we did all the things we thought were appropriate—30-foot aisles, 10-foot separate between booths, [enhanced] sanitation, one-way aisles. What we quickly learned was that as long as everybody is wearing a mask and keeping as far apart as you can, everything is fine….But make sure your show organizers buy in to it because it's a 50-50 proposition." 
Waterman added that in an effort to increase the safety level at events, the OCC set up separate eating areas, banned eating and drinking in booths, increased the width of its tradeshow floor aisles and even incorporated a "no touch" rule—"not even a fist bump," Waterman said—at the Surf Expo, held January 6-8 at the OCC. 
Waterman said Orlando is at the forefront of the return to large in-person meeting and events, with youth sports and headline-grabbing events such as the NBA and MLS "bubble" tournaments leading the way and showcasing Orlando's proficiency at holding safe events during the pandemic. 
[Related: How a Disney World Hotel Handled the MLS COVID-19 Bubble] 
Other major large in-person events held at the OCC have included: 
MAGIC Pop-Up Orlando/OFFPRICE Orlando Market/WWIN Orlando Showcase, which Orlando lured from its top competitor, Las Vegas 
The AKC National Championship Presented by Royal Canin 
The 2021 Central Florida International Auto Show 
"We've actually secured almost a dozen opportunities from other cities that are heavily restricted, with groups not able to meet at desired capacity," Waterman said. "Our back half of the year is extremely busy." 
Major tradeshows scheduled for Orlando through the end of 2021 include: 
July 7-9: National Wood Flooring Association, with 2,000 attendees expected for the Wood Floring Expo 2021.   
August 26-28: NAFEM Show 2021, a food-service equipment exhibition that could be draw up to 20,000 attendees. 
October 17-20: CHEST 2021 medical meeting, which expects 6,700 attendees. 
"It's nice to see light at the end of the tunnel and it's not a train, it's actually daylight," Waterman joked.
Read Next: Meetings Today Hosts First LIVE! Event of 2020 in Orlando