4 Sports Venues for Memorable Events in Washington, D.C.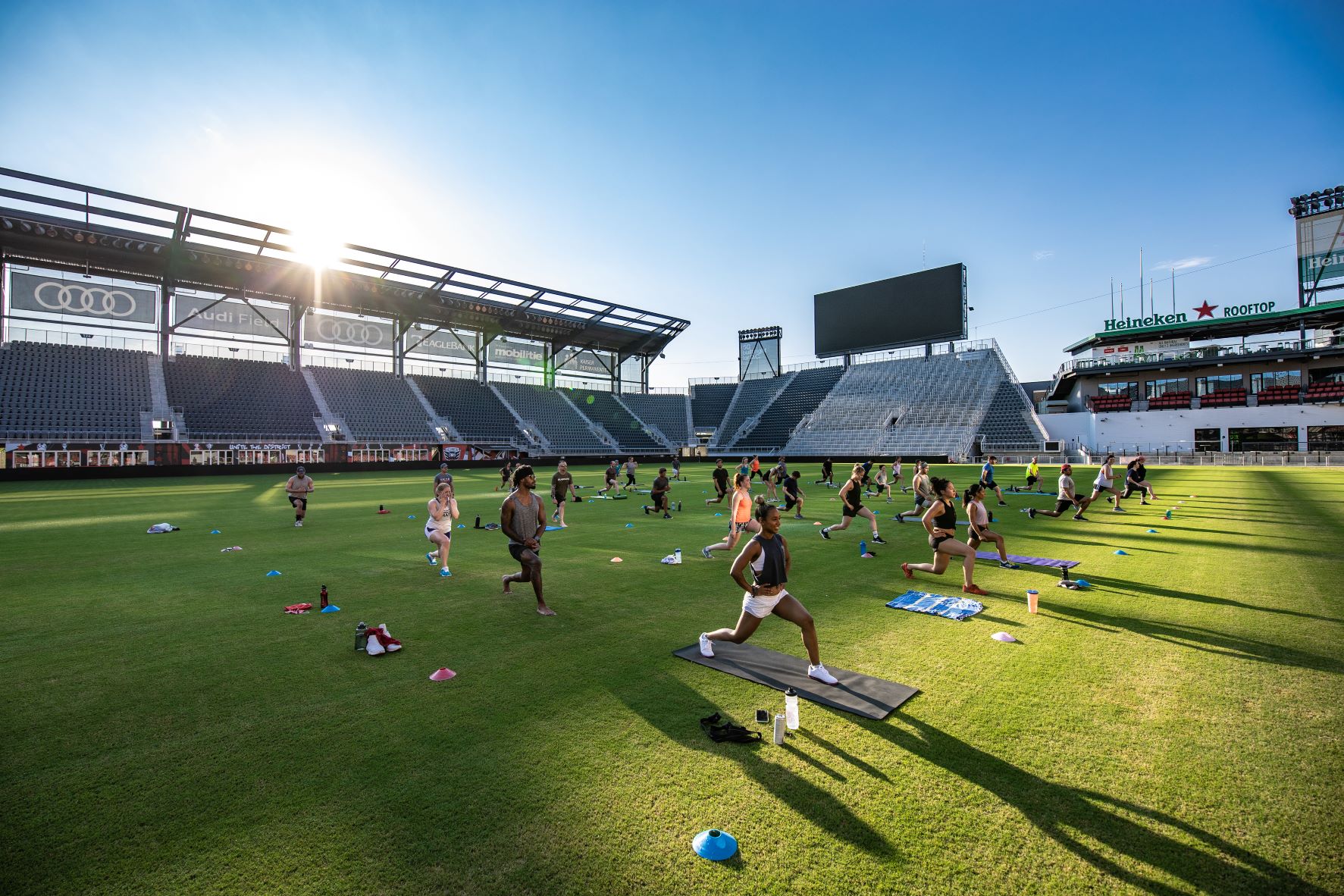 Fitness event at Audi Field. Credit: D.C. United
When it comes to professional sports, Washington, D.C.'s got it all, literally. It's represented in the four major professional sports leagues in the U.S.—MLB with the Nationals, NBA with the Wizards, NHL with the Capitals and the NFL with the Washington Football Team—plus Major League Soccer with D.C. United and the WNBA with the Washington Mystics. 
This opens up an entire facet of the nation's capital that's prime for exhilarating and memorable meetings and events. Theresa Belpulsi, vice president of tourism, sports and visitor services for Destination D.C., said that the frequency of planners incorporating D.C. sports into their programs is on the come up.  
"I would say it's been growing the past couple of years," she said. "Planners are looking for more unique opportunities—instead of being held in a convention center or meeting room, they're looking for something with more stimulation and that's hands-on." 
Below we break down a handful of sports-centric venues where attendees can get a feel of where the professionals play. Game on! 
Capital One Arena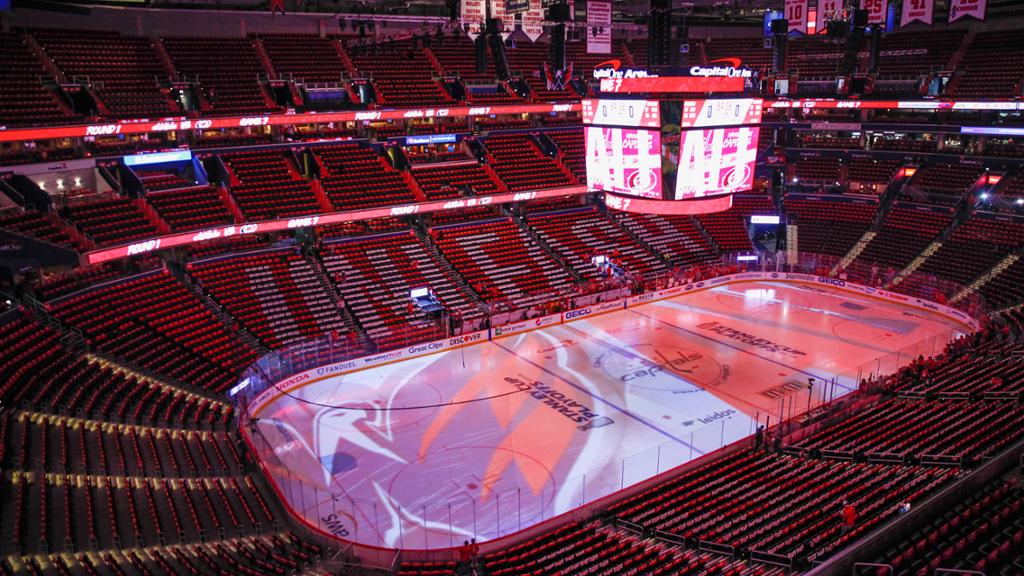 Home to the NBA's Washington Wizards and the NHL's Washington Capitals, the 20,000-seat Capital One Arena is a blank canvas for planners, and perfect for a wow-worthy opening reception or general session.  
"If planners are looking for stadium seating, instead of building it out in a convention center and paying for all of that dramatic AV that you have to do, [at Capital One Arena] you already have a built-in general session location," Belpulsi said. 
It's also located just a couple of blocks from the Walter E. Washington Convention Center. 
"It can also serve as a nice break in the day for your delegates," Belpulsi added. "We work with the city so that delegates can walk across the street to get there safely." 
Nationals Park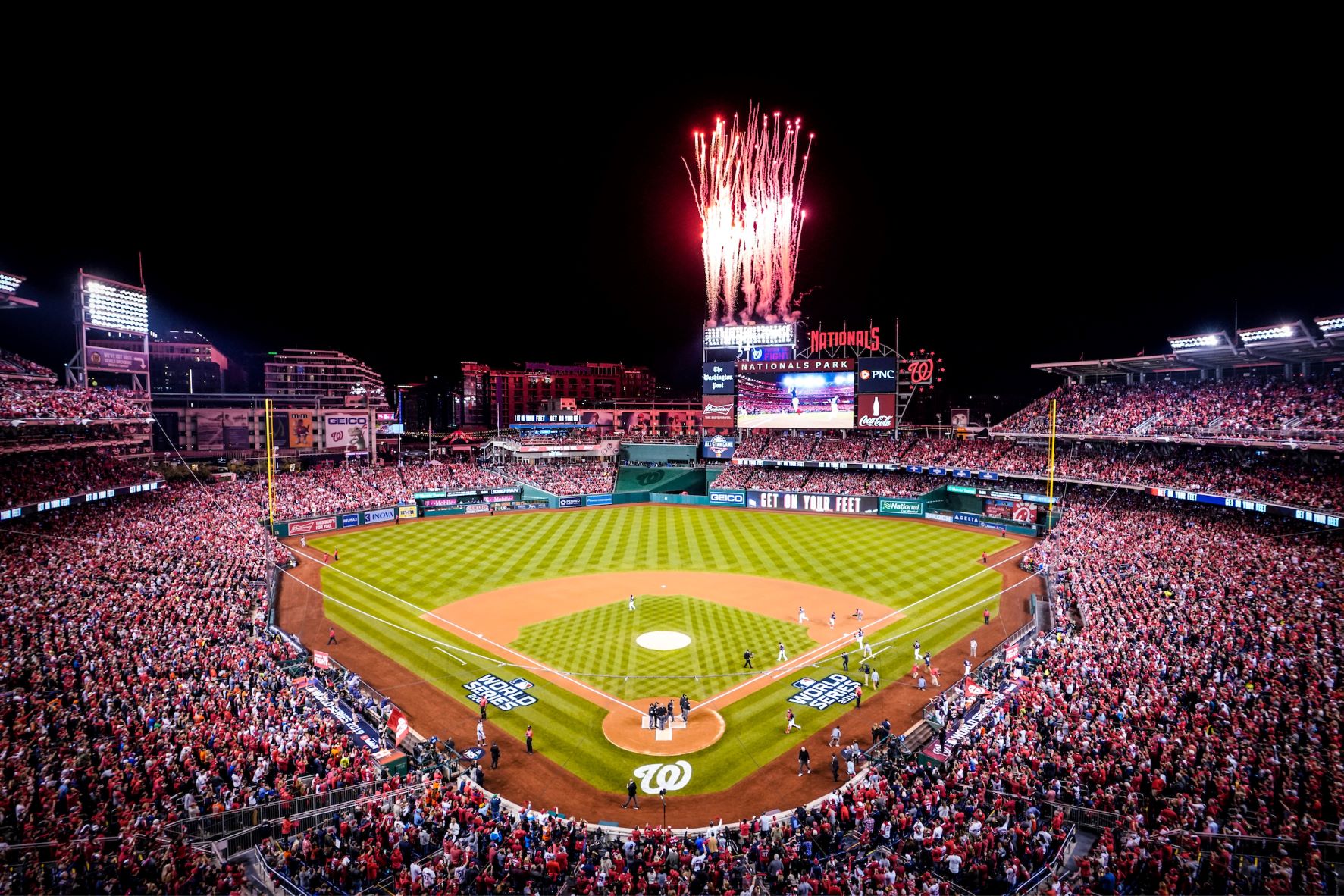 Located in D.C.'s Capitol Riverfront neighborhood, Nationals Park, home to the—you guessed it—MLB's Washington Nationals, is one of the city's largest venues. With capacity of up to 40,000, the ballpark isn't just a place to take in the sights. On non-game days, planners can give attendees the opportunity to see exclusive spaces such as the clubhouse and dugouts.  
They can also fit in batting practice in the Nationals' cages or have attendees compete with the Racing Presidents on the warning track. 
"[Ballparks] are great arenas for closing night parties, especially if you're going to be having things like a band and food and beverage that's all housed in one location," Belpulsi noted. "When we hosted [U.S. Travel's] IPW in 2017, we hosted our closing night party at Nats Park, which was so fun. They let them in the batting cages and down onto the field—they had that experience all right there in the stadium." 
Audi Field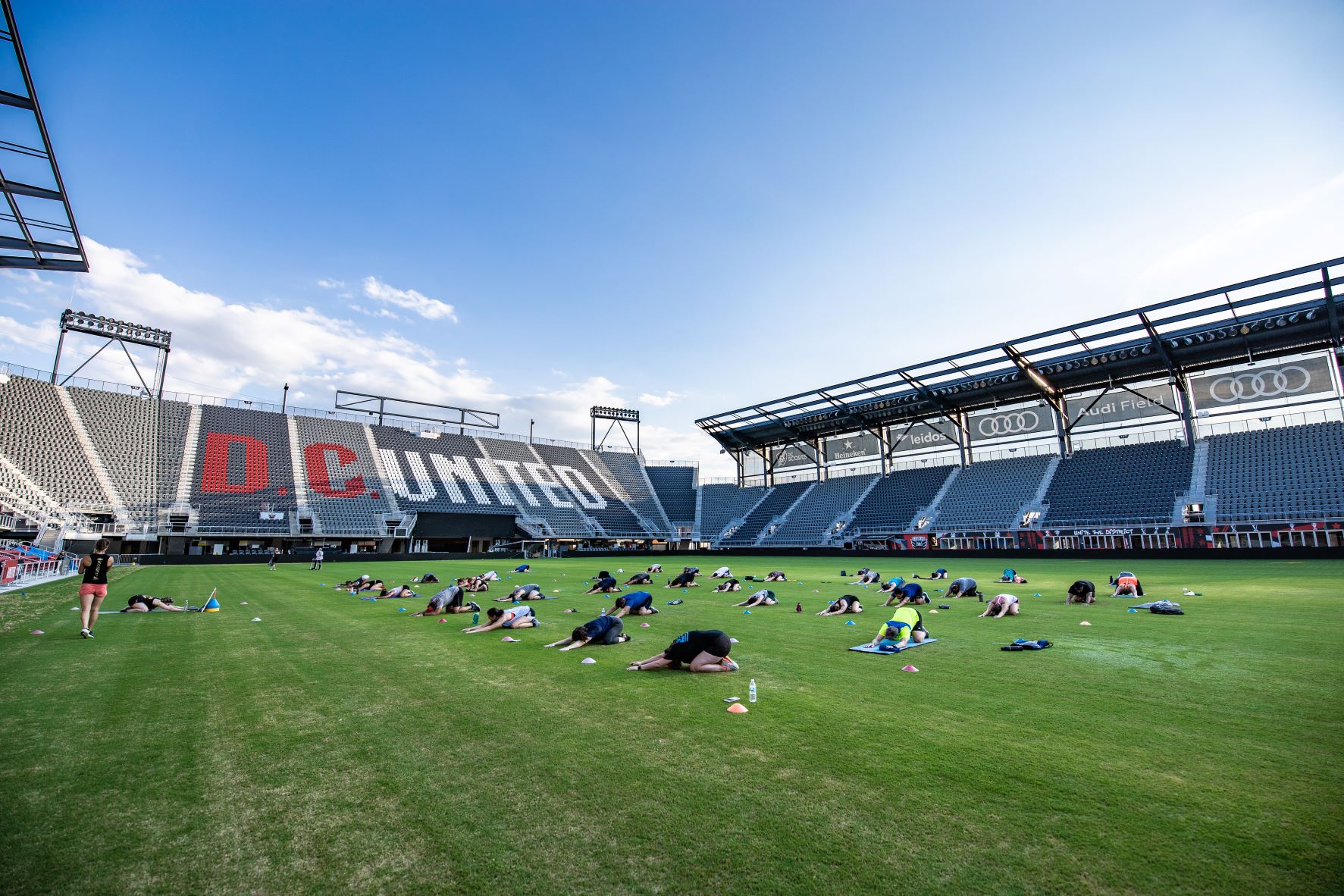 This state-of-the-art soccer stadium in Southwest D.C., home to MLS' D.C. United, debuted in 2018 and offers a capacity of up to 20,000, as well as 500,000 total square feet of mixed-use retail and residential space on site.  
Planners can buy out Audi Field or, if working on a smaller scale, can rent out one of its many event spaces. This includes the EagleBank Club—featuring an open layout, full-service bar and a patio with a view of the D.C. skyline—that can accommodate up to 600 attendees. 
For more good views, Audi Field also offers the Riverview Deck with picture-perfect panoramas of both Navy Yard on one side and the entire stadium and a handful of monuments on the other. The deck can accommodate up to 500 attendees. 
Entertainment and Sports Arena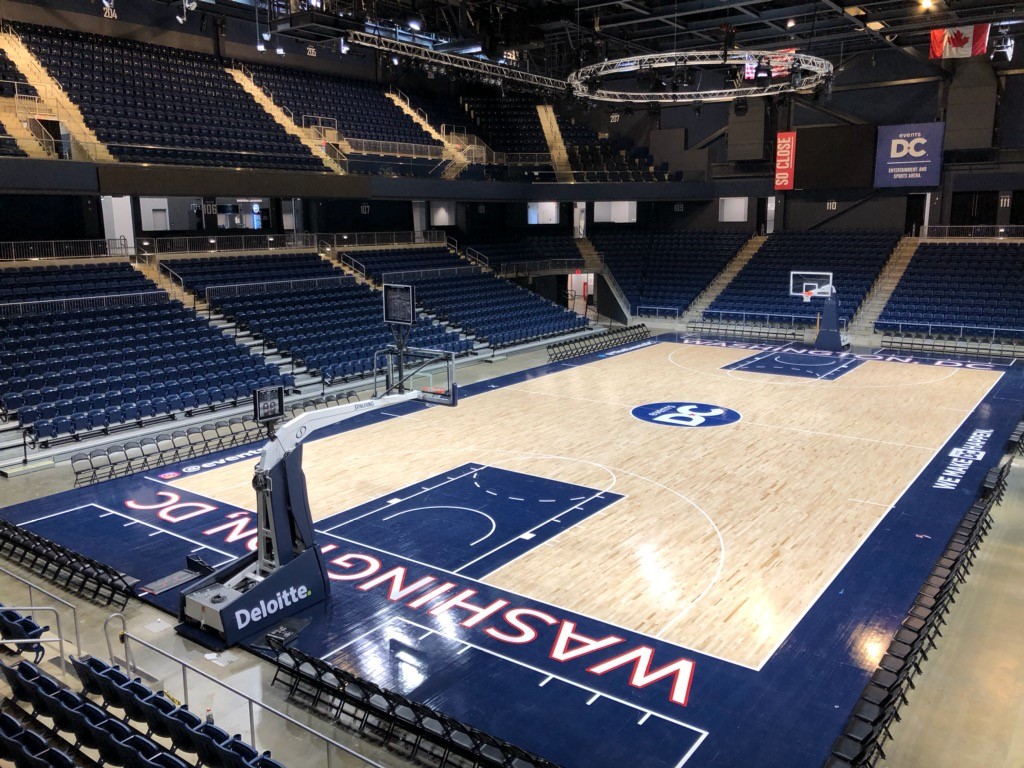 This relatively new arena in Congress Heights is home to the WNBA's Washington Mystics and the NBA G League Capital City Go-Go, but it's also known to host concerts, boxing matches and even e-sports tournaments. If planners aren't booking one of those type of events, the 4,200-seat facility is also ideal for smaller trade shows, general sessions and galas.  
Entertainment and Sports Arena is operated by Events DC, the city's convention and sports authority, and it earned its GBAC STAR accreditation last year, as did the DC Armory, also operated by Events DC. And planners can also have peace of mind knowing that this year, the arena installed new indoor air quality technology to suppress airborne and surface micro-organisms and pathogens.  
Other Trends of Note 
Planners can incorporate games and sports into their programs beyond the venues where they're played professionally. Below are three sport- and active-related trends that Destination D.C.'s Belpulsi has noticed lately from planners booking in D.C. 
Yoga: Morning yoga sessions for a dose of wellness amid a conference or other multiple-day event isn't uncommon to see in D.C. Belpulsi said planners can utilize downtown greenspace and places like Nats Field to host a yoga class for a range of attendees, whether it's 100 or 1,000. 
Athlete speakers: In D.C., planners can utilize professional athletes as motivational speakers or guest speakers for a keynote session during their event. "That's one of the ways we're seeing planners be creative to keep the attention," Belpulsi said. 
FitBit challenges: "We've had some fun groups that have done FitBit challenges, because our city is probably one of the most walkable cities in America," Belpulsi added. "Some meeting planners have done fitness challenges like how many steps did you get in? As well as yoga and even meditation breaks, D.C. is such a beautiful city to be able to take advantage of that. We have a lot of greenspace that surrounds a lot of our hotels and convention district." 
Latest & Greatest
➜ Kimpton Banneker Hotel: This 144-room property opened its doors in June on historic 16th Street in downtown D.C. The name is a nod to Benjamin Banneker, one of the country's major Black innovators who played an integral role in surveying the land that would become the nation's capital. Planners can use the hotel's more than 3,800 square feet of meeting and event space, including a rooftop overlooking 16th Street down to the White House.

➜ Viceroy Washington DC: Located in the hip Logan Circle neighborhood, Viceroy Washington DC debuted late summer 2020 as the first Viceroy Hotels & Resorts property in the Washington metropolitan area. Along with its 178 guest rooms, guests can enjoy its outdoor patio and a grab-and-go coffee bar.

➜ Cambria Hotel Washington, DC Capitol Riverfront: Debuting in February 2021, this property features 154 rooms and is Cambria Hotels' fifth property in the greater Washington, D.C. area. Located in the Capitol Riverfront neighborhood, this hotel is situated near popular attractions such as The Wharf, Yards Marina and Audi Field.

➜ The Roost: This 12,500-square-foot food hall and neighborhood gathering place has, ahem, roosted on the corner of Pennsylvania Avenue and 14th Street on Capitol Hill. Local eat and drink abounds, from Red Apron's topnotch burgers and charcuterie boards to Shelter's tasty low-ABV brews.
Connect
Destination D.C. | 202.789.7000  
Read Next: Washington, D.C., Leads the Way Forward for U.S. Bleisure Travel