Hard Rock International to Acquire Las Vegas' The Mirage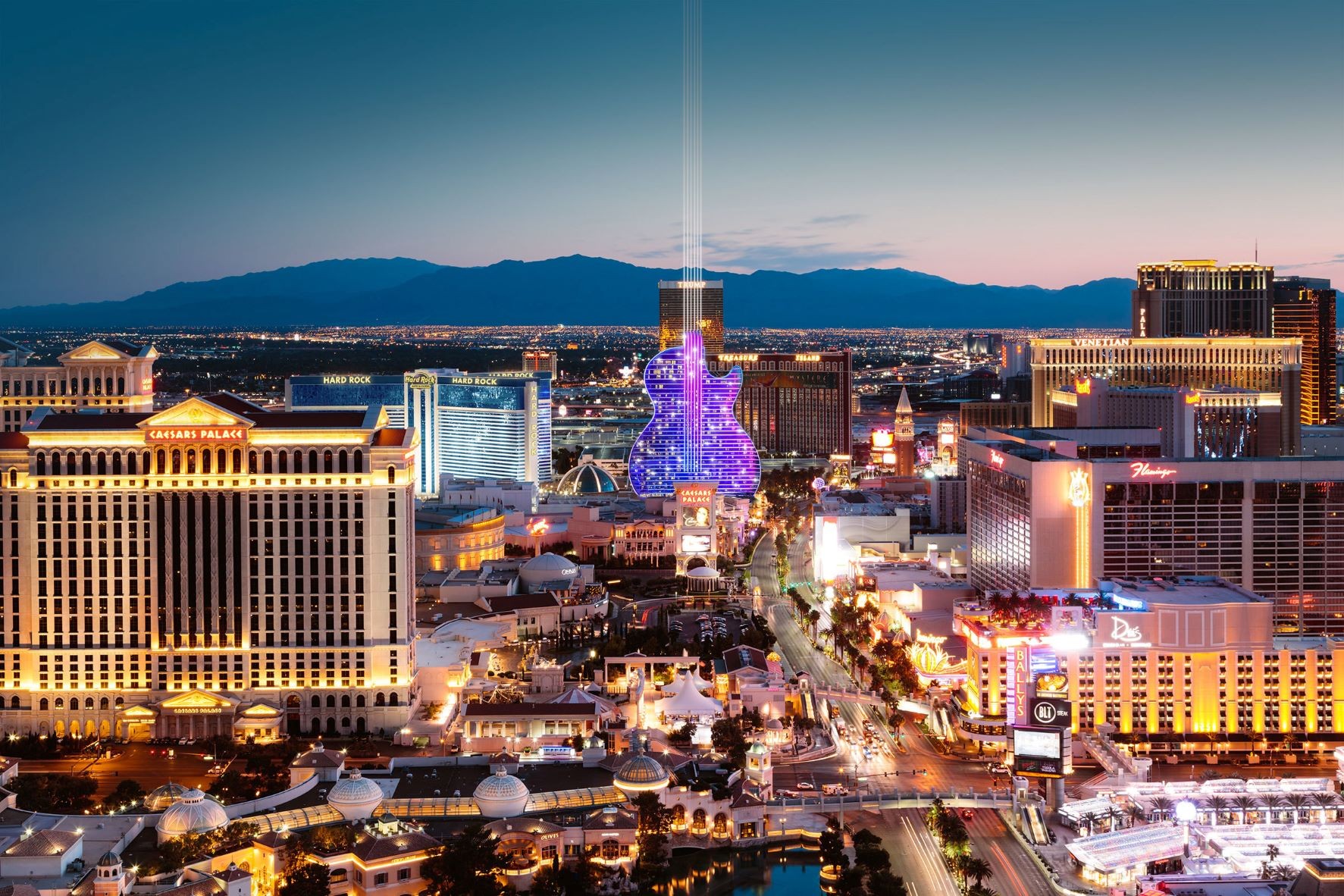 Hard Rock plans to build a guitar-shaped hotel which will be located on the Las Vegas Strip. Photo courtesy of Hard Rock International.
The Mirage Hotel & Casino is off the market. MGM Resorts International announced December 13 it had reached a deal—expected to close in the second half of 2022—to sell the operations of the iconic Las Vegas Strip property to Hard Rock International for $1.075 billion in cash. 
With the acquisition, Hard Rock also announced plans to build a guitar-shaped hotel on the Strip (see rendering above) and to rebrand The Mirage. Under terms of the agreement, MGM Resorts will retain The Mirage name and brand and license it to Hard Rock royalty-free for a period of three years while rebranding plans are finalized. 
"When complete, Hard Rock Las Vegas will be a fully integrated resort welcoming meetings, groups, tourists and casino guests from around the world to its nearly 80-acre center-Strip location," said Hard Rock International Chairman Jim Allen in a press release. 
The Mirage, known for its 90-foot-wide Strip-side volcano, debuted in 1989 and was acquired by MGM Resorts in 2000. 
"This transaction is a significant milestone for MGM Resorts and for Las Vegas," said Bill Hornbuckle, CEO and president of MGM Resorts International, in a press release. "As part of the team that opened The Mirage in 1989, I know firsthand how special it is, and what a great opportunity it presents to the Hard Rock team. I want to thank all of our Mirage employees who have consistently delivered world-class gaming and entertainment experiences to our guests for more than three decades." 
The deal also aligns with MGM Resorts' focus on expansion and growth opportunities in its core business, which was announced in August with news that New York City-based real estate investment trust VICI Properties will acquire MGM Growth Properties. 
"This is a fantastic outcome for the company, as we are able to reprioritize future capital expenditures toward opportunities that will enhance the customer experience at our other locations in Las Vegas," said Jonathan Halkyard, CFO and treasurer of MGM Resorts International, in a press release. "We appreciate VICI, as the real estate owner of The Mirage once its acquisition of MGM Growth Properties closes, working constructively with Hard Rock to facilitate a new lease agreement."