The Return of the Rodeo to Las Vegas, Plus More Event Possibilities Rooted in Western Heritage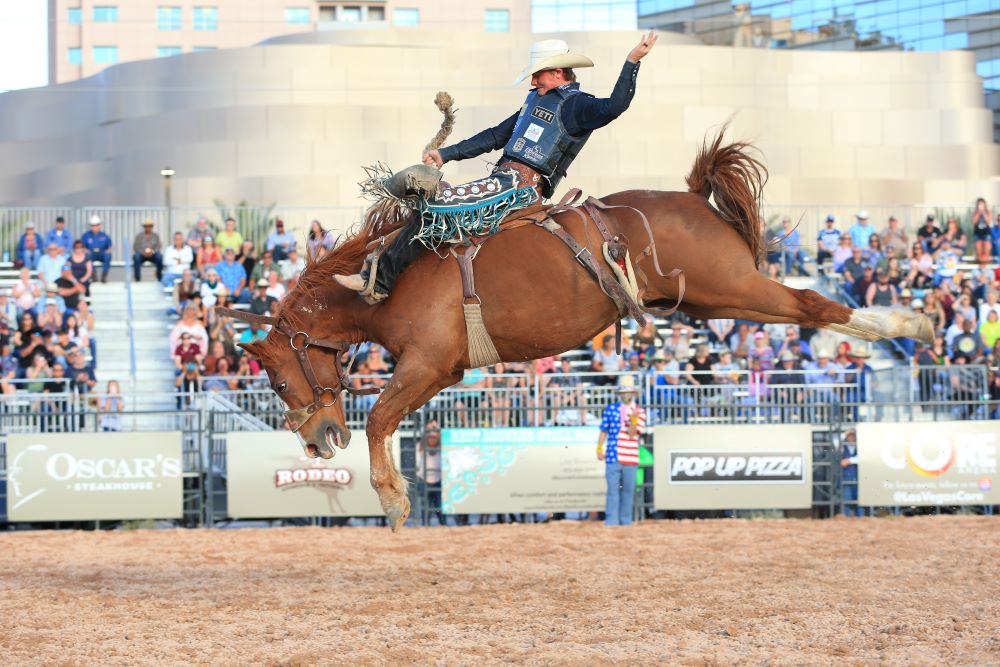 Las Vegas Days at Core Arena. Courtesy Plaza Hotel
The Wrangler National Finals Rodeo (NFR), the season-ending championship of the Professional Rodeo Cowboys Association (PRCA), has been a December fixture in Vegas since 1985. Benny "the Cowboy" Binion, a founding father of Vegas and ProRodeo Hall of Famer, was instrumental in luring NFR from its longtime home in Oklahoma City, along with Las Vegas Events, a private, not-for-profit arm of the Las Vegas Convention and Visitors Authority (LVCVA) focused on special events.
Following a pandemic-driven relocation to Texas in 2020, the 10-day "Super Bowl of Rodeo" made a high-kicking return to Vegas in 2021 with 169,539 attendees, up 10% from 2019, and the best single night crowd since 2014.
Attracting an estimated half-million fans overall each December, most from out of town, the customary year-end economic boost provided by the finals and associated events, estimated at around $176 million in 2019, was especially relevant in the pandemic context.
"Really, it's a critical component to the local economy," Brian Gordon, a principal with leading Vegas research firm Applied Analysis, told local media. "There are a lot more special events happening. And that is helping to fill in the holes where we are still lagging, on things like convention travel or international travel."
Rooted in Western heritage that defined Vegas's founding days, NFR is a case study in maximum special event leverage.
[Related: IMEX America Returns to Las Vegas, Reunites Meetings Industry]
History of Country Western Influence in Las Vegas
The colorful history of Vegas travel slogans originated with "Las Vegas Nevada, Still a Frontier Town" in 1939. Displayed on billboards, pictorial maps and other media, the message was amplified by a wave of Old West-inspired casino-hotel architecture.
There was much tradition to build on. Early prospectors brought games of chance to the future Silver State. Fremont Street arose in 1905 as a dusty thoroughfare lined with rowdy sawdust joints and gambling halls.
Popular Western customs included flipping a coin for the price of a drink, which Nevada outlawed along with most gaming in 1910. Transformation from struggling railroad watering stop to tourism hotspot began in 1931 with the legalization of gambling and construction of the Hoover Dam. 
Fremont originals included Hotel Apache (1932), Frontier Club (1939), Pioneer Club (1942) and The Westerner (1950). In 1951, Binion, a transplanted Texan, relaunched the Apache and adjacent Eldorado Club as his legendary Horseshoe Club. In 2019, the Apache, where men on horseback once rode inside, reopened as part of Binion's Gambling Hall.
The trend also defined the original casino-hotels on Highway 91, the future Strip. First was El Rancho Vegas, opened in 1941 by California motel operator Thomas Hull to capitalize on increasing car traffic from Southern California. Features included a windmill, which housed the air conditioning and served as a beacon to passing motorists; Lucky Silver, a live "gambling horse" inside the casino; and the Buckaroo Buffet. Next came Hotel Last Frontier (1942), featuring the Little Church of the West (now located just south of Mandalay Bay) and Last Frontier Village theme park (1950).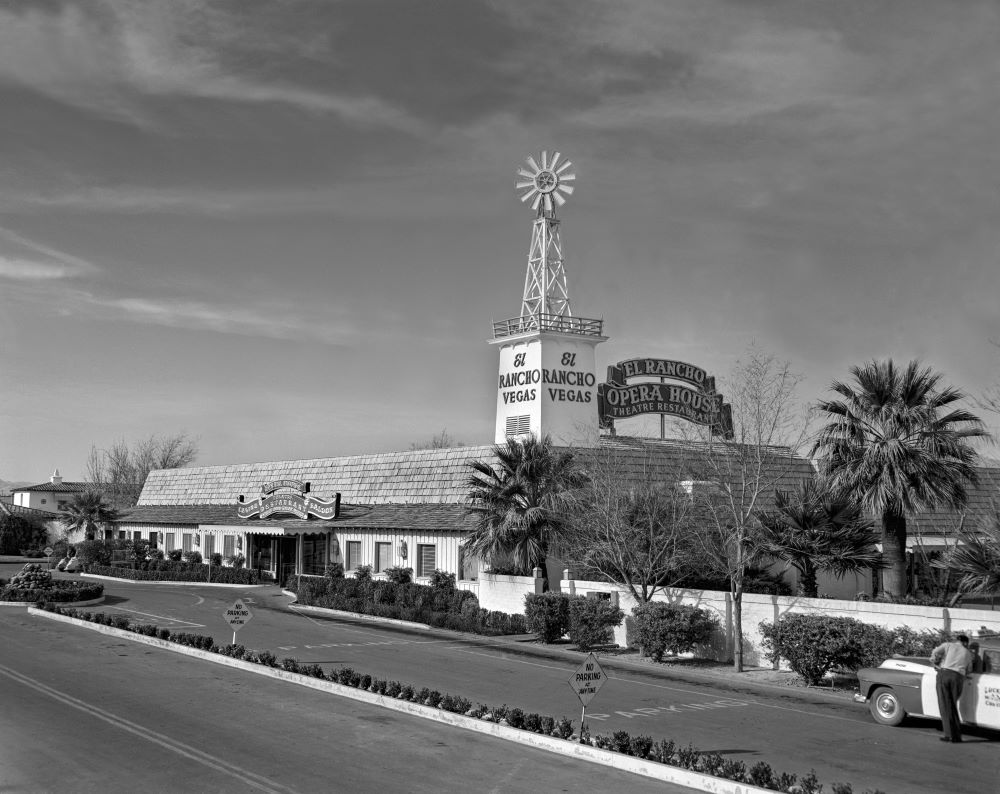 In ever-evolving Vegas, the vogue soon shifted. Opened in 1946, the next Strip property, the Flamingo, went for exotic glamour. Then came the atomic and space ages, which influenced the relaunch of Last Frontier as the "out of this world" Next Frontier in 1955.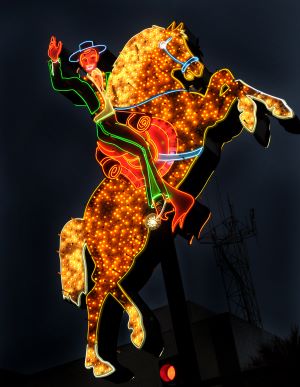 The Hacienda Hotel & Casino (1956), where Mandalay Bay stands today, was the last of the "frontier" era's new builds. In 1996, The Neon Museum officially "opened" by installing the classic Hacienda Horse and Rider neon sign at Las Vegas Boulevard and Fremont.
While few other physical vestiges remain, iconic "Vegas Vic" still stands tall. Installed at the Pioneer Club in 1951, the 48-foot-tall cowboy was the world's largest animated electric sign at the time. Once welcoming visitors with his waving arms and "Howdy Podner" greeting, he now maintains vigil under the Fremont Street Experience canopy. 
In the mid-60s, the Pioneer Club introduced the female "Vegas Vickie" hostess role. Her neon namesake, installed in 1980 at Fremont Street's Glitter Gulch Casino and "married" to Vegas Vic in 1994, now kicks her motorized leg inside Circa Las Vegas. 
By 1979, when Robert Redford's character, a former rodeo star, rides a stolen stallion through Caesars Palace onto the nighttime Strip in Electric Horseman, the frontier look was mostly faded. One notable exception was Helldorado Days (now Las Vegas Days), the annual November parade and celebration of Vegas's Wild West history since 1934.
Six years later, NFR came to town, and country and western culture was back to stay.
[Related: The Story Behind Las Vegas' Neon Lights]
NFR's Destination-Wide Experience in Las Vegas 
Extending destination-wide, NFR, which includes the multi-program NFR Experience, exemplifies the "non-stop action" message of the LVCVA's new "Greatest Arena on Earth" sports campaign. 
Since day one, NFR's championship rounds, which include bull riding, bareback bronc riding, and team roping, have been perennial sellouts at UNLV's multi-purpose Thomas & Mack Center. NFR's official gift show, Cowboy Christmas, is even bigger. Along with the co-located Hunter & Outdoor Christmas Expo, the free-admission show, featuring 350-plus exhibitors utilizing more than 500,000 square feet of show floor at the Las Vegas Convention Center, drew 241,000-plus visitors in 2021.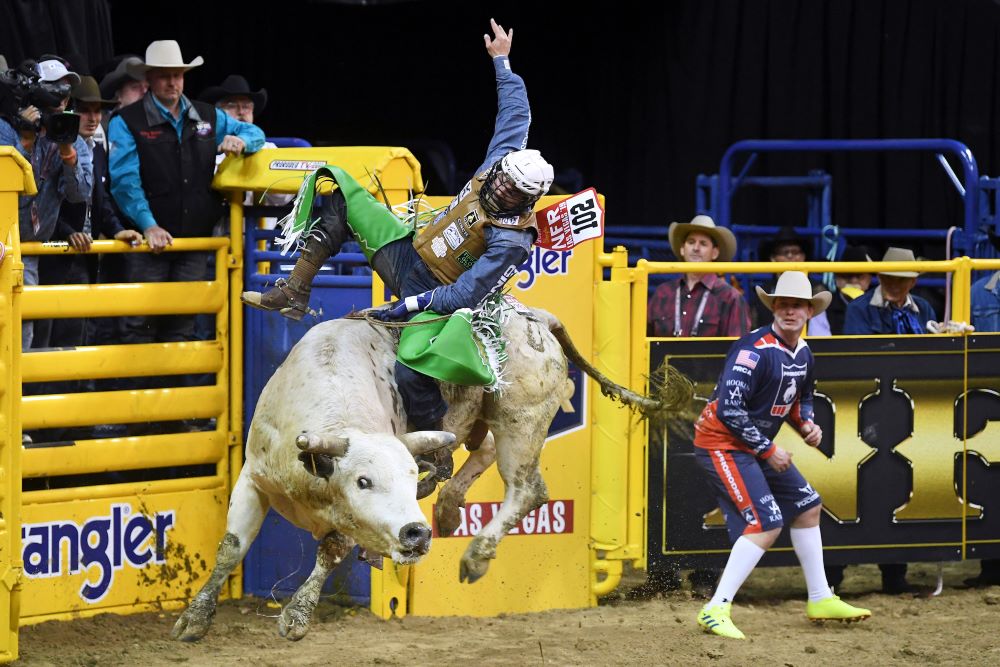 NFR's other center stage is year-round cowboy headquarters South Point Hotel, Casino & Spa. Owner Michael Gaughan, whose father Jackie was another Vegas patriarch and contemporary of Binion's, was also instrumental in bringing the event to Vegas. The property, which completed a $40 million renovation of all 2,163 rooms in 2020, hosts a full NFR schedule, including nightly Buckle presentations and a host of parties, galas and live entertainment.
Purchased by Gaughan in 2008, the massive bronze statue of Binion on horseback that once stood in downtown welcomes cowboys and conventioneers to the resort's integrated 150,000-square-foot meetings and exhibition complex. The nationally recognized 4,600-seat South Point Arena & Equestrian Center hosts 40-plus equestrian events throughout the year. 
Other partner properties include Plaza Hotel & Casino. Home to the versatile CORE Arena, downtown's only outdoor equestrian center, the 1971 Fremont Street anchor, with nearly 1,000 rooms and 30,000 square feet of refurbished space, hosted NFR's Junior World Finals and opening night Downtown Hoedown party's fireworks finale. In November, the Plaza hosted two nights of rodeo as part of the Las Vegas Days festival. 
NFR fans also gathered at the outdoor Downtown Las Vegas Center, which can flexibly host large-scale corporate events, concerts and multi-day festivals.
In all, more than 20 Strip, downtown, and off-Strip resorts and hotels participated in NFR as partners or sponsors, many offering promotional packages. Utilizing F&B outlets, showrooms and other venues, nightly programming includes viewing and after parties, rider signings, and underscoring Vegas' tagline as "Sports and Entertainment Capital of the World," a live music bonanza.
[Related: Details on the Newly Opened Virgin Hotels Las Vegas]
Country Concerts in Las Vegas 
Describing NFR as a wider "Western lifestyle festival" in a November 2021 interview with the Las Vegas Sun, Las Vegas Events President Pat Christenson stated, "Nobody can duplicate what Las Vegas has to offer. Nobody knows better how to take care of the NRF fans or visitors in general. If we've done one thing well, it's to continue to grow the event outside of the arena."
That destination-wide reach includes more than 200 events, of which nearly one-third were concerts dominated by country acts.
The star power included Reba McEntire and Brooks & Dunn at The Colosseum at Caesars Palace. Shania Twain played Planet Hollywood's Zappos Theater while Carrie Underwood inaugurated the new 5,000-seat Resorts World Theatre with the launch of her first Vegas residency, REFLECTION. Yet more top talent played the stages at The Cosmopolitan of Las Vegas, The Venetian and Virgin Hotels Las Vegas.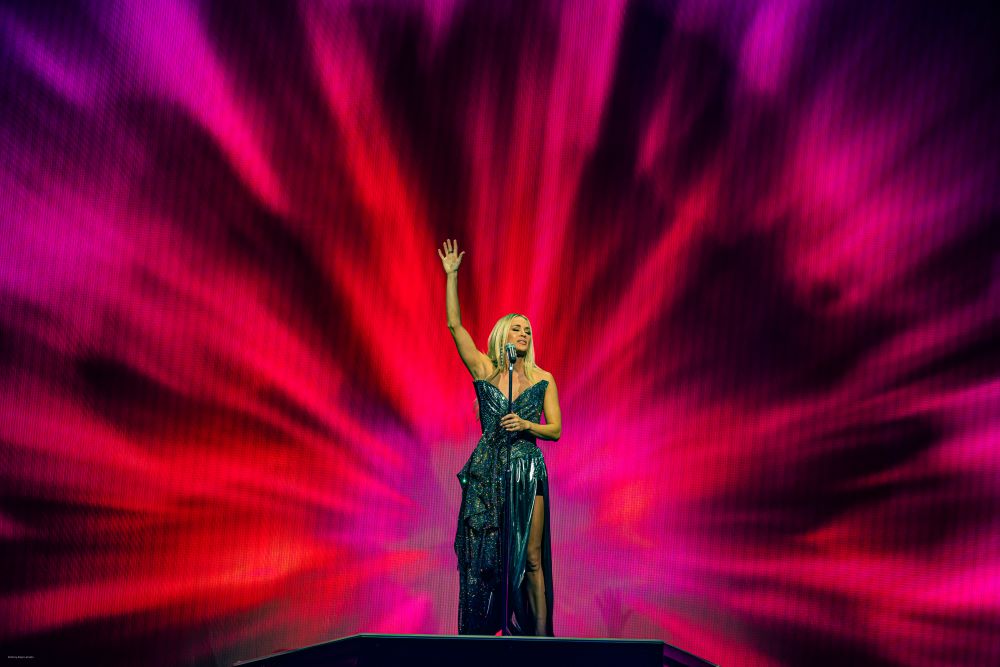 With Vegas favorite Jason Aldean playing the renamed Dolby Live at Park MGM theater, repeat official NFR destination partner MGM Resorts International went country and western at multiple resorts including Mandalay Bay and the Mirage Hotel & Casino. Announced in December, MGM is selling the latter's operations to Hard Rock International in a $1 billion-plus deal that will create the first tribal-owned property on the Strip. 
Gilley's Saloon at Treasure Island Hotel & Casino is the Vegas outpost of the Texas honkytonk featured in 1980's Urban Cowboy. Western wear is encouraged at this event-capable hotspot, which features a mechanical bull and free line dancing lessons.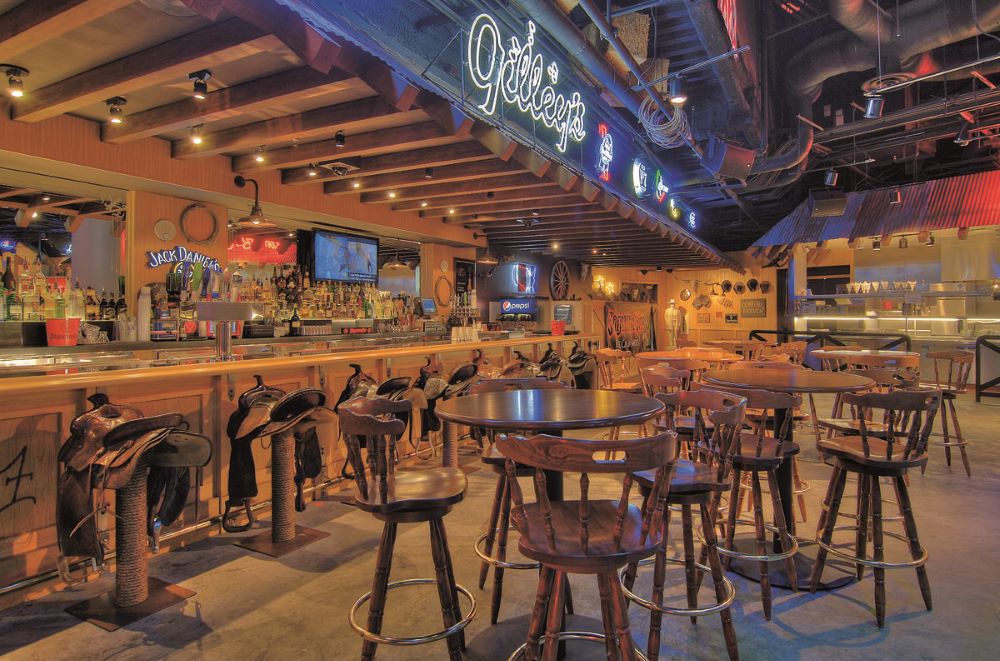 The country presence is not limited to NFR. In June 2021, MGM Grand Garden Arena hosted the Bill Pickett Invitational Rodeo, the nation's only touring Black rodeo competition. One month later, Garth Brooks played the first-ever concert at Allegiant Stadium, selling 65,000-plus tickets in 75 minutes. Brooks is back this February at Dolby Live at Park MGM. This March, the multi-purpose venue, home of Super Bowl LVIII in 2024, welcomes the 57th Academy of Country Music Awards. Country superstar Blake Shelton has announced plans to open his Ole Red country music club, restaurant and bar at Bally's Strip-facing Grand Bazaar Shops in 2023.
After playing the 16th edition of his ongoing "Strait to Vegas" weekend residency at T-Mobile Arena during NFR last December, George Strait, the "King of Country Music," is back for two nights this February. 
"The Cowboy Rides Away" from Strait's 1985 album "Does Fort Worth Ever Cross Your Mind" offers a fitting farewell for another long-time event staple, the Pro Bull Riders (PBR) World Finals. In Vegas since 1994 with comparable destination-wide impact, PBR is relocating to Fort Worth, Texas following its last five-day run at T-Mobile Arena last November.
Vegas will continue to host marquee PBR events, however. In December, the LVCVA approved a five-year, $6.4 million deal for a new PBR team bull-riding championship event. NFR returns this December as negotiations continue to extend the current contract beyond 2025.
Connect
Las Vegas Convention and Visitors Authority
(702) 892-0711
Read this next: Fontainebleau Las Vegas Set to Open in Late 2023