Two Surveys Say Meetings Industry on the Rebound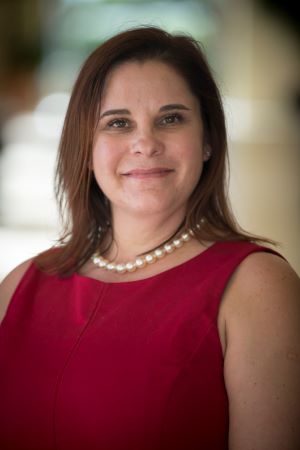 A pair of recent studies point to a rapidly rebounding meetings and incentives market as omicron seems to be on the retreat and attendees and organizations that plan meetings are ready to get back in the saddle. 
According to the most recent U.S. Meetings Recovery Forecast report from data-as-a-service company Knowland, meetings volume from February to March increased 55.5%. 
"I'm very happy. I watch [the statistics] on a monthly basis and January had me moderately concerned because we did see that omicron dip, which was much more than I anticipated," said Kristi White, chief product officer for Knowland. "We started seeing the uptick in the third and fourth week of January. February ticked up nicely, and March actually beat my forecast, which was 12,000 events. We wiped out all of the January losses." 
[Related: American Express Business Travel Forecast Reflects Positive Meetings Outlook]
White said she expects April to dip compared to March, due to the Easter holiday cutting into business travel, but in the last six months the meetings industry overall is showing it is returning to its native seasonality ebb and flow. 
Other highlights from the Knowland report include the following: 
Average attendees are at par with 2019 levels: The average number of attendees per event in March 2022 was 108, compared to 61 in March 2021 and 110 in March 2019. Attendees are now at par with 2019 levels. 
Average space used/attendees ratio is level with 2019: The average space used in March 2022 was 2,756 square feet, while meetings in March 2021 averaged 2,512 square feet and 2,987 square feet in March 2019. 
Corporate meetings continue to be the dominant segment: The corporate segment represents greater than 65.2% of meetings and events business, with Healthcare, Technology and Training/Education representing the largest industry groups. From a recovery standpoint compared to 2019 levels, Online Retailer, Tobacco, Charity Org/Social Services and Urban Infrastructure are the segments at the highest level of recovery captured in March. 
Top five market growth compared to February 2022: The top five growth markets, in order, in March were Washington, D.C., Atlanta, Boston, Chicago and San Diego, reflecting those markets with the largest increase of meetings compared to February of 2022.
"Inside those top five markets—Washington, D.C., Boston, Chicago, Atlanta, San Diego—to see them suddenly pop into the top five was probably the most pleasant surprise for me, because they've been hit so hard," White said. "New York, Seattle and San Francisco may be the last to recover." 
White added that New York and San Francisco in particular may lag in terms of a recovery because they're so reliant on inbound international travel from Europe (New York) and Asia (San Francisco).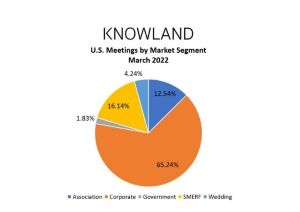 "I think 2022 is going to be the biggest end of year for group booking in the history of our industry," White said. "And how our hotels going to capitalize on it with their pipeline looking into the future, because this is only going to get faster and faster in the coming months." 
"We're forecasting 58% recovery compared to 2019, in the number of events, but for the last four months that recovery metric is actually going to jump up to 70%—that's how much it's going to build at the end of year," she continued. "It's just people saying, 'You know, we're going to go ahead and have the meeting.' Last year they weren't looking to take the chance."  
Following are predications from the survey regarding the recovery of key U.S. meetings destinations: 
2022: Phoenix will be 100 percent recovered. 
2023: Tampa, Dallas, Miami, San Francisco, Atlanta, and Houston will achieve 100 percent or greater recovery. 
2024: All top 25 markets except Denver (95.2%) and Detroit (<75%) will achieve 100 percent or greater recovery by 2024. 
U.S. Travel Survey Also Positive 
A new survey from U.S. Travel, J.D. Power and Tourism Economics released in the first week of April also reflected positive trends in the industry. 
The new Business Travel Tracker survey from the first quarter of 2022, reported 84% of business traveler respondents indicating they expect to attend a conference, convention or tradeshow in the next six months.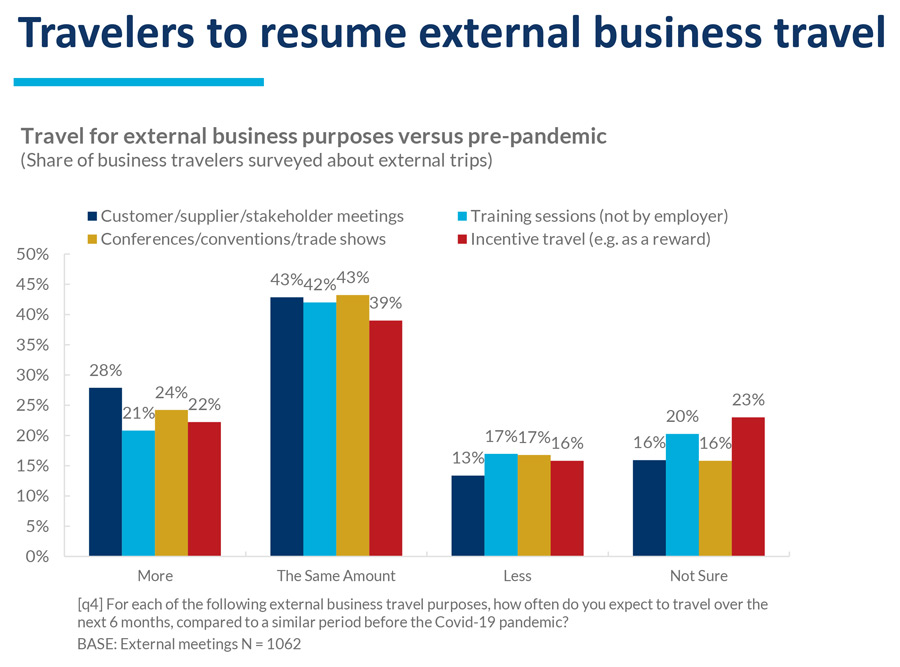 [Related: Hospitality Continues to Lag in Latest U.S. Jobs Report]
Other key findings from the survey include the following: 
Number of business trips back to normal: Business travelers expect to resume traveling at a similar frequency as pre-pandemic, averaging about 1.6 trips per month (compared to 1.7 pre-pandemic). Of external business travelers, 88% expect to take at least one trip in the next six months. 
Meetings travel still facing challenges: One-third of business travelers responded they were unsure or expect to travel less to attend conferences/conventions/tradeshows in the next six months than before the pandemic. Nearly one-quarter (24%) of business travelers plan to take more trips to attend conferences/conventions/tradeshows and 28% expect to travel more to visit customers and suppliers, while 17% and 13% expect to travel less for both purposes, respectively. 
Business travelers hit the road: Many business travelers expect to make more—rather than fewer—trips to meet with customers, suppliers and other external stakeholders than they did pre-pandemic (15% net positive), and more trips for the purpose of internal team or department meetings (10% net positive). 
Benefits of in-person meetings: Business travelers report developing relationships is the most important aspect of their business trips, followed by closing sales and building awareness of their organization's products or services. 
Remote work translates to more travel: One-third of business travelers work fully remote and four in five work remotely at least some of the time. Many business travelers who work partially or fully remote indicated that their employer encourages them to travel to engage with other team members in person (38%), to attend training sessions in person (32%) or to attend in-person company or team celebrations (29%). Fewer than one-in-five partially or fully remote business travelers report they are not encouraged to travel. 
Virtual meetings retreating in prominence: About 6% of business travelers report they are not sure if they will take a business trip over the next six months, with the most frequently cited reason being meetings and conferences not occurring (16%), or that their organization is restricting business travel (13%). Just 12% of respondents who are unsure if they will take a business trip over the next six months referenced video conferencing as a reason. 
[Related: 'We Cannot Fully Recover' Without Business Travel, U.S. Travel Says in State of the Industry]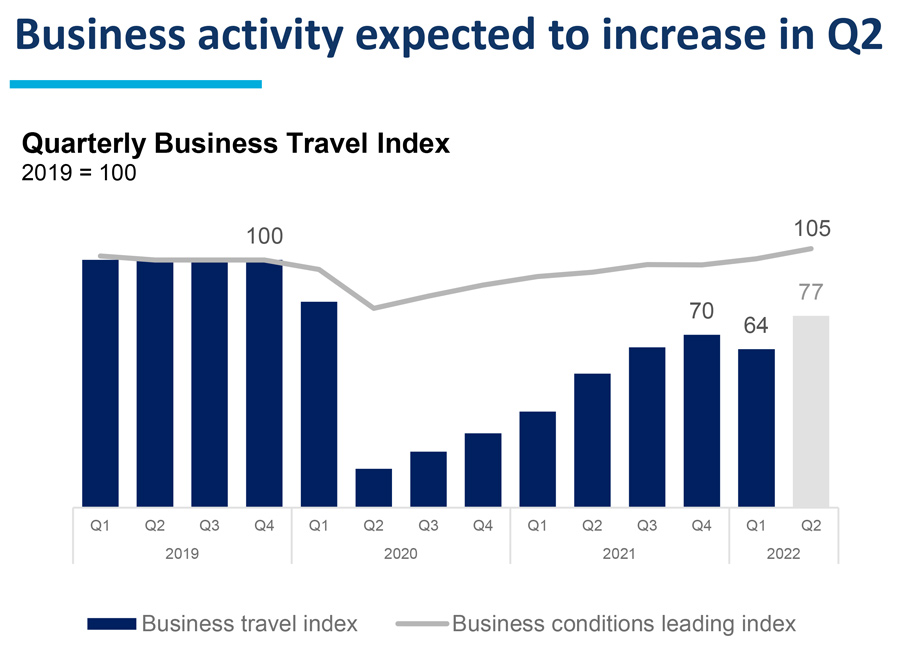 "The return of in-person meetings and events—and business travel in general—is a welcome sight after more than two years of pandemic-related uncertainty," said U.S. Travel Association President and CEO Roger Dow in a press release announcing the findings. "There is simply no substitute for a face-to-face meeting, which is proven to lead to more fruitful business opportunities and can help power an economic and jobs recovery in communities across America. 
"While the data indicates a strong desire from American business travelers to hit the road again, there is a big difference between willingness to travel and actually taking a trip," Dow added. "Corporate leaders should seize the competitive advantage, budget for business travel, and encourage their teams to get back on the road and reestablish those personal connections that only come with face-to-face interactions."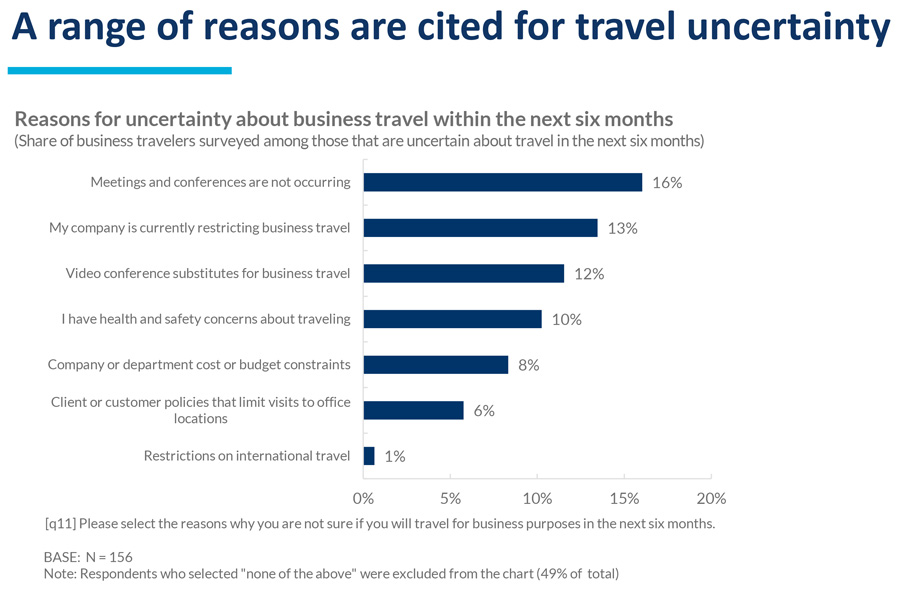 Methodology 
Knowland's data collection and aggregation methods include field reporting and automated methods of customer and non-customer data collection in primary, secondary and tertiary markets, as well as its large historical database. Knowland tracks approximately 2,800 hotels around the U.S. and group data from throughout the world, including 108 domestic U.S. markets and 12 international markets.
The U.S. Travel, J.D. Power and Tourism Economics study featured 2,593 respondents, with responses collected between March 4 and 14, 2022. 
Read Next: 2022 Meetings Today Trends Survey