Unique Offsite Venues to Consider for Your Next Columbus Event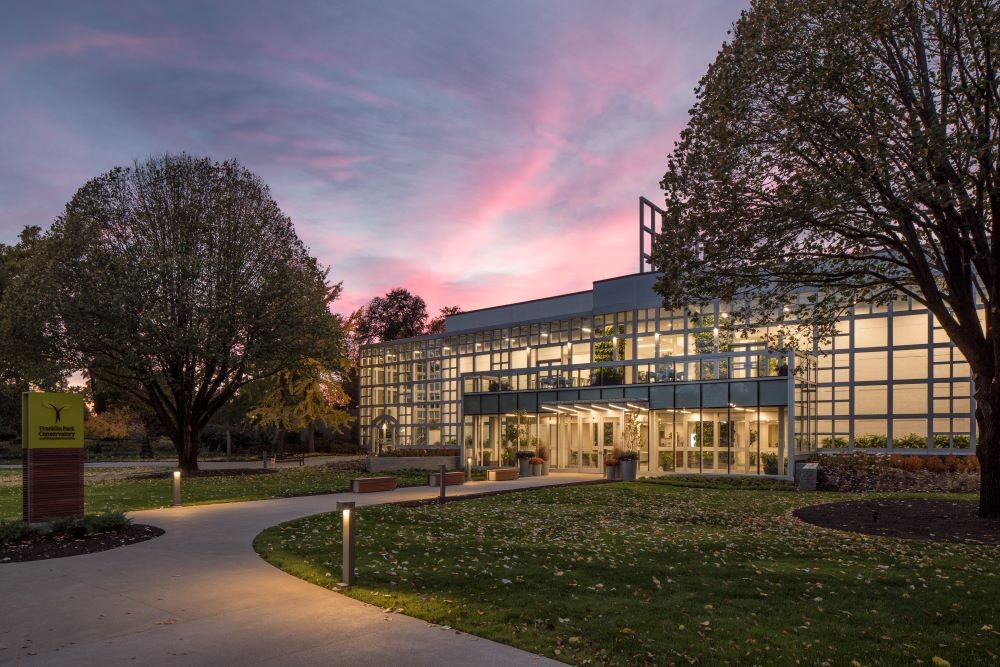 Franklin Park Conservatory and Botanical Gardens Entrance
As the 14th largest city in the country and fastest-growing in the Midwest, according to Experience Columbus, Columbus, Ohio, offers opportunities allowing for unique, personalized and distinct experiences tailored to anyone visiting with an open mind. 
Located in the heart of the country and within 550 miles of nearly half the nation's population, Columbus is accessible, making the city's one-of-a-kind experiences easy to get to for anyone willing to take advantage of the opportunity, and its diverse neighborhoods allow for the immersion of culture into any visit. 
In addition to the city's 373,000-square-foot convention center, its abundance of offsite meetings and events venues allows for seemingly endless potential, and Sarah Townes, CTA and chief marketing and innovation officer at Experience Columbus, is excited to welcome meetings, conventions, sporting events and more back to the city.
"Everything is so accessible in Columbus, especially for our meeting attendees," Townes said. "Based on the group that's coming and the things they're interested in, we have the opportunity to do really custom itineraries and experiences for them."
To experience all Columbus has to offer, Townes suggests these offsite venues for your next meeting or event to guarantee a memorable experience for everyone.
[Related: Columbus, Ohio: The Next Big Meetings Destination That Might Not Be on Your Radar]
Huntington Park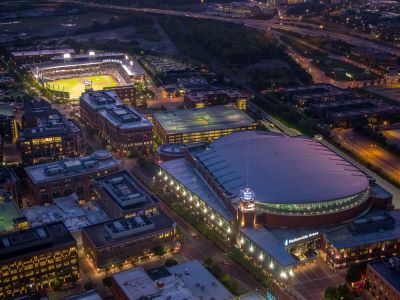 Home of the Columbus Clippers, the city's minor league baseball team, Huntington Park is one of Columbus' most versatile offsite destination venues. The state-of-the-art, year-round facility is designed to host groups from 15 to 10,000 guests, and its atmosphere is one guaranteed to bring excitement.
The field, located within walking distance of the Short North Arts District, offers five unique meeting and event spaces, as well as terrace tables for smaller groups and gatherings. Some of the field's most versatile spaces include:
The Hall of Fame Bar—Huntington Park's smallest space—is located on the second floor of the Left Field Building and features a covered party area for groups of 25-50 guests.
Pedialyte Porch mirrors The Hall of Fame Bar's amenities atop the Right Field wall and accommodates up to 75 guests.
The Left-Field Half-Moon Area is a three-tiered party area between sections 25 and 27, offering groups of 25 up to 120 people a VIP view of the Clippers' left-field action.
Right Field Plaza, located on the concourse level behind sections 1 and 2 of the park, features a covered party area and can host 25 to more than 200 people.
Pepsi Party Deck features club-level views along the 1st base line for groups of 50 to more than 100 people, promising excitement every time the bat meets the ball. 
Whether you're hosting a cocktail reception, teambuilding experience or meeting, Huntington Park is bound to make it memorable.
Gateway Film Center
Since 2005, Gateway Film Center has been promising those who visit Columbus experiences straight out of a movie. The lively, modern, film space is a nonprofit cinema "committed to supporting storytellers and amplifying the impact of their work in our community."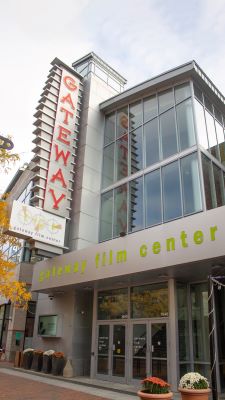 With a belief in the power of movies to "strengthen, unite, challenge and inspire," Gateway Film Center expands its outreach and mission beyond the Columbus community by inviting visitors from all around to experience the inspiration behind the cinema's message.
The center works to curate an experience where the stories shown on screen and in films teach important lessons, leaving the viewers impacted and treating the artists with respect and appreciation.
Gateway Film Center features eight theaters available for rent, with seating ranging from 22 to 262 and the opportunity to rent multiple theaters, as well as three meeting spaces:
The War Room, Gateway Film Center's private meeting space, accommodates a maximum of 20 people for smaller gatherings and meetings.
The Gateway Film Center's lounge fits 75-100 guests comfortably.
The Torpedo Room—a Jules-Verne inspired bar—can host up to 40 guests and features cocktails, local craft beer, an "interesting wine" and a shareable dessert, as well as seasonal features.
Franklin Park Conservatory and Botanical Gardens
With a mission of bringing people and plants together, Franklin Park Conservatory and Botanical Gardens has created memories amongst nature since 1993 through educational, cultural and social experiences. 
In addition to its 13-acre total visitor experience, featuring the Conservatory building, The Scotts Miracle-Gro Foundation Children's Garden and the Grand Mallway, meeting and event attendees can experience Franklin Park Conservatory and Botanical Gardens' biomes, garden, horticulture and art exhibitions in unique, personalized and memorable ways.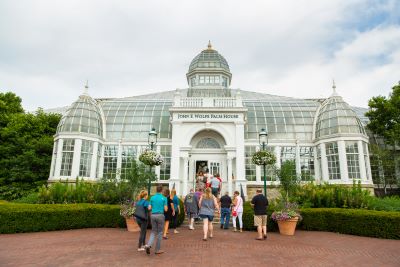 The park's historic John F. Wolfe Palm House, dating back to 1895, is the perfect setting for any elegant occasion of up to 250 guests.
[Related: The Next Hottest Meetings Destination May Surprise You—Why You Should Consider Columbus, Ohio]
"Franklin Park Conservatory and Botanical Gardens displays the largest collection Dale Chihuly's glass artwork and a botanical garden," Townes said. "They have unbelievable meeting spaces that are very inside-outside, beautiful year-round."
Featuring a double-grand staircase with steps descending into a tropical garden, palm trees, iron gazebos and a Venetian-style fountain, the atmosphere alone sparks excitement. When the sun sets above the house's glass roof, guests can enjoy a display of light from artist James Turrell's LED installation. 
The conservatory's largest indoor space, the Grand Atrium, features plant-draped pillars and slate tile floors, bringing the nature from outside in. The versatile venue, with a capacity of up to 500 people, can host dinners and cocktail receptions and includes an outdoor, rooftop Zen Terrace with a serene atmosphere and wall of Bonsai.
Other spaces include the Worthington Industries Veridian, featuring an exposed-stone wall, ceramic tile floor and wood-coffered ceiling with a capacity of 200, and The Wells Barn, built from the framework of a 200-year-old, hand-hewn timber frame from a Richland County barn, with a capacity of more than 300.
Crew Kitchen and Lower.com Field
One of the city's newest venues, Lower.com Field—home of the Columbus Crew, the major league soccer team—offers unforgettable experiences with Crew Kitchen Events in a variety of spaces and locations.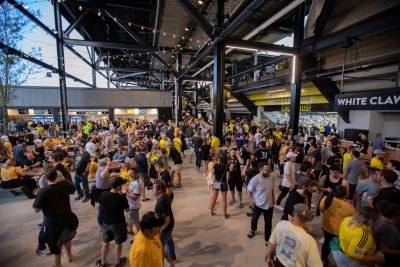 River Club has five spaces throughout Lower.com Field, each with an existing seating capacity of 151 guests. All locations are suitable for a reception of 250 people and have a total capacity of 350. The 6,000-square-foot spaces include 22-inch cushion seats, 19 TVs, in-house audio cable and a field view.
The 6,400-square-foot Lower.com Lounge is comprised of 10 private suites within the club space. Each suite is pitch-side and can host up to 120 guests across its bar, lounge and patio. The spaces each boast six TVs in the bar, a large screen TV and six more in the lounge, as well as two fireplaces outside.
The Pub, located in the stadium's Southeast Plaza, opens 1.5 hours prior to kickoff and offers a variety of food, including burgers and sandwiches, fish and chips, chicken strips, salads, pretzels and more. The 2,500-square-foot space is available for receptions of up to 150 guests and features one big screen, six TVs and in-house audio cable.
Convening in Columbus
In January 2023, PCMA—the world's largest community for business events strategists—brings PCMA Convening Leaders, its flagship education and networking event, to Columbus.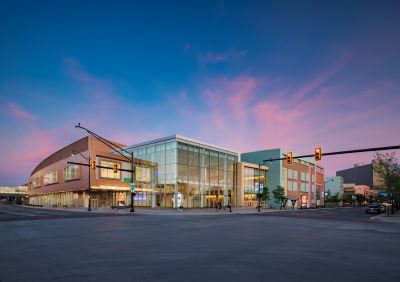 Experience Columbus will host PCMA's event at the Greater Columbus Convention Center January   8-11, 2023, to help attendees discover and understand why thousands of business events professionals and community leaders gather at PCMA Convening Leaders, emphasizing the importance of exploration, leading-edge education, research and networking.
The event will also highlight how business events generate economic and social "legacies" for business and communities through inclusive community engagement opportunities, one-of-a-kind education and entertainment, featured speakers and targeted programing. 
Connect
Experience Columbus
(614) 221-6623
www.experiencecolumbus.com 
Read this next: PCMA Picks Sites for 2022, 2023 Convening Leaders