Colorful and Creative Spaces That Inspire in Wisconsin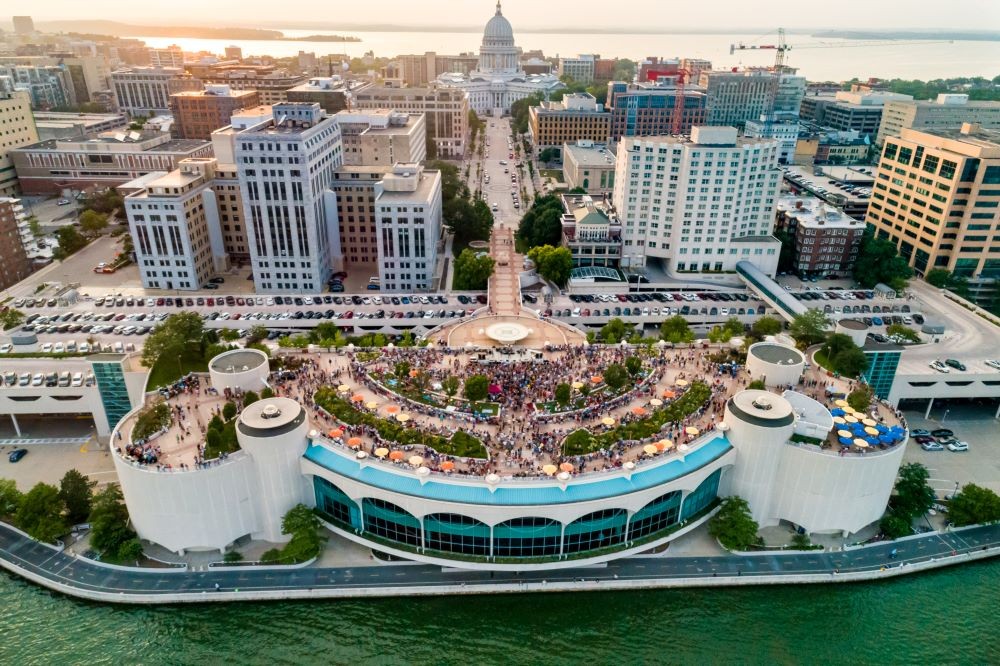 Monona Terrace Rooftop Event Space
There exists a need for creativity in every workplace environment, whether you're in a highly creative field or not. But creativity and inspiration can't be forced, so what happens when that headspace is hard to reach?
One way to break a creative rut is to surround and immerse yourself in creative environments. When it comes to exciting and stimulating spaces, Wisconsin's art scene never fails to disappoint.
From meetings and events venues in 100-year-old buildings to flexible convention centers to terraces overlooking historic architectural structures, Wisconsin has it all and more to entice and spark new conversations and ideas through the inspirational effects of art. 
Take advantage of these colorful spaces and collaborative activities around the state to boost creativity during your next meeting or event.
Green Bay
While the Packers may call the smallest city in the U.S. to host a professional sports team home, what Green Bay has to offer makes the city seem larger than life. Every August, nearly 200 artists from across the country visit Green Bay for the city's annual Artstreet Festival, according to Discover Green Bay. 
Whether you hope to bring color to your attendees' lives through larger-than-life murals or music to their ears through theatrical performances, Green Bay's art scene is an effective way to boost creativity and brighten minds.
One of Green Bay's "most-treasured gems," The Art Garage, a gallery and non-profit arts center organization, allows local artists to display and sell their creations. The 100-year-old former canning factory features Cream City brick walls, a high wooden ceiling and stained concrete floors.
Event spaces include the Main Gallery—which can accommodate 70 guests standing and 30 at seated cocktail tables surrounded by curated and collected art—and Studio B, ideal for corporate gatherings and fundraising events, as well as private gatherings of up to 150 people. 
Occupying the building that housed the old Denil Cadillac dealership, The Automobile Gallery turned the deteriorated and abandoned building into a gallery for automobiles and space for meetings and events. With a mission to offer a unique atmosphere supporting inspiration and memorable experiences, The Automobile Gallery is guaranteed to take attendee creativity to another level.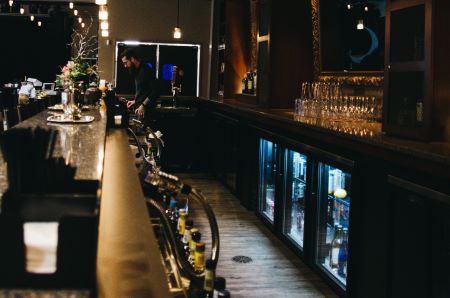 The gallery's Executive Conference Room, a contemporary mezzanine featuring an open view of the gallery, can seat up to 20 people. The room is equipped with an 80-inch LED HD display, web conferencing and audiovisual technology with an easy-to-use touch panel control system.
For larger gatherings and events, The Automobile Gallery's Leanne and Mike Haddad Event Center can accommodate anywhere from 20 to 200-plus guests and offers a full catering kitchen and bar facilities. Attendees also tour The Automobile Gallery campus, and space configurations include banquet, theater and classroom layouts. 
Green Bay's historic Meyer Theatre offers the "unforgettable, extraordinary, unique" and newly renovated meetings and events space, Backstage. Surrounded by repurposed brick, wood floors and chic decor, attendees experience Backstage's unique, trendy style and Green Bay's urban atmosphere.
The venue, with a seating capacity of 150 guests and standing capacity of 300, also features a full kitchen, built-in bar, "hidden" TV tucked behind an antique mirror and audiovisual equipment. 
[Related: 7 Historic Event Venues in Wisconsin]
Madison
With miles of streets lined with museums and galleries, the city is a booming arts district in more ways than one. In addition to paintings hanging on museum walls, Madison offers ancient history from the state and globally, Broadway and comedy shows, festivals and live music on the waterfront.
An abundance of artistic and creative venues provides meeting planners with a variety of options when it comes to getting attendees hands-on and inspired, creatively. Madison's Art + Literature Laboratory, a community-driven contemporary arts center, is a 10,500-square-foot space featuring ground floor galleries, 21-foot ceilings and floor-to-ceiling windows that can each be used as one space or divided into separate areas.
On the second floor is Art + Literature Laboratory's Mezzanine, a meeting space and library overlooking the galleries below, and the third-floor Education Studio can be reserved independently for meetings, events and rehearsals.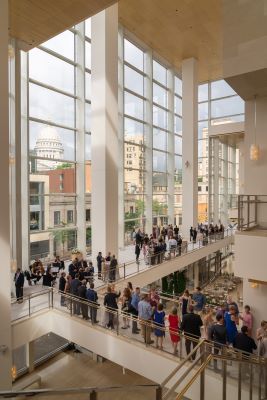 Located in the heart of downtown, Overture Center for the Arts has a vision to provide "extraordinary experiences for all" and nearly a century of stories to tell. The property offers a variety of spaces for anything from professional meetings to staged performances. In every room, creativity flourishes.
The property's 2,255-seat Overture Hall has welcomed Broadway shows including Phantom of the Opera and Rent, yet can be converted to host extravagant banquet dinners and inspirational board meetings. Theatrical lighting and acoustics make possibilities seemingly endless when it comes to productions, performances and presentations, and the Overture Hall Lobby just outside features two transparent-seeming grand staircases and 75-foot glass curtain windows showcasing views of the state capitol, ideal for cocktail receptions. 
On the center's second level is Promenade Hall, an elegant and versatile space designed to accommodate any event. With sprung Brazilian cheery wood floors and customizable lighting options, it has become one of Overture's most popular spaces as it allows for creativity.
[Related: 5 Cultural Attractions for Offsite Events in Madison, Wisconsin]
Promenade Terrace, overlooking Overture Hall Main Lobby, features spacious seating areas and a built-in bar. The terrace serves as an exclusive reception area on its own but can be paired with Promenade Hall for larger events and gatherings, and opens onto a small outdoor balcony with views of the city.
Sharing a block and architectural structure with Overture Center for the Arts is Madison Museum of Contemporary Art, an independent organization that exhibits, collects and preserves modern and contemporary art to "provide transformative experiences that educate, reflect and inspire us as individuals and a community," said Sarah Warner, PR and communications manager for Visit Madison.
Consider taking guests on a tour through the museum to admire different pieces of work, promote creativity or inspire new ideas.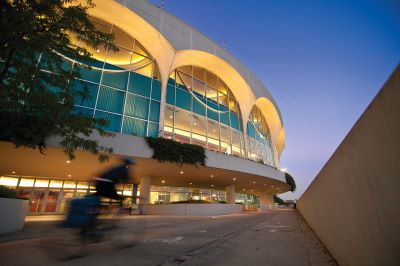 Designed by Frank Lloyd Wright and overlooking Lake Mendota, and just a couple of blocks off Madison's State Capitol Square, stands Monona Terrace Community and Convention Center, which brought to life Frank Lloyd Wright's "architectural vision for the city of Madison."
Designed in 1938 and completed in 1997, Monona Terrace serves as a curvilinear gathering place, linking one Madison landmark to another, converging with nature and connecting people to one another through the juxtaposing beauty of nature and urban life.
The property is within walking distance of nearly 1,000 hotel rooms, including 240 in the adjacent Hilton Madison Monona Terrace, which features direct access to the convention center in an enclosed skywalk and an additional 2,400 square feet of meeting space.
Monona Terrace offers 250,000 square feet of space throughout the multi-level convention center, but its "crowning jewel" is a 68,000-square-foot rooftop garden overlooking the cityscape in every direction with views of the downtown skyline, lake and State Capitol dome.
Milwaukee
Home to the Wisconsin Center—the state's largest and most flexible convention center—Milwaukee is a bustling hub for meetings and events of every kind, including concerts, sports, family shows and theatrical events. When it comes to fine arts, the city excels there, too, promoting creativity on seemingly every street corner.
Starting with Wisconsin Center, planners can work with 188,695 square feet of contiguous, state-of-the-art exhibit space, a 37,506-square-foot ballroom—which can comfortably host up to 3,150 guests—and 40,000 square feet of meeting space, customizable to accommodate. 
Creative and unique spaces include the 13,000-square-foot Etched Hall, a long corridor with inspiring writings by Wisconsin authors architecturally incorporated throughout, and the Loading Dock—the Wisconsin Center's 36,000-square-foot loading dock—with capabilities to be transformed into a unique, creative gathering with one-of-a-kind metropolitan ambiance. 
The Wisconsin Center will also host Beyond Monet: The Immersive Experience from October 20, 2022, through January 8, 2023, and has a $1 million art collection of its own, according to John Blust, copywriter for Visit Milwaukee. 
[Related: 5 Outdoor Venues in Milwaukee That Show Off the City's Personality]
To truly immerse attendees in the world of art, consider visiting the Milwaukee Art Museum, featuring world-renowned architecture, thousands of works of art and a Lake Michigan backdrop.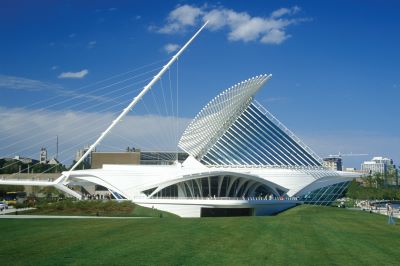 Added to the museum in 2001, the 25,000-square-foot Quadracci Pavilion houses the sum total of the museum's event spaces aside from Café Calatrava. Welcome more than 1,000 guests through Burke Brise Soleil—a moveable, wing-like sunscreen resting atop the museum's vaulted, glass-enclosed Windhover Hall—with a 217-foot wingspan that can open, flap and close at the start, highlight and end of your event.
Guests can flow between Windhover Hall and Baumgartner and Scroeder Gallerias. The museum's grand reception hall, Windhover Hall, is the single largest rental space and lit from an ascending 90-foot-high atrium. More than 10,000 square feet of curvilinear forms and white marble give the hall a unique, awe-inspiring atmosphere. Windhover Hall can host up to 800 people and 450 for seated receptions and dinners, and is available seven days a week.
For more than 50 years, the Villa Terrace Decorative Arts Museum has inspired the public through its collection of unique local, regional and international fine art, including Cyril Colnik's historic wrought-iron work and archives. The museum cultivates Milwaukee culture through a variety of intergenerational community arts programming, and some of the museum's thought-provoking spaces are perfect for promoting an innovative atmosphere.
The Mediterranean-style Villa Terrace, with serene views of Lake Michigan and sweet aromas traveling from the Renaissance Garden, makes for refreshing and memorable events bound to inspire. Spaces available include the Great Hall, Terrazzo della Luna and the Mercury Courtyard, and Villa Terrace provides a list of the caterers it exclusively works with, while bar service is provided by its own in-house beverage program.
Waukesha-Pewaukee
As meetings and events return, attendees are prioritizing and enjoying teambuilding and strengthening colleague connections, both of which help build a more productive work environment.
Less than 20 miles west of Milwaukee, Waukesha-Pewaukee offers several art-based teambuilding experiences. From group painting activities to DIY pottery and wood-working classes, attendees are bound to feel their creativity flourish. 
Stroke of Genius, located in the heart of Historic Downtown Waukesha, is a paint and wine studio offering corporate and teambuilding events where attendees can "have fun, a glass of wine or soda, and enjoy being with friends in a creative, social setting." 
During painting event sessions—which have a 10-person minimum and 40-person maximum—attendees follow step-by-step instructions and paint alongside Stroke of Genius' artist on a painting of their choice. Teams can choose a painting from the Stroke of Genius gallery or send in an image of what they would like to paint, keeping in mind copyrighted paintings cannot be chosen.
All canvases, art materials and aprons are provided, and local catering suggestions are available upon request. Stroke of Genius also encourages groups to bring their own food, as they will help set it up before or during your event.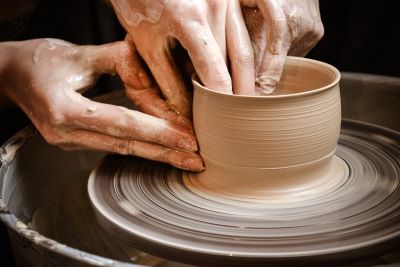 At the end of the event, not only do attendees take home a new painting to display, but new connections established in a creative environment. Stroke of Genius also offers non-painting event options and can accommodate 40 seated or 50 standing guests in its 1,100-square-foot event space. 
[Related: 7 Iconic Foods and Drinks of Wisconsin]
The Potter's Shop, an artisan's gallery and pottery studio, offers 7,000 square feet dedicated to ceramics, packed with 16 pottery wheels, a teaching facility and multiple electric kilns. Attendees can get their hands dirty in The Potter's Shop's adult group and teambuilding sessions while exploring clay. The Potter's Shop provides the materials, demonstrations and instruction for how to throw a form on the potter's wheel for 6-9 people.
With a variety of one-of-a-kind DIY workshops to participate in, Fisk Avenue is the perfect hands-on opportunity for teambuilding and unique experiences. Fisk Avenue provides the venue, instruction and materials to help complete a project from a list of their current offerings—cutting boards to headboards. 
Projects require no previous experience, as participants are guided and instructed from start to finish, and workshops are open to the public. 
Connect
Green Bay CVB
(888) 867-3342
www.greenbay.com
Madison CVB
(608) 255-2537
www.visitmadison.com 
Milwaukee CVB
(800) 231-0903
www.visitmilwaukee.org
Waukesha-Pewaukee CVB
(262) 542-0330
www.visitwaukesha.org
Read this next: Arts and Culture Venues for Offsite Events in Eastern and Central Wisconsin