All the Ways Groups Can Connect to Nature in Texas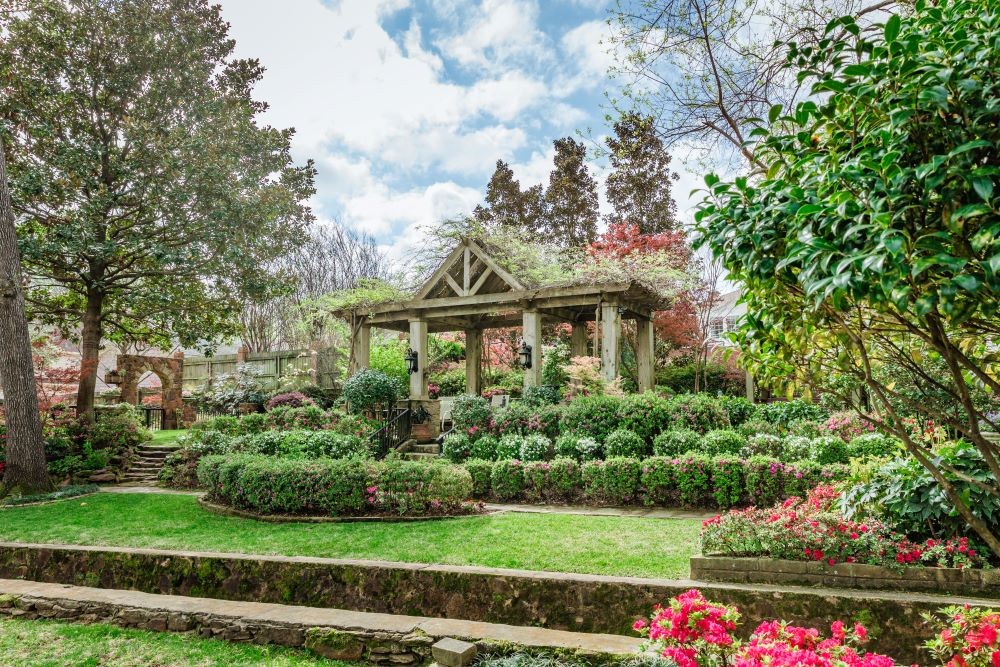 Azalea Spring Flowers, Tyler, Texas. Credit: Travel Texas
Originally a dairy farm, Phil Hardberger Park on the North Side of San Antonio has attracted outdoor enthusiasts with its swaying native grasses, woods and other flora since 2010. Wildlife on the move, however, had to contend with the six-lane Wurzbach Parkway, which runs through the 330-acre park. 
In a pioneering solution, the Phil Hardberger Park Conservancy constructed the Robert L.B. Tobin Land Bridge to span the highway. As the nation's largest mixed-use land crossing, the verdantly vegetated structure, opened in December 2020, uniquely provides safe passage for both wildlife and humans.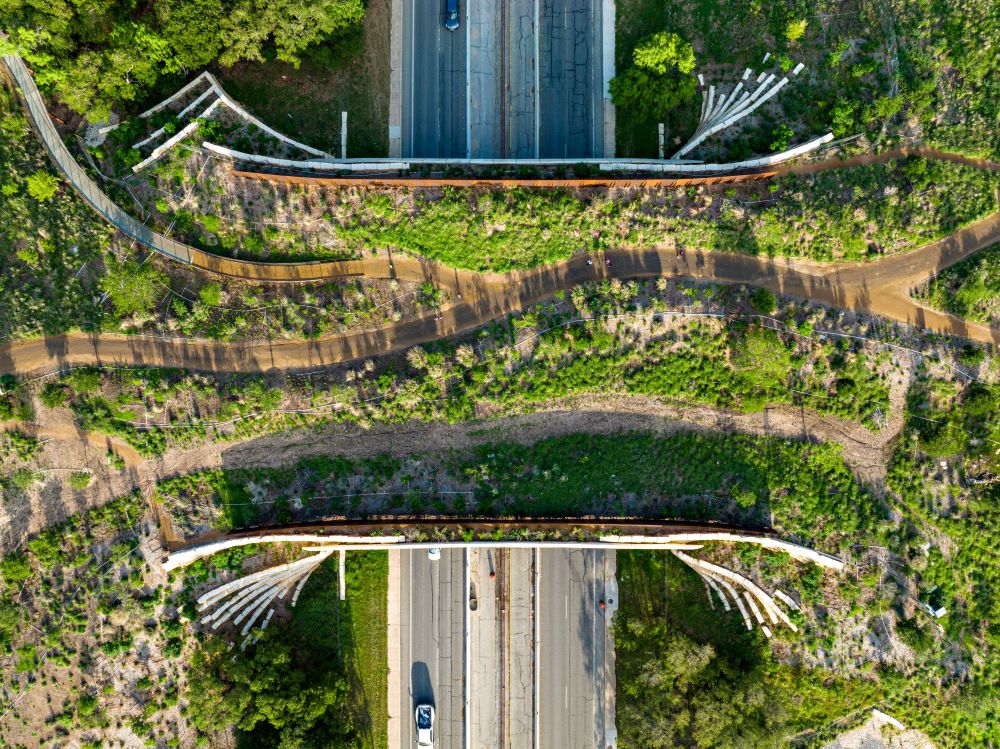 As Teresa Shumaker, associate director of the Conservancy explained, the project has been wildly successful to date. 
"We celebrated a major milestone on our one-year anniversary last December," she said. "Based on our ongoing trap-camera study, our park naturalists have confirmed that every mammal species found in our park has been photographed on the Land Bridge." 
Houston recently unveiled its own dynamic land crossing project. Before, the city's 1,500-acre Memorial Park was split by Memorial Drive. Now, two tunnels carry traffic underneath a 35-foot-tall hilly land bridge covered with prairie land, affording wildlife and people safe access above. One of several ongoing greenspace expansion projects in Houston, the new land also helps the environment by sequestering an estimated 14.2 metric tons of carbon per year. 
From botanical gardens and natural history museums to the great outdoors, group-ready connections to nature and fresh air abound across Texas. In the words of the San Antonio Express, "How can you go wrong when you bet on nature?"  
[Related: Local Connections Create a True Sense of Place at These Texas Hotels]
Urban Oases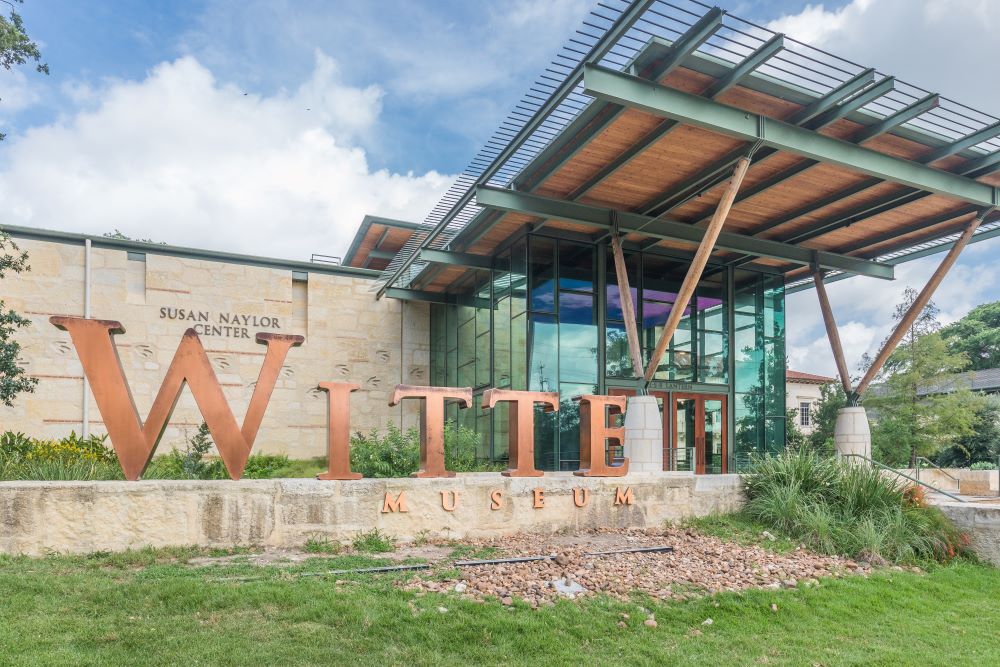 San Antonio is America's seventh-largest metro but can feel like a walk in the park with its abundantly unfolding outdoor and natural spaces. 
Featuring 16 miles of shared hike and bike trails and eight miles of paddling trails, the Mission Reach segment of San Antonio's fabled River Walk connects to multiple city, county and national parks, some 400 acres of restored ecosystem and four of San Antonio's five UNESCO World Heritage missions. Dating to 1919, the Japanese Tea Garden hosts dreamy events in the open-air Pavilion and by a 60-foot waterfall. Other wonderlands for tours and events include the 38-acre San Antonio Botanical Garden and San Antonio's most popular museum, The Witte. Set amid the majestic oak trees of Brackenridge Park by the San Antonio River, this 1926 treasure captivatingly showcases South Texas history, culture and natural science, with event hosting for 1,500 guests, buyouts included. 
With more than 350 parks and 160 miles of hiking and biking trails, Dallas likewise delivers plentiful breathing space and natural connections for groups.  
Linking the Arts District and Uptown, 5.2-acre Klyde Warren Park is an artistic and cultural hub that serves as versatile green space for numerous annual public and private events. 
Known as the "The People's Playground" in the 1930s, White Rock Lake in East Dallas, minutes from downtown, features abundant wildlife and the Dallas Arboretum and Botanical Gardens on its eastern shore. Open year-round, this 66-acre venue features 11 lush display gardens and is home of Dallas Blooms Spring, the Southwest's largest outdoor floral festival. Versatile rentals including 5,000-square-foot Rosine Hall; historic DeGolyer House, and the Alex Camp House, outdoor terrace and lawn included. 
The Perot Museum of Nature and Science is another group favorite with five levels of flexible space for up to 1,500 guests. 
South of Downtown, the Great Trinity Forest is the nation's largest urban hardwood forest and home of Trinity Forest Adventure Park, an aerial park featuring military-style obstacles, teambuilding programs and event center. 
Irving continues to creatively evolve its urban-outdoor mix with three new and updated event-capable venues. 
Setting the vibe for the Irving Heritage District, the redevelopment of 32-year-old Heritage Park includes a permanent concert stage with large video screen and speaker system, and food truck area. Levy Plaza, the new $2.8 million outdoor plaza along Irving's Lake Carolyn, features six acres of programmable open green space for festivals and events.  
Williams Square Plaza has long been a focal point as the home of the Mustangs of Las Colinas, the world's largest equestrian sculpture. Following a multimillion-dollar transformation, the former stone-covered plaza is now a comfortable public and event space with lawns, trees, landscaping and seating areas. Flexible event options range from intimate dinners to large parties  
Claudia Alta "Lady Bird" Johnson, first lady of the U.S. from 1963 to 1969 believed that "Where flowers bloom, so does hope." Her support of the 1965 Highway Beautification Act has kept U.S. highways beautiful with wildflowers ever since. Groups can meet amid these gorgeous blooms at the event-capable Lady Bird Johnson Wildflower Center in southwest Austin.  
Known as The Rose Capital of America, Tyler, 100 miles east of Dallas, is home of the Texas Rose Festival and alluring sites including the event-capable Tyler Municipal Rose Garden.  
[Related: The Magic of Murals and Public Art in Texas]
Into the Great Wide Open 
Created in 1960 as a reservoir, Johnson's namesake Lady Bird Lake in downtown Austin offers multiple recreational opportunities for groups and is one of seven lakes reaching some 100 miles into majestic Texas Hill Country.   
With over 271 miles of shoreline, 65-mile-long Lake Travis is one of the most popular outdoor destinations in the state. Group highlights include Lake Travis Zipline Adventures, featuring the longest zipline in Texas at 2,800 feet, and Oasis Lake Travis. Built in 1982 by Houston entrepreneur Beau Theriot, this 30,000-square-foot clifftop restaurant sits 450 feet above the crystal-clear lake and is known as the "Sunset Capital of Texas" for its spectacular views. Dramatic event venues include the flagship 200-capacity Top of The Oasis and 350-capacity Beau's Backyard outdoor space. 
Rising 425 feet above the limestone canyons, rolling hills and green valleys of Hill Country, Enchanted Rock, outside of Fredericksburg, is one of 100-plus Texas state parks. Yoga atop this mystical pink granite batholith, with panoramic Hill Country views, is elevating beyond words. Amarillo groups can take in the multicolored wonders of Palo Duro Canyon State Park. At 120 miles long and 20 miles wide at points, the nation's second largest canyon has 30-plus miles of biking, hiking and equestrian trails. 
National parks include Big Bend in far West Texas, where adventurous groups based in El Paso or nearby Marfa can hike more than 150 miles of desert and mountains trails or kayak through ancient limestone canyons. 
North of Houston, 22,000-acre Lake Conroe is the centerpiece of the city of Conroe and ideal for boating, jet-skiing, and other activities. Bordering the lake's northern shore, Sam Houston National Forest is home to the Lone Star Hiking Trail. At 96 miles, it's the longest continuous hiking trail in Texas and connects with an additional 32 miles of loop and crossover trails. 
From Gator Country Adventure Park, an alligator theme park in Beaumont to the nine World Birding Centers in the Rio Grande River Valley, the Texas Gulf Coast is a planner's paradise of off-agenda options. Galveston groups can explore the Rainforest and Aquarium Pyramids at Moody Gardens Hotel, Spa and Convention Center, while Corpus Christi outings include the South Texas Botanical Gardens & Nature Center. When the meeting is over, Gulf Coast groups have myriad options for dining, exploring, touring or simply relaxing on the beach or at sea.