Exploring the Meeting and Event Offerings in Growing Reno Tahoe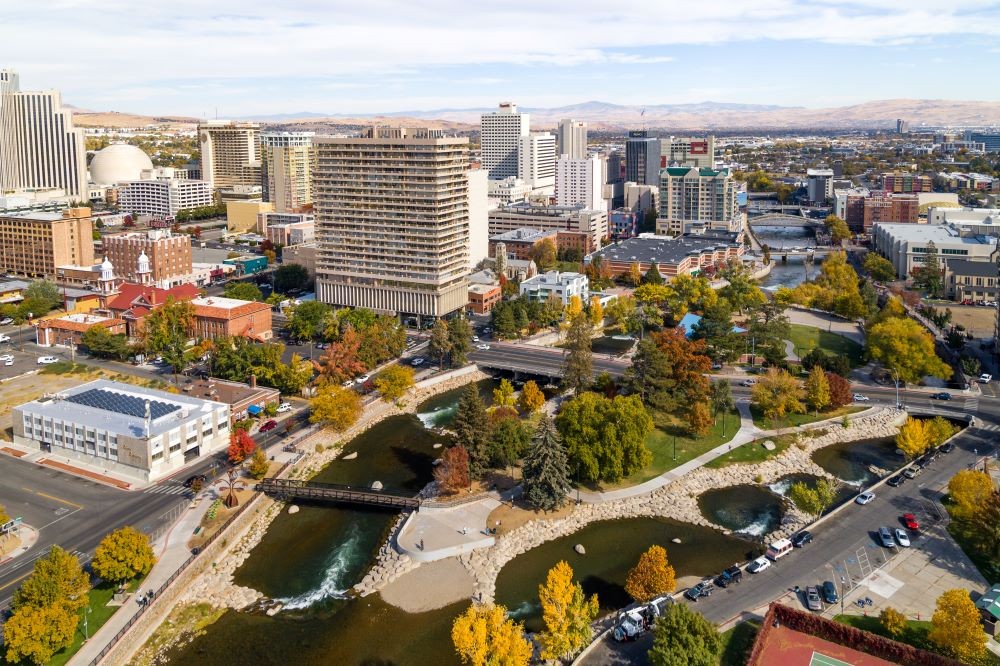 Rarely are two contrasting destinations within such easy reach of each other, but that's the advantage of Reno Tahoe. Tucked away in Northern Nevada and flirting with the eastern border of California, the country's largest alpine lake meets a fast-growing high desert city flush with casinos, a vibrant art scene and burgeoning foodie culture. 
In early August, I joined Caesars Entertainment—who has a large presence in both Lake Tahoe and Reno—to explore this region for the first time and see what surprises it holds for meetings and events.  
South Lake Tahoe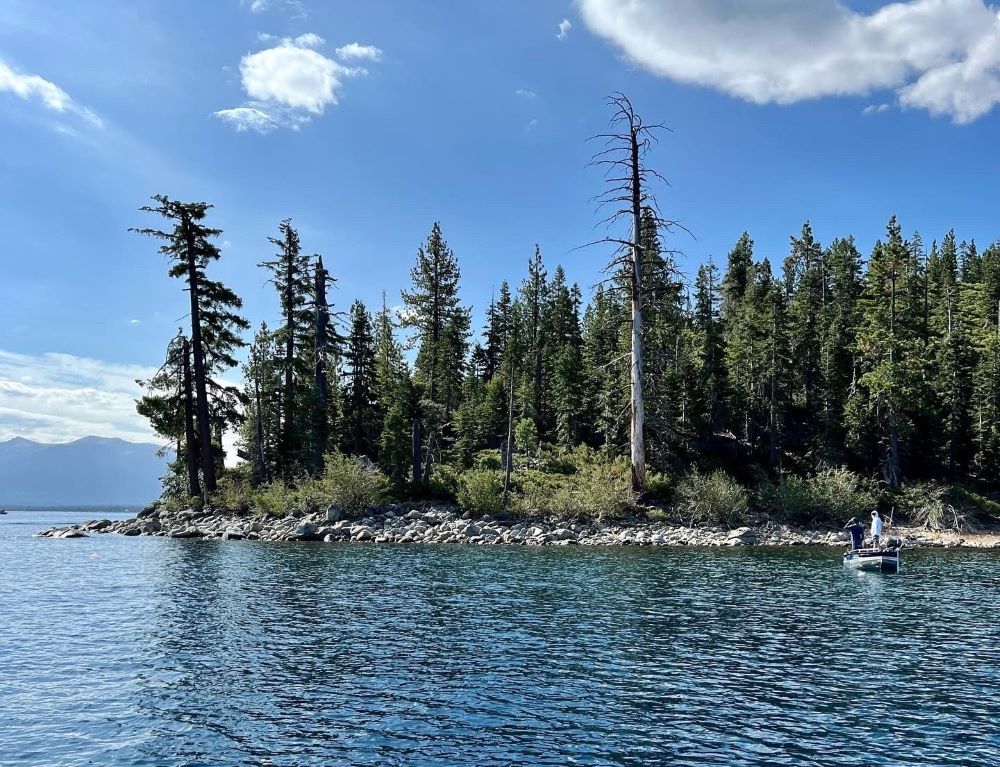 First on the agenda was a two-night stay in South Lake Tahoe. The South Lake Tahoe region is just under an hour's drive from downtown Reno. The striking contrast between the two destinations was immediately evident as we climbed in elevation, away from the high-desert valley city and into the Sierra Nevada Mountains. The browns, reds and oranges of the desert were slowly replaced by green pines; the air became cooler; and when those first sparkles reflecting off the famous mountain lake came into view, it felt as if we had been transported to an entirely different world. 
And that's part of the beauty of Lake Tahoe—aside from the obvious, of course. Its proximity to Reno and the airport make it one of the most accessible natural getaways for groups, whether they choose to host their entire program in South Lake Tahoe or tack on a day or two to the end of it.  
Caesars Properties in Lake Tahoe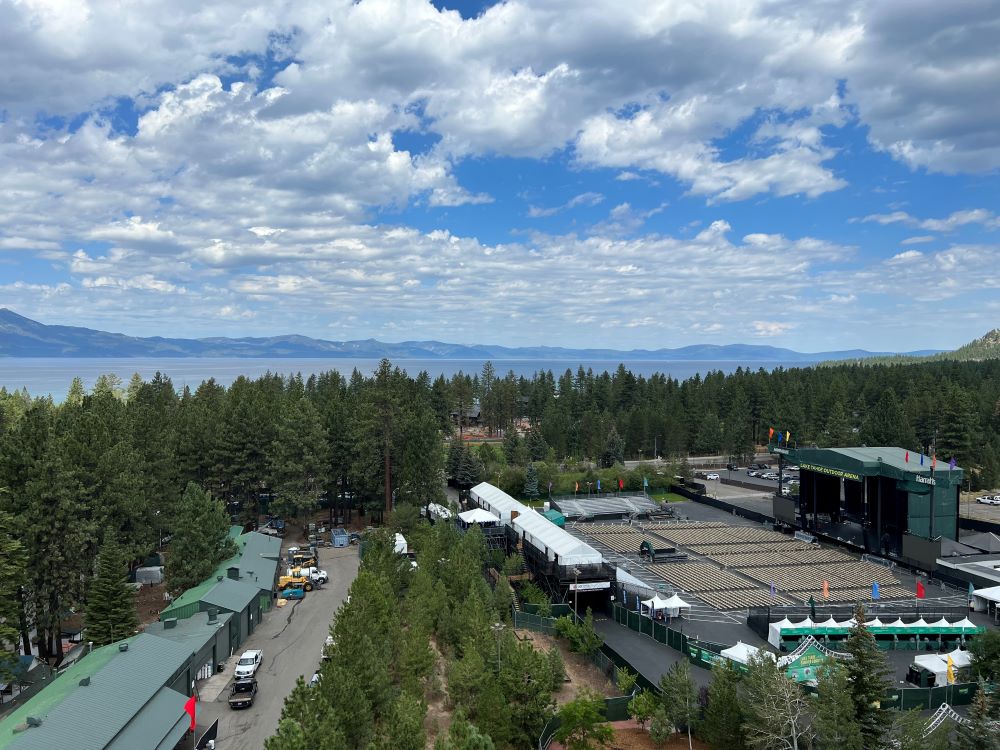 Our host hotel for our stay was Harveys Lake Tahoe, whose parking lot straddles the state line of Nevada and California. The 740-room Caesars property offers more than 26,000 square feet of meeting and event space with stunning lake views out almost every window. Our group experienced Sage Room for our first meal—one of seven restaurants on-property—that offers an upscale steakhouse dining experience overlooking the lake and mountains.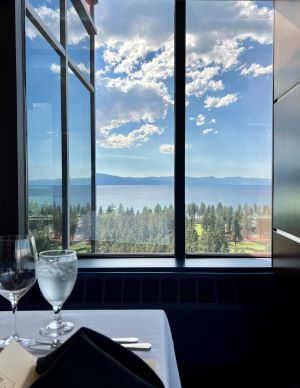 The onsite Lake Tahoe Outdoor Arena is home to the property's Summer Concert Series, welcoming big-name acts like Eric Church, Dave Matthews Band and Keith Urban, among other entertainment shows, and can make for a fun activity following a day of business.  
Connected via an underground walkway to Harveys is Harrah's Lake Tahoe, adding another 512 rooms, 25,000-plus square feet of meeting and event space and nine restaurants. The two properties can work together to offer groups more than 50,000 square feet of meeting and event space.
A staple in the area since 1955, Harrah's can offer some historic spaces to meetings and events. Our group enjoyed breakfast in the Summit Room, which throughout the years has served as a presidential suite and restaurant. Sammy Davis Jr. used to lodge in the suite when his standing act was at Harrah's decades ago. 
While both properties have special rooms like this sprinkled throughout their floors, the bulk of their meeting space, including large ballrooms and flexible breakout rooms, is dedicated to one floor, making it easier for planners to contain their groups away from the casinos, if desired.  
[Related: Reno and Lake Tahoe Embrace the Great Outdoors for the Return of Meetings]
New Event Center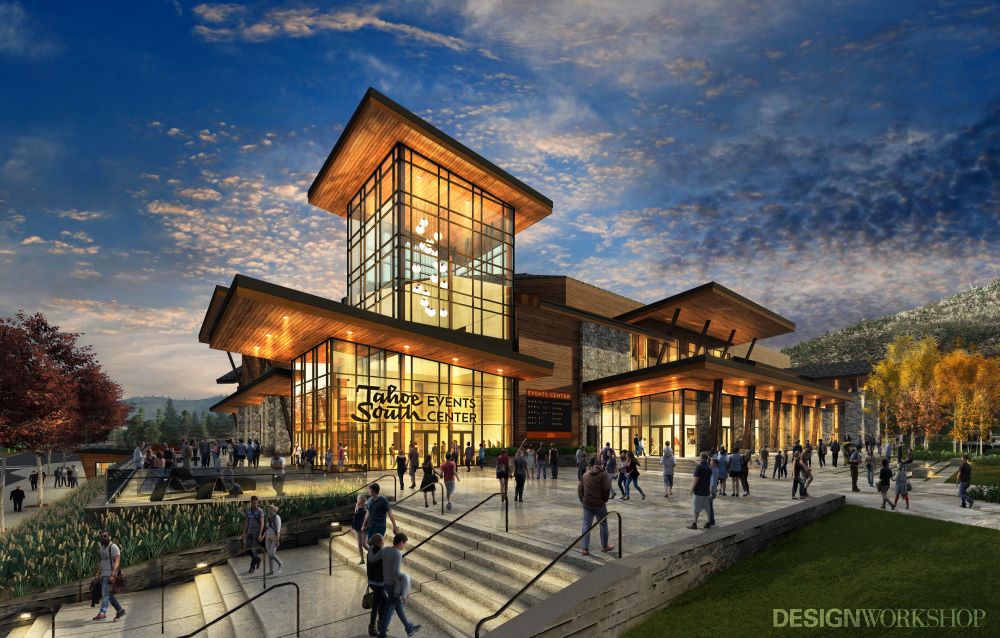 The biggest development news in South Lake Tahoe is just blocks down the street from Harveys and Harrah's. A new events center is expected to open in July 2023, with the working name Tahoe Events Center. During a hard hat tour of the new facility, we learned that it will offer a 27,000-square-foot arena space, a 10,000-square-foot event lawn, eight meeting rooms and an onsite F&B team.  
Visit Lake Tahoe will move its offices into the building, and the events center team will work in tandem with properties in the area, including Harrah's and Harveys, for large groups looking for a convenient offsite space. 
A big focus for the events center is convention business, as well as concerts, youth sporting events and more, and it is set to really expand South Lake Tahoe's meeting potential in the offseason. The maximum capacity is expected to be 6,000. 
Exploring the Lake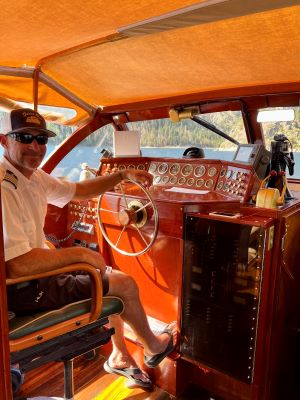 When you draw attendees to a meeting in South Lake Tahoe, it's only fair to give them real opportunities to explore it. Arnaud Robin, national sales manager for Caesars Entertainment, noted that many groups will conduct business in the morning and then release attendees to enjoy the natural escapes the lake has to offer. So, it was only fitting that our group did the same.  
Many tour providers offer boat rides on Lake Tahoe. Our group enjoyed a morning cruise aboard a vintage Chris Craft Venetian water taxi, Golden Rose, with Tahoe Tastings. Our captain, Shane Colquhoun, frequently pointed out areas of interest on the lake's shores, including a 1929 mansion, Vikingsholm—on the National Register of Historic Places—on Emerald Bay.  
In addition to lake cruises, outside of skiing months, hop on the gondolas at Heavenly Village down the road from Harrah's and Harveys for eagle eye views of the lake followed by shopping.  
For those traveling to South Lake Tahoe in the summer months, a night at Shakespeare on the Lake is a can't-miss—enjoy musicals or Shakespeare's classic works on an outdoor stage situated on a beach with Lake Tahoe as the backdrop. We enjoyed a performance of the popular production Mamma Mia, which was the perfect endcap to a quintessential Lake Tahoe day. 
[Related: Reno Tahoe is the All-Season, All-Purpose Land of Plenty for Groups]
Reno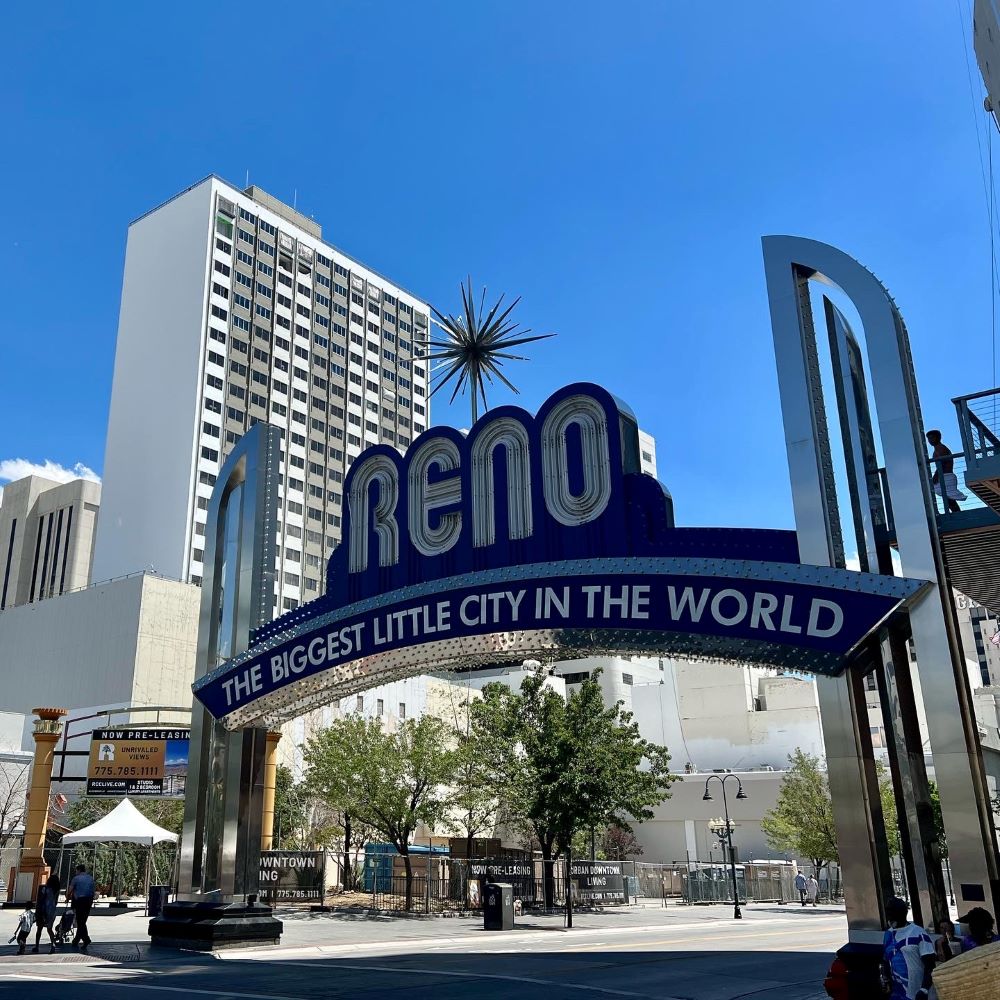 Our group came down from the mountains to experience more of Reno, dubbed "The Biggest Little City in the World." The city is a fast-growing destination—major tech companies like Apple, Tesla and Google have brought business to Northern Nevada, and more development is in Reno's pipeline, boosting its many walkable districts.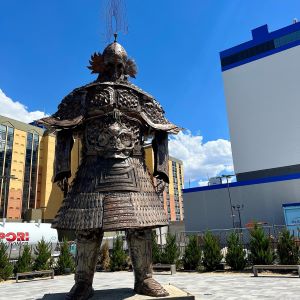 As we walked the streets and explored downtown's major hotel offerings, one thing became abundantly clear: Reno locals have a palpable passion for their big-little city. Seeing a chain restaurant is a rare occurrence—instead, resident-owned eateries that source locally are in abundance and a growing number of brewers and distillers are populating in and around the city. As we wandered, visitors and locals together lined the streets to enjoy the ending of Hot August Nights—an annual show celebrating vintage cars and rock 'n' roll. 
The art scene is on fire, too—you may have heard of Burning Man, the art festival that draws thousands to the Black Rock Desert a few hours north of Reno. Former Burning Man pieces have made their home in Reno, adding to the prolific public art installations around town—from sculptures to large murals—that our group experienced first-hand via a walking art tour with Art Spot Reno.
Reno isn't only notable for its development growth and thriving arts scene—it's a deal, too. According to Don Goodman, executive director of sales for Caesars Entertainment, meeting planners find that a program in Reno costs 10%-20% less than other destinations.  
"For someone watching their bottom line, they should definitely be considering Reno," he said.  
THE ROW Reno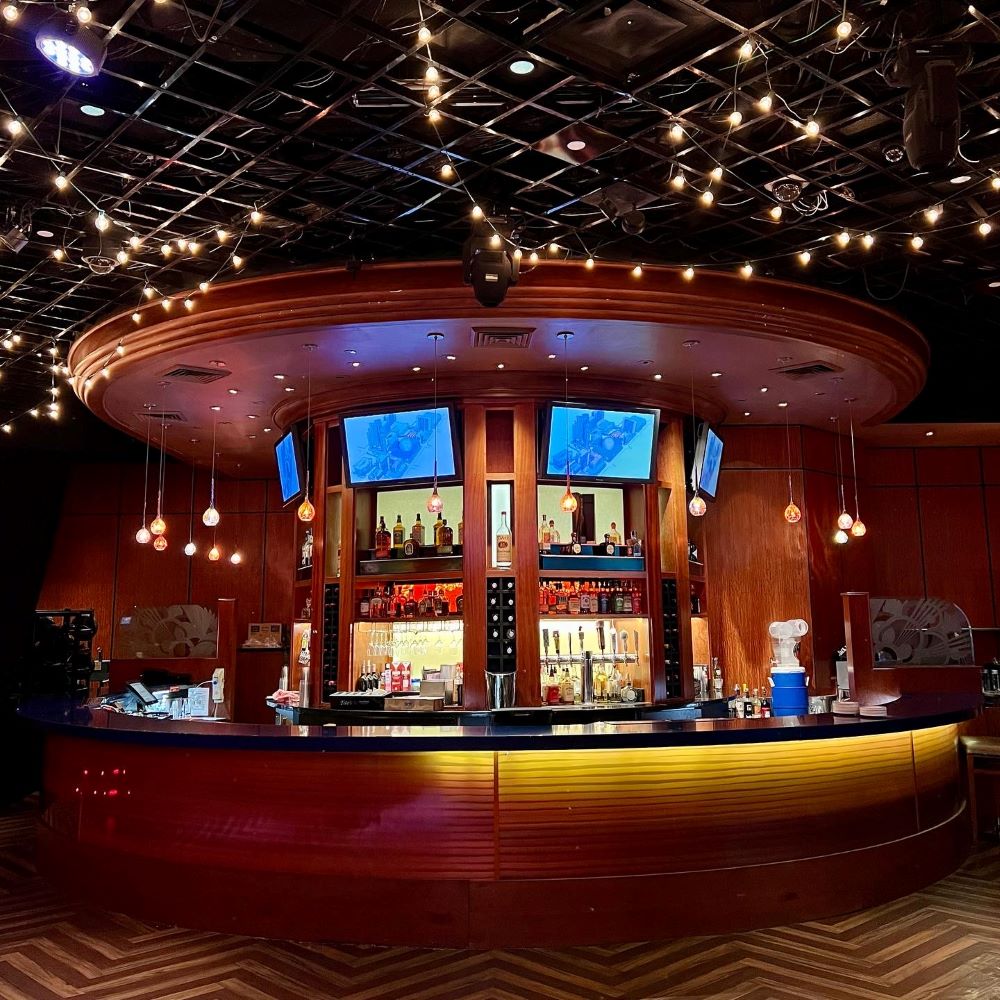 Far and away, THE ROW Reno resort campus offers groups of varying sizes the most comprehensive meeting products in town. Self-described as a "city within a city," THE ROW offers 4,000 guest rooms and suites, 180,000 square feet of meeting space, 25 restaurants, 23 bars and lounges, and a 20,000-square-foot luxury spa, and is squarely located within walking distance of some of Reno's most popular attractions.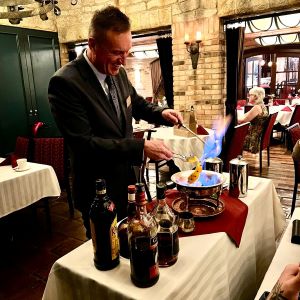 Three Caesars resorts make up THE ROW: Silver Legacy, Eldorado Reno and Circus Circus. Our group spent the night at Silver Legacy and enjoyed dinner at Eldorado's award-winning Roxy Restaurant & Bar, which offers meats, poultry and fish prepared in a wood-fired oven, along with unique beverages like its Cafe Diablo—a spicy, spiked after-dinner coffee made for a crowd. It was just one example of THE ROW's culinary prowess, which shines in its catering services as well.
One of the biggest advantages of the mega resort? It contracts as one. Planners will also find its location to be a major asset—THE ROW is in the middle of downtown Reno, encompassing eight square blocks. Local restaurants, breweries and distilleries; attractions like the Nevada Art Museum and National Automobile Museum; and National Bowling Stadium are all within walking distance or a short car ride away.
Additionally, The Reno Events Center and Reno-Sparks Convention Center are close by and managed by Visit Reno Tahoe, which can work closely with Caesars Entertainment for large events. Visit Reno Tahoe, which can work closely with Caesars Entertainment for large events. 
Know Before You Go 
Bringing meetings and events to this pocket of the Nevada-California border continues to get easier. The best way to reach Reno and Lake Tahoe by air is via Reno-Tahoe International Airport (RNO). More than 50 airports nationwide offer nonstop or one-stop flights. For attendees going straight to Lake Tahoe from the airport, the South Tahoe Airporter operates shuttles from the airport to South Lake Tahoe.  
For attendees traveling by car, only a few hours on the road separate Reno Tahoe from major cities like San Francisco and Sacramento. 
Connect
Caesars Entertainment 
(855) 633-8238 
Visit Lake Tahoe 
(530) 542-4637  
Visit Reno Tahoe 
(800) 367-7366
Read this next: 5 Mountain Cities That Should Be on Your Radar for Meetings and Events