On the Scene: Arlington, Texas, Awaits New Loews Arlington Hotel and Convention Center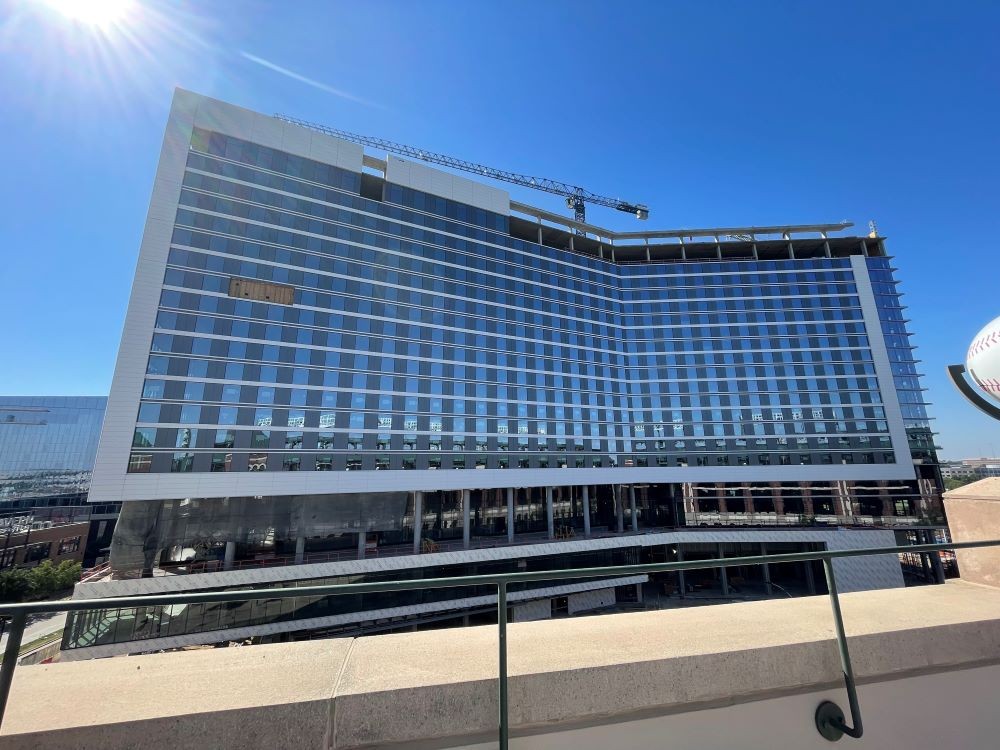 Arlington Convention Center and Loews Arlington Hotel
Texas is a bucket list destination—bigger, better and bustling with an energy only to be found in the Lone Star State. And with Texas' lingering summer weather, a quick trip down south with the Arlington Convention and Visitors Bureau seemed like the perfect opportunity for me to escape Chicago's crisp, fall winds to taste summer one last time and check Texas off my bucket list.  
With a little more than 24 hours to spend taking Arlington in, I rode wide-eyed from Dallas Fort Worth International Airport (DFW) to Live! by Loews-Arlington, TX—conveniently located just a 20-minute drive from DFW—as we drove past sights like Six Flags Over Texas and one golf course after the other.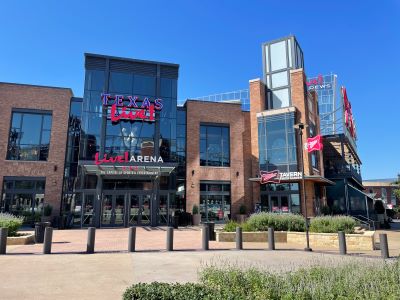 My final destination was Arlington, "a world of wonderful" tucked in between Dallas and Fort Worth, and the short amount of time I spent there didn't fail to make me feel like I was living in a wonderful world indeed. 
As the Arlington CVB says, Arlington really "can do" it all, from sporting events to concerts to meetings and conferences, and Arlington's entertainment district's campus-like environment makes it even more convenient for visitors to experience everything Arlington has to offer, all within walking distance. 
[Related: The Latest Property Openings and Renovations in Texas (2022)]
Anticipated Arrivals 
Just across the street from Live! by Loews-Arlington, TX and set to open in 2024 is the next phase of a $4 billion vision by the City of Arlington, the new Arlington Convention Center and Loews Arlington Hotel. The $550 million hotel will be conveniently connected to Live! by Loews-Arlington, TX via a skybridge.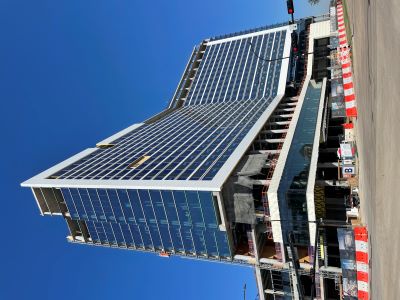 The developments are set to bring 888 rooms and another 266,000 square feet of meeting and event space to Arlington's convention campus. Combined with Live! by Loews-Arlington, TX, the properties will offer nearly 1,200 rooms and 300,000 square feet of indoor and outdoor meeting space. 
The new Arlington Convention Center will feature a 51,224-square-foot grand ballroom, with capabilities of being sectioned off into nine salons, as well as a 43,269-square-foot exhibit hall and 27,228-square-foot event lawn that can accommodate more than 2,700 guests. 
[Related: Saddle Up for These 5 Unique Offsite Options in Plano, Texas]
Smaller spaces will include the Mid Ballroom, measuring 28,014 square feet, and the Junior Ballroom, measuring just under 20,000 square feet. Both spaces are flexible enough to accommodate groups of more than 700 guests. In total, the new Arlington Convention Center will bring 42 meeting rooms to Arlington's convention campus. 
In addition to 888 rooms, Loews Arlington Hotel will feature a 24-hour fitness center, five F&B outlets—including a new signature restaurant, Soy Cowboy—and a resort-style beach club with two pools, a man-made beach, cabanas, fire pits and a waterslide, giving the hotel a resort-like feel.  
Also coming soon to Arlington's entertainment district is The National Medal of Honor Museum, which broke ground directly next door to the Arlington Convention Center and Loews Arlington Hotel in March of this year. In 2019, the National Medal of Honor Museum Foundation's Board of Directors chose Arlington as the new museum's location. Set to open in 2024, the museum will showcase Medal of Honor recipients and their stories through 25,000 square feet of exhibition galleries, a state-of-the-art education center, conference and event space and an outdoor amphitheater for ceremonies. 
[Related: Massive New Convention Center Project Set to Transform Downtown Dallas]
Fun All in One 
An early arrival to Live! by Loews-Arlington, TX—opened in August 2019—gave me time to wander and explore the entertainment district on my own, starting in the hotel itself. The 300-room hotel offers views overlooking Texas Rangers' Globe Life Field and Dallas Cowboys' AT&T Stadium, and offers more than 35,000 square feet of meeting and event space and 20 meeting rooms.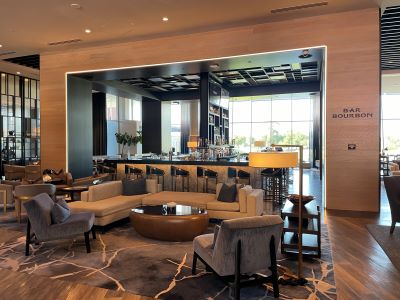 Lunch at Cut & Bourbon, the hotel's signature restaurant with a focus on American classics and bourbon, offered a menu including a tuna tartare tower, glazed bacon slabs and ora king salmon, but if you ask me, the strawberry cheesecake was the star of the show. 
Live! by Loews is also conveniently located between Globe Life Field and Choctaw Stadium, across from AT&T Stadium and within walking distance from Esports Stadium Arlington & Expo Center. As a Chicago native, supporting my city's teams—from the Cubs to the Bears—requires driving through frustrating traffic, enduring a bumpy train ride and walking from parking garages to stadiums sporadically placed throughout the city, from Wrigleyville to the lakeshore and over to the South Side. In Arlington, however, the energy and excitement of Texas sports is contained in one walkable area, and it's contagious. 
I found myself outside Choctaw Stadium, taking photos as the 'X' in a Texas photo-op and wishing I could go back to my cheerleading days when I saw AT&T Stadium just around the corner, convinced I could hear the roar of Cowboys fans echoing off the otherwise empty stands. The energy seemingly never dwindles. I'm not a sports fan, but being in Arlington made me want to buy a bag of peanuts and yell, "Play ball!"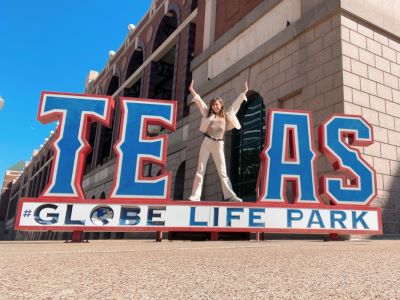 Just across the street from Choctaw Stadium is Texas Live!, a one-stop destination offering more than 35,000 square feet of restaurants, dance floors, bars and shops just steps away from all three stadiums, Live! by Loews and the new Arlington Convention Center and Loews Arlington Hotel. 
The 250,000-square-foot space has a capacity for 10,000 people and features a 100-foot media wall for viewing or presentations, Dallas Cowboys legend Troy Aikman's restaurant Troy's, as well as Texas-themed hot spots including the world's largest Professional Bull Riders' bar and the Texas Rangers-centric Rangers Republic, where guests are encouraged to "Play Hard. Party Harder."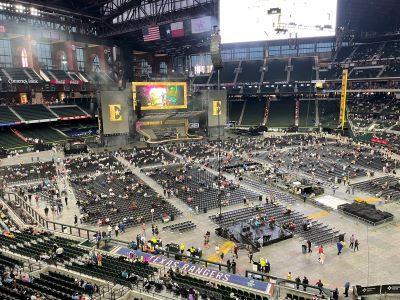 The biggest party of the evening, however, was Elton John's nearly three-hour performance just next door at Globe Life Field, where we arrived decked out in feather boas and rhinestone sunglasses. After Elton John wrapped up his Farewell Yellow Brick Road concert, Texas Live! provided the perfect post-show opportunities with more live entertainment and the best-in-class dining and nightlife options in Arlington right outside Globe Life Field's doors. 
Arlington really "can do" it all, and the best way to experience it is to visit the "world of wonderful" yourself, group in tow. 
Connect 
Arlington CVB 
(800) 433-5374 
Read this next: All the Ways Groups Can Connect to Nature in Texas