On the Scene: How to Incorporate History and Art in Your Milwaukee Meetings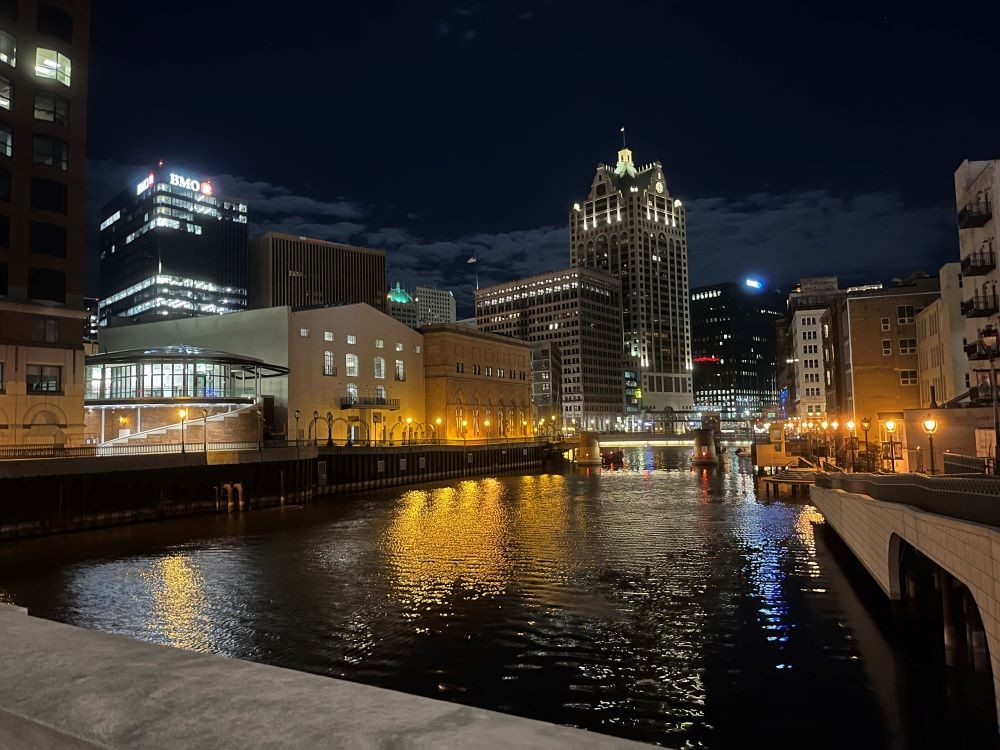 A little more than 100 miles north of my hometown outside of Chicago sits a second booming metropolis with a history as colorful and intriguing as the Windy City's. 
Nicknamed the City of Steeples, Milwaukee's skyline is hard to miss no matter which direction you're coming from. Rather than being peppered with nothing but skyscrapers, everywhere you look there's an elaborately decorated steeple peering through the city's modern buildings, each one serving as a reminder of Milwaukee's rich history and welcoming community. 
On a recent trip with Visit Milwaukee, not only did I get a firsthand look at the unique meeting and event spaces throughout downtown, but a history lesson highlighting the importance and meaning of each venue and why the city fought to preserve it. Because of Milwaukee's dedication to its past, its present reigns stronger than ever, and the city is prepared to share its story with planners and attendees alike.  
Made in Milwaukee: Artistic Venues 
There seems to be something exciting happening at Wisconsin Center at every moment, whether it be renovations and expansions, rotating art exhibitions or live performances. The center has enough space to hold 1,000 vendors and 10,000 consumers, and come the completion of the Wisconsin Center Expansion project in May 2024, will offer 445,000 square feet of convention center space.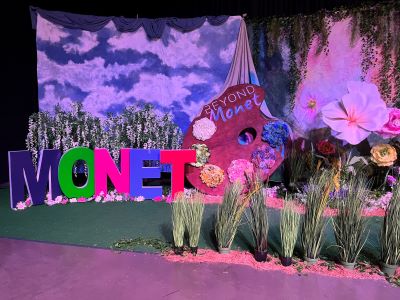 During my visit, the center was hosting Beyond Monet: The Immersive Experience presented by We Energies Foundation, which our group privately toured after dining on Wisconsin classics including mini bratwursts, baked cheese and cream puffs. After visiting Immersive Van Gogh in a crowded Chicago gallery, being able to see the entire projection display of Monet's works in a nearly empty room made the experience all the more memorable and immersive. 
Because the city is so walkable, we were able to make our way back to Saint Kate–The Arts Hotel within 10 short minutes. The 219-room hotel in Milwaukee's theater district serves as a "creative hub" for the city and its artists, whether they be musicians, painters, sculptors or designers, and showcases local talent through live performances nightly in the hotel's lobby cafe and bar.  
Saint Kate offers 11,600 square feet of meeting space, as well as a black box theater and multiple gallery and exhibition spaces, all within walking distance from the entertainment district, the Third Ward and Fiserv Forum. The 4,959-square-foot Simone Ballroom is the largest of Saint Kate's seven meeting rooms, with a maximum capacity of 600 guests.  
When you book a stay, make sure to request one of the hotel's four Canvas rooms for an especially creative experience.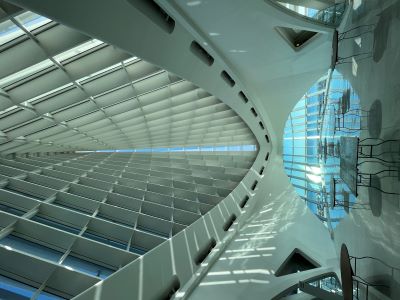 Another artistic stop we made was the Milwaukee Art Museum, with 30,000 works of art and 125 years of collecting history. The building's modern and radiantly lit Windhover Hall is popular for meetings and events and has a capacity of 800 people and up to 450 seated. Guests mingle beneath the wings of Burke Brise Soleil, a moveable sunscreen with a 217-foot wingspan and wings that open with the museum, close and reopen at noon, and close again with the museum, depending on weather conditions.  
Walking into Windhover Hall reminded me of wandering the Oculus Center in New York City, as both buildings have shocking white interiors lit by skylights, modern architecture and surreal atmospheres. While one connects you to the subway station, the other serves as a grand reception hall bound to make any event memorable, especially with its panoramic views of Lake Michigan. 
Near the Milwaukee Art Museum sits the 75-acre Henry Maier Festival Park, a popular location on the lakeshore known for being the site of Milwaukee's annual Summerfest, The World's Largest Music Festival.  
Henry Maier Festival Park offers intimate private event venues, which can be combined with additional spaces and stages to accommodate for larger events, including the Amphitheater Stage Floor, Klements Stage and Structure and Miller Lite Level Up Deck, which can all accommodate 200-plus guests and can be rented May 1 through October 31. 
[Related: Colorful and Creative Spaces That Inspire in Wisconsin]
Historic Places to Host in Milwaukee 
Even Milwaukee coffee shops have stories to tell. 
We started our morning along the lakefront at Colectivo Coffee, a company that got its start in Milwaukee in 1992. The lakefront location is housed in the historic Milwaukee River Flushing Station, originally built in 1888, and the coffee shop used some of the original foundations of the building in the cafe's unique seating arrangements.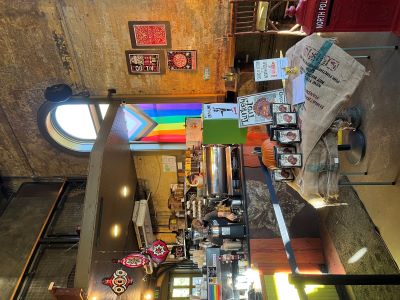 As I finished my sausage English muffin from Colectivo (and wished I could have one for breakfast every day), we pulled up to America's Black Holocaust Museum. In 1988, Dr. James Cameron—the only known survivor of a lynching—founded the museum in a Milwaukee storefront. 
His passing in 2006 followed by the 2008 recession forced the museum to close. The new onsite museum that stands today reopened February 25, 2022, on the footprint of the museum's first building in Milwaukee's Bronzeville neighborhood. The moving experience inside made me walk out the door just 45 minutes later with tear stains on my coat and Cameron's memoir in my tote bag.  
Tours of America's Black Holocaust Museum and rentals of the museum's Community Room can be organized by visiting the museum's website, www.abhmuseum.org. 
The experience was followed with some much-needed comfort food from the Milwaukee Brat House, including cheeseburgers, potato salad, baked beans and brats, of course. Then, it was time for another Milwaukee history lesson. 
[Related: 7 Historic Event Venues in Wisconsin]
Milwaukee Theaters
We started with a tour of The Riverside Theater, named for its proximity to the Milwaukee River and reigning as one of the city's most opulent theaters. With an elegant, French baroque-inspired atmosphere and attention to detail in every element of decor, the 2,480-seat theater is a unique and historical meeting and event venue dating to 1928.  
The nearby Pabst Theater and its European opera house is the centerpiece of Milwaukee's theater district and has been since 1895. The 1,339-seat theater is available as a venue for corporate meetings, private dinners and more, and has an in-house event management team at the ready.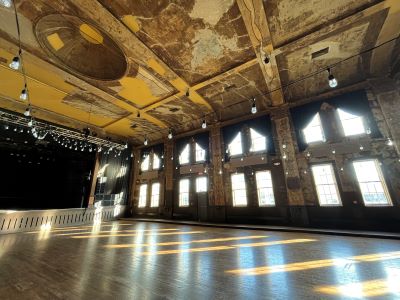 The final chapter of our theater history lesson was Turner Hall, a National Historic Landmark constructed in 1882 and the oldest of the three theaters we saw. The two-story ballroom in the heart of downtown measures more than 7,000 square feet and can accommodate just fewer than 1,000 guests at maximum capacity. 
Damage from two ceiling fires, one in 1933 and another in 1941, can still be seen in some areas of the ballroom, maintaining the historic venue's original design while preserving its history. The most unique part, in my eyes, was the singular pillar that was painted and restored to reflect its original appearance. 
Pabst Brewery
Captain Frederick and wife Maria Pabst, two of the faces behind the famous Pabst Blue Ribbon Beer, built their Milwaukee family mansion in June 1890 and made sure to include a humidor large enough to hold all of Captain Pabst's prized cigars. More than a century later, the humidor opens once a year for a private event celebrating the same guilty pleasure the captain had himself.  
With furniture original to the house itself and the piano exactly where it sat when the Pabst family hosted musicians headlining at The Pabst Theater in their home, I tiptoed throughout the house with caution, afraid to do any damage to the preservation of time. It was hard for me to believe a space as historic, well-preserved and loved as the Pabst Mansion could be used as a venue for meetings and events. 
While parts of what was left of Captain Pabst's brewery empire no longer stand, Best Place at the Historic Pabst Brewery is a treasure the city still boasts today. The award-winning event venue hosts corporate meetings, fundraisers, holiday parties, receptions and more in the original corporate headquarters of the Pabst Brewery, with Captain Pabst's office as it was a century ago in the corner of the room.  
[Related: 4 Wow-Worthy Offsite Venues in Milwaukee]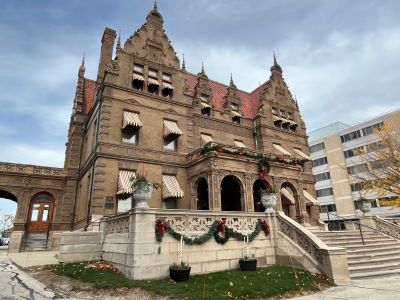 The Great Hall & Speakeasy measures 4,800 square feet with a capacity of 250 guests and features a prohibition-themed speakeasy bar, original stained-glass windows and woodwork, and Milwaukee's famous cream city brick on the building's exterior.  
Our beer history tour started in Blue Ribbon Hall with a pint of PBR just off Captain's Courtyard, an event space that used to be the corporate VIP center of Pabst Brewery. The German beer hall-style space boasts a second-story balcony, hand-painted fresco murals from 1943, iron chandeliers and hand-blown glass windows.  
My favorite space however, was the Guest Center off the courtyard, the brewery's historic taproom where we ended our tour the same way they would end in 1934—pints of PBR. Five German sayings were painted on the Guest Center's walls, which our tour guide translated one by one. 
The last quote was my favorite, an old Latin saying translated into German for the brewery walls—"Do as the Sundial. Count only the cheerful hours."
In Milwaukee, I counted them all. 
Milwaukee in the Making 
Wisconsin Center Expansion 
After breaking ground October 28, 2021, the $456 million Wisconsin Center Expansion project is in full swing and anticipated to be completed by May 2024. The project will double the convention center's space to total 445,000 square feet.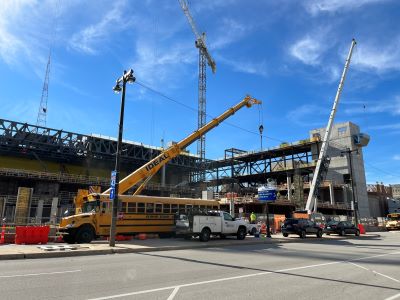 The expansion is set to bring the exposition hall to 300,000 contiguous square feet, add 24 new meeting rooms, six loading docks, an executive kitchen and a fourth-floor ballroom with space for a minimum of 2,000 for a seated dinner. The project will also include no fewer than 400 indoor parking spaces. 
In development, the Wisconsin Center Expansion project included a comprehensive economic inclusion plan, in which it committed to 25% minority-owned business, 5% women-owned businesses and 1% disabled veteran-owned businesses in construction. Plus, with a residents-preferred program of 40%, at least $40 million of the $100 million in anticipated construction wages will be earned by residents of the City of Milwaukee. 
Once completed, the new convention center is projected to attract an additional 100,000 out-of-state visitors annually. 
The Trade Hotel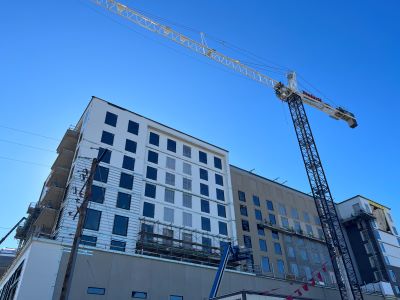 The Trade Milwaukee, a hotel by Autograph Collection, is set to become the official hotel of Milwaukee's Deer District upon its scheduled opening in early 2023. The structure was hard to miss, being surrounded by barbed-wire fences and trailers, and I could already see the trade and industrial elements of the hotel's design through the work that's been done. 
Donning hardhats and neon green vests, we toured the structure's multiple levels located just across the street from Fiserv Forum. Once complete, the hotel will bring more than 9,000 square feet of indoor and outdoor gathering space, 207 rooms and suites and a destination rooftop restaurant and lounge showcasing views of downtown Milwaukee.   
Potawatomi Hotel & Casino 
Since opening its doors in 1991, Potawatomi Hotel & Casino has become and remained one of Milwaukee's—and Wisconsin's—most popular entertainment destinations, featuring the latest slots, table games, bingo, poker and more.  
The 19-story, 500-room hotel opened in 2014, with a second tower added in 2019, and offers two of Milwaukee's most luxurious guest rooms—the Presidential Suite and the Chairman's Suite, which had a T.V. in nearly every corner and a master bathroom with floor-to-ceiling views of the city that made me envious I couldn't experience a bath in the massive tub myself.  
The hotel and casino is currently undergoing $100 million in renovations, with enhancements that include new dining options and upgraded meeting spaces centered around the casino's third floor, impacting more than 120,000 square feet of space. The anticipated spring 2023 completion is set to bring KISS musicians Paul Stanley and Gene Simmons' restaurant, Rock & Brews, 1,800 new gaming positions and a re-imagined Skywalk and main entry area.  
[Related: Milwaukee is a Rising Event Destination in 2020]
Game On: Milwaukee Sports Venues 
On the outside of the city is American Family Field, home to the Milwaukee Brewers and a variety of unique offsite venues perfect for sports lovers. Located in the field's former Stadium Club is a new entertainment venue, X-Golf at American Family Field, which features seven state-of-the-art indoor golf simulators, two full-service bars and panoramic views of the playing field. The space can host up to 200 guests for a reception, viewing parties or teambuilding activities.  
We also toured American Family Field's SKYY Lounge, a spacious area on the field's PNC Club Level frequently used for luncheons, corporate events, all-day meetings and tradeshows. With a capacity of 400 for a cocktail reception and 300 seated, the space is flexible and showcases views of the Milwaukee skyline.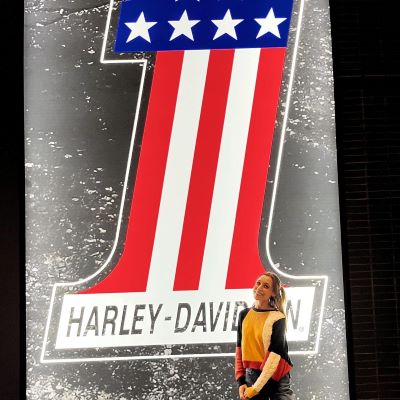 When we went outside to look at the field itself, the retractable roof began to open, and as the sunshine lit the empty stadium seats, I suddenly had a craving for peanuts and Cracker Jacks. 
The world's only Harley-Davidson Museum invites visitors to discover the culture and history of Harley-Davidson through stories, interactive exhibits, motorcycles and memorabilia across two floors on the museum's 20-acre campus. 
I've never been on a motorcycle in my life, but I didn't want to leave. I searched through an exhibit displaying 100 fuel tanks spanning 80 years to find the tank design from the year I was born and spent too much time gaping at Elvis Presley's actual shiny red-and-white 1956 Harley-Davidson KH in front of my face, all of which meeting attendees can access themselves if organized with the museum.  
The Harley-Davidson Museum features two new retail stores and an enhanced Experience Gallery, as well as a year-round event building and the Motor Bar & Restaurant, which is also available for private events of up to 200 guests and offers delicious fried Oreos on the dessert menu. 
The museum's all-new, 8,200-square-foot Garage can accommodate just fewer than 550 guests or up to 420 seated and features floor-to-ceiling, see-through garage doors that can be opened for an indoor-outdoor event.  
Connect 
Visit Milwaukee 
(800) 554-1448 
Read this next: 5 Unforgettable Group Food and Beverage Experiences in Milwaukee