5 Ways to Deliver on DEI at Your Next Meeting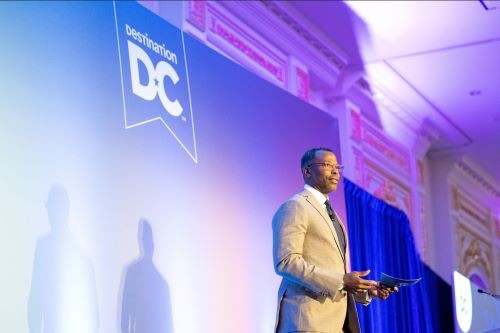 Elliot L. Ferguson II. Credit: washington.org.
Editor's note: Elliott L. Ferguson, II, president and CEO of Destination DC, is a leading proponent of DEI in the meetings and tourism industry. He is delivering a keynote address at the Event Service Professionals Association's 2023 annual conference, held January 20-22 in Pittsburgh. We recorded a podcast with him at PCMA Convening Leaders and also thought it would be advantageous to combine that podcast with an article on DEI and how DMOs can help meeting and event planners deliver diversity in many areas of their events. His opinion piece follows.
It's important to consider how you're evolving and interfacing with the local community of your event's destination. Meetings present an opportunity to tap into the culture of the destination, support local businesses and gain a better understanding of various communities that serve the travel and tourism industry.
In late January, I'm presenting a keynote address, "Event Services – Making the DEI Connection" to delegates at Event Service Professionals Association's 2023 annual conference. In many cases, event service professionals, aka conference services managers, whether at a facility or DMO, are a great frontline resource for researching potential vendors from the local community.
My DMO, Destination DC (DDC), strives to promote and support businesses that reflect diversity, equity and inclusion, aka DEI, and inform meeting and event planners of the resources available in Washington, DC, to enrich their events, and by creating tailored experiences or supporting local businesses owned by minorities, delegates benefit by experiencing local flavor, products and culture. 
Overall, meetings are enriched by DEI. They support the local economy by connecting with the community and benefit in myriad ways and can leave a lasting social impact. 
[Related Podcast: Destination DC's Elliott Ferguson II on the Role of DMOs on DEI] 
1. Make DEI a Goal
Start by indicating a preference for diverse suppliers in your initial discussions with a planner. From members who provide convention services to event planners, caterers, local makers and hands-on workshops, DMOs have a rich rolodex. Ask for vendor lists that self-report as BIPOC, woman, or LGBTQ+ owned. DDC's annual cohort of DEI Business Fellowships support small businesses owned by people of color, LGBTQ+ persons, women and persons with disabilities. Fellows receive a free, one-year membership to DDC, which provides access to marketing support and networking opportunities – and are eager to connect with meeting planners and attendees.  
2. Embrace the DEI of a Destination
Inquire about the DMO's DEI efforts and initiatives. DDC is uniquely positioned to share with visitors Washington, D.C.'s history and experiences connected with racial and social equity. The "DEI District" launched in 2021 provides curated content focused on how the city can be experienced through a DEI lens. The pillars include visit, engage, learn and meet while connecting to content related to meetings, leisure and education audiences to help promote the city's unique history. Internally, DDC has a staff-led DEI Task Force that focuses on topics like embracing cultural traditions and differences and hiring a diverse staff. 
[Related: Why DC Is the Nation's Capital of DEI Tourism and Events]
3. Go Deeper with Local Experiences
Tailored experiences allow for deeper connection to a destination and add meaningful experiences for attendees. In DC, that can include a walking tour of DC's historically Black neighborhoods to learn about the origins of Go-Go music and viewing the interactive exhibits of the free National Museum of African American History and Culture, the only national museum solely dedicated to the documentation of African American life, history and culture.                  
4. Be Socially Responsible
The concepts of sustainability and DEI are connected in the hospitality industry. Efforts go beyond the environmental impact to the social responsibility of meetings. As part of corporate responsibility, organizations that look outward consider the effect that meetings have on the environment, local economy, and community. Legacy projects enrich the experience for attendees and give back. Consider a hands-on project such as a river clean-up or providing expertise to a local start up or donating educational materials to a neighborhood school. Giving time and resources supports locals and contributes to the positive cycle of sustainable meetings. 
5. Accessibility Equals Inclusivity
Meetings are only successful when everyone can participate. It's important to think about the different challenges for meeting attendees and to ask questions about accessibility. Leverage the knowledge of DMOs to help with accessible meeting venues, dining options, transportation and more. DDC has an Accessibility Committee that brings awareness to its convention, sales and services staff to help inform resources and information for meetings in Washington, DC. DDC features content on washington.org that highlights accessibility and provides resources. The Event Service Professionals Association offers an accessibility checklist for members and non-members that will help with what questions to ask DMOs about access when planning a meeting. 
Read More: Meetings Today DEI coverage