3 Resorts With Commitments to Accessibility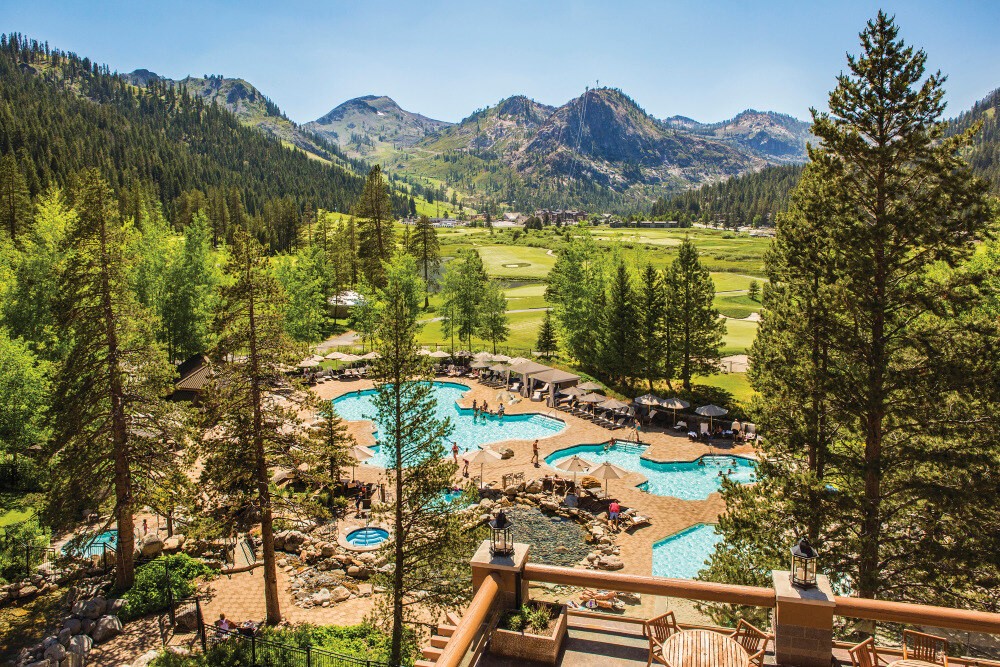 Resort at Squaw Creek Pool and Valley
Hotels and resorts across the country and around the world offer accommodations for guests with disabilities, but the presence of these accommodations doesn't guarantee that all room features and property amenities are fully accessible, especially to guests in wheelchairs. 
The Americans with Disabilities Act (ADA) requires by law that people with disabilities have access to public buildings, hotels, transportation and more, and the European Accessibility Act, while slightly less detailed as the ADA, requires similar accommodations for people with disabilities. 
These acts help ensure hotels and resorts offer accommodations for people with disabilities, but there's a difference between resorts that were built to accommodate versus resorts built with accessibility top-of-mind.  
The following three resorts fall into the latter category, offering ADA-compliant features, accommodations, attractions, activities and more through a genuine commitment to accessibility and equal opportunity for all guests.  
Omni Orlando Resort at ChampionsGate 
This AAA Four-Diamond resort in Orlando is one of the nation's premier golf, meeting and leisure destinations and is surrounded by 36 holes of championship golf and 15 acres of recreation. With a signature full-service spa, sparkling pools, a lazy river and easy access to area attractions like Walt Disney World Resort and Universal Studios, the resort encompasses all Orlando has to offer in a secluded retreat-like environment. Plus, an all-new guest room wing is set to open this winter after expansion begun April 1, 2022.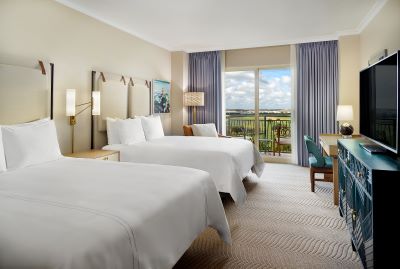 What makes Omni Orlando Resort at ChampionsGate even more of an ideal host property for meetings and events is its commitment to not only meeting ADA-requirements but exceeding them in an effort to ensure accessibility and equal opportunity for all resort guests.  
Omni Orlando Resort offers accessible guest rooms with entry providing 32 inches of clear width, lowered light switches, peepholes, deadbolts, evacuation instructions and closet rods, as well as roll-in showers with height-adjustable hand-held shower heads. 
The property also ensures accessibility in amenities and spaces throughout the resort, with accessible entrances to the business center, fitness center, restaurant and main entrance, as well as access to the front and concierge desks, elevators and pool areas. Most of these entrances are easy to get to via accessible routes from public entrances to accessible guest rooms, meeting spaces and more so attendees can easily get from place to place around the resort's campus, allowing for more venue options and opportunities for planners to differentiate where groups gather.  
For meeting attendees with disabilities, Omni Orlando Resort also offers assistive listening devices.  
The 862-room resort features 248,111 square feet of meeting space with 100,000 square feet of outdoor space and ensures accessible meeting areas for groups and guests with disabilities. The 28,800-square-foot Osceola Ballroom is the resort's biggest indoor meeting venue, offering a capacity of 3,200. Other spaces include a 33,000-square-foot terrace and many lobby-level ballrooms, suites and prefunction areas for easier accessibility.
[Related: How to Plan Accessible Meetings and Events: A Comprehensive Guide for Event Professionals]
Resort at Squaw Creek, Lake Tahoe, California 
Set to undergo a name change and rebranding this year, Resort at Squaw Creek is a mountain resort offering easy access to Olympic Valley and Lake Tahoe with award-winning golf, ski-in/ski-out access, heated pools, onsite dining, outdoor adventures and more. 
The resort is committed to ensuring all ADA requirements are met or exceeded, providing a variety of wheelchair-accessible rooms and suites and a lodging staff trained to accommodate guests with special needs. 
Resort at Squaw Creek also has Disabled Access Ambassador Mario Rey, who helps guests with disabilities navigate the property, highlights the best places to access the North Lake Tahoe region and provides firsthand knowledge of activities suitable for guests with disabilities as a longtime resident of Lake Tahoe. Rey can often be seen out on his handcycle during the summer or sit-skiing in the winter around the resort.  
Additional amenities at the resort include a wheelchair-accessible fitness center, public restrooms, portable bathtub benches, roll-in showers, close-captioned television decoders, vibrating alarm clocks and more.  
Resort at Squaw Creek features 33,000 square feet of flexible indoor meeting space across 24 newly enhanced and upgraded meeting rooms, as well as 14,750 square feet of outdoor space showcasing views of the Sierra Nevada Mountains near North Lake Tahoe.  
The resort's meetings and events offerings become even more enticing when groups get outside for teambuilding and group activities with the recreation staff, which helps arrange a variety of group activity programs for the resort's Tahoe meeting space, such as guided hikes, sports tournaments and other recreational activities. The staff takes into consideration the group's interests, abilities and agenda and can help organize both winter and summer activities.  
[Related: Beyond ADA: A Site Inspection and Disability Accommodation Checklist for Events]
Halekulani, Honolulu, Hawai'i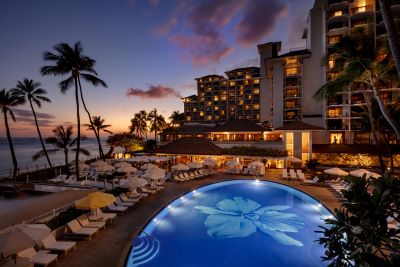 On the iconic shore of Waikiki, the historic and luxurious Halekulani resort and hotel has welcomed guests for more than a century to its beachfront grounds on the island of Oahu. The resort believes in "anticipating your needs and making sure you want for nothing" in every regard, including accommodations for people with disabilities.  
Halekulani shares a commitment to providing equal access and opportunity for people with disabilities, and amenities in and around the resort make it more accessible for individuals with changing abilities to experience a seamless stay.  
Accessible areas around the resort include everything from parking and public entrances to the fitness center and exercise facilities, restaurants, pools, meeting rooms and more.  
ADA-compliant guest rooms offer text telephones (TTY), closed captioning decoders for televisions, lowered amenities like air-conditioning control panels, peepholes, bathroom clotheslines and closet rods, and wider-aisle access to bathrooms with ADA-compliant higher toilet heights and assistive grab bars. Guests can also request optional balcony door ramps.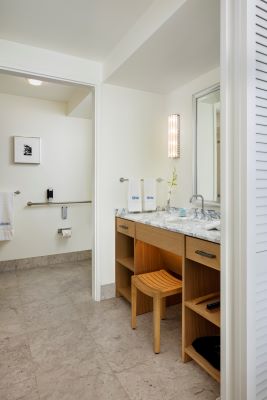 Halekulani also provides accessible routes from its accessible public entrance to meeting rooms and its ballroom area, all guest rooms, the fitness center, exercise facilities, restaurants, the pool, spa and more, and additionally offers accessible hotel parking and transportation with advance notice.  
Through the concierge and for an additional fee, guests can request nurses and companion aids, various types of wheelchairs and wheelchair-accessible tours and transportation throughout the island, with a minimum 24-hour notice.  
Halekulani offers a variety of indoor and outdoor meeting and event venues for gatherings of various types and sizes, including the 4,300-square-foot Halekulani Ballroom, which seats up to 300 for banquets and can accommodate up to 500 for standing cocktail receptions. The open space has no pillars and features access to a foyer for registration and prefunction cocktail receptions. 
The smaller Kalia & Kiawe Rooms on the second floor of the historic Main Building overlook a courtyard and offer an intimate and private space for smaller corporate meetings, private events and banquets for 20-40 guests, or up to 70 when the two rooms are combined.  
Halekulani's Hau Terrace offers a sense of place for events as groups are surrounded by windows on three sides, overlooking the resort's pool, Waikiki Beach and unobstructed views of Diamond Head, Hawai'i's most recognized natural landmark.  
Beyond the Hotel: Citywide Accessibility with Experience Columbus 
Going above and beyond ADA requirements, which are considered the minimum standards, is in everyone's best interest, said Dan Williams, chief sales officer at Experience Columbus—whether it be within a hotel, restaurant, attraction or transportation. Exceeding requirements creates a warm and welcoming environment for all guests, and good accessible design includes usability and equity as a goal, Williams added. 
"In Columbus, we're dedicated to creating an inclusive destination that's welcoming and accessible to all," Williams said. "People with disabilities deserve the same opportunities as everyone else to enjoy comfortable travel opportunities and participate in meetings and conventions. We want everyone to experience how great our city is."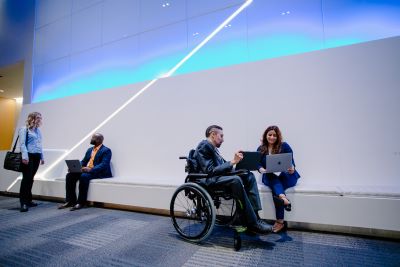 In July 2022, Experience Columbus, the DMO for the Columbus region, launched a new Accessibility Guide for visitors and locals. The guide represented one more step in Experience Columbus' ongoing commitment to diversity, equity and inclusion (DEI) and provides details on accessibility offerings in the categories of mobility, vision, hearing and cognition for the city's attractions, hotels, restaurants and transportation options in one easy-to-find place. 
More than 20 attractions, restaurants, hotels and transportation options are listed, including the Greater Columbus Convention Center, which gained its KultureCity certification as a sensory-friendly facility and offers a range of accommodations for visually impaired, hearing impaired and mobility impaired guests.  
"The Accessibility Guide serves all visitors coming to Columbus—including conference and event attendees," Williams said. "The guide can also serve as a tool for event planners who are looking to hone in on accessible offsite events and businesses." 
To create the new Accessibility Guide, Experience Columbus worked with Dr. Rosemarie Rossetti, an internationally known disability inclusion expert and universal design and accessibility consultant. The guide was also vetted by disability inclusion experts to make sure the information presented is reliable and helpful.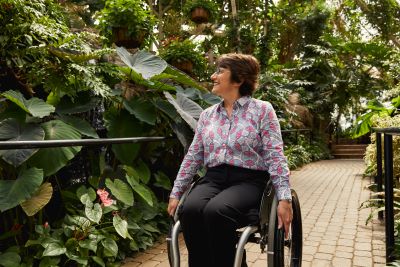 Part of the guide is a blog written by Dr. Rossetti herself, highlighting tips for planning an accessible meeting in Columbus and including suggestions like collecting information about accessibility needs during the registration process, arranging for accessible transportation and parking and having dining accommodations for people who use wheelchairs.  
"What makes Columbus such an inspiring and progressive city is the abundance of places and events that can be experienced and shared by all," Rossetti said in an Experience Columbus press release. "As a person who uses a manual wheelchair, I've enjoyed the opportunity to share my perspective on how this city can be enjoyed by people of all abilities. I hope this guide affords many others the chance to take advantage of what Columbus has to offer."  
In launching the guide, Experience Columbus wanted to highlight the city's accessibility and make it easy for people seeking information. Instead of having to search for information on various websites, the DMO pulled resources together for visitors and locals in one easy-to-access place. The guide will be continuously updated as new businesses and venues open or as local businesses and organizations share their accessibility information.  
"Accommodating people with disabilities is about taking care of people and treating them with dignity and respect so they can participate equally and feel fully included," Williams said. "This level of inclusivity requires intentional planning with empathy and education." 
Connect 
Read this next: Sensory Inclusive Event Venues: Why They Matter