4 Houston Venues That Tap Into Art and History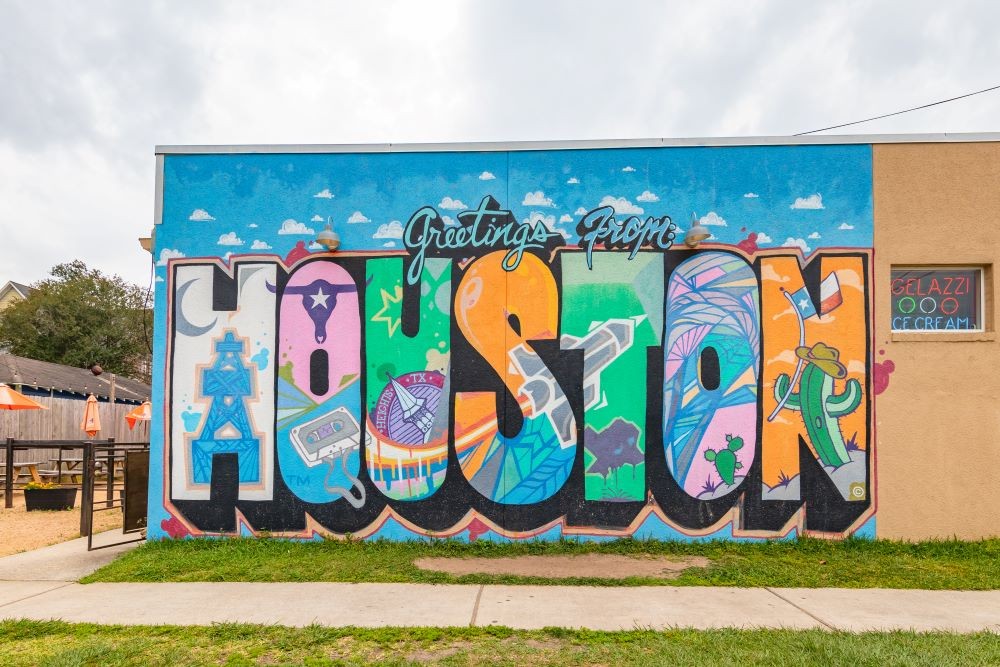 Houston mural. Credit: Travel Texas
With an expanding footprint that could fit Boston, Minneapolis, Miami, New York City, San Francisco, Seattle and Washington, D.C. within its borders, Houston, with "Sprawl City" among its multiple nicknames, may strike as a place where unique discoveries are lost or hard to find amid its metropolitan immensity. 
Think again. Houston thinks outside of the box in very visible ways when it comes to creative self-expression, from the arts to adaptive reuse of historic structures. A shining example is the Orange Show Center for Visionary Art (see sidebar), which has announced a major expansion of its campus and mission to promote "the Artist in Everyone." 
Calling Houston "one of the leading centers for the exhibition and presentation of visionary art, self-taught art and quote-unquote Outsider art" in a 2021 interview with Artnet News, Tommy Ralph Pace, the organization's executive director, is "excited to come onto the landscape in a national way." 
From rooftop parks and postal connections to subterranean chambers and outer space, here are extra-dimensional sites and experiences for connecting with Houston's inner heartbeat. 
In 1836, New York investors Augustus and John Allen founded Houston at the confluence of Buffalo Bayou and White Oak Bayou, now known as Allen's Landing. In 2015, the Buffalo Bayou Partnership, established in 1986, completed Buffalo Bayou Park. Spanning 160 acres, the $58 million investment created one of America's great urban green spaces. 
For pure escapism, The Cistern is an off-agenda must for self-guided or docent-led tours. Built in 1926, this 87,500-square-foot space was among Houston's first underground reservoirs. Supported by 221 concrete columns standing 25-feet tall and set in rows, this cavernous subterranean space, once holding 15 million gallons of drinking water, is heavenly to behold. With sunlight streaming down from ceiling vents and the thick concrete walls creating near-total silence, call it the "Cistern Chapel." 
Docent-led tours highlight the history and architecture of the Cistern, which houses periodic art installations. 
The site runs underneath The Water Works, offering indoor and outdoor space as one of several versatile event rental options within the park. Built in 1910, the historic Sunset Coffee Building next to Allen's Landing is considered the "Plymouth Rock" of Houston as the city's founding site. Three event spaces include the scenic Rooftop Terrace, the elegant Mexican restaurant Flora, which hosts 50-capacity events in its Frida Private Room, a third space transporting glass treehouse space featuring chandeliers and scenic park views. 
[Related: 6 Arts and Culture Venues for Meetings and Events in Houston]
Few Houston buildings are as storied as the former Barbara Jordan Post Office, which originated in 1934 as a depot adjacent to Houston's Grand Central Station. When the station was demolished in the late 1950s, Wilson, Morris, Crain & Anderson, architects of another local icon, the Houston Astrodome, incorporated the depot's remnants in a new blockbuster mail facility. The massive landmark, opened in 1961, made a major statement about American industrial might and Cold War resolve. Designed to FBI security standards, the architecture incorporated multiple nuclear bomb shelters.  
Renamed in 1984 for Houston-born civil rights icon Barbara Jordan, the South's first female African American legislator elected to Congress, the building was decommissioned in 2015 and lapsed into vacancy.  
Reimagined as a dynamic LEED Gold-certified, mixed-use complex in late 2021, POST Houston delivers the goods on multiple fronts. Referencing its location between downtown and Buffalo Bayou Park, dramatic features include Skylawn. Spanning five acres, this rooftop farm and park is among the largest in the nation, with postcard-worthy panoramic city views. The "layer-cake" design also includes a ground-floor food hall and 5,000-capacity 713 Music Hall.  
With its cutting-edge angled design and great sightlines, the concert venue is among several versatile rentals. Groups can also book the Outpost, a 300-capacity covered rooftop pavilion adjacent to the Skylawn farm. Centered around a monumental X-shaped staircase, The X Atrium is a striking stage for 2,000-capacity events. The Office is a blank canvas space that showcases the building's immense columnar architecture, while the Docks, the post office's former loading bays, offer another evocative event setting. Backed by the building's façade, Jordan Plaza is for concerts and other outdoor programs.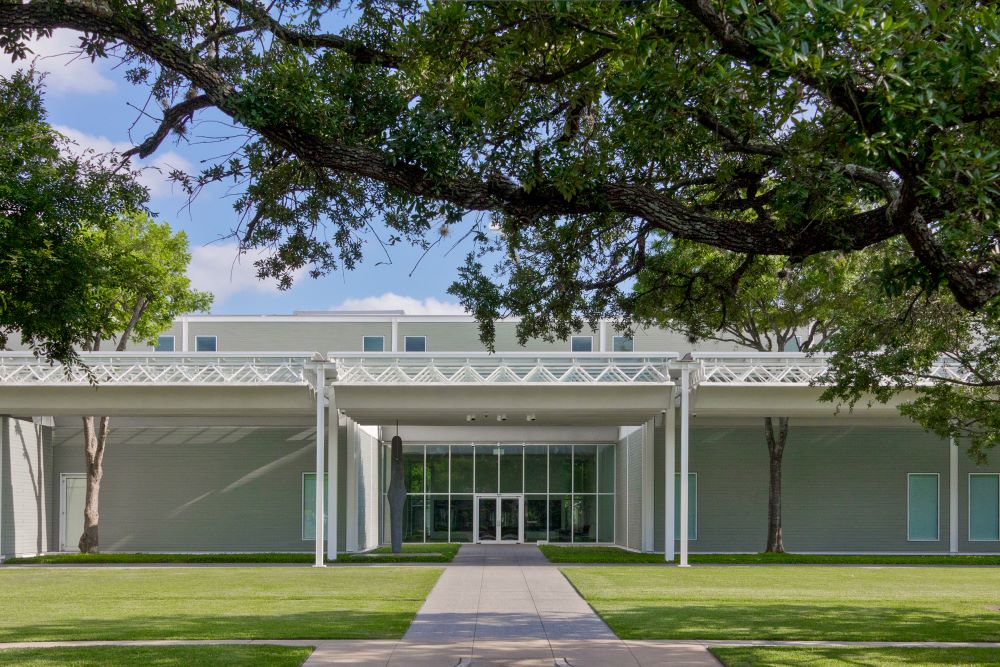 Encompassing multiple venues on a 30-acre cultural campus in Houston's historic, eclectic Montrose neighborhood, the free-admission Menil is a singular showcase of art. Housed in the masterful main building from globally renowned museum architect Renzo Piano, the former private collection of legendary Houston philanthropists Dominique and John de Menil, gifted by the late couple to Houston, defies convention at every turn.  
There are no guided tours or descriptive plaques inside the main building, which Piano designed in collaboration with Dominique de Menil to seem "small on the outside but large on the inside."  
Within Piano's tranquil, triumphant work, with tall trees and garden atriums integrated in wrap-around porticos and the sun dancing through his ingenuous skylight system, visitors experience the Menils' vision of a museum as a place to "lose your head." Spanning time and genre, from Byzantium to Pop Art, the art is rotated in convention-defying juxtaposition, expressly to invite personal contemplation and interpretation. The Menil is intended to spark conversation, reinforced by artist lectures and performances.  
Other Menil venues include the adjacent Piano-designed the Cy Twombly Gallery. In the 1980s, the Menil Foundation rescued and restored two damaged 13th-century frescoes that had been stolen from a church in Cyprus. Before their return to the church, the works were displayed at the Menil's Byzantine Fresco Chapel, which now features long-term art installations. Richmond Hall is a 1930s commercial building repurposed for a permanent, site-specific installation by late Minimalist sculptor Dan Flavin. 
Groups can pair their Menil experience with dining and private events at Bistro Menil from renowned Houston chef, Greg Martin. Housed on the site of one of the dozens of Arts and Crafts-era bungalows surrounding Menil Park, which Dominique de Menil purchased to ward off development while providing affordable housing for artists, this scenic restaurant seats 30 in the Prive Room, flexibly hosting 50-person receptions and with access to the 40-capacity outdoor patio. 
[Related: The Culinary Scene Is Heating Up in South Texas]
"Houston, Tranquility Base here. The Eagle has landed." Neil Armstrong's immortal first words from the Apollo 11 lunar landing in July 1969 forever cemented Houston's legend as the home of America's space program. 
Serving as the official visitor center of the NASA Johnson Space Center, this famed Smithsonian-affiliated museum is Houston's top-ranked attraction for international visitors. 
Featuring a wondrous collection space and scientific artifacts, the 250,000-square-foot educational museum and entertainment complex also has major gravitation pull for indoor and outdoor gatherings. Accommodating a wide variety of event types, from intimate affairs to large-scale activations, signature venues include landmark Independence Plaza. Showcasing the history of the Space Shuttle Program, programs on this 1.2-acre site including tours and 100-capacity receptions inside NASA 905, the first shuttle carrier aircraft, and 5,400-capacity events on the plaza.  
Overlooking the plaza, the Special Events Building hosts 150 seated with guests and 225-capacity receptions. Dine under the stars in 250-capacity Starship Gallery, which features the world's largest public display of moon rocks and flown spacecraft from the Mercury, Gemini and Apollo programs. Hosting up to 100 guests for standing receptions, the Astronaut Gallery houses a preeminent collection of space apparel, including Apollo-era flight suits worn on the moon. Other venues include the International Space Station gallery and Food Lab. 
Plus: The Orange Show Juices Up for the Future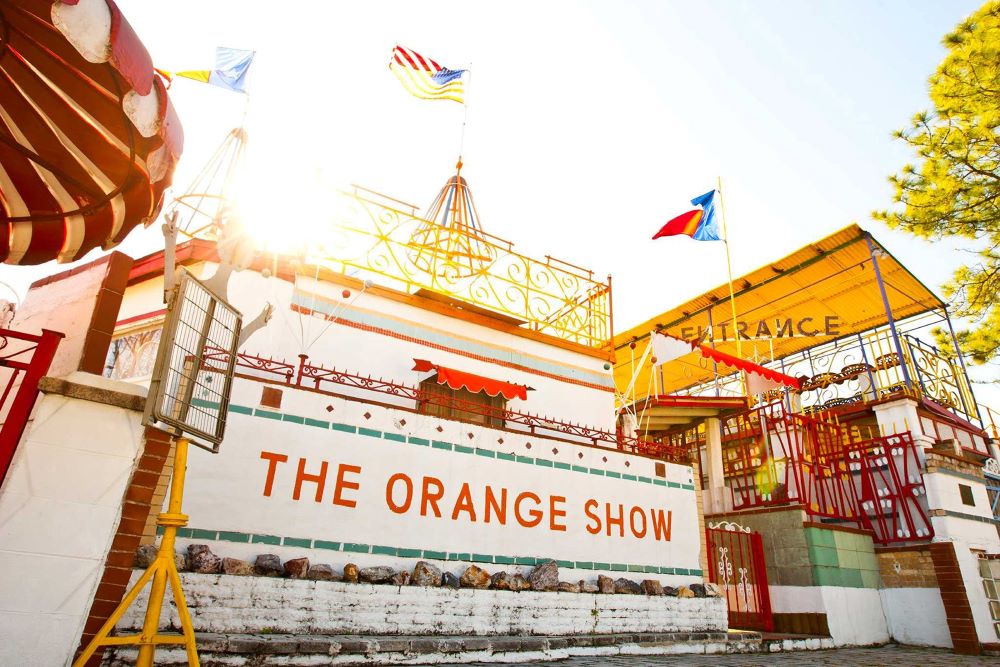 From 1956 to 1979, late Houston postal worker Jefferson Davis McKissack single-handedly transformed a small lot near his home in Houston's East End into The Orange Show, a visionary folk art construction in homage to his favorite fruit. Originally calling it his "beauty parlor," McKissack opened his monumental amusement park-like creation to the public in 1979, only to pass away in 1980. That same year, Houston arts patron and business leader Marilyn Oshman formed the non-profit Orange Show Foundation to purchase and preserve the site, enlisting leading community members including legendary Houston art collector and philanthropist Dominique de Menil and members of ZZ Top in the effort.  
Renamed the Orange Show Center for Visionary Art in 2003, the organization brought other beloved local treasures into its fold. These include the Beer Can House. Starting in 1968, late retired railroad upholsterer and beer lover John Milkovisch first transformed his yard by inlaying countless marbles, rocks and metal pieces into concrete and redwood, before siding his house with 50,000-plus flattened beer cans. Groups can tour this "monument to recycling."  
OSCVA also runs the annual Houston Art Car Festival & Parade. Launched in 1988 with 40 participants and attracting just 2,000 spectators, the free 10-day event, set for its 36th edition this April, now features 250-plus cars and attracts hundreds of thousands of spectators. Corporate group opportunities include the VIPit Experience, with private viewing sections and all-inclusive access to complimentary food and beverage. The vehicles cover all manner of artful, often zany creations, including Houston's iconic 1980s-era SLABs, an acronym for "Slow, Low and Bangin" or Slow, Loud and Bangin" old school rides. 
Neighboring the National Historic Register-listed Orange Show Monument, OSCVA's constantly evolving Smither Park is a mesmerizing public green space featuring mosaics by 300-plus artists from around the globe.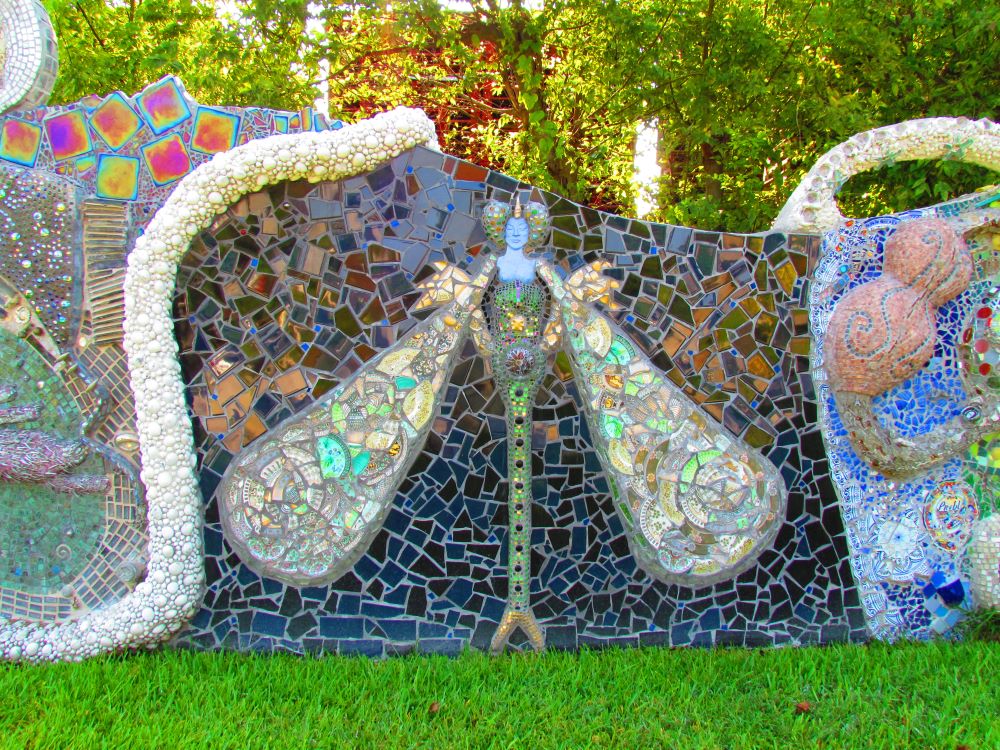 As Houston's folk art hub, OSCVA engages at-risk youth in art projects such as mural painting and Art Car building. Group activities include "Eyeopener Tours" that explore art environments throughout the city and beyond.  
In 2022, OSCVA announced a major expansion effort that will create an eight-acre central campus. Incorporating the Orange Show Monument, Smither Park, and adjacent five-acre commercial lot, the project includes redeveloping a 31,000-square-foot, 1950s-era concrete warehouse into a permanent three-story performance and exhibition space with a dedicated gallery for significant Art Car Parade vehicles. 
Dedicated to promoting the "Artist in Everyone," OSCVA will expand its current art-making classes, workshops and other program with new "exploratory spaces." Targeting completion by 2026, the campus, aiming to become "an international destination for the celebration of visionary and outsider art," will include an outdoor performance plaza and feature an extended green space connection to the Bayou Greenways trail. 
Jonathan Beitler, OSCVA's director of communications and special events, said that for the time being, event rentals will be limited to smaller gatherings in Smither Park. Once the expansion is complete, however, OSCVA intends to offer a variety of private rental spaces, and to produce public events of "many sizes and scales." 
Opened in 1998 by artist Ann Harithas, a long-time supporter of the Art Car movement, and James Harithas, currently director of Houston's Station Museum of Contemporary Art, the Art Car Museum is a private showcase of contemporary art with an emphasis on art cars.  
Connect
Visit Houston 
(713) 853-8100 
Read this next: Meetings Are Big Business in the Dallas-Fort Worth Metroplex. Local CVB Leaders Share Why