Three Colorado Cities for Meetings Immersed in Art and History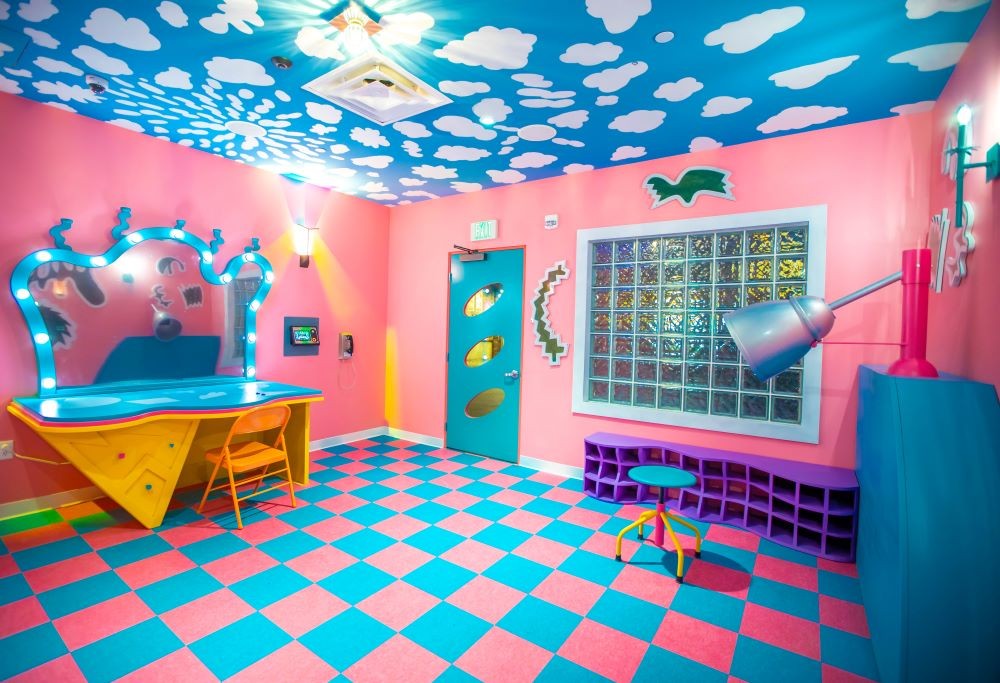 Meow Wolf Denver Salawn. Credit: Kennedy Cottrell
The artistic and creative state that Colorado has become commonly known as today is built on history and art heritage spanning more than 200 years in the Rocky Mountain West. Notable artists who turned to the state's physical beauty, relaxed lifestyle and healthy climate include Georgia O'Keeffe and Jackson Pollock, and Colorado's art scene continues to blossom alongside the efforts to preserve its history.
These three Colorado cities fondly remember their creative roots through their evolving art scenes, sharing their rich art heritage with visitors. Here's how you can experience it for meetings and events. 
Denver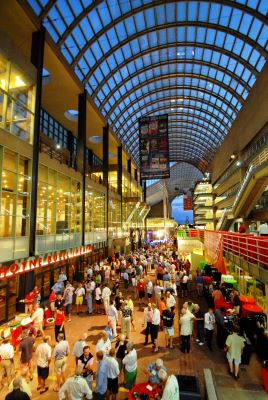 When Denver was a frontier gold rush town in the 1860s, the city held a performance of Macbeth in a saloon long before there was a school or a hospital, according to Visit Denver. Today, the capital city boasts the largest performing arts complex under one roof in the nation, Denver Center for the Performing Arts.
With 10 theaters offering Broadway, symphony, ballet and original theatrical productions, groups can catch a show at Denver Center for the Performing Arts or book spaces like the Seawell Ballroom, with 10,000 square feet of event space.
Denver also boasts five downtown art museums with meeting and event facilities, including the Denver Art Museum, featuring the Frederic C. Hamilton Building's iconic architecture and access to exhibits like Star Wars and the Power of Costume and Dior: From Paris to the World; and the Museum of Contemporary Art Denver (MCA), offering MCA Cafe & Rooftop Bar for small dinners and cocktail receptions.
The Denver Art Museum's new wing, designed by Daniel Libeskind, was built with meetings and events in mind and features a rooftop deck. At 1,100 square feet, MCA Cafe showcases 360-degree views of Denver's downtown skyline and access to MCA Rooftop Deck, which wraps around the cafe and boasts an outdoor bar.
Also available for booking through MCA Denver is the Holiday Theater, built in 1914 and named the Egyptian Theater in 1926, and renamed the Holiday in 1953. The Holiday Theater was the first in Colorado to present Spanish-language films, featured from the 1960s-1980s, and has held a variety of uses for more than 100 years of creative entertainment. MCA Denver at the Holiday Theater opened in April 2022 as a performance and programming space offering a new long-term hub for the arts and facility rentals as well as meeting space to book with a two-hour minimum.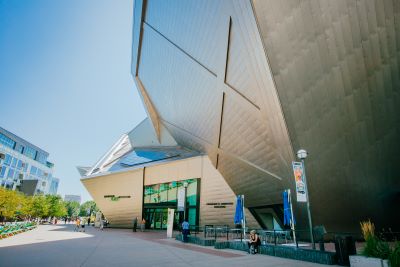 The History Colorado Center showcases artifacts, stories and art that tells the tale of Colorado through interactive elements in more than 15 exhibits spanning four floors. Exhibitions constantly evolve as Colorado's story unfolds and include displays like Rainbows & Revolutions, Return of the Corn Mothers and The Sand Creek Massacre: The Betrayal that Changed Cheyenne and Arapaho People Forever. 
The History Colorado Center can host events like corporate dinners, conferences, cocktail receptions, panel discussions and more for groups of 10-1,500 guests and partners with Occasions Catering for catering, bar service and rental supplies. The center's grand atrium space is popular for corporate events.
Civic Center Park, listed on the National Historic Register, was created more than a century ago to be "the civic and cultural heart of Denver." A 12-acre urban oasis and famous architectural American campus, the park is Denver's only National Historic Landmark. Groups can meet in the McNichols Civic Center Building, reopened in 2016 and featuring three large, open floors with exposed steel columns, rotating art exhibits and a full-venue capacity of 2,150.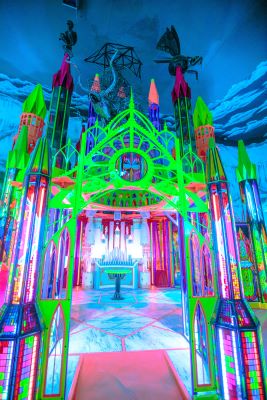 Many "saloons" remain in Denver, with more than 80 craft breweries and distilleries, some of which have spaces to hold receptions and pub crawls in creative neighborhoods like the River North Arts District, "where art is made." During the 2022 Meetings Today LIVE! West event in Denver and Aurora, attendees gathered in Denver's historic Lower Downtown (LoDo) neighborhood at Denver's Dairy Milk Market, an all-local mix of restaurants, bars and businesses offering a blend of history and modernity. 
Speaking of modernity, Denver's Meow Wolf—a gigantic, immersive space that takes visitors on a journey through five different worlds that converged when a fictional Denver bus hit a brick wall and tore a hole through time and space—boasts catwalks, five-story glass castles and dozens of spaces to explore or host a group reception. Groups between 50-450 can experience unique, "out-of-this-world" creativity with exclusive exhibition access and private event space.
For something a bit more historical than artistic, The Denver Museum of Nature & Science (DMNS), one of the largest museums in the nation, features multiple spaces for receptions and events and is known for its world-famous dinosaur collection. DMNS offers group tours to Dinosaur Ridge, the No. 1 dinosaur tracksite in the nation and home of the world's first Stegosaurus discovery.
[Related: CSR Activities in Colorado That Make a Lasting Impact]
Boulder
Known for being one of the country's healthiest cities focused on well-being, Boulder has been recognized by National Geographic as "The Happiest City in the U.S." and ranked on Gallup's "Highest Well Being Communities" list numerous times—and it's not all thanks to Boulder's famous breweries.
With a collection of unique venues creatively blending history and culture, Boulder beckons attendees with adventurous spirits to experience the foundation on which "The Happiest City" was built.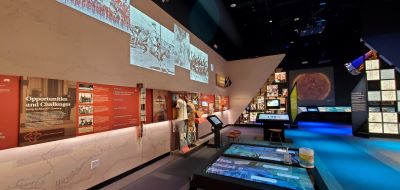 The Museum of Boulder is the perfect place to start diving into how Boulder began and what makes it the city it is today. The museum offers private event space for meetings and events from five to 500 guests, including an outdoor rooftop deck showcasing views of the Flatirons mountains. Special arrangements can be made for attendees to explore and access the Boulder Experience Gallery, the Google Garage and other innovative exhibits at www.museumofboulder.org. 
An iconic and essential piece of Boulder—and a National Historic Landmark celebrating its 125th anniversary this year—the Colorado Chautauqua remains committed to its original purpose of culturally educating more than 1 million visitors annually. The Chautauqua offers activities and opportunities for hiking, meeting, eating and learning about Boulder's history on land surrounding the Flatirons.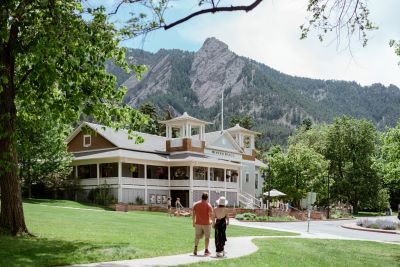 The newly renovated Mary H. Galey Cottage at the Chautauqua can host up to 40 guests in 2,100 square feet of lodging, meeting and celebration space. The nearby Auditorium Terrace is open seasonally for elegant outdoor gatherings on a flagstone patio overlooking the Centennial Garden and Flatirons with a capacity of 75. 
The Dairy Arts Center, Boulder's largest multidisciplinary arts center, was originally a milk-processing facility that was renovated to provide space for different artists to share their performances and artwork. The center collaborates with groups to immerse attendees in Boulder history and offers nearly 10,000 square feet of rental space. 
Boulder also offers a number of indoor and outdoor group activities and teambuilding opportunities that creativly showcase local history and culture, as well as the city's dedication to sustainability.
"Our close proximity to the Front Range and the community's values of preserving this land create a strong desire to make everything as green as possible—our meetings/events are no exception," said Karleen Lewis, director of marketing and communications, Visit Boulder. "Along with our walkable meetings, we promote sustainable travel during your trip. Boulder has an electric bus system, hundreds of miles of trails in and around town, and our B-cycle electric bikes have stations all over to get you wherever you need to go."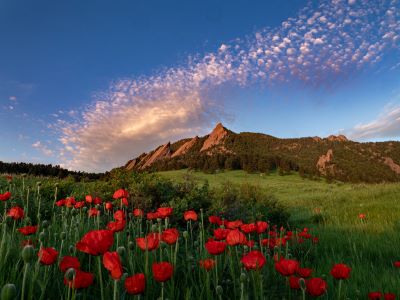 To showcase Boulder's natural art and history, Colorado Wilderness Rides and Guides, alongside Colorado Wilderness Corporate and Teams, offers options from outdoor trips to ice sculpting to craft brewery tours for groups. Colorado Mountain Ranch, located just outside the city and up in the mountains, is celebrating its 75th anniversary of hosting events and camps for all ages and is suitable for company gatherings and teambuilding programs. 
For something a bit more interactive and closer to the city, Ramblin Rosie's Boulder Tours features guided tours with actors to discover the rich history of Pearl St. Mall. Currently, groups can take advantage of a historic walking tour, the Pearl Street Paranormal Tour and "Fido Friendly Fun Tour" (for those who'd like to bring their dogs along!). 
"A great way to immerse yourself in the history of Boulder is by volunteering," Lewis said, highlighting volunteering opportunities with Colorado Wilderness Corporate and Teams, in which groups can create a custom volunteer program based on philanthropy preferences; Growing Gardens, an urban, sustainable farm located near downtown with education and farming opportunities; and City of Boulder Open Space and Mountain Parks, a core piece of Boulder's history and values with group opportunities to work on specific projects. "Boulder is rooted in its sustainability and community centered values and these group opportunities are a perfect way to understand those values firsthand," Lewis said. 
[Related: Outdoor Teambuilding Ideas for Groups in Colorado]
Colorado Springs
Just over an hour south of Denver at the eastern foot of the Rocky Mountains is Colorado Springs, known most commonly for nearby Pikes Peak and National Natural Landmark Garden of the Gods.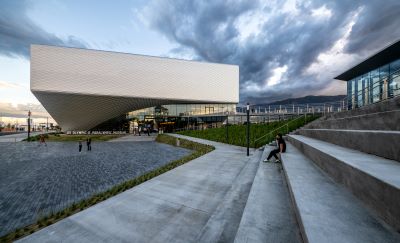 Situated on a naturally beautiful and historic playground, Colorado Springs is the definition of a destination built on a foundation of arts and history spanning more than 150 years. In fact, America the Beautiful was inspired by Pikes Peak itself—can it get any more artistic or historical than that?
"Colorado Springs—Olympic City USA—is truly a one-of-a-kind option for meetings and events," said Alexea Veneracion, director of communications, Visit Colorado Springs. "Attendees love finding some leisure activities to incorporate into their travel, and we highly recommend taking some much-needed wellness breaks in the great outdoors."
Many groups visiting Colorado Springs take advantage of U.S. Olympic & Paralympic Museum, which opened in 2020 as one of the most accessible and interactive museums in the world. Events can be held onsite in various spaces like the Mary K. Chapman Special Event Space, which features views of Pikes Peak and the original scoreboard from the U.S. vs. Soviet Union's "Miracle on Ice" ice hockey match at the 1980 Lake Placid Olympics.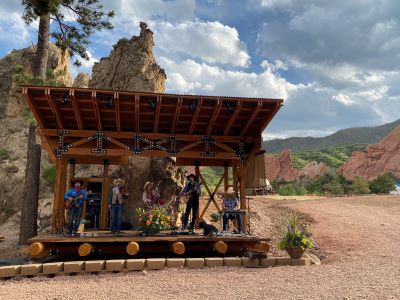 The National Museum of World War II Aviation, opened in 2012, documents and shares the role military aviation played in establishing the nation as a world power during WWII through technological advancements in aviation and the contributions and sacrifices of those who won the air war. 
The museum hosts special events in two unique venues. The main building, the Kajia Raven Shook Aeronautical Pavilion, is ideal for corporate gatherings with a variety of larger setups and room for up to 800 guests. Hangar 2 is ideal for daytime events of up to 100 guests for intimate luncheons and receptions. 
The unique and immersive Flying W Ranch, an event space and historical site, offers a chuckwagon dinner and performance by the Flying W Ranglers, the world-renowned, second-oldest Western singing band in the world, which has entertained more than 7 million people since 1953. The Flying W Ranch is available for celebrations, private events, meetings and Old West educational pursuits for from 20-900 people indoors to up to 5,000 outdoors. 
Founded in 1871, Glen Eyrie Castle was the home of William Jackson Palmer, a Brigadier General in the Union Army during the Civil War, president of The Denver and Rio Grande Railroad and founder of Colorado Springs. Today, the Glen Eyrie Castle & Colorado Conference Center welcomes groups to a variety of artistic and historical event spaces inspired by the castle's surrounding natural beauty.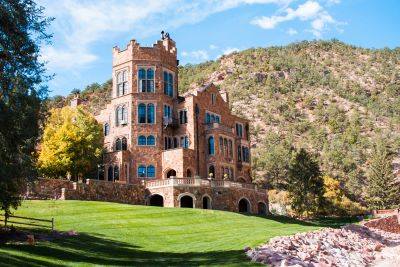 With more than 16,500 square feet of meeting space, Glen Eyrie Castle can accommodate up to 200 guests in spaces such as the 2,152-square-foot Great Hall, the 468-square-foot Music Room and the 2,380-square-foot terrace. 
A hub for outdoor adventure, Colorado Springs also offers a number of group activities and opportunities to get out in the region, including a Jeep tour with Adventures Out West. Guides regale guests with the colorful history of Colorado Springs' natural landmarks. 
Colorado Springs' famous luxury resort, The Broadmoor, features more than 315,000 square feet event and convention space nestled on the southern edge of the Rocky Mountains, along with 5,000 acres of land to explore, which groups can do following the grand reopening of The Broadmoor Manitou and Pikes Peak Cog Railway for the resort's 130th anniversary. 
The Broadmoor Manitou invites groups to explore the offerings of historic Manitou Springs, including visits to the majestic Seven Falls and ziplining at The Broadmoor Soaring Adventure. Pikes Peak Cog Railway takes groups on a nine-mile, three-hour roundtrip ride up America's Mountain to spend 40 minutes at the Summit—"the gateway to heaven"—and take in views of both the Collegiate and Sangre de Cristo mountain ranges before riding back down. 
"The Pikes Peak Cog Railway was fully renovated and reopened in 2021, as was the Summit Visitor Center on top of the mountain," Veneracion said. "Standing on top of such a tall mountain—and being able to easily get there—makes it one of the most accessible summits. The views are sure to inspire everyone, and groups will learn ample history and geography of the region on the way up to the top."
[Related: Colorado Springs Has Undergone a Mountain of Changes for Its Meetings Offerings]
Pick 3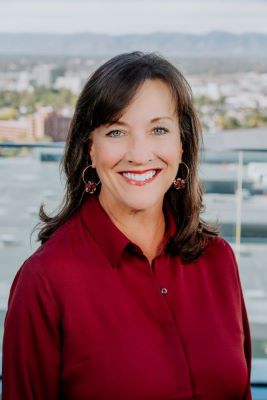 Vikki Kelly // Director of Destination Services & Events // VISIT DENVER The Convention & Visitors Bureau // Denver, Colorado
How does Denver creatively and uniquely showcase its history, art and culture to meeting attendees?
Red Rocks Amphitheatre seats 9,000 people in a space flanked by two 300-foot-high red rock monoliths, with the lights of Denver visible along the horizon. ASAE, MPI, IPW and many other conventions have held concerts and festival events at Red Rocks. This venue lends itself to unique experiential teambuilding events, with opportunities to include Red Rocks programs like Yoga on the Rocks. Events at Red Rocks are truly magical.
The Denver Art Museum consists of two buildings: a 26-sided "castle" designed by Gio Ponti of Italy (this is his only building in America) and a titanium shard inspired by the mountains and designed by world-renowned architect Daniel Libeskind. The interior includes perhaps the greatest collection of Native American art, Western art and major touring art shows. After a recent renovation, new additions were designed to accommodate meetings and receptions, offering wonderful spaces surrounded by arts, culture and views of downtown. Many conventions have held board meetings, dinners and receptions for more than 2,000 attendees at this beautiful venue.
The Denver Performing Arts Complex (DPAC) is connected by an 80-foot-tall glass roof. DPAC houses 10 performance spaces on its four-block, 12-acre site. This venue connects to a sculpture park that can host 4,000-7,000 guests. DPAC is located one block from the Colorado Convention Center and is within walking distance of Denver's core downtown hotels. Conventions host a variety of events at DPAC, from small theater gatherings to a full buy-out of the theaters, galleria and park.  
Connect
VISIT DENVER
(800) 233-6837
Visit Boulder
(303) 442-2911
Visit Colorado Springs
(800) 888-4748
Read this next: Meetings Today LIVE! West Wraps Up in Aurora and Denver