The Old and New Boston Venues and Experiences That Will Keep Groups Coming Back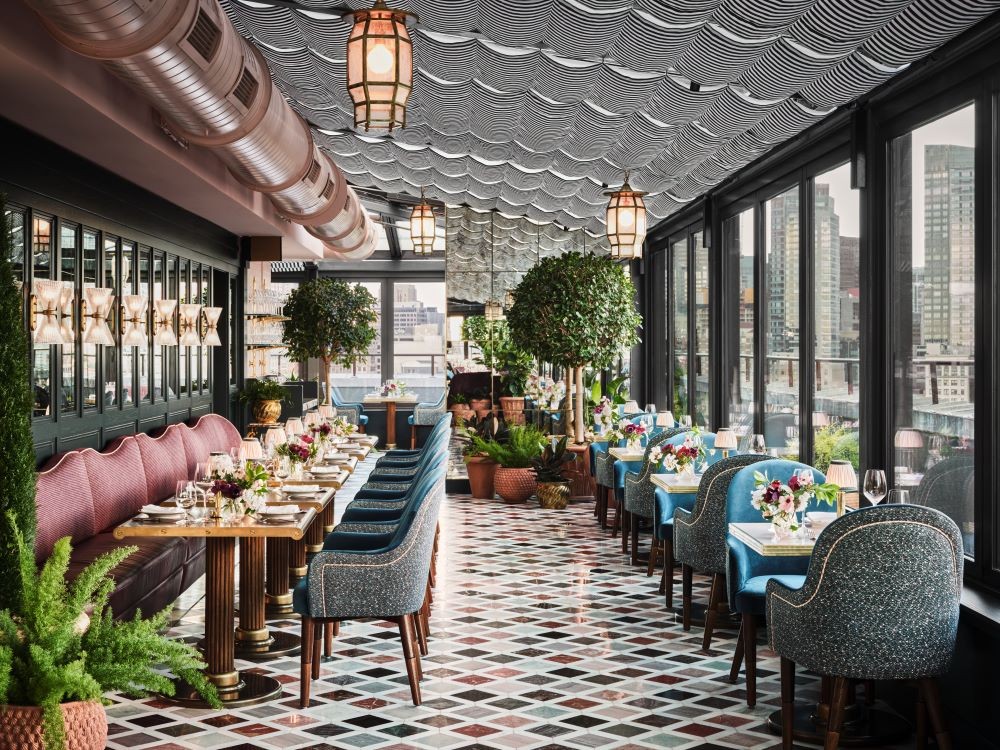 The Newbury Boston rooftop restaurant, Contessa. Credit: Douglas Friedman
When I first hit Boston in 1983, Boston hit back. Cold, unsmiling and rough-edged, Beantown was, in the time-honored local vernacular, "wicked hard core." Forty years later, Massachusetts' historic capital is ushering in an inclusive, welcoming new age focused on dispelling old notions and creating a compelling new narrative for the city. 
Renamed Meet Boston in December 2022, the Greater Boston CVB continues to be a relentless force of change. Working closely with the City of Boston and other strategic partners and stakeholders, the organization has been on a transformation tear.  
Emerging from the pandemic, successes include the creation of a Tourism Destination Marketing District, giving Meet Boston a vital funding vehicle for tourism promotion and marketing. Showcasing diverse tourism assets across all Boston neighborhoods as a part of an "equitable recovery" initiative, the "All-Inclusive Boston" campaign was the first step toward positively shifting perception of Boston's identity and casting a new image.  
Co-launched alongside the Meet Boston rebrand, "Boston Never Gets Old" is a new multimillion-dollar campaign promoting year-round leisure travel to the destination.  
"Tourism is integral to the Boston and Bay State economy, and it was time for us to further invest in promoting all that we have to offer to draw large-scale, international events to Boston," stated Meet Boston President & CEO Martha Sheridan in a release. "Boston is a global city that always deserves to be on the world stage."  
Her colleague, executive vice president Hilina Ajakaiye, has played a major role in amplifying that spotlight on the diversity, equity and inclusion front. The strategic model she established for Meet Boston in collaboration with the industry-wide Tourism Diversity Matters coalition has been officially recognized by The U.S. Travel Association as the standard for destination marketing organizations.  
Ajakaiye also led the organization's shift from its traditional membership structure to a broader, more inclusive partnership model. Announced this March, the six-pillar initiative aims to bring overlooked or excluded businesses and communities into the Greater Boston tourism network. 
Speaking at a Meet Boston press event in New York City this March, Jason Santos, celebrity chef-owner of event-capable Boston restaurants including New Orleans-influenced Buttermilk & Bourbon, coastal Mexican-driven Citrus & Salt, and lively Nashville-inspired Nash Bar & Stage, wants visitors "to have a reaction" when they come to town. "If they are not taking out their phones and posting on social media, we are not doing our job," Santos said. 
Leveraging and expanding on 393 years of revolutionary, ever-evolving history, here are other venues and experiences, old and new, guaranteed to get groups talking, thinking, engaging, sharing and coming back for more. 
[Related: Female Chef-Restaurateurs Light Up the Boston Culinary Scene]
Making a Difference 
The Seaport District is a classic illustration of the shift from old to new. After declining from its fishing and shipping days into a desolate wasteland of abandoned wharves and docks, the site underwent dramatic transformation following completion of the Big Dig into a shiny new tech-driven, mixed-use neighborhood also known as the Innovation District.  
While introducing dynamic new group products such as the Boston Convention & Exhibition Center, the new home of the legendary event-capable Institute of Contemporary Art and Omni Boston Hotel at the Seaport, diversity was overlooked, perpetuating the long-standing image of Boston that Meet Boston and partners are aiming to correct. As reported by the Boston Globe this February, a growing influx of Black-owned businesses in the Seaport is a step in the right direction. For groups, this means forthcoming new venues like Grace by Nia, a modern-day supper club in a former movie theater space, and speakeasy-style Borrachito Taqueria & Spirits.  
Founded in 2004 to help at-risk and under-resourced teenagers become self-sufficient through paid employment opportunities in art and design, Artists For Humanity (AFH) follows the philosophy "that engagement in the creative process is a powerful force for social change, and that creative entrepreneurship is a productive and life-changing opportunity for young people."  
Groups can help support AFH's commitment to "building equity through creativity" by bringing events to the Artists For Humanity EpiCenter. Distinguished as Boston's first LEED-certified Platinum facility, this award-winning blank canvas industrial space can flexibly host meetings for 40 to cocktail receptions for 800, with additional event space at the adjacent 3,200-square-foot AFH Art Gallery. AFH membership is required for individual and non-profit organization events.  
For a different kind of new perspective on Boston, View Boston is dramatic new aerie slated for a summer 2023 completion atop the landmark Prudential Tower. The 52nd floor indoor observation deck offers stunning panoramic, 33-mile views from one of the tallest perches in New England. One floor below, The Cloud Terrace, with a bar and bistro, offers open-air views. There are also interactive elements such as a 3D model of the city with projection mapping, exclusive VIP tours, and meeting and event hosting.  
Boston's Historic Haunts and Live Music Venues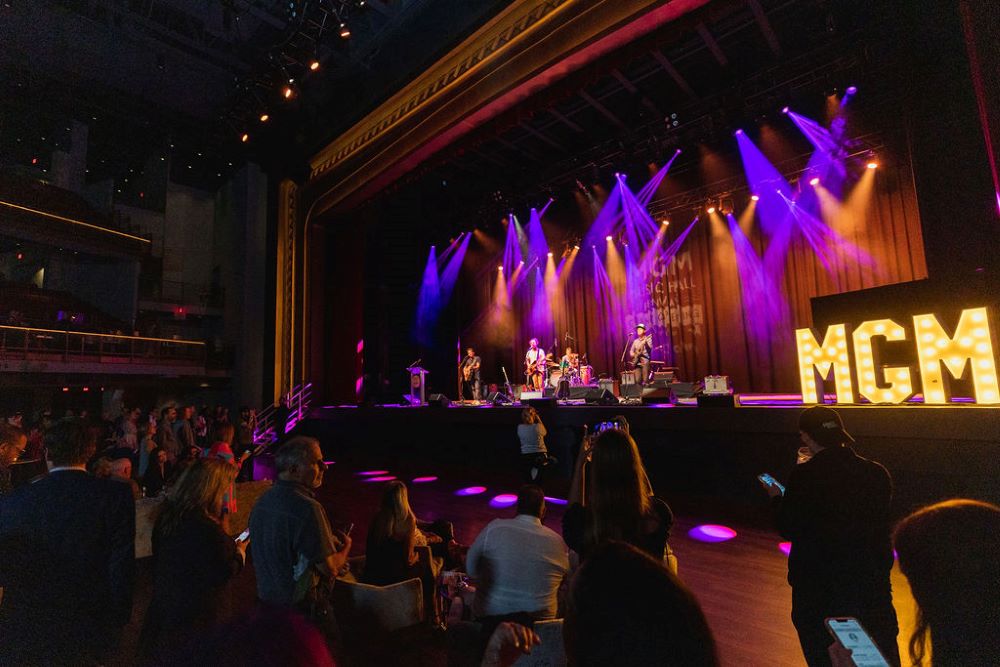 Opened in 1912, Fenway Park is America's oldest ballpark. Enshrined by locals, the home of the Boston Red Sox offers pure local flavor, tours and multiple versatile event venues. Highlights include the 200-capacity outdoor deck atop the iconic 37-foot Green Monster wall, and new fourth-level indoor-outdoor 521 Overlook, offering sweeping centerfield views and a private-seating deck. 
Bordering Fenway, Lansdowne Street is steeped in Boston music history. Long gone but their legacies well remembered, the thoroughfare was home to the precursor disco to Studio 54 and legendary rock club Boston Tea Party, where everyone from local legends Aerosmith to Led Zeppelin played. Boston's House of Blues, which was founded on Harvard Square in nearby Cambridge in 1992, now occupies the space.  
Continuing the sonic tradition, MGM Music Hall is dynamic new concert and event space inside Fenway on the Lansdowne Street side. The 85,000-square-foot venue's three-level, 5,000-capacity Music Hall can flexibly accommodate private concerts and events from 50 people to full buyouts. Other spaces include the 100-capacity rooftop terrace; 150-capacity MassMutual Lounge; and 100-capacity Jim Beam Distiller's Room, located under Fenway's stadium seating. 
Opened in 2022, The Roadrunner is another bright star in Boston's live music universe. Located in energetic Brighton, one of the city's main hubs for collegians, the $20 million venue features a 60-foot stage with state-of-the-art professional sound and lighting. Multiple event spaces can flexibly accommodate an array of events for 100 to 3,500 people. Amenities include a large load-in entrance and ample onsite parking.  
Industrial Scale Settings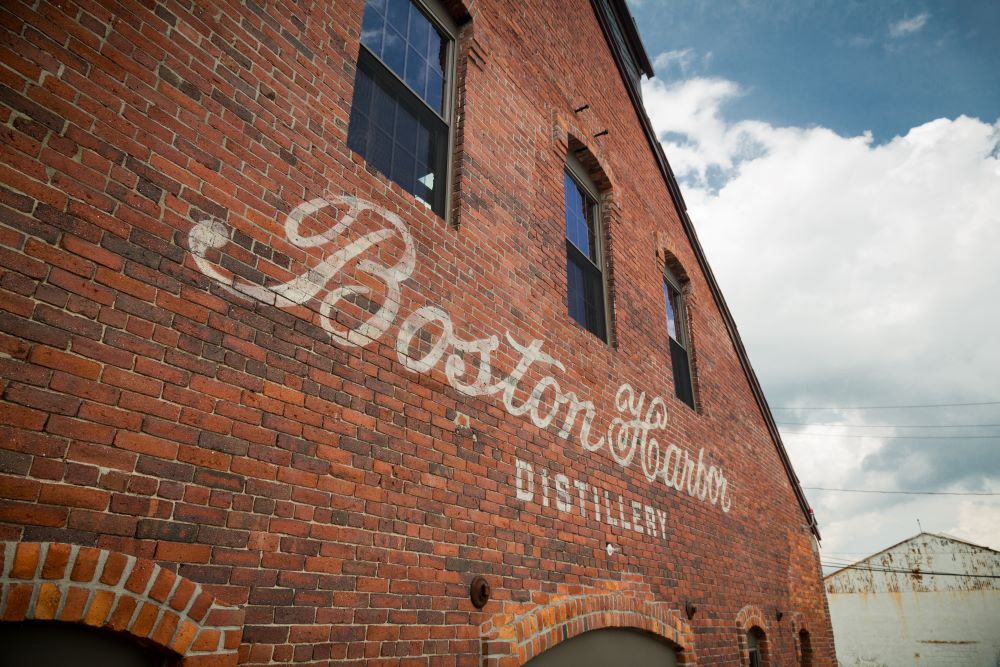 Built to power Boston's West End Railway, precursor to today's MBTA public transit system, the Central Power Station was the world's largest power generation plant when it opened in 1892. Today, the shell and surviving structures such as the engine room are the stage for industrial-scale events at the reimagined SoWa Power Station.  
Flexible rentals include the Main Floor, featuring 60-foot vaulted ceilings and accommodating 1,600-capacity receptions. Connected by a stunning rotunda where the station's 252-foot-tall chimney once stood, the two-room Mezzanine is an intimate space for up to 250 guests. Full buyouts are available. 
Boston-born Rhonda Kallman is a true pioneer and leader of the American craft beer industry. In 1984, she co-founded Boston Beer Company with James Koch, the company best known for its Samuel Adams Boston Lager. (Ironically, perhaps, in the company's otherwise hilarious "Your Cousin from Boston" campaign presented precisely the "chowderhead" image the city wants to get away from.) 
In 2012, she founded Boston Harbor Distillery to make whole-grain whiskey and other spirits. Located on Boston's southernmost waterfront in Dorchester, her production facility updated one of Boston's last surviving mill buildings with its own entrepreneurial legacy.  
Featuring 40-foot-high ceilings and over 100 windows, her 1859 post-and-beam heirloom was home of successive producers of hot-forged horseshoe nails, America's Cup-winning yachts, WWII minesweepers and ice cream. Experiences include tours, VIP whiskey tastings and live music, with flexible rentals for small- to full-venue corporate and social events.  
[Related: The Enduring Enchantment of Salem, Massachusetts]
Hotel News in Boston (2023)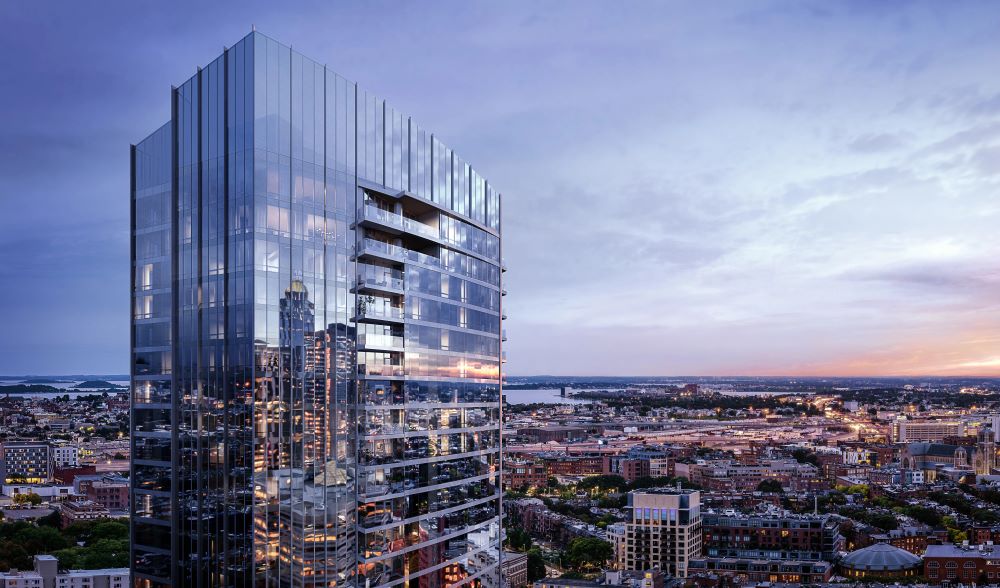 Complementing its collection of grand heirloom hotels, Boston is upping the hospitality ante with a crop of luxurious new and renovated properties. It's the real deal: Six Boston overnights made U.S. News & World Report's "100 Best Hotels in the USA" list for 2023, including two in the top 25.  
Originated in 1887 in Singapore, ultra-luxury global brand Raffles is Boston-bound with the anticipated summer 2023 opening of Raffles Boston Back Bay Hotel & Residences. Further verticalizing Hub City's skyline, the 33-story tower incorporates 147 hotel rooms and 148 condominiums. Group venues reportedly include a 19th-floor ballroom with expansive views. Six F&B concepts include a sky bar and speakeasy. 
Boston is one of three U.S. cites with two Four Seasons properties. The first, 273-room Four Seasons Hotel Boston, is closed for lobby, dining and other renovations, with an anticipated April 2023 reopening. The Forbes Five-Star, AAA Five-Diamond gem offers 25,350 square feet of space.  
No. 16 in the USN&WR ranking, AAA Five-Diamond, 217-room Four Seasons Hotel, One Dalton Street occupies the lower floors of a 61-story Back Bay skyscraper and offers 10,825 square feet of space in two ballrooms and five function rooms.  
Unveiled in September 2021 directly across from the Boston Convention & Exhibition Center with 1,054 rooms in twin 22-story towers and 100,000-plus square feet of versatile indoor and outdoor space, Omni Boston Hotel at the Seaport had the largest group pre-sell in the history of Omni openings. Group venues include Boston's largest ballroom, Ensemble, at 25,585 square feet, and 3,000-square-foot outdoor Elevate Balcony. 
June 2021 saw the grand reopening of five-star The Langham, Boston following a sweeping two-plus year, $200 million transformation. Updating the former 1922 Federal Reserve Bank of Boston building, this art-filled 312-room property, No. 29 on the USN&WR list, offers 15 event venues including Italian-driven GRANA, housed in the bank's expansive former grand hall. 
Debuting in 1927 across from the Boston Public Garden at Newbury and Arlington Streets, the nation's first Ritz-Carlton hotel was a well-guarded haunt for the well-heeled. A local hospitality veteran shared with me that Mick Jagger and Diana Ross were once asked to leave the former society darling because they were wearing jeans. "But these are $1,000 jeans," countered Ross. "They are still jeans," replied a staffer. Relaunched in May 2021 as The Newbury Boston, this Neoclassical Back Bay gem (68th on USN&WR) keeps the standards high with 286 boutique rooms, 16,000 square feet of elegant space and rooftop trattoria-style restaurant Contessa. 
Finishing out the USN&WR six are the Boston Harbor Hotel at Rowes Wharf (21st), XV Beacon Hotel (57th) and recently renovated Mandarin Oriental, Boston (76th).  
Five-star overnights and events also beckon at 671-room Encore Boston Harbor, a luxurious beacon in nearby Everett offering 50,000 square feet of high-end indoor and outdoor space, including a 21,000 square-foot waterfront event lawn. 
Connect 
(617) 536-4100      
Read this next: Boston Omni Transforms the Seaport District