Lake Geneva Sets the Scene for Historic and Scenic Outdoor Events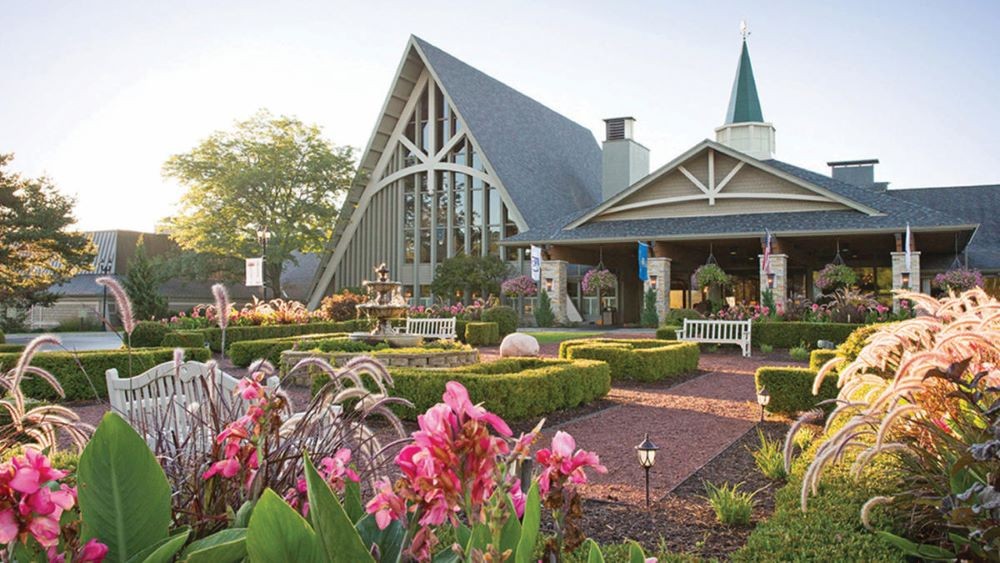 Abbey Resort & Avani Spa courtyard. Credit: Visit Lake Geneva
Rated one of the "Best Weekend Getaways in the U.S. for a Quick Escape" by Condé Nast Traveler in 2022, Lake Geneva, Wisconsin, has been referred to as the "Hamptons of the Midwest," reigning as one of the region's most-popular destinations for decades.
A year-round resort destination, Lake Geneva takes advantage of its ability to offer unique experiences in every season, from wakeboarding on the water and sunbathing on the beach during the summer to hosting the country's best snow sculptors as they compete for America's top prize at Lake Geneva's annual Winterfest. And with resorts, hotels and historical mansions surrounding all 21 miles of Lake Geneva's shore path, the destination's meetings and events amenities put attendees at the heart of it all. 
Lodging on the Lake
With options including award-winning resorts, historic mansions and luxury hotels near the lake, Lake Geneva's lodging offerings are both abundant and varied.
The destination's only full-service resort, The Abbey Resort and Avani Spa, announced the completion of its multi-year, multimillion-dollar renovation in late March. The award-winning resort offers "year-round relaxation and rejuvenation" just 75 miles from downtown Chicago.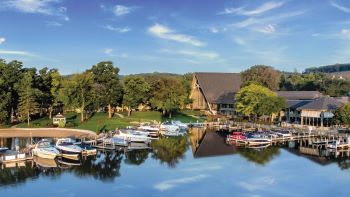 Renovations include entire-room upgrades to 300 guest rooms, public space enhancements, a $2 million upgrade to the famed Avani Spa—now offering 16 luxury treatment rooms, new salt and infrared relaxation areas and a revitalized menu of salon services—and the unveiling of culinary operations under the direction of new Executive Chef Luis Quezada. Plus, all meeting and event spaces have been enhanced with new carpet and wall coverings, lighting, electronics and more. 
The Abbey Resort and Avani Spa offers 40,000 square feet of flexible indoor-outdoor meeting space, including the 10,010-square-foot Harbor Ballroom, which is divisible into four smaller breakouts between 2,310 and 2,800 square feet, and the unique multi-level venue in the resort's historic A-Frame, with floor-to-ceiling windows overlooking the lake. The resort also has a 6,000-square-foot conference center. 
Groups have access to onsite boat rental, indoor and outdoor swimming pools, an ice-skating rink, onsite teambuilding, bonfires and more, as well as four onsite dining options.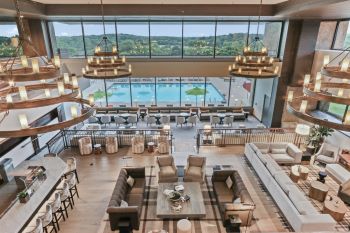 The AAA-Four Diamond luxury Grand Geneva Resort & Spa puts guests on 1,300 acres in the woodlands of Lake Geneva, blooming with 30,000 tulips and daffodils in the spring. The 384-room resort features a full-service spa and salon, ski hill and two championship golf courses: The Brute, a traditional American-style, 18-hole course, and The Highlands, an 18-hole, Scottish-style course. 
Grand Geneva Resort & Spa also offers a number of outdoor activities suitable for teambuilding experiences such as a practice putting green and driving range; two indoor and six outdoor tennis courts; horseback riding and carriage, hay and sleigh rides; and downhill and cross-country skiing, snowboarding, snowshoeing and ice skating in the winter months. 
The resort's Forum room, serving as its convention center, measures 13,770 square feet and can accommodate up to 1,500 guests for a reception. The 7,680-square-foot Grand Ballroom can host 660 banquet-style or 840 for a reception and features the 2,223-square-foot Ballroom Foyer for prefunction gatherings of up to 300. 
[Related: 4 Activities Perfect for a Lake Geneva Group Getaway]
Historic Hotels and Venues
Smaller groups looking for experiences unique to Lake Geneva can take advantage of the destination's two historic boutique hotels, both dating to the 1800s. 
Baker House 1885 transports guests back to Gilded-Age living within 17,000 square feet of ornate architecture, pristine stained glass, hand-paneled custom doors and massive fireplace mantels throughout 30 rooms, including seven sleeping rooms available for booking.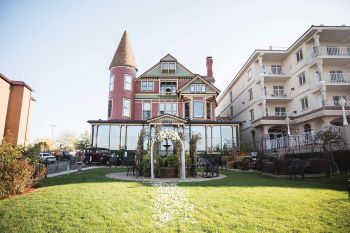 The nationally registered historic property started as a summer home built as a tribute to Robert Hall Baker, a well-respected businessman and community leader born and raised in Lake Geneva, by his wife Emily. It was then converted into a "fashionable sanitarium for wealthy Chicagoans recovering from light nervous disorders and addiction," according to the Baker House's website, and a speakeasy during Prohibition before becoming a lakeside hotel and restaurant in the 1930s. 
Baker House 1885 offers the only lakefront garden and mansion for corporate events in Lake Geneva, comfortably accommodating up to 150 in the gardens and 75 seated guests in the mansion. Groups can gather within the mansion's library, music room, dining room and game room, or on the enclosed front porch and exterior terrace. Baker House 1885 also offers onsite dining and catering, with a new menu coming soon. 
Built in 1855 by a prominent Chicago surgeon, Dr. Philip Maxwell, Maxwell Mansion is regarded as one of Lake Geneva's finest landmarks, predating all of the area's notable summer mansions. In 2012, the property underwent a three-year renovation project in which it acquired the adjacent land and buildings—originally part of the five-acre 1856 Maxwell Estate—and became a boutique resort.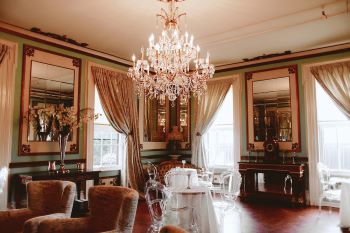 Maxwell Mansion now offers 28 guest rooms across the estate, six of which are within the Historic Mansion and traditionally styled. The Carriage House offers a combination of modern king and queen rooms with an "urBarn," or urban/barn, flair, while the mansion's most luxurious rooms are located in the Stables and feature Dutch door access, heated floors and two-person peek-a-boo steam showers. 
Maxwell Mansion is ideal for small groups looking for an exclusive setting with a luxury feel and can comfortably accommodate up to 100 guests. The mansion's entire first floor and perennial gardens offer a unique prefunction space while the Crystal Ballroom can seat up to 40 just off the mansion's main foyer. Groups can also gather in the 375-square-foot SpeakEasy for a cocktail reception for 40 guests. 
[Related: 5 Offsite Venues That Capture Lake Geneva's Charm]
Outdoor Adventures and Activities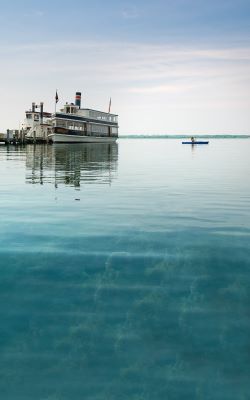 As the seasons change, so, too, do Lake Geneva's opportunities for experiencing the destination outside of meeting rooms. Of course, the best place to start exploring the destination is with the lake itself. 
Clear Water Outdoor, located in the heart of downtown Lake Geneva, makes planning lake adventures easy with a full range of activities on the water, including kayak and stand-up paddleboard rentals. The storefront location on Main Street offers top-quality brands in outdoor lifestyle clothing perfect for exploring the destination's multiple nature trails. 
With Lake Geneva Ziplines & Adventures, groups are invited to create customized outdoor opportunities centered around teambuilding and growth. The company offers full-day, half-day and shorter teambuilding programs with activities centered around increasing energy, improving focus and solving problems.
Groups can participate in the Low Ropes Course, testing collaboration skills as they work through 16 elements adding physical challenges to the teambuilding experience; take a digital scavenger hunt through some of Lake Geneva Ziplines & Adventures' wooded hiking trails throughout the 100-acre property; tackle the four-sided, 35-foot Climbing Tower offering 12 routes to the top; and, of course, get out on the lake with kayaks and stand-up paddle boards for one- or two-hour experiences with professional guides. 
Sites and Attractions
After three and a half years of dormancy and restorations, Yerkes Observatory, "the birthplace of modern astrophysics," is open and welcoming visitors again. The observatory has served as an educational gathering place for famous astronomers, Nobel prize winners and renowned scientists since 1897.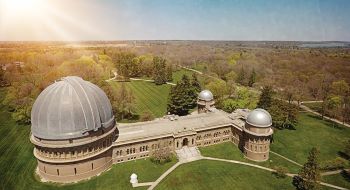 For the first time in its history, Yerkes Observatory will be open for public tours five days a week starting May 27. The observatory sits on 50 acres just 15 minutes from downtown Lake Geneva in Williams Bay, Wisconsin. Groups of up to 25 can book private tours detailing the history and architecture of the Observatory, the stories of those who worked there and the landmark's ongoing restoration and preservation efforts at yerkesobservatory.org. 
While Lake Geneva's historic mansions may double as event venues, they also serve as stops along American Ghost Walks' 90-minute walking tour throughout the downtown area. Starting at the sanitariums of Lake Geneva and moving through mysteries like Thunderbird in Flatiron Park and the Woman in Black at Elm Park, guides share the haunted history of some of the destination's oldest and most storied locations, including the lake itself. Larger groups of 20-50 people can book a three-hour "ghostly experience" with F&B options at www.americanghostwalks.com. 
The Lake Geneva School of Cooking offers entertaining culinary classes with award-winning chef John Bogan. Groups can get hands-on during teambuilding events such as an Iron Chef competition, and seating is available for 2-32 for both lunch and dinner. The Lake Geneva School of Cooking also offers customized culinary events promoting creativity, communication and cooperation between attendees based on a group's unique goals.
Connect
Visit Lake Geneva
(800) 345-1020
Read this next: 7 Historic Event Venues in Wisconsin