Puerto Rico Offers a Warm "Boricua" Welcome for Groups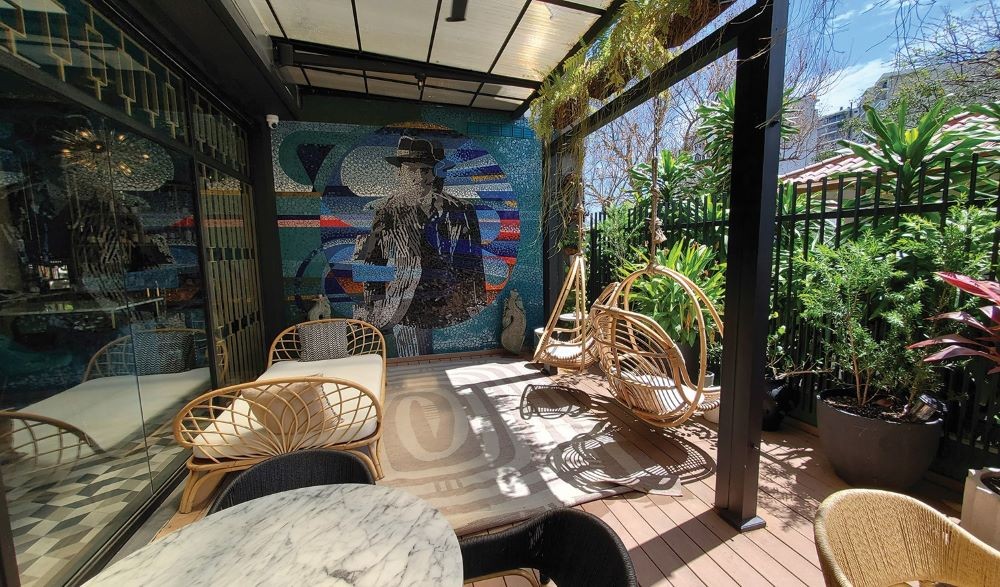 Don Rafa Boutique Hotel, San Juan, Puerto Rico. Credit: Gary Singh.
In Puerto Rico, where all the beaches are public and U.S. citizens don't need a passport or international phone plans, the ability to feel like a local is not only possible, it's heartily encouraged. 
Meetings Today recently experienced the island's inclusive vibe, anchoring at the Royal Sonesta San Juan, situated on the northern side of the island overlooking Isla Verde Beach and two miles from the airport.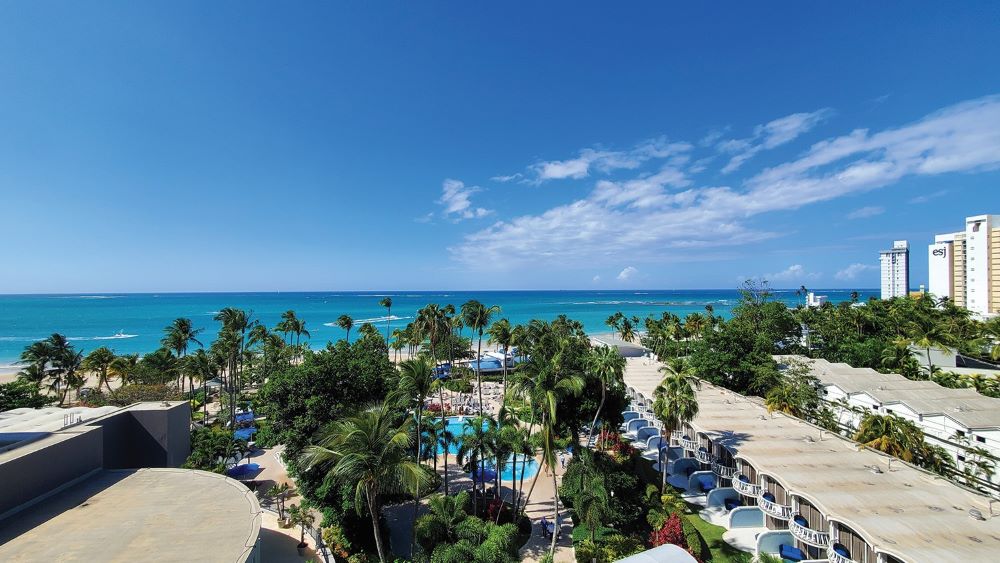 "Ninety-five percent of our meeting space has natural light," said Chagrin Olivo, the Sonesta's director of sales and marketing, as we sauntered by a lagoon-style pool underneath multiple palm trees. The property also features a beachfront restaurant groups can use for receptions that come complete with refreshing sea breezes blowing in off the Atlantic.  
While most properties in Puerto Rico, Olivo explained, are not full-leisure, full-association meetings or full-corporate groups—they typically serve a mix of segments—all strive to exemplify the "Boricua" (pronounced "bor-REEK-wa") experience, a word literally meaning "native Puerto Rican" but used in Discover Puerto Rico's promotional efforts to exemplify the spirit of its hospitality and joy of living. 
[Related: 3 Ways to Incorporate Local Culture Into Your Puerto Rico Meetings]
Several other luxury properties also hug the shoreline near the airport. Next door to the Royal Sonesta is the Fairmont El San Juan, with a sparkling casino, a sushi bar in the lobby and an upscale shopping strip inside.  
Most major chains are represented in San Juan. One of particular note is the Sheraton Puerto Rico Hotel & Casino, right next to the Puerto Rico Convention Center, with 600,000 square feet of meeting space and where the effervescent Margaret Colon, director of sales and marketing, led us in, out, around and through the expansive facility. Paintings and visual art by local artists adorn the convention center walls, with all artwork for sale. The carpeting, doors, windows and much of the trappings evoke the ocean, the rainforest and perhaps even Catholicism, all speaking to the Boricua experience. 
"It's very easy to sell," Colon said of the convention center. "People fall in love with the building."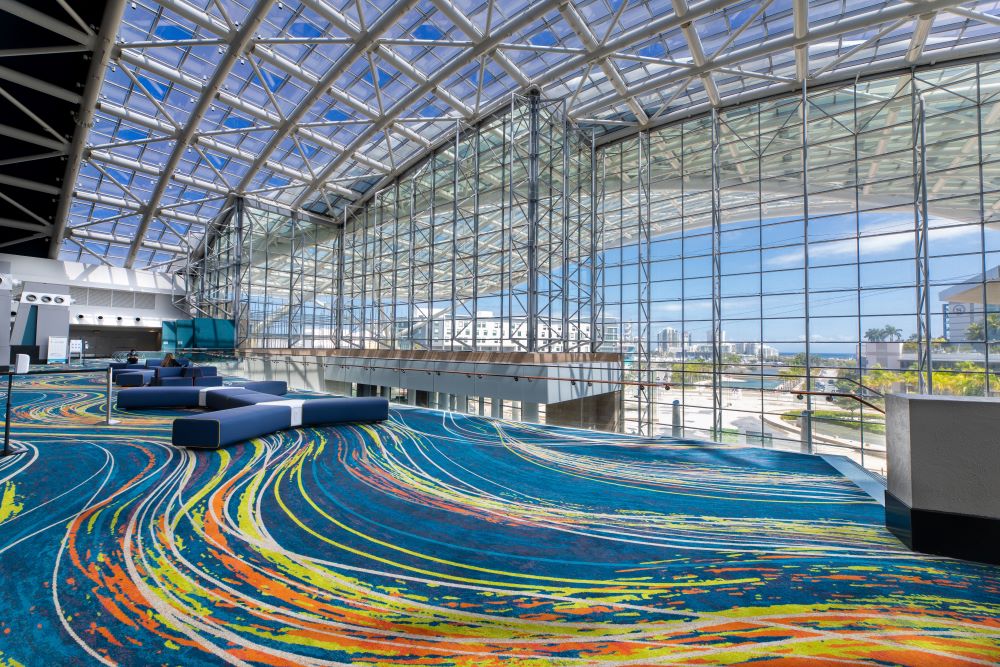 Colon arrived one year before the convention center first opened in 2005. She's been here ever since. 
"I was selling this building before it even existed, taking people around with hard hats," she said.
As we moved through the spaces, the whole building bubbled with multiple events. A volleyball tournament filled the entire exhibition hall with over a dozen courts. In the lobby, various indie food vendors set up temporary carts and concessions for the attendees, some of whom sat with buckets of beer while their kids battled on the volleyball courts—all perfectly normal in Puerto Rico.  
Outside, empty nearby parcels of land, formerly defunct army barracks, awaited even more hotels soon to be built. Across the street, a gargantuan splashy multi-use entertainment plaza, Distrito T-Mobile, features multiple bars, restaurants, massive outdoor video screens and a 5,000-person concert hall. 
Colon told us the Covid era was fading into history, with groups returning en masse. She said her fiscal year 2022 was the best for business ever, in fact, and the future was shaping up to be even more off-the-charts. 
"We're breaking records," Colon said. "People are not holding back." 
[Related: 4 U.S. Beach Destinations for Meetings and Events That Deliver]
Heading to the Hills 
Puerto Rico is not just beach culture, of course. A 40-minute drive into the hills planted us at Frutos del Guacabo, an inspiring half-acre farm where passionfruit vines snaked through pomegranate trees and wild oregano shrubs. Within minutes of arrival, one of the founders, Efrain Robles, offered us amaranth, lemon grass and Mexican tarragon, in each case pulling the spices directly from the plants. No pesticides were used. Everything was edible.  
"What we're trying to promote is a different way of farming," Robles said. "What we're trying to teach people is that you can farm now using different technologies. We've grown disconnected from the farms. No one learns how food is actually grown anymore. What we have is a campus for people to come play and understand and have fun."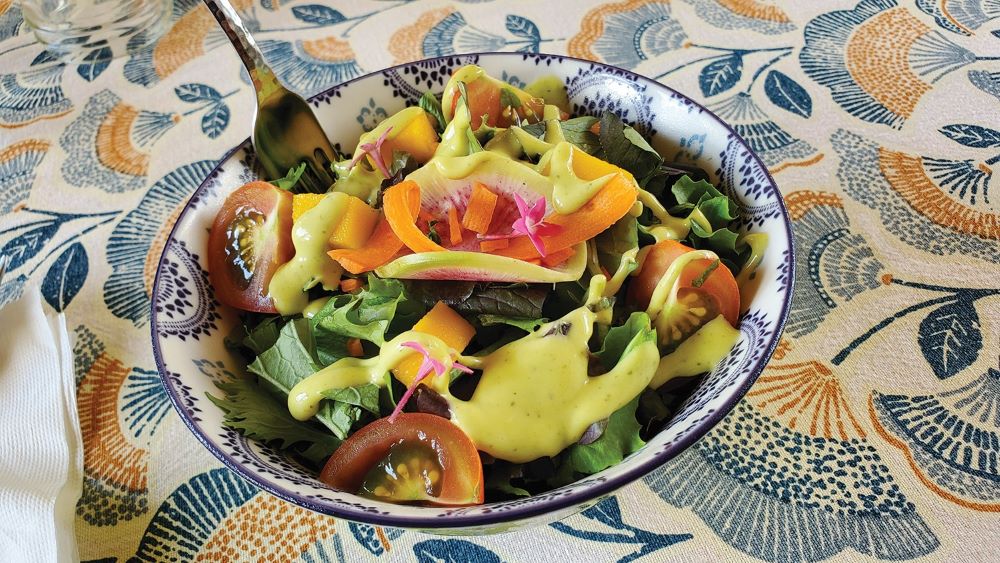 Anywhere from 150-200 different restaurants purchase ingredients directly from Frutos del Guacabo, we learned. Chefs arrive on the daily and children's groups book regular visits. 
And that wasn't all. There was also a hydroponics operation, plus a picnic area where groups of all sizes attend events, classes and functions. The main structure was built around an old tamarind tree that rose up through the roof of the building. The place seemed much larger than half an acre. 
Offsite Options Galore 
Later, as we continued our weekend experience, it became obvious that planners wouldn't have any shortage of options on the island, depending on their clientele. Entrepreneurs are innovating new properties and venues, anywhere on a spectrum between loud, ritzy nightlife and reserved, old-world charm. 
For example, the Don Rafa Boutique Hotel, which opened in January 2023, features a 1950s fashion theme replete with period-era furnishings, polished antique accents and paintings by local artists. The rooftop restaurant offers one of the best ocean views anywhere in San Juan.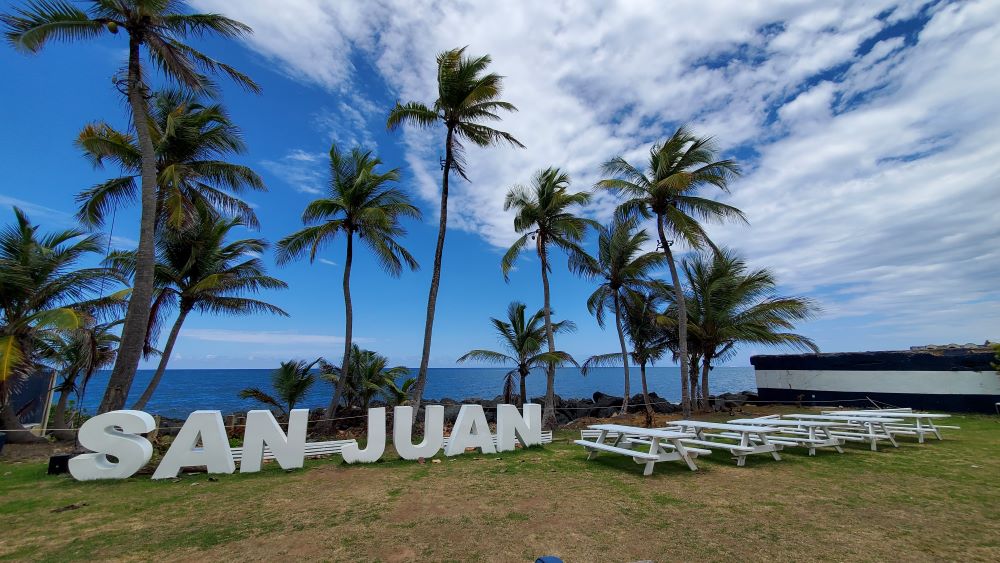 For outdoor spaces, La Marqueta, a seaside food-court hideaway, is situated in Condado and offers a pet- and family-friendly atmosphere where planners can design everything from yoga classes to corporate receptions. La Marqueta is co-owned by Matt Moncada, who also operates the ultra-chic Fifty-Eight nightclub underneath the Renaissance La Concha Resort.  
Back at the Sonesta, where vacationers mingled with end-of-day conference attendees in bars and restaurants both inside and out, the sun began to set on our Boricua weekend, leading us to feel as if we belonged to the island ourselves. 
Connect 
Read Next: Report From MPI WEC: Puerto Rico Emerging From Pandemic Trending Up