Why the Heartbeat of Philly's Life Sciences Meetings Beats Strong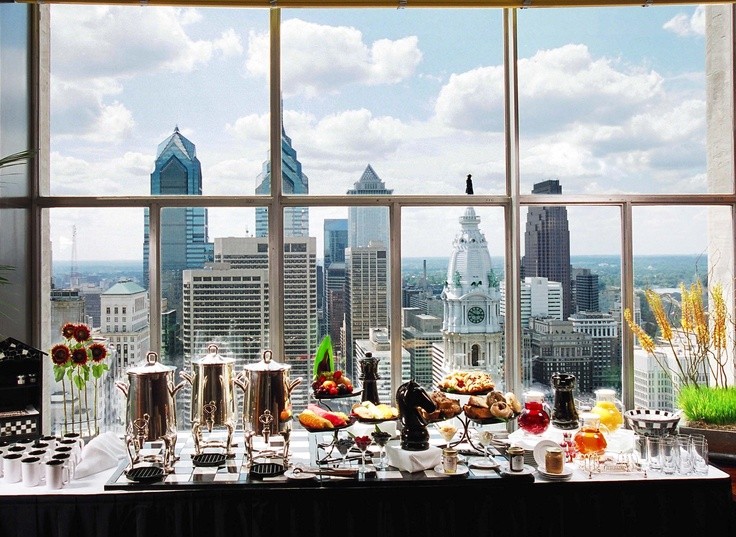 Philadelphia bills itself as a "city of firsts," with a long list of notable U.S. or colonial America accomplishments that include the first zoo (Philadelphia Zoo, 1874), the first public library (Library Company of Philadelphia, 1731), the first art museum (Pennsylvania Academy of Fine arts, 1805) and first secular university (University of Pennsylvania, 1740).
Philly is also a city of firsts when it comes to life sciences achievements, including being the first DMO to launch a Life Sciences division, although it was called the Greater Philadelphia Healthcare Congress when it launched in 1996.
"We're not only a city of history, but a city of medical history," said Bonnie Grant, executive director, PHL Life Sciences, listing medical firsts such as:
First hospital (Pennsylvania Hospital, 1751)
First medical school (University of Pennsylvania, 1765)
First children's hospital (Children's Hospital of Philadelphia, 1855)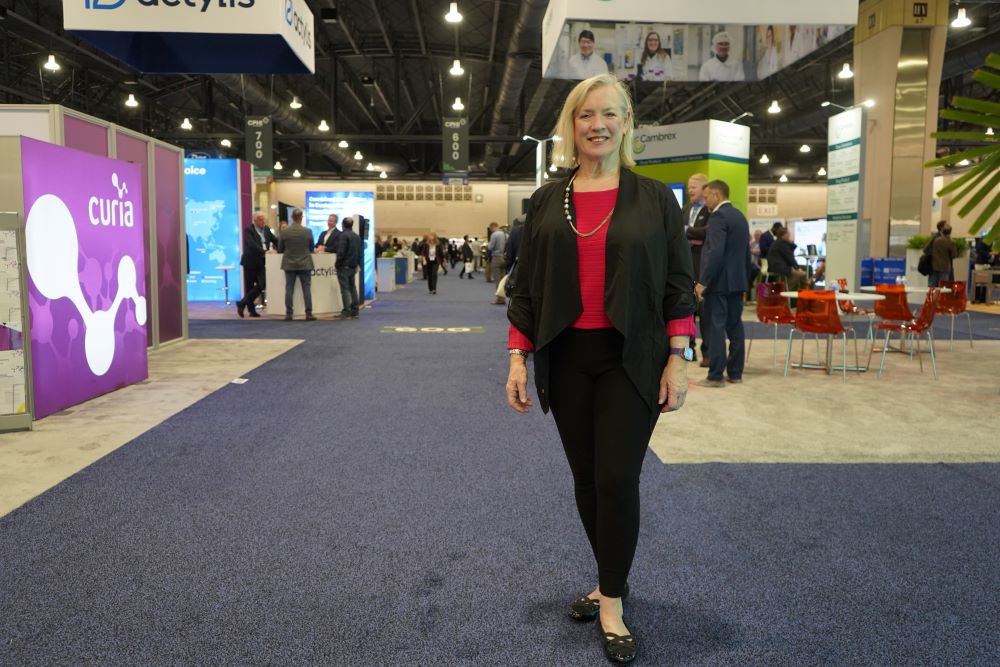 "And if you go all the way forward to 2008, we had the first successful gene therapy program, at University of Pennsylvania," Grant said, adding that there are seven medical schools in the Greater Philadelphia area, which stretches into New Jersey and Delaware.
[Related: Tap These 'Only in Philly' Offsite Options for Meetings and Events]
With a mission of bringing life sciences meetings to the city, PHL Life Sciences connects planners with its advisory council, representing heavy hitters from the top medical and science institutions in the region.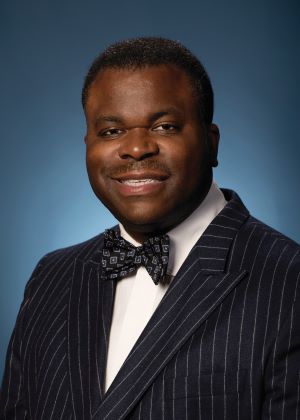 "We educate our healthcare leaders that these meetings are coming and that hospitality is a key component of the healthcare industry and economic impact on the city," Grant said. "We get them engaged with new venues, hotels and attractions, and most of them really do serve out of their love and passion for the city."
Grant said that board members can often be a conduit for calls for abstracts, event sponsorships and speakers, among other assistance.
"Philadelphia is a great destination for life sciences organizations to consider for their meetings because of the city's many research institutions and companies engaged in extraordinarily innovative work to address some of life's most challenging medical problems," said Dr. Patrick M. Oates, PhD., senior vice president of EMSCO Scientific and chairman of the PHL Life Sciences Advisory Council. "The city has become a hotbed for cell and gene therapy.
Thousands of talented men and women are engaged in important work that will revolutionize how diseases will be treated. This burgeoning life science ecosystem has resulted in a renewed interest in life science research, financial investment and employment opportunities for all."
Meetings Today got a chance to check out some of the city's life sciences superlatives, including participating in a PHL Life Sciences Advisory Council dinner, during a June 20-23 trip to the City of Brotherly Love. Following are some highlights.
[Related: Philadelphia's Top-Down Focus on DEI Paves the Way Forward for Meetings]
Hyatt Centric Center City
The host hotel for the fam, Hyatt Centric Center City is right in the middle of Philly's vibrant downtown, known as Center City. The contemporary-design hotel, loaded with locally inspired art throughout and carrying a decidedly cosmopolitan vibe, opened in 2020 with 332 guest rooms and 22 suites, along with about 5,700 square feet of meeting space.
Pennsylvania Convention Center
The fam's first order of business was a tour of the Pennsylvania Convention Center and a meeting with its leadership team. Offering more than 1.3 million square feet of space, the convention center boasts one of the largest exhibit spaces and ballrooms in the Northeast.
While business languished everywhere during the pandemic, the convention center got down to business by investing some $60 million into the building, according to John J. McNichol, president and CEO of the Pennsylvania Convention Center Authority. Major improvements included adding bipolar ionization to its HVAC systems, which clumps particles together, greatly improving air hygiene.
Other major projects included greatly increased internet bandwidth and data access points, and a few million dollars poured into its Grand Ballroom, known as the Train Shed because it's where the Reading Railroad used to come into Philadelphia. The city also raised more than $1.5 million to help the unhoused via its PHL Cares CSR program.
A major accomplishment, according to McNichol, was the establishment of the Hospitality Industry Trust Fund, which found the facility and its labor union partners making major concessions to keep labor costs in line via a five-year contract extension. The unions accepted a modest 3% annual salary increase and agreed to contribute 50 cents for every hour worked—which is matched by the convention authority—into a training program that focuses on "safety, skills and smiles." Another major labor agreement, which will remain in place until 2034, also solved many of the jurisdictional alignment issues that have long been a challenge for events at the facility.
A major selling point of the convention center remains its walkability, with many large conventions never having to hire motorcoaches because of the many hotels, from the likes of Marriott, Loews and Sheraton, and attractions within a few blocks away.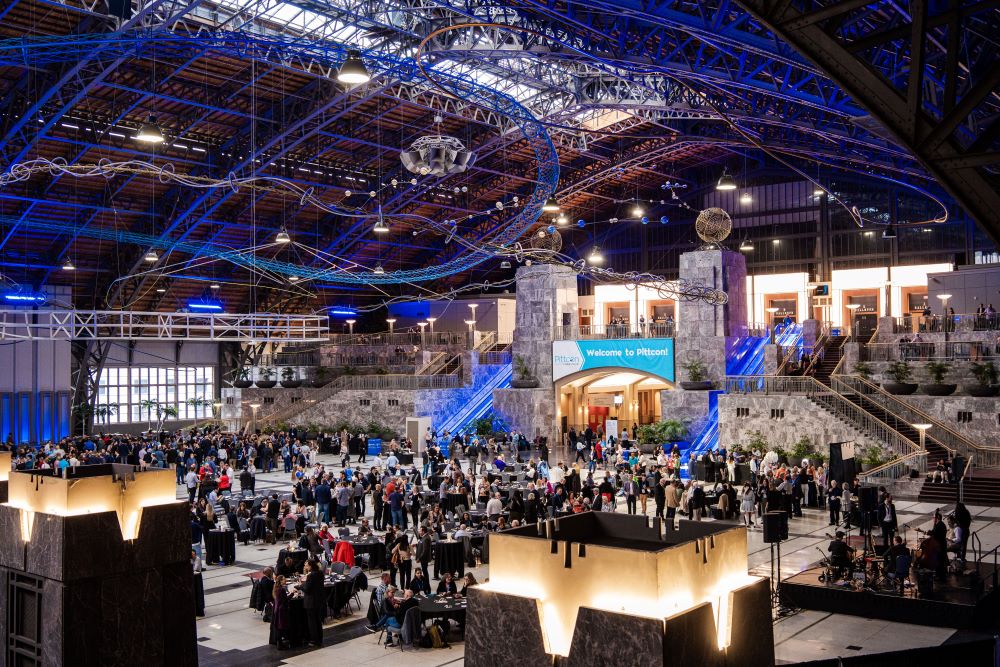 Reading Terminal Market
Groups meeting at the Pennsylvania Convention Center can avail themselves of an impressive event venue option in the form of Reading Terminal Market, a 130-year-old institution featuring 80 local "mom-and-pop" merchants serving up Philly favorites such as Tommy DiNic's roast pork sandwiches, Pennsylvania Dutch specialties, confections and, of course, the ubiquitous Philly cheesesteak. 
Groups of up to 5,000 can buy out the 74,000-square-foot market after-hours, including the ability to have outdoor activations outside at the Filbert Street entrance. Attendees are often issued gift cards so they can select their own Philly favorite food items.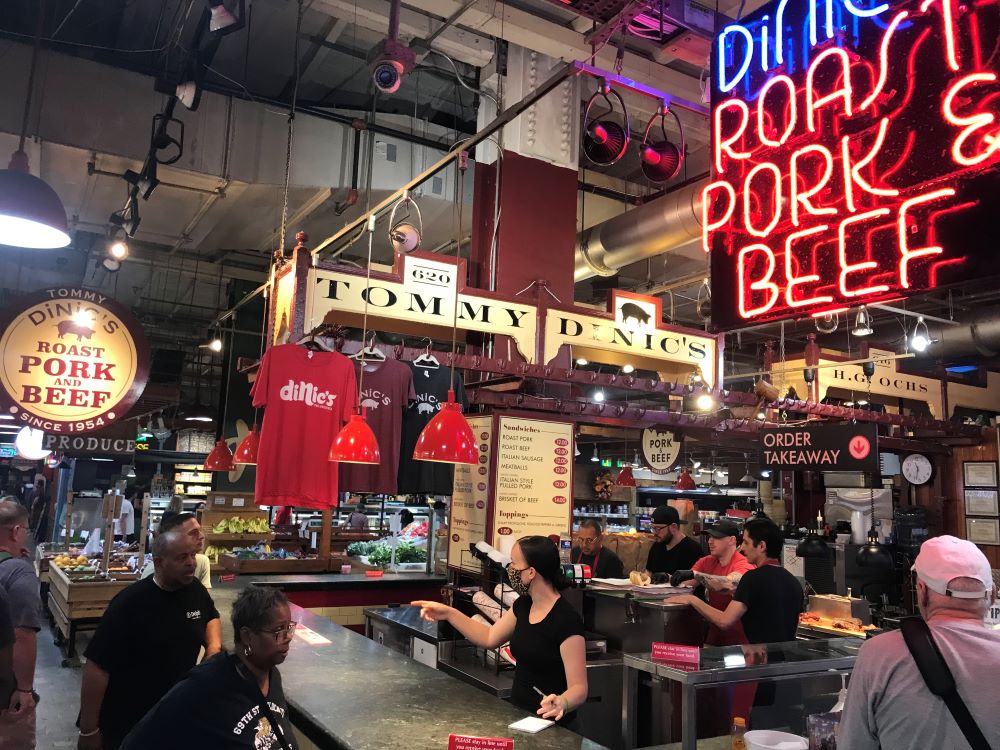 Loews Philadelphia Hotel
Located in the architectural landmark Philadelphia Savings Fund Society (PSFS) building, this AAA Four Diamond property is considered one of the first modern skyscrapers and is located across from the Pennsylvania Convention Center. Owned and operated by Loews Hotels, this urban Art Deco gem features $8 million of marble (in 1930s prices!) sourced from 30 countries. 
The hotel offers 50,000 square feet of meeting space and 600 guest rooms, the third most in Philadelphia, and finished a renovation in 2019 and a recent soft-goods refurbishment. One interesting program just now being rolled out with the idea of expanding to other Loews properties is a Planner VIP Card that offers various amenities and perks for users.
The hotel's popular Bank & Bourbon American-style eatery features a small fine-bourbon tasting room behind a secret door that doubles as a bookshelf.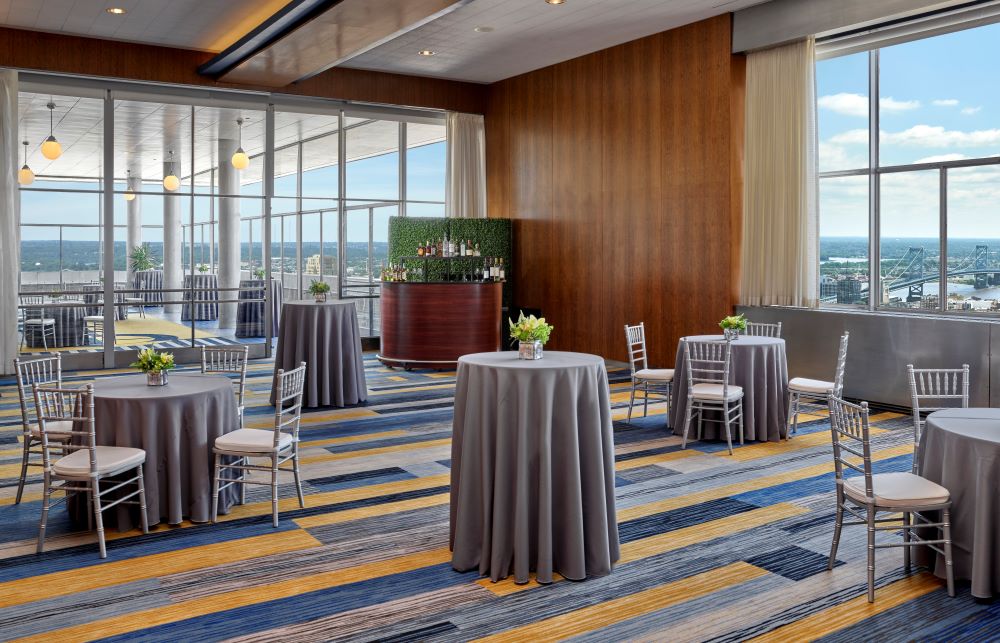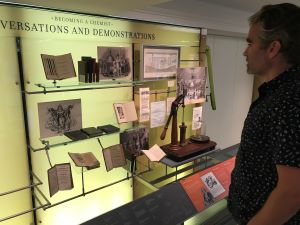 Science History Institute
Just down the street from the Liberty Bell and Independence Hall, the Science History Institute collects, preserves and interprets artifacts from the history of science and technology, and also features a public research library, rare-book collection and two floors of exhibits illustrating interesting aspects of science.
The LEED Gold-certified institute is frequently used as a special events venue and features eight meeting rooms, including Ullyot Meeting Hall with a presentation/panel discussion stage, two projection systems and an airwall that allows it to be divided into two rooms. The Ullyot Meeting Hall can accommodate 285 theater-style, with 120-130 being the sweet-spot capacity, and is often used for hybrid meeting broadcasts.
PHL
Life Sciences Advisory Board Dinner at CYTO PHL
Across the Schuylkill River in West Philadelphia, dubbed University City, is where a wealth of life sciences-related venues and institutions are located, so it was an apt location for the PHL Life Sciences Advisory Board Dinner.
Held in CYTO PHL, which opened in 2006 as The Hub conference center, this venue is considered a club for the local Life Sciences Community and is located in the historic 30th Street Station at the foot of West Philly.
Highlights of the dinner, featuring presentations by Bonnie Grant, Dr. Patrick Oates and Philadelphia CVB President & CEO Gregg Caren, included the announcement that the city has secured premier life sciences conference BIO International Convention in 2027 and 2034, among other achievements.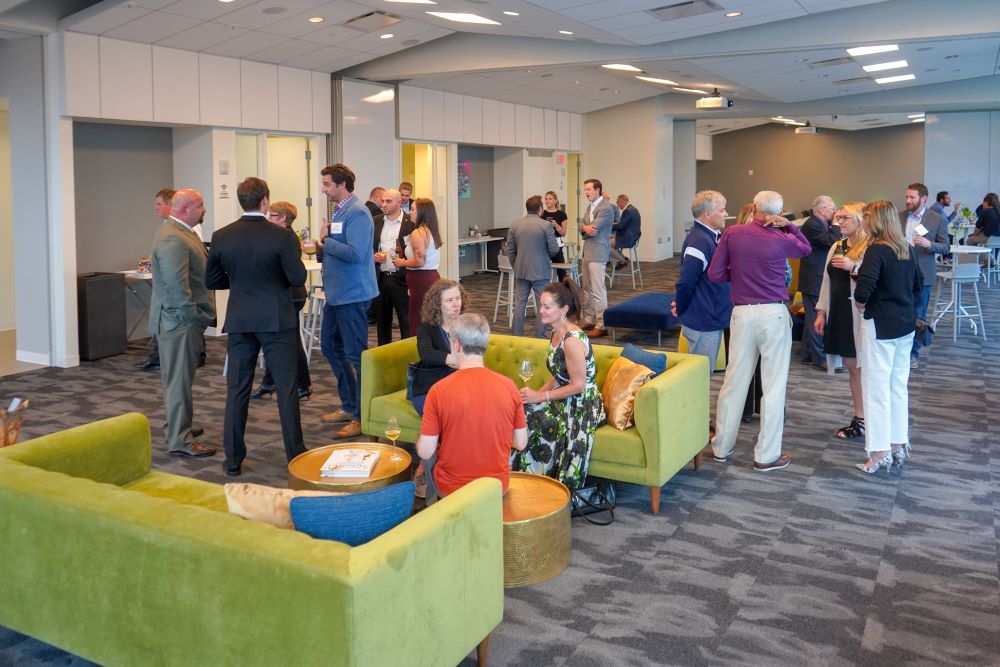 University City Science Center
Considered one of Philadelphia's top catalysts of tech entrepreneurship, this incubator has helped more than 1,000 companies take the next step since 1963. One of its most interesting current tenants is Quorum Conference Center, which serves as a community hub and co-working space and offers 11,000 square feet of contemporary, tech-forward meeting space.
Features at the GBAC Star facility include six small meeting rooms with large television monitors and cutting-edge conferencing tech. The venue often hosts receptions from tech and life sciences-related organizations and has no restrictions on outside catering. The largest meeting space, Qu4, is located on the second floor and can host conferences of up to 200, theater-style. 
[Related: Quorum Conference Center Getting Philly Back to Business]
The second floor acts as the primary conferencing space, with an additional four spaces boasting the latest conferencing technology, such as robotic webcams, that makes it very cohesive to hybrid and virtual events. Groups can do half or full buyouts of the entire facility. The Study at University City hotel, offering 212 contemporary guest rooms and 7,000 square feet of meeting space, is located nearby at the crossroads of Drexel University and the University of Pennsylvania.
Within walking distance of Quorum is the University of Pennsylvania campus, an Ivy League institution renowned for its medical school. A quirky lunch or after-meeting cocktail option is the on-campus White Dog Cafe, which is festooned with whimsical paintings and decor celebrating man's best friend.  Besides generous portions of locally sourced cuisine, the White Dog is Instagram heaven.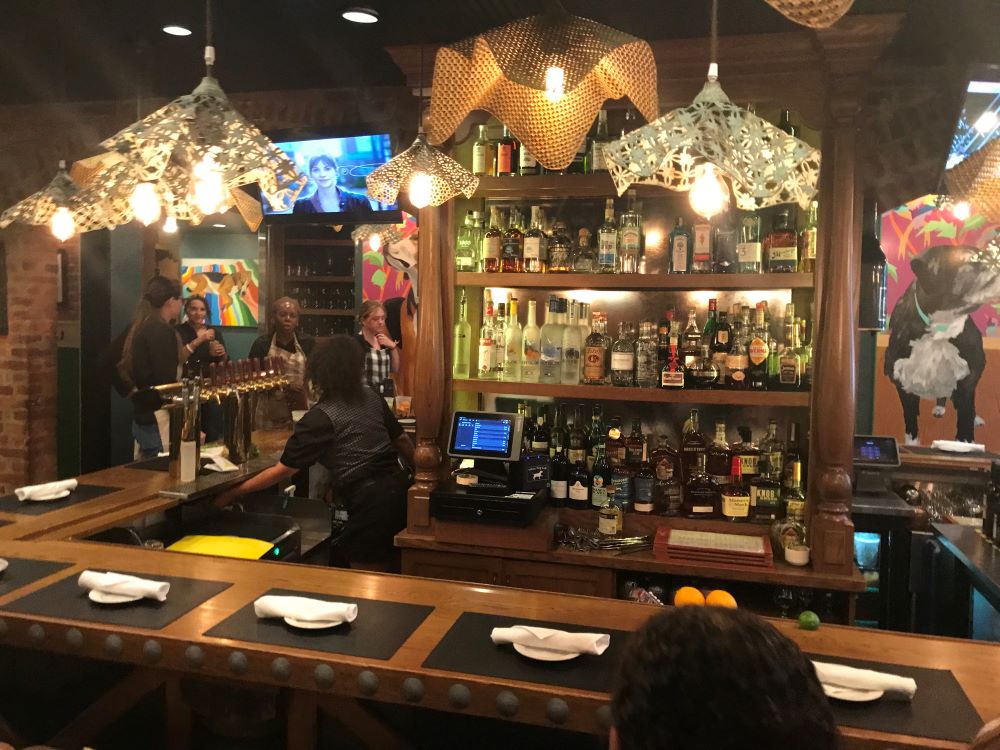 The Franklin Institute
The most-visited museum in Pennsylvania, The Franklin Institute is located in the heart of Philly off the Benjamin Franklin Parkway—the city's cultural heart—and has served as an intro into the sciences to generations of school children, who can be seen scurrying through its many exhibits during the day. Many of the Institute's venues are also available for evening event rental.
Great for large gatherings—events of more than 7,500 attendees have been accommodated with dedicated catering provided by Levy—The Franklin Institute presents the opportunity for groups to hang custom banners on its formidable, columned entrance, which leads to Franklin Hall, home to the massive Benjamin Franklin National Monument and frequently pressed into service as an event venue. 
Another popular special event venue is the Fels Planetarium, which features a domed screen that envelops the audience and can be customized with organizational programming.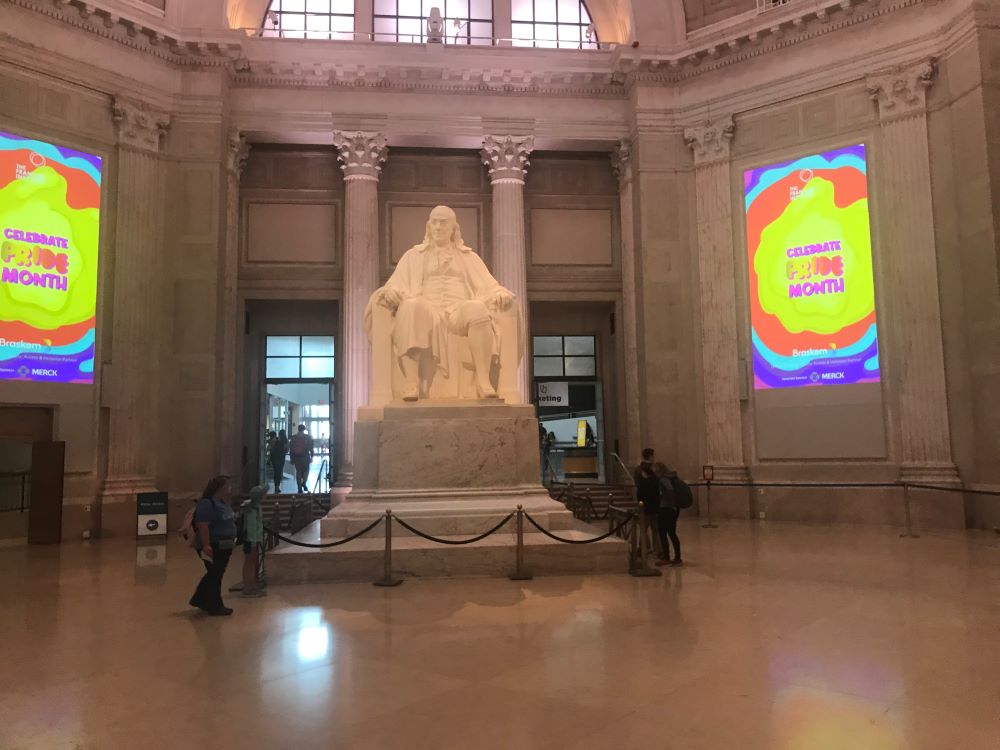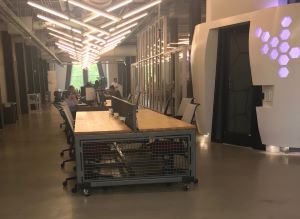 The Pennovation Works
Visitors to West Philly's The Pennovation Works may be surprised to see robotic dogs marching around the grounds—and also real dogs that are being trained for jobs such as search and rescue, explosives detection and medical applications such as sniffing for diseases.
Developed by the University of Pennsylvania, The Pennovation Works is home to some of the brightest life sciences lights in the world, with all manner of labs, offices and production space promising to spark innovations that will change the world.
While the facility's mission is not as a special event venue, many life sciences organizations meeting in Philadelphia visit Pennovation Works to catch a glimpse of the future though tours and interacting with its resident innovators. The venue also frequently acts as a venue for pitches to investors by its entrepreneurs.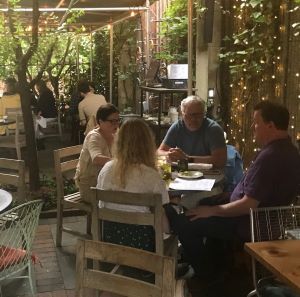 Talula's Garden
While not a dedicated venue for life sciences gatherings, Center City's Talula's Garden restaurant offers a respite from the hustle and bustle of urban life and an outdoor seating area that resembles many people's dream garden.
Driven by locally sourced ingredients, this partnership between farm-to-garden restaurateur Aimee Olexy and Philly restaurant icon Stephen Starr, Talula's Garden may just be the ideal space to wind down after a mind-expanding day of life sciences meetings.
Connect