On the Scene: The Beauty and Bounty of Boise, Idaho's Meetings and Events Offerings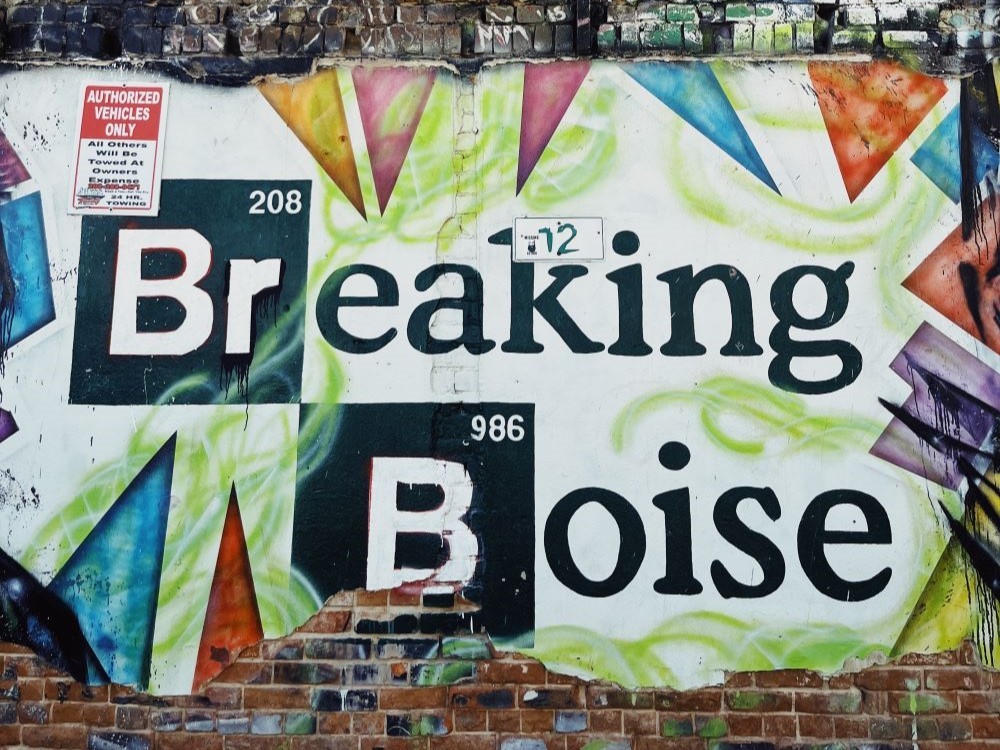 Freak Alley Gallery, Boise, Idaho
Hanging on a rack inside BANANA ink—one of Boise, Idaho's many local boutiques—was a T-shirt with an outline of Idaho printed boldly on the chest and the word "Iowa" running through the middle. It was simple and satirical in its design, but through just one word that T-shirt said quite a bit. 
Before I flew over the region's snow-capped mountains and strolled the city's Basque Block as a first-time visitor on a FAM trip with Visit Boise July 12-15, all I knew about Boise was that it is the capital of a state I often easily confused with another. (And the sheer existence of that T-shirt told me I'm not the only one who mixes up Idaho and Iowa!) 
But after three days spent learning about the city with the people who know it best, I realized just how true the statement that T-shirt made really is. Boise's natural beauty and booming downtown paired with its famous "Boise Nice" charm sell the city almost as soon as you experience it firsthand. 
Boise's hardest task, it seems, is simply to tell people who haven't been what they're missing.  
Accessibility and Walkability 
Four miles from the heart of downtown sits Boise Airport (BOI), offering non-stop service from 26 cities and more than 300 one-stop destinations. The 10-minute drive from BOI to various downtown hotels makes shuttling attendees to and from a breeze, and the 86,000 square feet of flexible meeting space at Boise Centre sits in the middle of it all.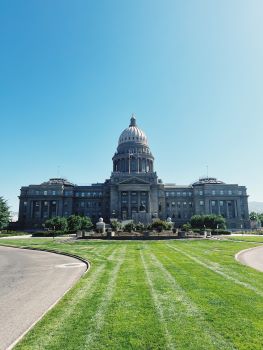 Within ¼-mile radius of Boise Centre are 1,300 hotel rooms with the ability to be booked all under one contract, including the 185-room all-suite Residence Inn Boise Downtown/City Center, the host property for our group. With 4,486 square feet of event space spread across four rooms, the hotel can host gatherings of up to 150 and puts guests within walking distance of major attractions like Boise State University and the Idaho State Capitol.  
When I checked into Residence Inn, I had just under an hour of free time to spend wandering the city for a local bookstore. I managed to do so, buy a book (a seemingly simple task that takes me way longer than it should) and find my way back to the hotel without directions, still with free time left to spare.  
The next morning, our group took a walking tour of downtown, through Boise City Center to the state capitol and down the pedestrian-friendly 8th Street, lined with locally owned boutiques, friendly ice cream shops and restaurants with patio seating. Idaho's first James Beard Award-winning restaurant, KIN, is just steps away on the nearby corner of 9th and Main.  
No matter what you're looking for or where you need to be in Boise, there's a quick and easy way to get there, and there's more than likely a friendly face willing to help you find it.  
[Related: Boise, Pocatello and Sun Valley, Idaho, Are Polishing Their Meetings Cred]
Boise Centre 
All the exploring we did always lead us right back to Boise Centre, which circles The Grove Plaza in the middle of the city and is surrounded by restaurants, shops, breweries, bars, museums, music venues and other attractions for attendees to enjoy before and after their events (and give back to the local community!). One such venue, Treefort Music Hall, opened in March as a brand-new year-round music and events venue after 12 years of Boise's iconic five-day Treefort Music Fest. Downstairs, half of the group can dance beneath a sparkling disco ball while the other half spins the disco ball from upstairs with their feet!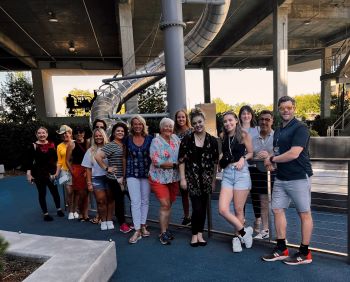 Boise Centre offers groups of up to 2,000 access to more than 100,000 square feet of meeting space in conjunction with the adjacent 4,500-plus-seat Idaho Central Arena, home of the Idaho Steelheads minor league ice hockey team. Boise Centre's facilities are split between Boise Centre East and Boise Centre West, which are interconnected with a concourse for seamless access between the two and combined total 86,000 square feet.  
Boise Centre West features the 25,000-square-foot Grand Ballroom capable of being configured in more than 10 different ways for events of varying sizes. Across from the Grand Ballroom is the 4,060-square-foot Junior Ballroom, ideal for breakouts of up to 420 theater-style or 250 banquet-style near the main event. In total, Boise Centre West offers 17,000 square feet of meeting and breakout space, as well as a 5,500-square-foot lobby with a digital screen for sharing announcements or promoting sponsors.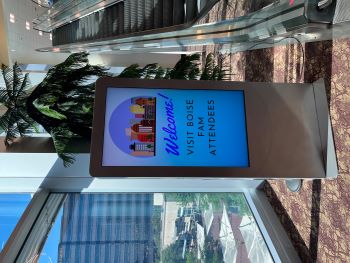 Just across the centrally located Grove Plaza outside the main entrance to Boise Centre West is the main entrance to Boise Centre East, offering a 14,000-square-foot ballroom, 9,000 square feet of prefunction space and an additional 13,000 square feet of breakout and meeting space for groups of up to 1,300. All rooms are fully carpeted and column-free with complimentary Wi-Fi throughout the facility and 2 GB dedicated bandwidth.  
Both facilities offer state-of-the-art kitchens providing all in-house catering services, glass-enclosed lobbies with views of The Grove Plaza and fountain, the latest technology in wireless networking, and a full-service in-house audiovisual and production services department. 
For dinner our second evening, the group enjoyed a four-course meal prepared by Boise Centre Executive Chef Dwayne Griffiths and his culinary team. The feast featured duck confit with wild mushroom risotto and black summer truffles followed by a 12-hour braised beef short rib with herb-parmesan polenta and roasted root vegetables.  
[Related: Boise Is Booming With New Meetings and Events Lures]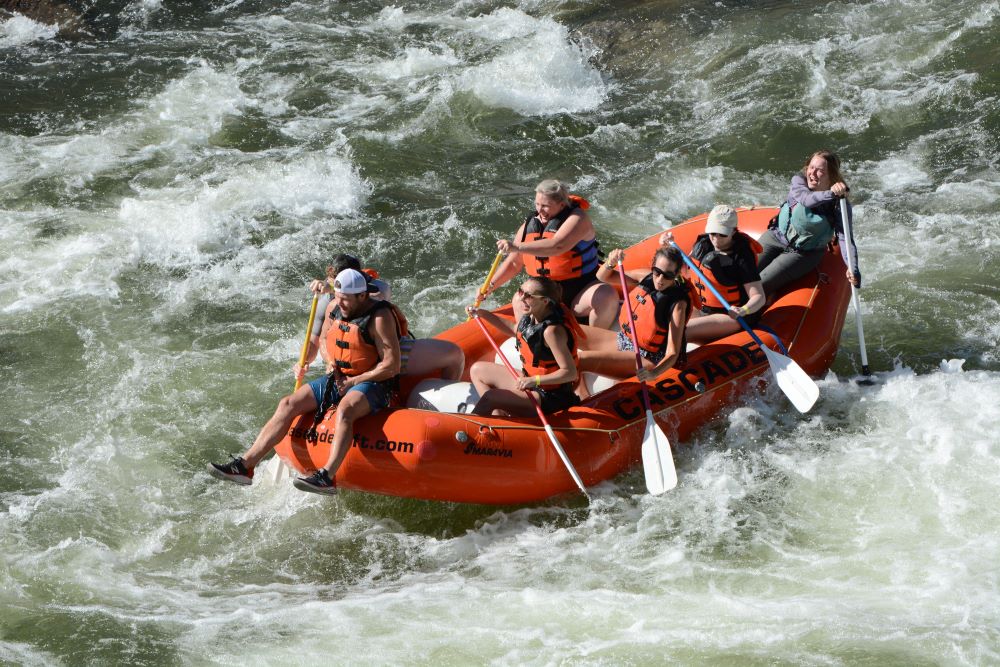 Boise-Based Attractions 
Our walking tour of downtown took us through the heart of the city down Capitol Boulevard, where we turned the corner onto the tree-lined Grove Street shaded by a canopy of bright green leaves overhead. The shade provided immediate relief from the burning Boise sun as the neighborhood suddenly seemed to change. The modern buildings we'd been walking past were replaced by the historic architecture along Boise's Basque Block, comprised of two boarding houses— the Cyrus Jacobs-Uberruaga house and the Anduiza—the Basque Center, the Basque Museum and Cultural Center, Bar Gernika, Leka Ona and the Basque Market.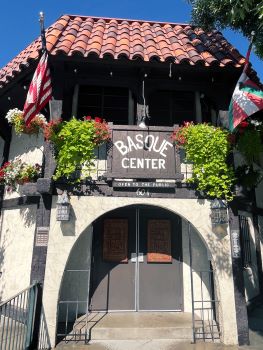 The area along Grove Street was renovated in 2002 to conserve and document Boise's living ethnic neighborhood, according to the Basque Block website, and brought two oversized steel laias (agricultural tools) that were installed to greet visitors, pavement displaying the Basque national colors and granite slabs displaying song lyrics, surnames of local families and the crest of each of the seven Basque provinces.  
To experience Basque culture, our group dined at Leku Ona on croquetas and Paella Mixta, cooked to order with fresh clams, mussels and shrimp on the street just outside the restaurant's main entrance. Groups looking for catered events on the Basque Block can coordinate with Leku Ona and The Basque Market, and the entire Basque Block is available for rentals through the Basque Center.  
A 10-minute walk away from the Basque Block is Jack's Urban Meeting Place (JUMP) Boise, with a mission to create "an environment for inspiring human potential" that invites visitors to look at things in new ways and try something new. 
Our scheduled one-hour tour of the space lasted one hour too long thanks to the seemingly endless opportunities of experiences to explore, and instead of taking the elevator to the ground floor at the end, we took turns screaming on our way down JUMP Boise's five-story twisty tube slide in potato sacks. 
JUMP Boise offers a mix of community spaces from parks to studios to event venues, like the 3,255-square-foot Garden Terrace showcasing some of JUMP Boise's 51 vintage steam engines and tractors dating back to 1885; and the 6,865-square-foot Pioneer Room with an attached terrace and walkway overlooking the city.  
North of Boise by about 45 minutes is Cascade Raft & Kayak, a family-owned and operated company that has been offering whitewater rafting trips for nearly 40 years. The "oldest and largest raft company on the Payette River" has three rafting experiences to choose from: Chill, or rafting on class-two and -three rapids; Thrill, consisting of classes three through five; and group rafting trips for 18 to 418 people.  
Our group spent two hours on the Main Payette during our whitewater rafting adventure, where the bravest of us volunteered to "ride the bull" through the waves and end our trip on a high, dripping with water and sunscreen.  
Boise's Hotel Scene 
While our group called Residence Inn Boise Downtown/City Center our home for the three days we spent in Idaho's capital city, we had the opportunity to tour a number of luxury and boutique hotel properties throughout Boise, such as: 
The Grove Hotel: The original AAA Four-Diamond full-service hotel in Boise, The Grove Hotel offers 250 contemporary guest rooms with unrivaled views of the Boise skyline and is set to receive renovations next year. Our group gathered for breakfast one morning just outside one of the hotel's five terrace suites overlooking the foothills of the Rocky Mountains, The Grove Plaza, the Boise Train Depot and the Boise River. The Grove Hotel offers more than 14,000 square feet of event space in the heart of downtown, including the newly remodeled 6,800-square-foot Grand Ballroom, which can be divided into three sections, and is conveniently connected to Idaho Central Arena.  
Hotel 43: The 112-room Hotel 43 sits on the other side of Idaho Central Arena a short walk away from The Grove Hotel and is set to undergo renovations starting this September. The hotel's name is inspired by Idaho's title as the 43rd state, and art created by Idaho-based high school students lines the hallways and shares messages about what Idaho means to those who call it home. Just off the hotel's lobby is Chandlers Steakhouse, offering upscale steak and seafood dining, a wine list with more than 700 selections and three private dining rooms.  
The Riverside Hotel: Two miles away from Boise Centre is The Riverside Hotel, a Best Western Premier Collection full-service hotel and convention center nestled on 14 acres along the Boise River. The 300-room property features two bars, a concert venue, indoor and outdoor pools and more than 20,000 square feet of meeting and event space. 
Inn at 500 Capitol: Boise's first luxury boutique hotel features 109 rooms with balconies overlooking the city's skyline and nearby Julia Davis Park. The Idaho-inspired property boasts design elements reflecting Idaho culture across themed hotel rooms and murals on every floor painted by a local artist. The 1,764-square-foot Capitol Room on the hotel's second floor can accommodate 150 guests and is connected to an open-air terrace. 
Hilton Garden Inn Boise Downtown: The 132-room Hilton Garden Inn Boise Downtown opened in October 2018 within a mile of Boise Centre and Idaho Central Arena. The centrally located property offers just over 4,000 square feet of event space, including the 3,776-square-foot Ball Room that can seat 120 banquet-style.
Downtown Boise is also preparing to welcome three new boutique hotels to the city within the next year, with projects like the highly anticipated Hotel Renegade—slated to open next spring—already underway. The 122-room property is located two blocks from Boise Centre and will bring three new dining concepts and more than 5,100 square feet of meeting space, including an eighth-floor ballroom.  
Additional upcoming developments include The Avery, set to become downtown Boise's only historic boutique hotel, and The Sparrow, a redevelopment project and renovation of the former Safari Inn.  
Connect 
Visit Boise 
https://visitboise.com
Read this next: Idaho Is Primed for the Post-Pandemic Era With Wide-Open Allure for Groups