Western Canada's MICE Destinations Are Pillars of Success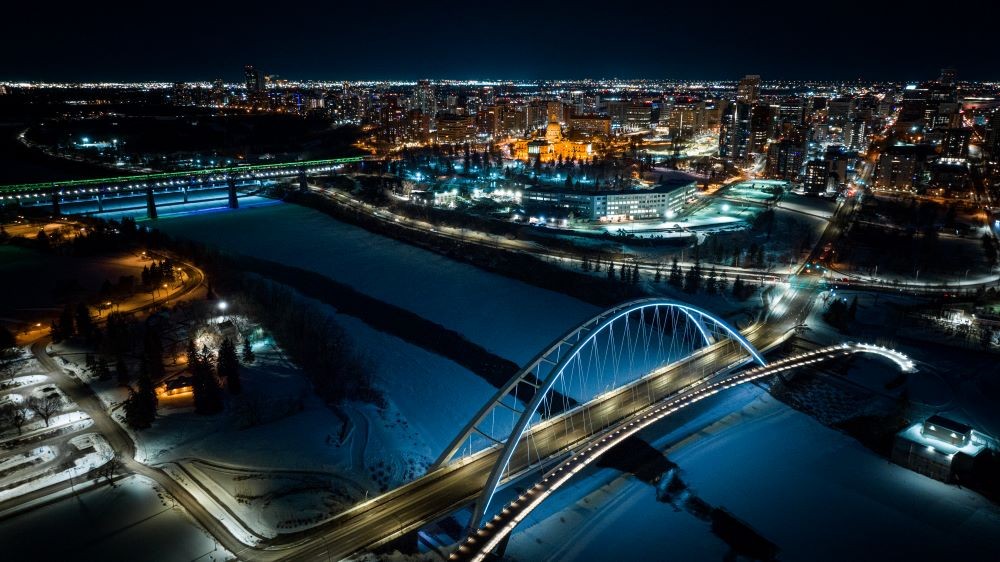 Edmonton Walterdale Bridge CREDIT BlackHawk Aeronautical Solutions
Destination Canada's Business Events team has a remarkable record of creating innovative initiatives, backed by in-depth market research and analysis, to promote, amplify and advance the Canadian meetings industry.  
This evolving program is geared principally to Canada's priority economic sectors. These comprise life sciences, agribusiness, advanced manufacturing, finance and insurance, technology and natural resources.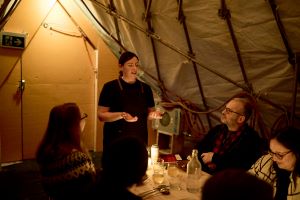 Recent examples include the "Unicorn Event" initiative, after the finance term for companies with billon-dollar-plus valuations, launched in January 2022.  
"This strategy is designed to help raise awareness among government organizations of large-scale, renowned events that correlate with Canada's centers of excellence, with the goal of attracting these events and highlighting the meaningful difference they make in driving economic growth and destination development," said Virginie De Visscher, acting executive director for business events at Destination Canada. "Every city has these events on their wish list, so competition is high, which is where this initiative comes into play." 
To date, the plan has secured at least five such "unicorns," including three in British Columbia, noted below.  
Announced soon after in May 2022, the Canadian Business Events Sustainability Plan is a first-ever national program aimed at improving the economic, social and environmental sustainability practices of business events.  
Most recently, in May 2023, Destination Canada launched the Canadian Visionaries Network, a national platform composed of Canada's network of academic, industry and association leaders who help to secure high-profile conference wins aligned with the priority sectors.  
With these and other targeted in-flow initiatives at work, Canada's western provinces, all leading knowledge centers, priority sector strongholds and sustainability showcases, are primed for hosting at the highest level.  
[Related: Destination Canada Announces City Additions to Global Destination Sustainability Index]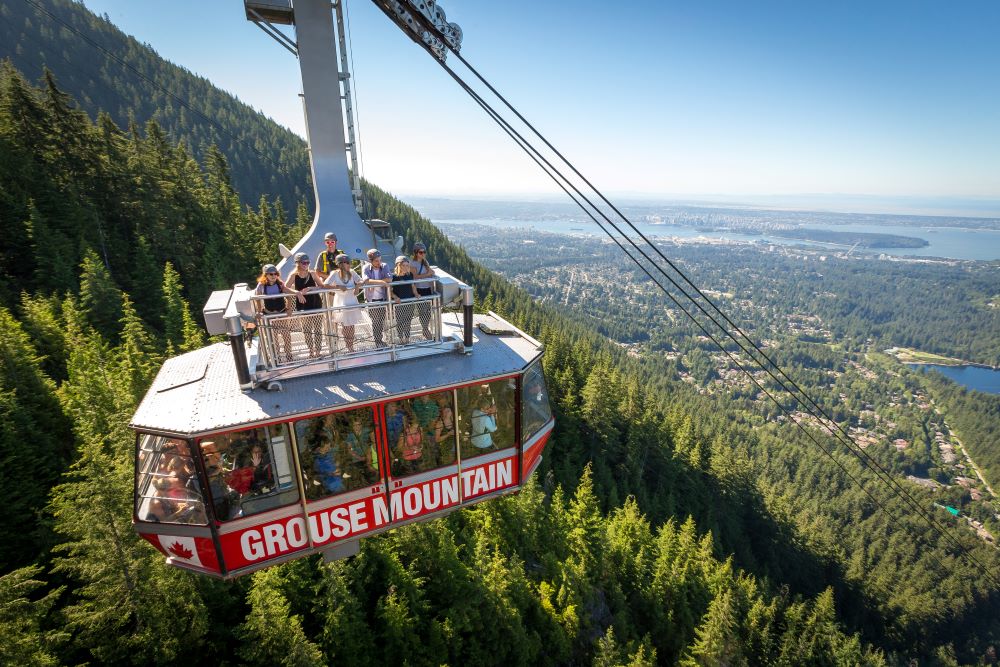 British Columbia Beacons 
Backed by the North Shore Mountains, including Grouse Mountain just 15 minutes from downtown, and rising amid urban rainforests including Stanley Park, Vancouver wins on natural charm alone. Jutting into the Pacific Ocean, this peninsular metropolis is also a peak performer in the meetings market.  
High standards include sustainability, with the waterfront Vancouver Convention Centre distinguished as the world's first Double LEED Platinum certified convention venue. First serving as the Canada Pavilion for the World's Fair Expo in 1986, the building, featuring a six-acre green roof, has since tripled in size while gaining recognition as one of the world's leading convention destinations. 
Hosting one million-plus delegates at 550-plus major national and global conventions, tradeshows and other gatherings annually to the tune of CAN $300 million in economic benefit, the Centre goes hand in glove with Vancouver's preeminence in the cleantech, information and communication technologies, life sciences and natural resources sectors. 
Forward-thinking innovation is a Vancouver hallmark, as exemplified by a new green initiative to accelerate sustainable production by Vancouver's $4 billion film and TV industry. Film sets are traditionally powered by energy intensive, environmentally harmful diesel generators. In April, city officials unveiled the first in a planned city-wide network of new generation clean energy kiosks, which draw renewable energy from the local power grid. 
The city has notably scored two "unicorn" events. This July, Vancouver welcomes an anticipated 4,000-plus delegates to the 2023 International Conference on Liquefied Natural Gas (LNG 2023), the industry's preeminent global event since 1968. In 2028, more than 9,000 attendees are expected for the 2028 World Congress of Anaesthesiologists. 
In 2025, another unicorn lands in the provincial capital of Victoria on Vancouver Island when the 25th International Seaweed Symposium (ISS) comes to town. Surrounded by the Salish Sea, one of the world's most biologically rich inland waterways, this historic center has been a natural resources industry leader for more than a century. 
[Related: On the Scene: Destination Canada's Legendary Winter Incentive Experience in Quebec City]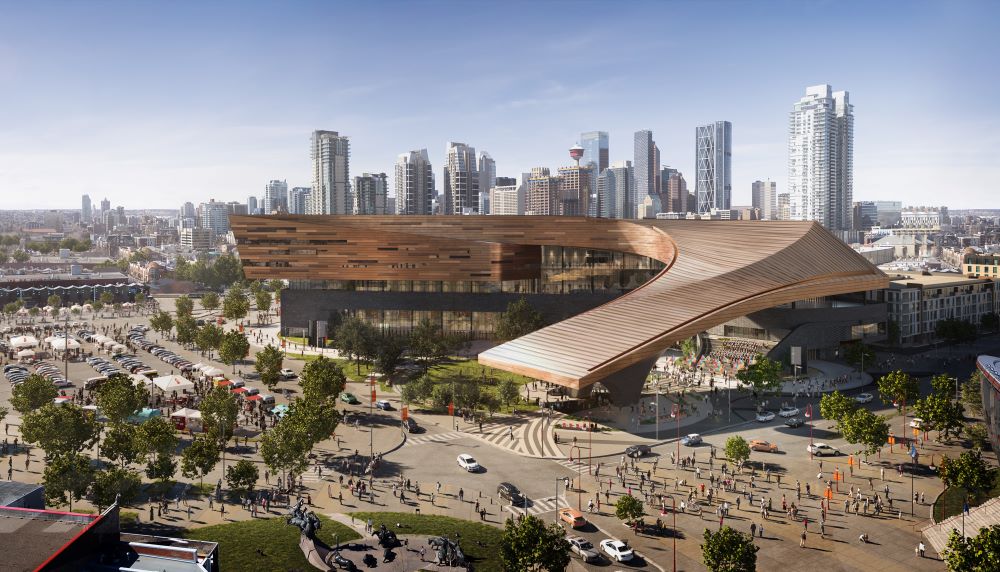 Alberta Attracts Major Attention 
Sustainable meetings are front and center in Edmonton, the provincial capital, where near all-encompassing high-growth sectors include agribusiness, alternative energy, machinery manufacturing, healthcare and life sciences, technology and natural resources. 
Overlooking the largest urban parkland in North America, the 150,000-plus-square-foot Edmonton Convention Centre launched its comprehensive Responsible Events Program in 2019 and is a fitting stage for future-forward events like the Canadian Hydrogen Convention.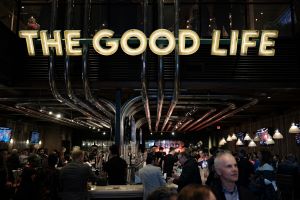 This preeminent annual B2B event brings together some 8,000 visitors and 2,500 delegates across the Canadian hydrogen supply chain. The April 2023 edition was distinguished as the first hydrogen-powered major exhibition and conference in North America. Using a 20% hydrogen-to-natural gas blend, it was the venue's first-ever operational use of hydrogen. 
Certified as a Greenkey Global Meetings and Climate Smart venue, the 522,000- square-foot Edmonton EXPO Centre also prioritizes sustainability. Welcoming more than 1.3 million visitors each year, the venue's practices include landfill diversion, greenhouse gas reduction and local food sourcing and reclamation.  
Key initiatives include Explore Edmonton's partnership with leading North American carbon management firm Ostrom Climate to measure and offset the carbon footprint from events through its Carbon Neutral Events program. The Centre is also seeking to become a certified Zero Waste Facility by Zero Waste Canada. 
Calgary buzzes with energy as the corporate headquarters of the nation's oil and gas economy. Canada's fourth-largest destination also stands tall in cleantech, advanced manufacturing, aerospace and agri-business. Home of the annual 10-day Calgary Stampede, the "Greatest Outdoor Show on Earth," the city is poised to become a national meetings industry powerhouse behind two major capital projects.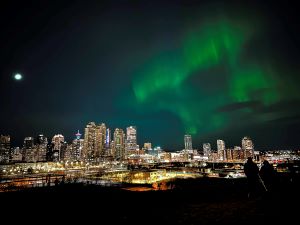 On track for June 2024, the estimated $500 million expansion of the current 285,000-square-foot BMO Centre at Stampede Park will yield the largest convention center in western Canada. The visually striking new building will dramatically boost hosting capacity to one million-plus square feet, including 500,000 square feet of versatile exhibit, meeting and banquet space and another 500,000 square feet of prefunction and "heart of house" space.    
Between the new expanded venue and the 122,000-square-foot Calgary TELUS Convention Centre in downtown Calgary, conventioneers will have roughly 1.3 million square feet of space, complemented by 15,000-plus hotel rooms. 
Along with the neighboring 19,000-plus capacity multi-use Scotiabank Saddledome, home of the NHL's Calgary Flames, the BMO Centre anchors Calgary's emerging new Culture + Entertainment District. Under the Rivers District Master Plan, the 286-acre site in resurgent Victoria Park east of downtown is being redeveloped into a vibrant mixed-use campus. Wrapped by the Elbow River, this new group-capable destination will include purpose-built spaces for year-round cultural, dining and other experiences. 
Saskatchewan Soars 
Returning after a three-year hiatus, GoMedia Canada, Destination Canada's premier media event connecting international media with Canadian tourism organizations, comes to Saskatoon this September. Riding the banks of the South Saskatchewan River, the city itself is a story-telling hotbed, with major sector muscle tied to Saskatchewan's preeminent agriculture and agri-food industries. 
"Science City" is also a global leader in biotechnology and life sciences and home of some of Canada's most advanced facilities. Group tour opportunities include the University of Saskatchewan's Canadian Light Source, a globally renowned facility for synchrotron research which uses radiation to study the microstructure and chemical properties of materials.  
The university, along with Saskatoon Airport, is a 10-minute drive from TCU Place Arts and Convention Centre in downtown Saskatoon, where groups have 104,000 square feet of versatile space in 21 configurable rooms, plus the renowned 2,074-seat Sid Buckwold Theatre. 
Sector tie-ins for meetings and conventions in Regina, the provincial capital, include mining, energy supply chains, financial services, telecommunications and data management.  
[Related: Expert Tips for Bringing a U.S. Meeting to Canada]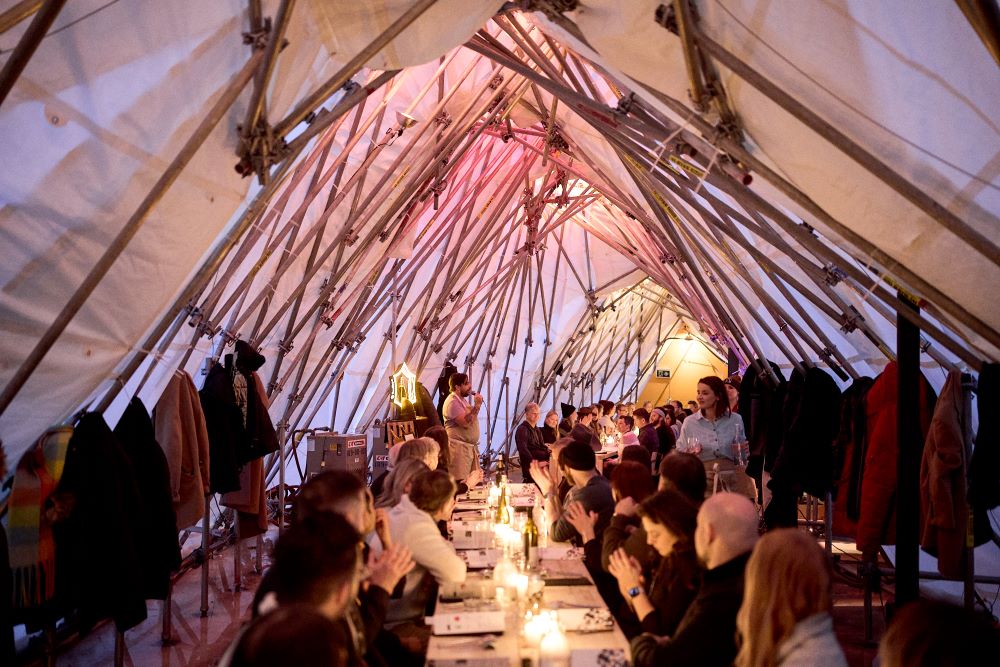 On the Scene: Winnipeg 
Wow factors in the geographic center of Canada 
Venturing to "The Peg" this February, I discovered a city rich in stories. Located in the geographic center of Canada, Manitoba's capital city is no flyover, but an ancient gathering place founded on human connections.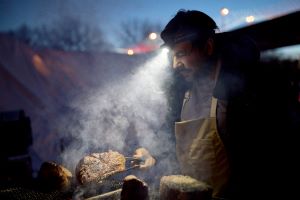 Sector strengths include advanced manufacturing, aerospace, agribusiness and IT. Home to Canada's largest urban Indigenous population, Winnipeg hosts leading Indigenous-related conferences. 
I went primarily for Winnipeg's signature culinary event, RAW:almond. Launched in 2013 by acclaimed local chef-restaurateur Mandel Hitzer and Joe Kalturnyk, founding director of Winnipeg's RAW:Gallery of Architecture and Design, this singular happening takes place inside a unique temporary structure built on the ice where the frozen Assiniboine and Red Rivers meet.  
Over 22 nights, leading Canadian and U.S. chefs prepare multi-course meals for twice-nightly seatings of 96 guests. Corporate buyouts, partnerships and group bookings for up to 48 are available. 
The magical experience speaks to Winnipeg's spirit of community, while Hitzer's passion for food exemplifies the culinary scene. Both establish a strong sense of place, along with world-class heritage and culture. 
For 6,000-plus years, people have convened where the rivers join. Designated as The Forks National Historic Site, Winnipeg's event-capable birthplace today is a vibrant mixed-use destination. Attractions include The Forks Market, the reincarnation of two former railway stables into a hopping food and retail hall. 
Once, all Canadian transcontinental trade went through Winnipeg, creating a glamorous boom era. The Panama Canal ended the party, but downtown's Exchange District, the "Chicago of the North," is a living showcase of those golden days.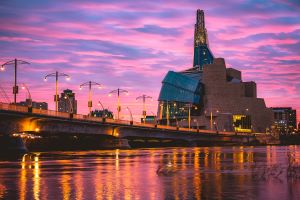 Substituting for the Windy City in movies, this 20-block collection of former banks, warehouses and other structures from 1888 to 1920 is North America's best-preserved heritage neighborhood. Reborn as an arts and culture district, the Exchange features 50-plus restaurants, bars, cafes and breweries, including Hitzer's celebrated deer+almond restaurant. 
Cultural landmarks include the Manitoba Museum, Royal Manitoba Theatre Center and Canada's Royal Ballet. The historic Winnipeg Art Gallery connects to the new Qaumajuq Inuit Art Centre. 
The Canadian Museum of Human Rights is Winnipeg's globally renowned, uniquely impactful icon. Architect Antoine Predock's transcendent interiors, an upward procession of galleries connected by ramps and alabaster bridges, create the continuous perspective of looking back while looking ahead. Rentals include the 1,200-capacity Bonnie & John Buhler Hall and 150-capacity Stuart Clark Garden of Contemplation. 
Most within walking distance (bundle up in winter), these main attractions broadly surround the RBC Convention Centre. Just 20 minutes from the airport, the venue offers 260,000-plus square feet of customizable space on three levels.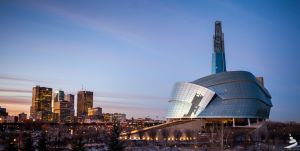 Group bases include the nearby 238-room Fort Garry Hotel. Opened in 1913 by the Grand Trunk Pacific Railway, this national landmark, in the Manitoban Gothic Chateau-style, offers 35,000 square feet of conference space in 13 function rooms. Enchanting time capsules include the Crystal Ballroom, Concert Hall and Oval Room Brasserie. 
"Winnipeg's fast-recovered tourism economy has returned to 2019 levels for hotel occupancy," said Tourism Winnipeg's vice president of tourism, Natalie Thiesen, following my visit. "Our future focus includes reducing the impact of meetings. Winnipeg is one of 16 Canadian cities that will be a part of the Global Destination Sustainability Index under Destination Canada's first-ever Canadian Business Event Sustainability Plan."  
Future-forward new venues include The Leaf. 
Billed as "Canada's Diversity Gardens," this $130 million event-capable indoor horticultural attraction within Winnipeg's Assiniboine Park features four themed biomes, Canada's largest indoor waterfall and Gather Craft Kitchen & Bar.  
Rorie McLeod, media relations specialist for the Canadian Museum of Human Rights, described the venue as "a place of courage, conviction and hope." The same goes for Winnipeg itself. 
Connect
(204) 954-1970 
Read next: Historic Eastern Canada Event Venues That Feel Fit for Royalty