Timeless Venues Reminiscent of Yesteryear Los Angeles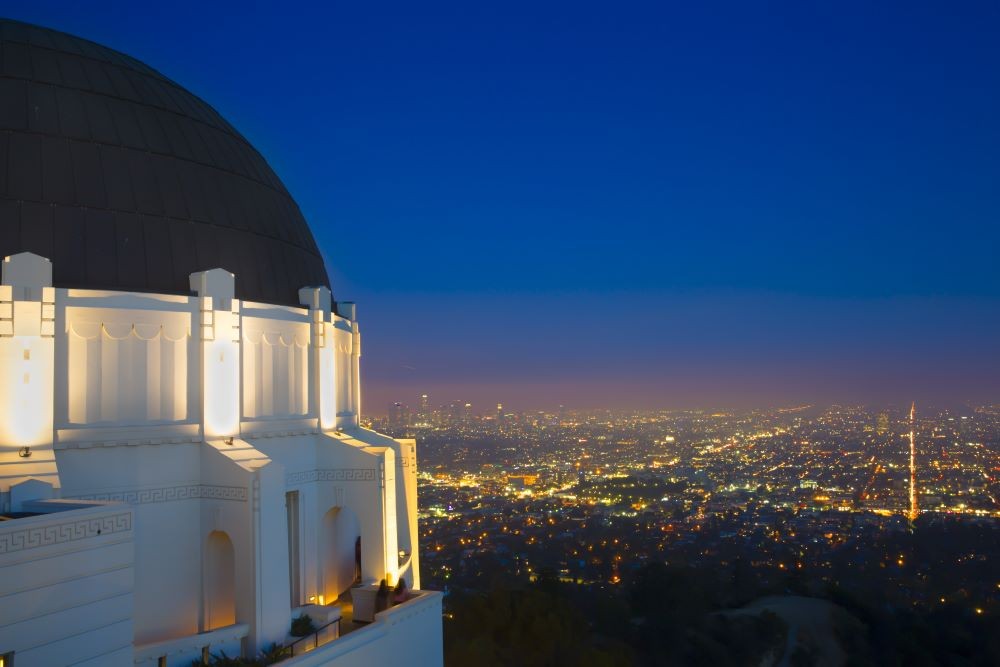 Griffith Observatory Dome and cityscape. Courtesy LA Tourism
Los Angeles is my birthplace and cradle of my career passion for travel, discovery and storytelling. We left for England in 1970 but my childhood memories from late 1960s L.A., and the early 1980s, when we moved back, are everlasting cinema. 
The city arrived long before I did, with a coming-out party in the 1920s that invested the L.A. landscape with star-making legends and landmarks. Especially exuberant was 1923, when the debuts of the future Hollywood Sign, Warner Bros. and the Walt Disney Company cemented the City of Angels as the headquarters of the American film industry. These and other group-capable icons from that era were touchpoints of my golden L.A. memories. 
Getting old never looked so good in this famously image-conscious town. Following are the timeless experiences that give groups a taste of yesteryear Los Angeles. 
Magical Kingdoms and Dream Factories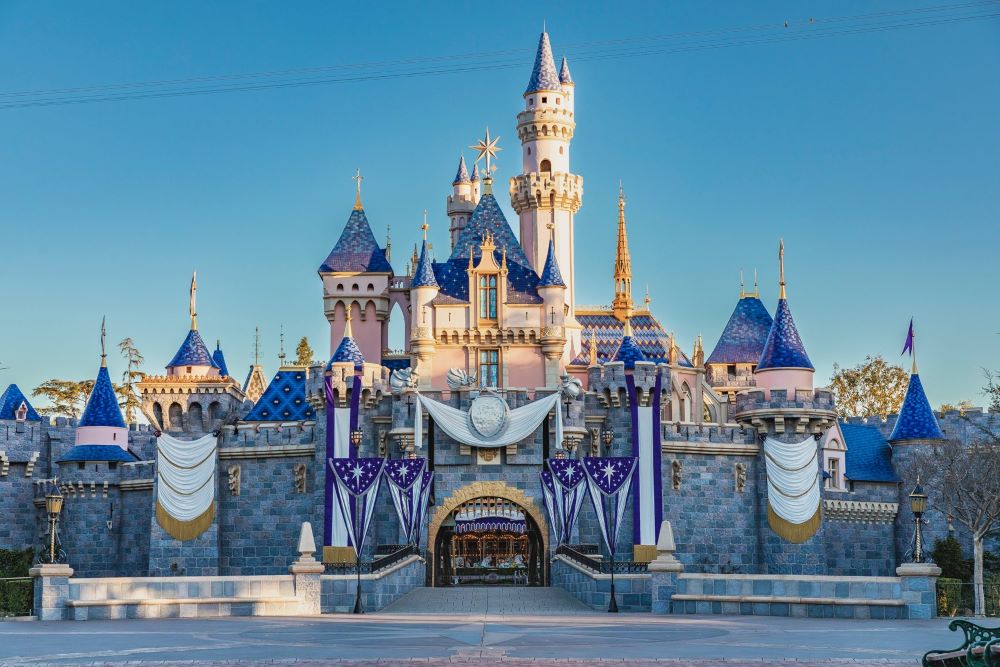 Chicago-born Walt Disney arrived in Hollywood in August 1923 with $40 and a suitcase of clothes and drawing materials. That October, he and brother Roy opened their eponymous animation studio, birthing the multibillion-dollar Disney universe. Disneyland, opened in 1955, was my first taste of adventure on thrill rides like Pirates of the Caribbean and the Matterhorn rollercoaster.  
Exceptional venues and immersive experiences are hallmarks of corporate, association and social gatherings at the much-evolved resort destination, organized by Disney Meetings and Events. 
Mid-century cool meets modern luxury at the 970-plus room AAA Four-Diamond Disneyland Hotel, offering 215,800 square feet of flexible space, including the 1,900-capacity Grand ballroom with built-in stage. 
With another 940-plus rooms and 20,000 square feet of versatile space at Disney's Grand Californian Hotel & Spa, groups can collaborate with Disney's master designers, decorators and entertainers on endlessly customizable and inventive event set-ups, programs and experiences. One-stop services encompass the planning spectrum, from content development to sponsorships.  
Warner Bros. also delivers maximum return on experience. Founded in April 1923 by the Warner brothers—Polish émigrés Harry, Albert and Sam, and Canadian-born Jack—the studio that introduced the "talkie" in 1927 with The Jazz Singer made history again this year with Barbie, the first woman-directed movie to exceed a billion dollars in ticket sales.  
Group programs include guided studio tours and versatile rentals, including exterior sets and stages, screening rooms and the Steven J. Ross Theater. 
L.A. Dining Dynasties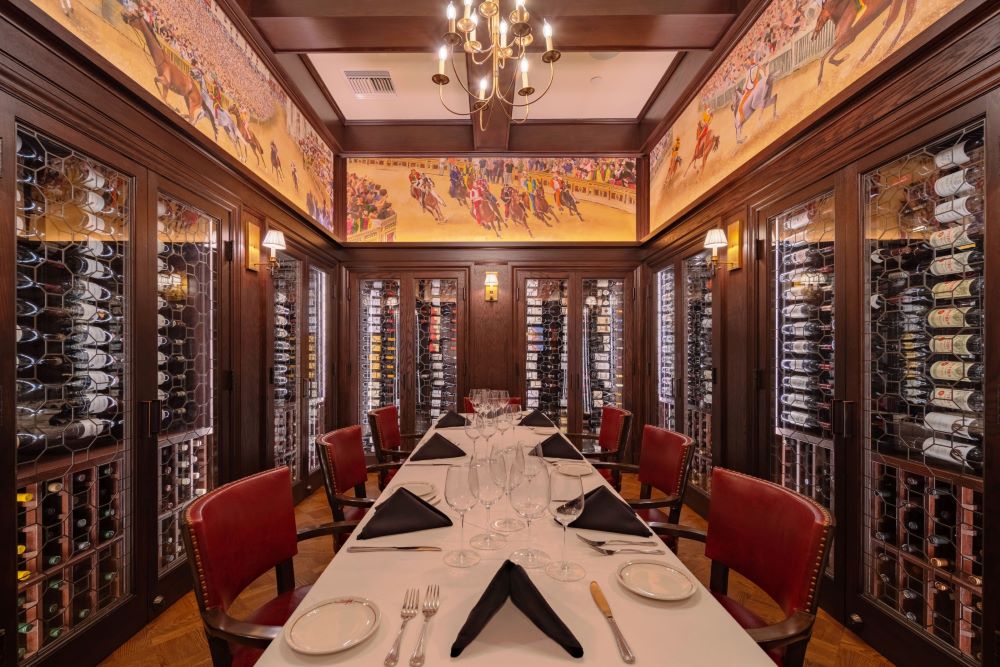 Screen legend Jack Nicholson struggled in Hollywood for nearly two decades before breaking through in 1969's Easy Rider. Like many fellow actors, he survived on the 35-cent Frijoles a la Hoja (beans in a pot) and free tortillas and salsa at L.A.'s quintessential Mexican restaurant El Cholo. 
Originated as Sonora Café in 1923 by newlyweds Alejandro and Rosa Borquez, this L.A. institution was my high school go-to along with Bob's Big Boy (1936) and In-N-Out Burger (1948). In March 2013, the City of Los Angeles renamed the intersection of Western Avenue and 11th Street, where Borquez's daughter Aurelia and husband George Salisbury established the still-running flagship El Cholo in 1931, as "Alejandro and Rosa Borquez Square." 
Attendees at the ceremony included the Salisbury family and El Cholo "super fan" Michelle Phillips of The Mamas and the Papas. Introduced to the restaurant by Nicholson in 1969, the legendary singer declared that "I will never find a more fun and delicious hangout, ever!" 
Since, it has expanded to six locations, including downtown by the L.A. LIVE sports and entertainment district, and hosts private dinners and events. Listed by year, famous dishes include the original 1923 green corn tamales. 
Another star magnet is Musso & Frank Grill. Opened in 1919 as Frank's Cafe, Hollywood's oldest restaurant has seated countless film and literary legends. Recently featured in Quentin Tarantino's Once Upon a Time in Hollywood (2019), Musso's wood-paneled walls, wall murals, red leather banquettes and red-jacketed waiters are a step back in time.  
Last there in 2021, I dined in a prime spot between The Rolling Stones' and Frank Sinatra's regular booths. Signature dishes include the Original Fettuccine Alfredo, favored by silent film stars Douglas Fairbanks and Mary Pickford, and the Perfect Martini, stirred, not shaken.   
Musso's recently unveiled four new private dining rooms in the restaurant's first expansion since 1955. With dedicated entrances, the spaces flexibly accommodate groups of six to 50-plus people.    
[Related: How California Is Helping Green Your Event's F&B Plan]
L.A. Stadiums With Spirit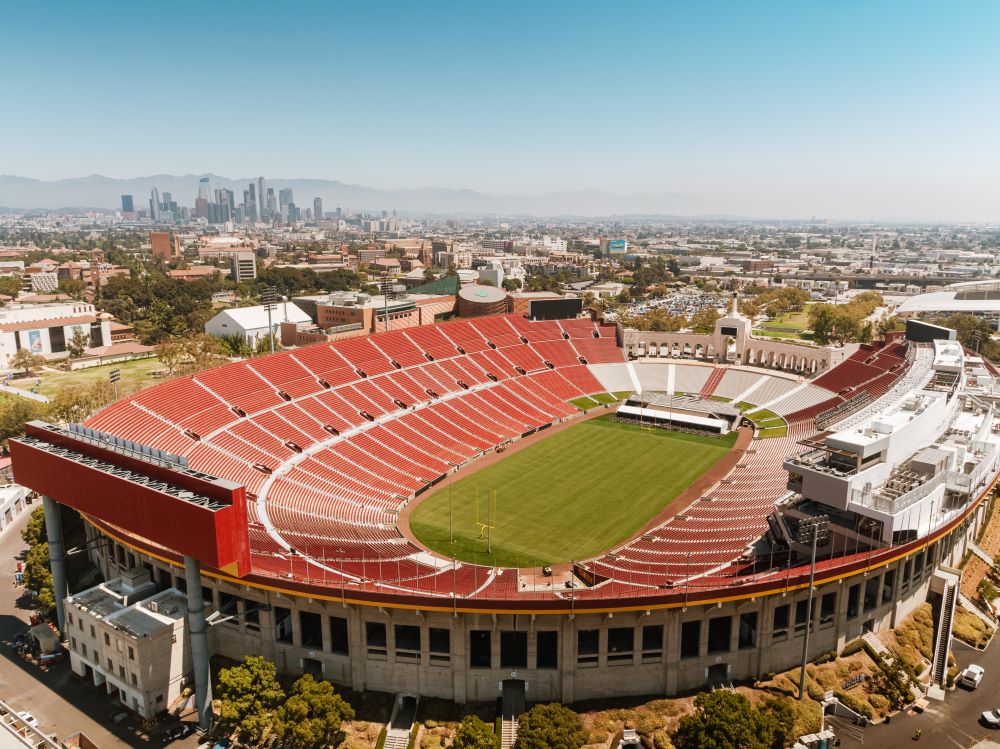 The Borquez's Sonora Cafe sat near Los Angeles Memorial Coliseum, which opened in 1923 as a living memorial to all who served in the U.S. Armed Forces during World War I.  
With a legacy that includes three NFL teams, two Super Bowls, one World Series and legendary rock concerts, "The Greatest Stadium in the World" hosts its unprecedented third Summer Olympics in 2028.  
Home of University of Southern California (USC) football since 1923 (my father quarterbacked on the freshman team), the 77,500-capacity civic treasure hosts a range of events, including full buyouts. 
Opened in 1922, Rose Bowl Stadium is another California and national treasure. My late mother knew the groundskeeper, who used to let us in to walk the field. Like the Coliseum, the sense of place and scale was epic. 
Versatile rentals at "America's Stadium" include the field, Court of Champions and new memorabilia-rich 1922 Locker Room. 
[Related: Los Angeles' Premier Sports Facilities Are Game-Changers for Meetings]
Venues With a View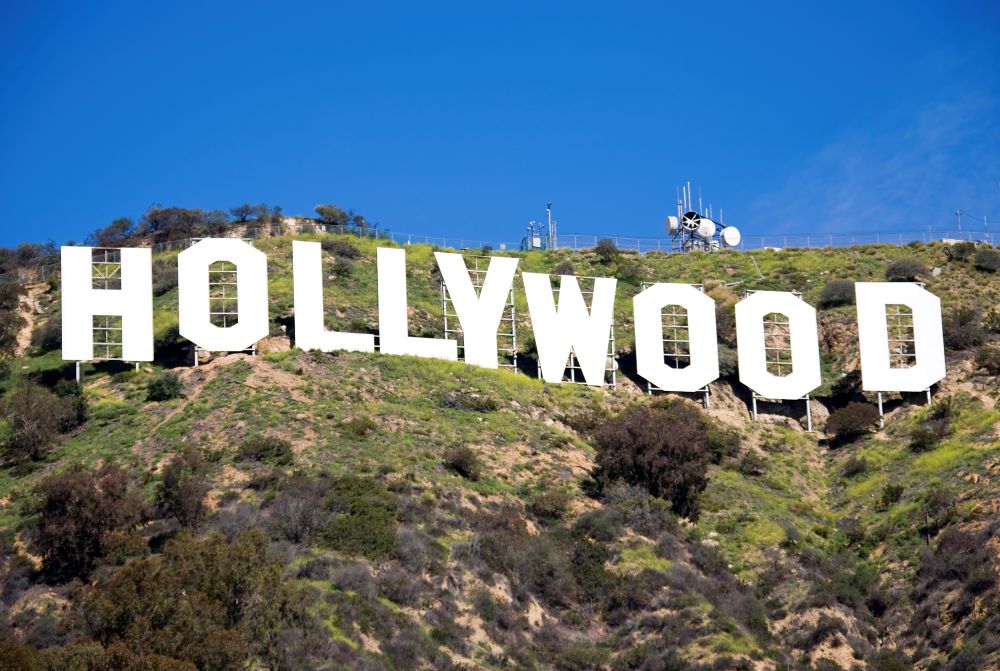 Gifted to Los Angelenos in 1896 by Welsh émigré Colonel Griffith J. Griffith and later expanded to 4,300 acres, Griffith Park is one of America's largest municipal parks. Hiking the park's canyons and rolling hills as a kid were a feast for the senses, along with the spellbinding L.A. basin views from the outdoor deck of the 1935 Griffith Observatory. 
Immortalized in 1955's Rebel Without a Cause and 2016's La La Land, this Art Deco wonder atop Mount Hollywood features museum exhibits, special presentations and public events, including monthly stargazing parties.  
In 1923, Los Angeles Times publisher Harry Chandler erected a temporary hillside billboard in southwestern Griffith Park to advertise his "Hollywoodland" real estate development. The rest is history. Renamed in 1949 and replaced in 1978, the Hollywood Sign is a global icon that can be seen via three recommended hiking trails and several viewpoints. Various private operators also conduct tours. 
Other park treasures include the group-capable 5,800-seat Greek Theatre (1929); Bronson Caves, serving as the Bat Cave entrance from the 1960's Batman TV show; and 1926 Merry-Go-Round, Walt Disney's inspiration for Disneyland. The nearby Hollywood Bowl (1922) is another timeless concert venue.  
Storied L.A. Group Hotels and Properties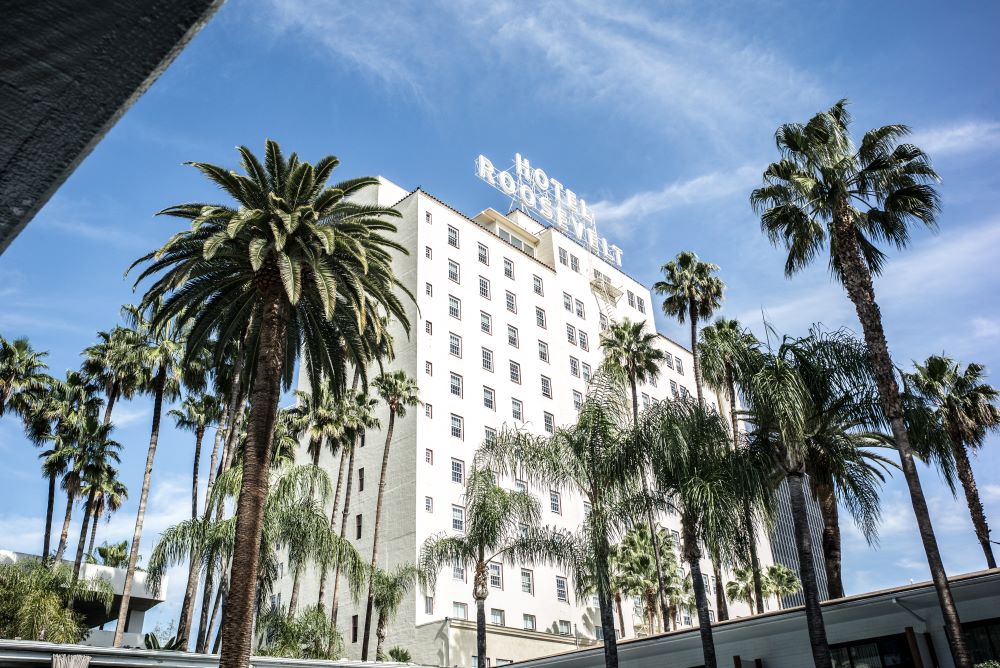 Legendary group properties include L.A.'s oldest continuously operating hotel, the Hollywood Roosevelt. 
Opened in 1927, this 300-room Spanish Colonial Revival reverberates with film history. You can almost hear Shirley Temple tap-dancing with Bill "Bojangles" Robinson on the tiled steps near the lobby, or see Marilyn Monroe, who lived in Room 229 for two years, at the Tropicana Pool. Other star residents included Clark Gable and Carole Lombard.  
More than 25,000 square feet of unique space includes the Blossom Ballroom, site of the first Academy Awards in 1929, and 150-capacity Academy Room, formerly the office of The Academy of Motion Picture Arts and Sciences.  
Opened in 1966 on a former 20th Century Fox backlot, Century Plaza, billed as "The World's Most Beautiful Hotel," was center stage for the Emmys, Grammys, rock stars and first-ever Presidential State Dinner outside the White House, in honor of Apollo 11.  
Reintroduced in 2021 as the 400-room Fairmont Century Plaza following a $2.5 billion makeover, the curvaceous building quickly reestablished its status as a premier venue for awards shows, red carpet events, conferences and corporate meetings. Unique venues include the 1,500-capacity Los Angeles Ballroom.  
My departing image of L.A. in 1970 was the UFO-like Theme Building at Los Angeles International Airport (LAX). The Space Age icon still stands today amid LAX's $15 billion Capital Improvement Program as another spaceship-like future icon emerges in Exposition Park adjacent to the Coliseum. 
Co-founded by USC Film School graduate and auteur extraordinaire George Lucas and his wife Mellody Hobson, the event-capable Lucas Museum of Narrative Arts, showcasing the history of visual storytelling, is poised to demonstrate the full power of the world's creative capital. 
[Related: 8 Unique California Rooftop Venues for Private Events]
Plus: The Timeless Appeal of "L.A.'s Marina"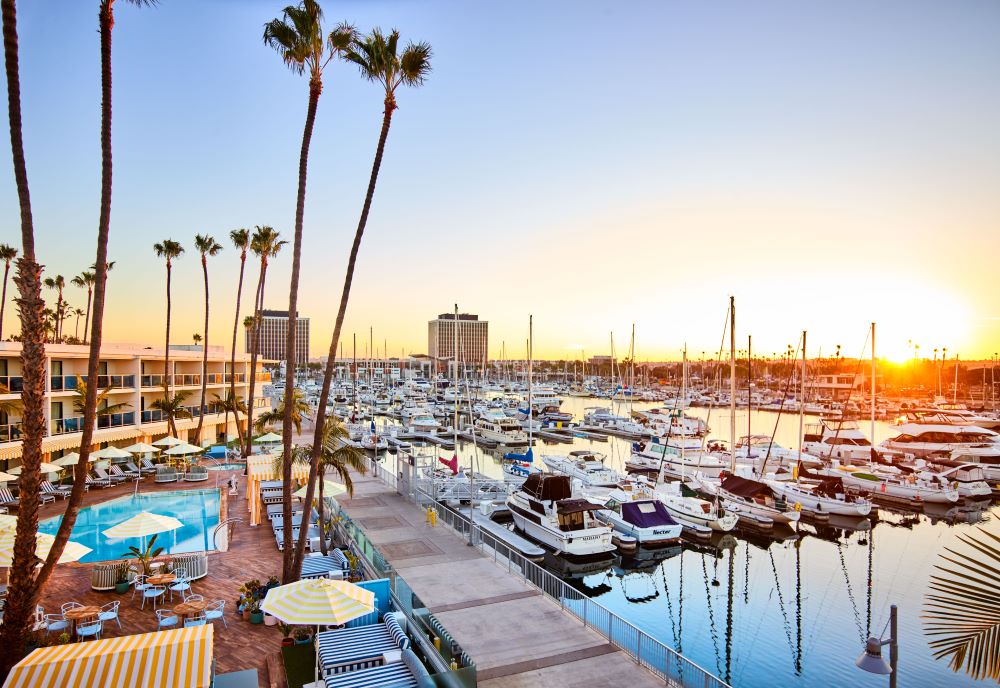 Transformed from marshland into the world's largest man-made small-craft harbor in the 1960s, Marina Del Rey is a sophisticated group locale featuring waterfront hotels, dining establishments, boutique shopping and abundant aquatic adventures. Marina del Rey Tourism Board CEO Janet Zaldua discusses the enduring charm of one of L.A.'s premier playgrounds. 
Marina Del Rey has serious star power. 
That's right. Our history is woven into the Hollywood scene as a longtime hideaway for A-list celebrities and film executives. The late Florence Henderson of The Brady Bunch fame, an ardent sailor and member of the California Yacht Club, lived on her boat here for many years. The Marina has also been a popular filming destination for movies and TV shows for decades.   
Beyond its scenic beauty, Marina del Rey's location just four miles north of LAX and proximity to iconic attractions such as Santa Monica and Malibu, enhances its appeal as a well-connected yet peaceful retreat for locals and visitors alike. L.A.'s Marina is where L.A. comes to play.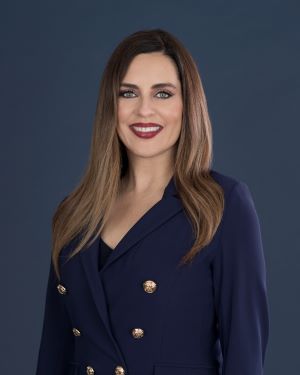 How does this image play into the group market? 
Tucked away along the coast and distanced from the urban commotion, our resort-like community allows for gathering and connecting in a more relaxed and laid-back atmosphere. Whether partaking in a post-conference cocktail cruise or strolling along the promenade, the proximity to the waterfront naturally cultivates a rejuvenating escape. Marina del Rey has always been a place of recreation for all. 
What are some choice options for groups? 
Perennial favorites include the Marina del Rey Marriott's rooftop Bayview Ballroom and the poolside area, and Rose Garden at The Ritz-Carlton, Marina del Rey. These are also popular filming locations. For 40-plus years, family-owned FantaSea Yachts has hosted corporate events, social gatherings and A-list celebrities on their luxury yachts. City Cruises' dining cruise vessels and private yachts are also popular. 
New hotels include the dual-property Courtyard by Marriott and Residence Inn by Marriott, which features outdoor dining and yacht charters and paddleboard or kayak rentals directly from its dock for group customers. Opened in 2022, Michelin-star chef Josiah Citrin's seafood-driven Dear Jane's celebrates old school dining glamour in a mid-century harborfront building. 
How is your group market currently performing? 
We are seeing shorter booking windows, some at six weeks out, others at a year or more. As more companies require time back in the office, meetings and events are coming back at a much healthier pace than in the past two years.   
What's on the horizon? 
I'm looking forward to ongoing transformations, including a series of hotel renovations slated for later this year, along with new retail shops and dining establishments that will further enhance the Marina's culinary offerings. These new developments offer groups and visitors more reasons to come and enjoy our vibrant and evolving destination.    
Connect 
Stay up to date on all meetings and events news in California