Iconic Foods of South Carolina and Where to Try Them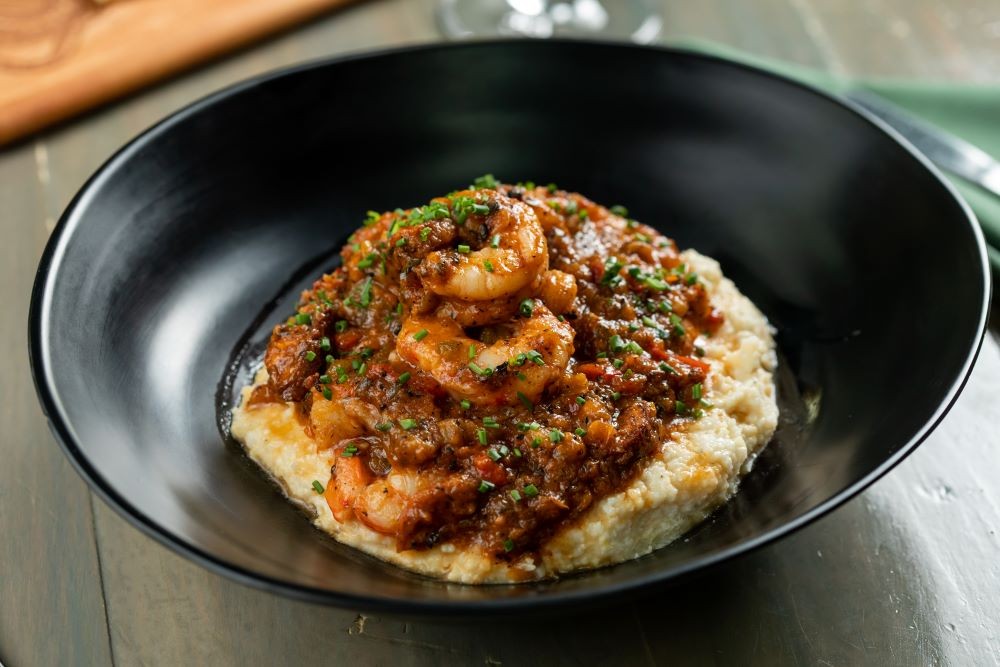 Smoked shrimp and grits from Hook & Barrel, Myrtle Beach, South Carolina. Credit: Visit Myrtle Beach
Have a meeting in South Carolina? Don't leave the state without sampling some of its most iconic foods, like pimento cheese, oysters, shrimp and grits and more. 
Pimento Cheese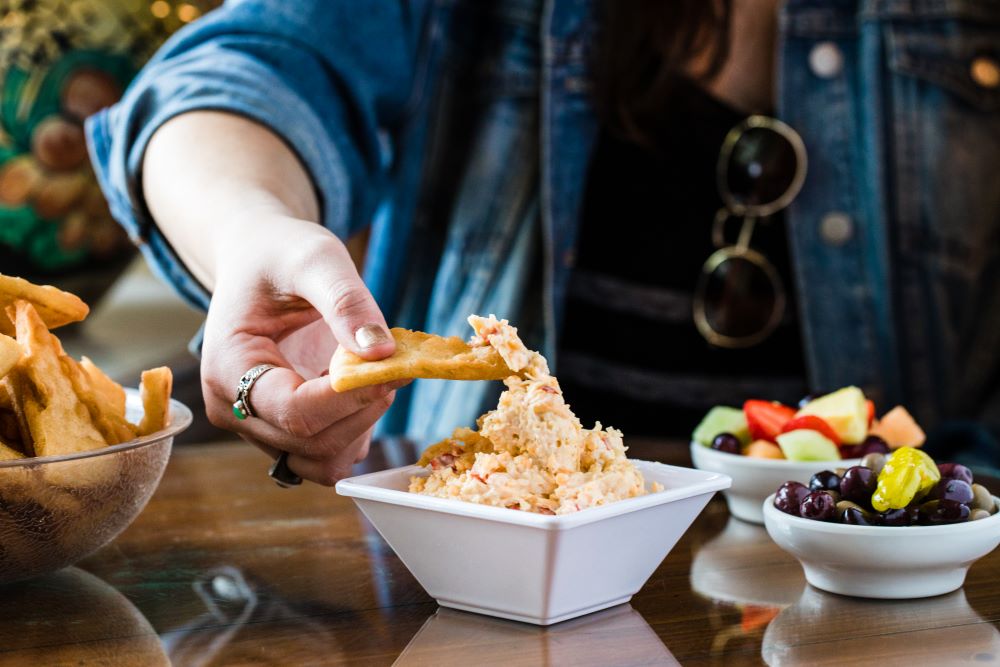 Sharp cheddar, mayonnaise and chopped pimentos. It may be simple on its face, but this Southern spread has a passionate following in South Carolina and neighboring states. Spread it on crackers, throw it on a biscuit sandwich or even bake it onto a pizza—there are seemingly endless ways to enjoy the famous snack. 
"You'll be hard-pressed to find a menu in Columbia that doesn't feature pimento cheese," said Dayna Cantelmi, communications manager for Experience Columbia SC. "Columbia is home to one of the earliest recorded recipes of the signature Southern snack dating back to 1912, and in 1954, J.C. Reynolds of the now-closed Dairy Bar was the first person to put pimento cheese on a burger." 
Where to Try It 
If you're in Columbia, don't limit yourself to trying pimento cheese at one establishment. The CVB has actually created a gamified Pimento Cheese Passport that helps visitors explore the snack through 16 restaurants and bars in town—there's even a vegan option. 
In Myrtle Beach, The Hangout restaurant—which features full-service dining and a courtyard with a sand pile, foam pit, games, retail shopping, stages for live music and more—serves pimento cheese as an appetizer or atop a burger, complemented by bacon jam, lettuce and tomato. 
You'll be hard-pressed to find a restaurant that doesn't serve up pimento cheese in Charleston. For a tasty twist, go to Miller's All Day and try its signature fried chicken sandwich with pimento cheese and pepper jam. 
[Related: Historic Buildings in Columbia, South Carolina, That Are Elegant Event Venues]
Shrimp and Grits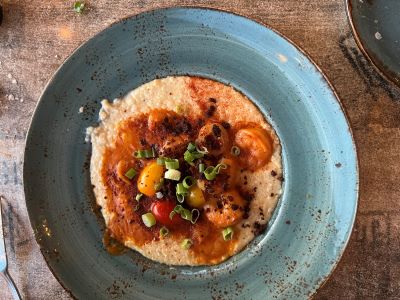 Considered a classic Lowcountry dish originating in coastal Carolina, nearly every restaurant will have some sort of iteration of shrimp and grits on their menus. According to food writer Robert Moss for Serious Eats, it started as "shrimps and hominy." ("Hominy" being the term Charlestonians used for cooked grits until after World War II). "It was a breakfast dish, and some Charlestonians ate it every morning during shrimp season, which runs from June until October," Moss wrote. "Back then, it was made with 'creek shrimp,' the small, sweet-flavored immature shrimp that were caught in hand nets in the tidal creeks that snake through the Lowcountry marshes." 
Where to Try It 
Start in Charleston, the suspected origins of the classic dish, at Poogan's Porch, the city's oldest independent dining establishment in a restored Victorian home on historic Queen Street. Or, go across the bridge to nearby Mount Pleasant, where you can watch the shrimp boats come in with their bounty while eating at Tavern & Table with its dressed-up recipe featuring shallot cream sauce, chorizo, cherry tomatoes and aleppo pepper. 
Myrtle Beach's coastal location promises memorable shrimp and grits, too. Hook & Barrel offers a smoked version of shrimp and grits, or venture more inland to Columbia, where Blue Marlin's shrimp and grits is a local favorite, rivaled in town only by those prepared by Midlands', the Downtown Columbia Marriott's in-house restaurant. 
Oysters and Other Seafood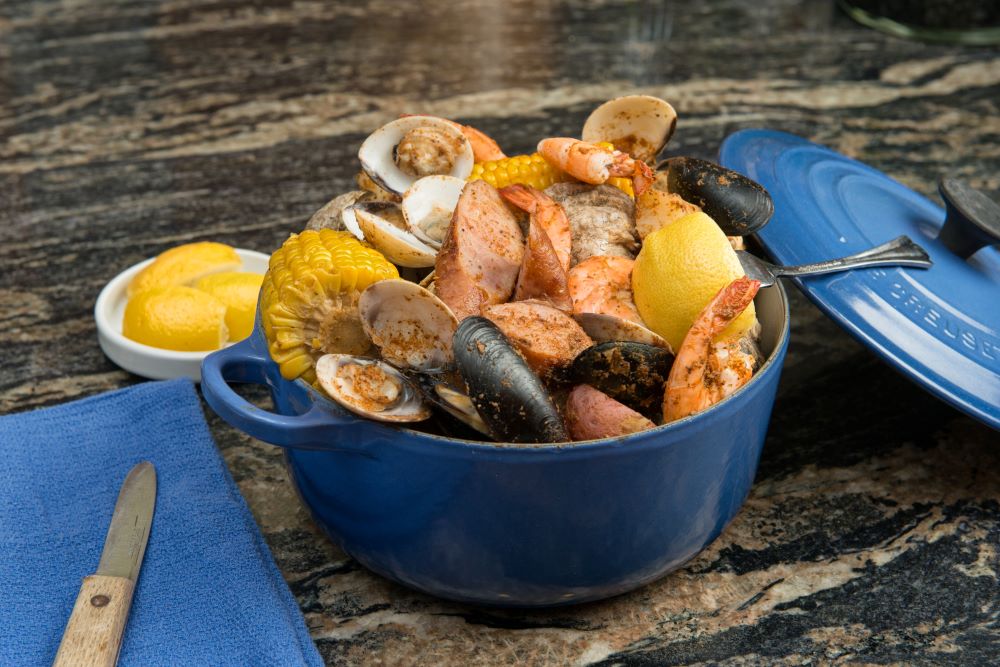 Raw oysters, she-crab soup and seafood boils are all commonplace in South Carolina. To travel here is to embark on a top-notch seafood eating adventure. From small oyster houses to event-friendly restaurants, there are many places to enjoy all of the state's bounty from the sea. 
Where to Try It 
Just 13 miles south of Myrtle Beach, Murrells Inlet is a small waterfront fishing village on the south end of the Grand Strand with one of the richest histories in South Carolina. Today, the Murrells Inlet Historic District is listed in the National Register of Historic Places and is colloquially known as the "Seafood Capital of South Carolina." 
"The Murrells Inlet MarshWalk is always popular with groups as they can break up and go back and forth between restaurants as they enjoy the live music, great waterfront views and local crafts being sold along the MarshWalk," said Bob Harris, executive vice president of sales for Visit Myrtle Beach. "Some of the groups also take advantage of the local eco tours and sunset cruises prior to dinner in that area."   
Stroll through the MarshWalk and stop at The Hot Fish Club, which is one of the oldest restaurants on the Grand Strand, having been in operation since the 1700s, or opt for a decadent seafood platter and shrimp and crab fondue at the iconic Drunken Jack's. 
Oysters in Charleston are a must. Amen Street and Raw Bar features a comprehensive oyster selection with over 20 varieties from local suppliers and sources along the East Coast. You'll also find daily raw bar selections such as local clams, tuna carpaccio and shrimp ceviche. Delaney Oyster Bar in historic downtown offers fresh oysters and signature martinis in a historic Charleston home. 
Meeting at the Columbia Metropolitan Convention Center? Slurp up some oysters on the half shell from Pearlz or The Oyster Bar, both located just a block up from the facility. 
[Related: Outdoor Teambuilding Activities in Myrtle Beach, South Carolina]
Fried Chicken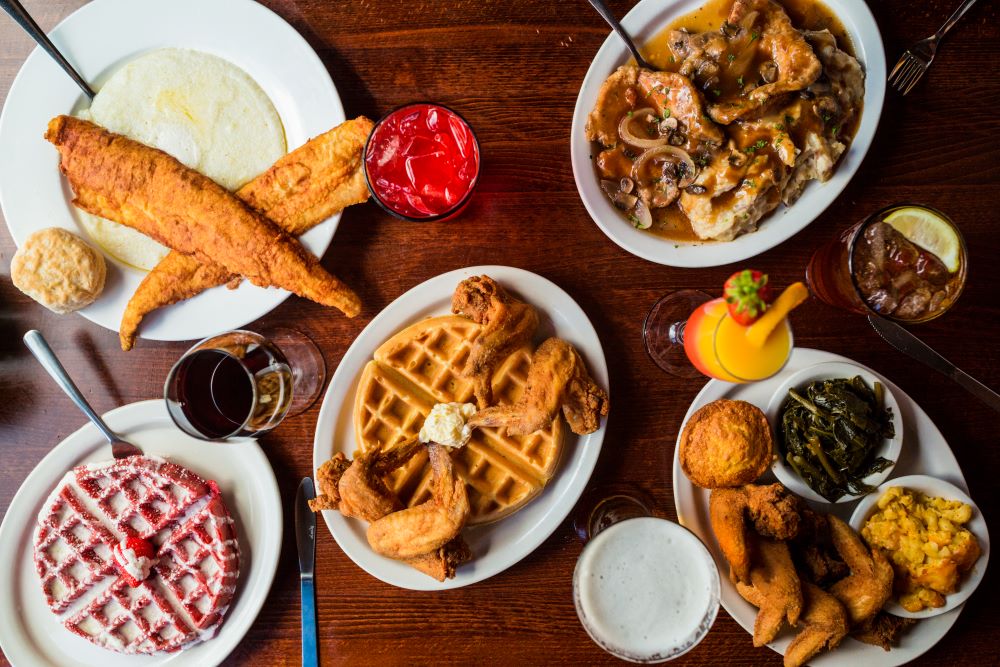 Ask locals in South Carolina where you can get the best fried chicken and you're likely to witness a spirited debate. This beloved food has become so popular over the years that multiple fast-food chains have made their fortunes on the dish, but there's nothing quite like the recipes from the independent restaurants in the South that have made it their own. 
Where to Try It 
Columbia prides itself on its fried chicken prowess, with several places in town that are must-tries.  Every Tuesday, Spotted Salamander fixes a unique weekly fried chicken sandwich that sells out fast (so arrive early, if you want a chance to try it!). Drake's Duck-In has been serving its fried chicken since 1907, while Zesto of West Columbia has served its famous "broasted" chicken for more than 73 years. "When it comes to chicken and waffles, there's simply no contest. Kiki's Chicken & Waffles is the place to go," Cantelmi added.  
Magnolia's in Charleston has been serving upscale versions of Southern classics for more than 30 years. Its buttermilk fried chicken breast dish is served with other South Carolina staples like mashed potatoes, collard greens, creamed corn, cracked pepper biscuit and sausage herb gravy. 
Barbecue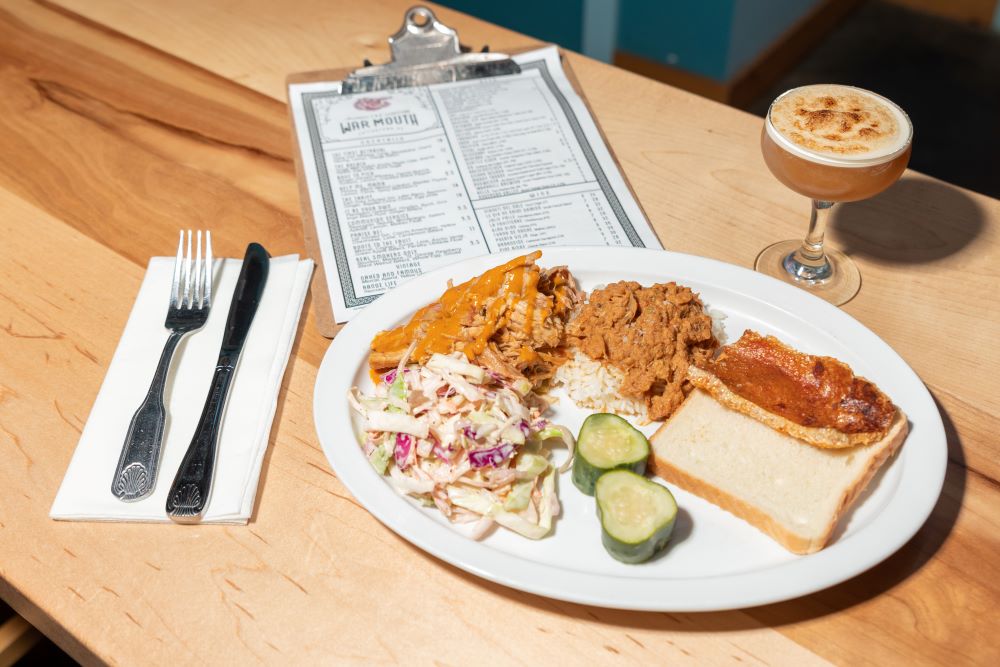 Barbecue is serious business in the South, and it all comes down to the sauce. In the Carolinas, lines are drawn—with mustard-based sauces reigning supreme in South Carolina, while North Carolina locations prefer vinegar and pepper (and especially in eastern North Carolina). "We specialize in pulled pork 'que smothered in a golden mustard-based sauce. A healthy dose of brown sugar balances it out, resulting in a product that's both sweet and tangy," Cantelmi noted. 
Where to Try It 
The War Mouth, Railroad BBQ, Doc's Barbeque and Palmetto Pig Bar-B-Q are all Columbia options where attendees can partake in pulled pork, ribs and more. In Charleston, venture to James Beard Award-winning chef Rodney Scott's Whole Hog BBQ to sample whole-hog barbecue cooked under live coal direct heat. Try the original whole hog pork sandwich with sweet barbecue or vinegar pepper barbecue sauce. 
Connect 
Read this next: How to Savor the Tasty Group Dining Scene in Miami and Fort Lauderdale