The Z: How to Attract and Hire Gen Z Employees in the Events Industry
What does Gen Z want?
These five words strung together have become today's million-dollar question in more ways than one as the rest of the world tries to better understand the rising generation—one that will make up 30% of the global workforce by 2030.
The question is increasingly being asked in the MICE industry and beyond as today's professionals start to grapple with the reality that is becoming Gen Z in the workforce. More and more often, we are finding ourselves asking questions like, "What does Gen Z want in a job?" and "What does Gen Z want from older generations and employers?"
Does Gen Z even know want they want for themselves?
As an older member of the generation—and one who talks and reads (and writes!) about topics like these relatively often—even I don't know the answers to today's most pressing questions about young people. And I think it's also important to point out the fact that there is no one correct answer to any of them.
There are literally millions—68.6 million, to be exact—and every unique Gen Zer is going to have a different answer depending on what they value most.
Thanks to studies and survey data, though—and how eager the world seems to be to figure out who the heck Gen Z even is—we at least have a decent idea of which workplace values rank toward the top of this generation's job search checklist, and which job hunt challenges they feel they're facing most. Here's what your company should know to effectively tick all of Gen Z's job search boxes. 
Gen Z's Workplace Values
To attract and hire Gen Z employees, you first need to figure out how to weave Gen Z's life and career values into your workplace.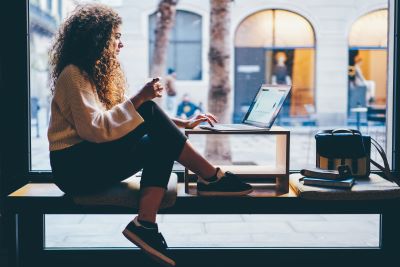 The digital natives were shaped by their experiences growing up in ways that exposed them to advanced technology early in their lives, leading to digital literacy skills and an affinity for social media platforms that introduced the world to an entirely new era of communication, and it's important your company keeps up. 
The most racially and ethnically diverse generation in the world is also bound to see dedication to diversity, equity, inclusion and belonging (DEIB) as more than just a workplace "perk," and their likeliness to challenge "the way things have always been done" is high, with public relations and research firm Edelman reporting 70% of the generation is actively involved in a social or political cause. 
When you're working with a generation of young people who care so deeply about more aspects of life than you can keep straight, how do you decide where to begin when it comes to welcoming them into the workplace? Start by focusing on the following five factors of employment that Gen Z looks for in a company when applying to jobs. 
[Related: The Z: Guiding Gen Z From the Classroom Into Meetings Industry Careers]
Compensation and Pay Transparency
According to a recent study from online job recruiting platform Handshake analyzing early talent trends and Gen Z's top-ranking job factors, the No. 1 most important factor Gen Z considers when looking for work is finding adequate pay or compensation, with 70% of respondents ranking salary at the top of their lists. And thanks to the unpredictability of the economy (and inflation rates), Gen Z will only continue to prioritize compensation even more, with their expected salaries also rising. 
Only 25% of Gen Z respondents in a study by talent acquisition platform Yello said they expected to be offered a salary of $30,000 or less, while 26% said they expect between $30,000 and $45,000 per year, and 24% of respondents are looking to make somewhere between $45,000 and $60,000 annually. Plus, the tech-savvy generation has unprecedented access to pay data, and as Gen Z's recent grads prepare to tackle student loans and debt, simply finding work in their preferred industry isn't enough.
Handshake's "Network Trends Report: Gender, Equity, and Gen Z" reported the majority of Gen Z respondents said that displaying salary ranges in the job posting makes them more likely to apply for a job, and 62% of respondents are more likely to apply to a company if it has a commitment to equal pay.
Call to Action: Be as transparent as possible about compensation information, and consider the salaries offered by competitor companies for similar roles to make sure you are competing at their level. Consider the economic reality Gen Z is experiencing today, like student loans and rising costs of living, and reevaluate your rate of pay to be sure you are offering applicants an appropriate salary. 

Diversity, Equity, Inclusion and Belonging
It shouldn't come as a surprise that the world's most diverse generation cares about their company's commitment to DEIB initiatives, with 55% of Handshake survey respondents saying a commitment to DEIB is "extremely important when evaluating an employer" and 86% of Yello survey respondents saying they consider it an important factor in deciding whether to accept an offer. 
A recent Tallo study reported 67% of working Gen Z respondents claimed they had seen workplace discrimination based on race, ethnicity, gender identity or sexual orientation, and 44% said they had personally experienced it.
The difference between Gen Z and previous generations is Gen Zers are nearly twice as likely to debate DEIB-related issues in the workplace and demand change, according to Johns Hopkins University, and they won't hesitate to leave a job to find somewhere they feel more included. 
The Handshake report found that more than 60% of Gen Z respondents said they either "always" or "usually" research diversity in an employers' leadership and 65% of Gen Z women look specifically for women in leadership roles before applying for a job. 
More than half of Handshake's survey respondents said they wouldn't apply to a job at all if they discovered the company lacked diversity, and nearly half said they would leave a job if it failed to meet their expectations for equity, inclusion and social justice, meaning a commitment to DEIB is not a temporary solution to attracting Gen Z employees
The key to attracting and retaining Gen Z employees is to ensure your company's commitments to DEIB remain a top priority (and one that is ever evolving based on the current state of social and political issues).
Call to Action: According to Handshake data, the majority of Gen Z expects employers to:
Invest in and actively hire and cultivate a more inclusive and diverse workforce.
Help underrepresented minorities advance.
Act against discrimination or systemic racism.
Prioritize pay equity, equal opportunities, mentorship from leaders and fair and respectful workplaces.
[Related: The Z: DEIB and Generation Z, a Conversation with Alicia Jenelle]
Flexibility and Work-Life Balance
Gen Z is a population that has both learned and worked remotely, and the perks of remote responsibilities are valuable to the generation. The flexibility of working and studying from home only made Gen Z's overarching belief that they are more than what they do stronger, and they want their employers to believe the same.
In most cases, a Gen Zer's life's purpose isn't achieving maximum success in their careers. It's achieving maximum happiness and satisfaction in the way they live, and flexible work schedules allow them flexible life schedules, too.
What Gen Zers also want employers to know, though, is that they are prepared to work when necessary on evenings and weekends if it means developing a career in which they feel secure and which also gives them the flexibility to live on their own terms, according to Johns Hopkins University.
World Economic Forum research shows that 73% of Gen Z employees want permanent flexible work schedules differing from the standard 40-hour, 9-5 work week, and 85% of the generation said they want either fully remote or hybrid careers, or they'll leave their company if these options aren't offered.
Gen Zers appreciate the option to work at home or onsite, the possibility of a four-day work week and the freedom to decide which hours they are on the clock. Data from a University of Birmingham survey of nearly 600 managers shows 59.5% of respondents said working from home improves employee concentration and motivation, and an even larger percentage (76.5%) believe flexible work increases overall productivity. 
Call to Action: If your company doesn't already allow flexible work arrangements, consider reevaluating ways to shift to a new hybrid or remote employment model. Establish an environment fostering transparent communication to build trust between employers and employees while arranging flexible work arrangements and consider options like compressed hours and working at "odd" times.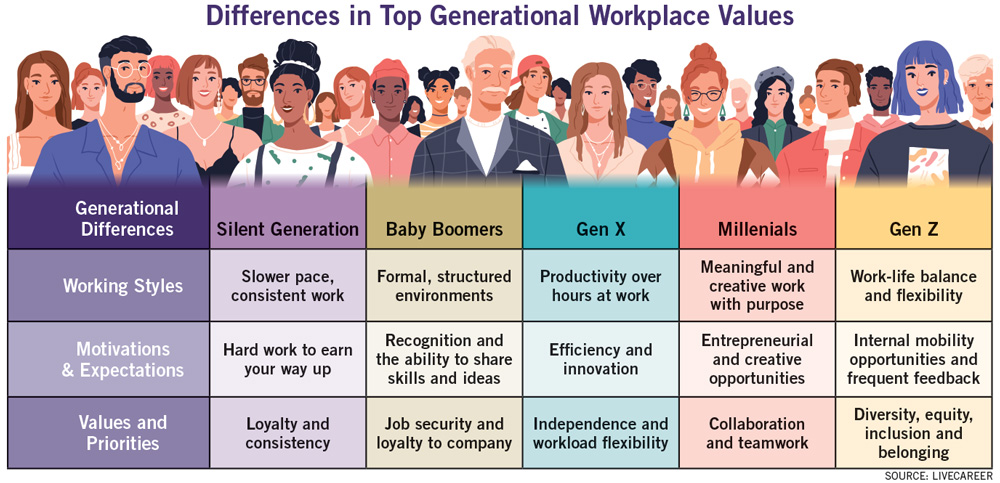 Modernized Benefits Prioritizing Mental Health
A flexible work schedule and healthy work-life balance directly relates to Gen Z's desire for modernized benefits in the workplace, especially in relation to mental health, and according to World Economic Forum, most Gen Z employees won't stay at a company "if they don't feel psychologically supported."
Research conducted by the Society for Human Resource Management (SHRM) found that 61% of Gen Zers would "strongly consider" leaving their current job if they were offered a new position with better mental health benefits, and Monster's 2023 State of the Graduate Report polling 1,000 recent college grads reported 54% of respondents said they would turn down a job offer if a company didn't offer work-life balance. 
Another survey conducted by online talent management firm TalentLMS and SaaS HR company BambooHR found that 82% of Gen Z employees expect employers to offer "mental health days," and of the nearly 2,800 graduating college seniors surveyed by the LaSalle Network employee agency in March, 40% said the No. 1 employer benefit they want is insurance coverage for therapy. 
Call to Action: Promote mental health awareness by improving employee access to mental health services and providing educational materials about mental well-being. Ensure your employees receive empathetic and understanding leadership in a judgment-free workplace and revisit your company's mental health policies, programs and benefits to see which areas are in need of improvement.
[Related: The Z: Industry Organizations and Associations Offering Student Memberships]
Internal Mobility Opportunities
Further education and career development is important to Gen Z. They don't want to be stuck in the same position forever, and they care about whether or not they enjoy the work they do. In fact, unlike their predecessors, Gen Z is the first to rank "job duties and projects" as one of their top three most important factors when considering whether or not to accept a job, according to data from Yello.
LinkedIn Learning's 2023 Workplace Learning Report found that the top two priorities in a new job for 18-to-34-year-old professionals are "opportunities for career growth within the company" (35%) and "opportunities to learn and develop new skills." The same research shows Gen Z is 47% more likely than Gen X to prioritize internal advancement and 45% more likely to prioritize skill development.
Handshake survey data revealed 71% of Gen Z employees expect to be promoted between six months and 1.5 years of being hired, and Employ's 2022 Great Resignation: The State of Internal Mobility and Employee Retention Report found one in five Gen Zers said they would stay with an employer offering upskilling opportunities. More than three in five (61%) said they would search for a new role if their company didn't allow role changes, and 67% said they would leave their company entirely if there was no opportunity for internal mobility. 
Call to Action: Provide mentorship and support to Gen Z employees and ensure you are frequently delivering constructive criticism and feedback on their performance. Clearly communicate what is expected of your employees to advance in the company so they're aware of how they can actively work toward their future. Offer opportunities to work on new projects that help with skill development and encourage employees to try new things. 
There is no be-all, end-all solution to the complicated process of understanding the shifts each new generation makes in the workforce, and the need to continuously adapt and reevaluate recruitment and retention efforts is here to stay. But it's possible to make hiring Gen Z employees an easier task if we familiarize ourselves with what they value most.
Logging out with love,
Taylor
Have a question about Gen Z or a topic you'd like to learn more about? Share your thoughts with Taylor at taylor.smith@meetingstoday.com, on Instagram at @tay__writes or on Twitter at @taywrites. 
Mission Statement: "The Z: Planning for the Industry's Next Generation" is a Meetings Today column discussing the meetings and events industry's newest and youngest members—the incoming Generation Z. Written by Meetings Today's Taylor Smith, a member of Gen Z herself, The Z explores how to welcome, work with, understand and plan for the industry's next wave of professionals while serving as a guide for members of Gen Z themselves, planners and attendees alike. 
Read more from "The Z: Planning for the Industry's Next Generation."