The Creative Culture Behind Meeting at Renaissance Dallas at Plano Legacy West Hotel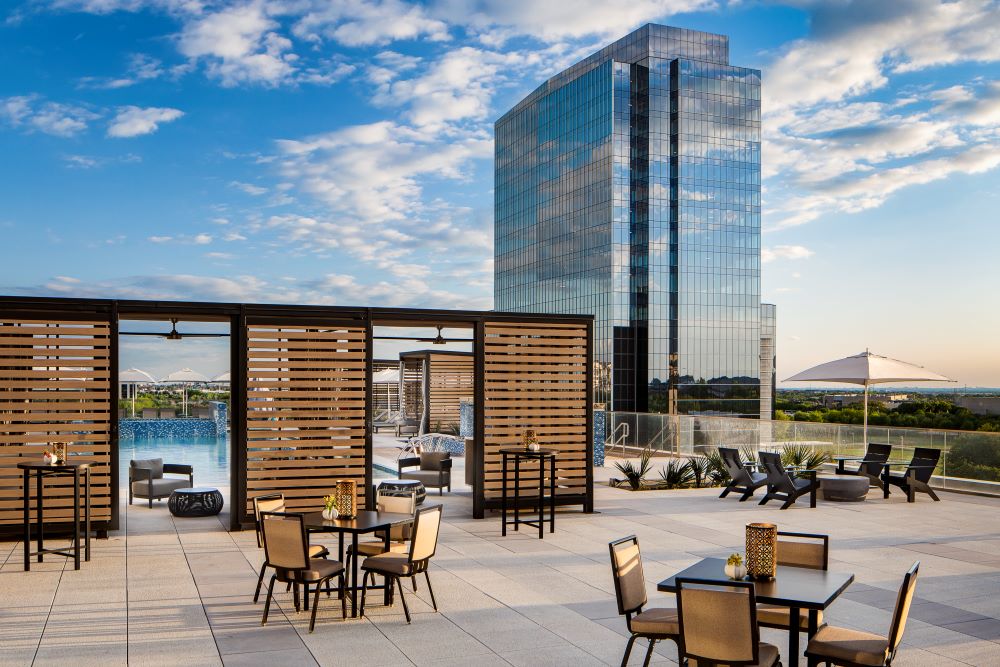 Meetings Today sat down with Eugene Blabey, director of event planning and operations at Renaissance Dallas at Plano Legacy West Hotel, to discuss the unique ways in which the hotel infuses local culture into its offerings, welcomes guests to a "West of Zen" experience and provides top-tier meeting services through the R.E.N. Meetings program, offering planners opportunities to try something different when they gather their groups at Renaissance Dallas at Plano Legacy West Hotel.
Listen now:

*This podcast was produced in partnership with Visit Plano.
Transcript
Taylor Smith
Hello, and welcome to this Meetings Today Podcast. My name is Taylor Smith, destinations and features content developer for Meetings Today, and I'm excited to be here today with Eugene Blabey, director of event planning and operations at Renaissance Dallas at Plano Legacy West Hotel. Thanks for joining us today, Eugene.
Eugene Blabey
Thanks for having me, Taylor.
Taylor Smith
Of course. So, located in Plano, Texas, on Legacy Drive near Dallas, Renaissance Dallas at Plano Legacy West Hotel is situated within the epicenter of Plano's Legacy West business and cultural district in the heart of the city. The 15-story landmark hotel offers more than 300 rooms and immerses guests in the "West of Zen" culture. Eugene, I was wondering if you could tell me a little bit more about this "West of Zen" concept, as well as the story behind Renaissance Dallas and how it came about.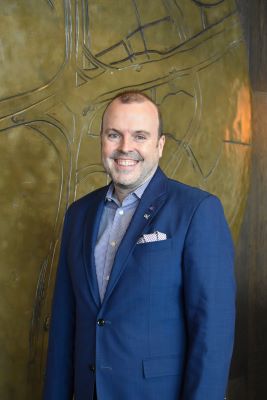 Eugene Blabey
Sure, absolutely. I mean, you captured the brochure very well. The text print is awesome, but really there's a lot more to the walls, heads and beds, the meeting space that this hotel has to offer.
So just as a little background story, the hotel was actually opened in July of 2017. And that was really at the onset of the Legacy West development, as we had the Shops of Legacy on the other side and Legacy West was really just forming at that point. So, the hotel was kind of on the anchor corner, but it was started by the Moon family. And if that name sounds familiar, that is because Chairman Moon, or David Moon, originally came over from Korea in 1969. He was actually a wig salesman, and he started the Sam Moon Trading Company, and that's probably where it rings a bell for some of us in Dallas. This is a fashion accessory store that is not just in Dallas, but it is also in Austin and Houston, other parts of Texas.
So, his two sons, Sam and Daniel Moon, both went to school here in Plano—also in Arlington—and both attended college in Texas. We had University of North Texas (UNT) and then The University of Texas at Austin (UT Austin), then Southern Methodist University (SMU) for Daniel, who actually got a law degree. So, they got in the hospitality industry and bought the Coyote Ridge Golf Course back in 2005 in Carrollton, and then I think they got the buck.
So, basically, this was their baby. This was their first real hotel for venturing into the hospitality industry. And you know, as with your first baby, you kind of put your love and your passion into this hotel, and it really shows in the way it turned out, just the finer details. Again, we talk about hotels just being a building with sleeping rooms, and a front desk area, and a restaurant and meeting space. They took it a whole other direction when it comes to the detailing and the artwork and the story behind it. 
So, you talk about east meets west and "West of Zen." They bring in Renaissance as a brand, which of course is part of Marriott as a broader family of the 30 brands that Marriott has, and Renaissance is about telling a story. Renaissance's four pillars are about being intriguing and indigenous and independent.
And so Renaissance, combining with the Moons—the Moons obviously wanted this to be a luxury property. Renaissance wanted to tell stories. So, what we did is we combined the East of course, being from Korea, the Asian component of that story, with the West. We're in Texas, so of course, we want to pull through the indigenous and pull through the neighborhood and make it about Texas. And so, every facet of this has a duality, a story that blends both the East and the West, the Asian and the Texan, into artwork, into menus, into fixtures and things we do up in the meeting space. Everything pulls together. And so that is where we can work with the East meets West or "West of Zen," as we like to call it. 
Taylor Smith
Well, I think that, as you mentioned, that combination of the Asian and Texan culture is not something that you would see every day, right? And so, you mentioned that you bring it through artwork and through your different dining facilities and the amenities that the hotel offers. So, can you talk a little bit more about these restaurants and the dining options as well as the fitness center and the outdoor bar and grill—all of these different amenities that the hotel's got, and how you weave that Asian and Texan culture into these places?
Eugene Blabey
Absolutely. I want to start and just go one by one through our outlets. Obviously, a full-service hotel, as we call it in the hotel industry, is a hotel that does have all the amenities that you need to be all self-contained within the hotel. So basically, of course, you start out with the restaurants, and in our culture and the Renaissance culture—and I may get into this a little bit later—but we actually have our own terminology. So, you might hear food and beverage. At Renaissance, we call it beverage and food. We say, "Everything starts with a cocktail."
But I'm not going to start with the evening timeframe yet, we're going to start with the breakfast restaurants. So, we have ŌMA, which is our breakfast restaurant. ŌMA actually is short for omakase, which is basically specialty dishes prepared by a chef, which means it has this open kitchen format. Oma is also "mother" in Korean, so it actually has this Asian market feel to it. We have bird cages that are the light fixtures coming down from the ceiling. You have raku pottery hanging on the walls, so it kind of gives that Asian spin.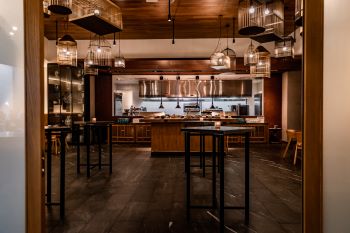 Then you move from that across the hall and you have Whiskey Moon. Whiskey Moon is kind of a Texas take on a bar, so it has individually laid cowboy belts across the ceiling. We have branding irons from ranches all over Texas also hanging down from the ceiling. But then, it pairs that with some Asian influence. If you look at the carpet closely, it's actually a lot of red influences, which is a sign of prosperity in the Asian culture, and there's a dragon running through the carpet. So there's little touches, if you if you look at it. There's this duality again that pulls through both the East and the West. 
The bar is a Texas bourbon whiskey bar, but at the same time, we have Japanese whiskey. So, we have Suntory Toki. Some of our cocktails pull through the Suntory. We have items like karaage on the menu, so you've got this influence that also weaves through the menus there. They have the Whiskey Moon patio, [which is] great. Basically, we've got a fire pit outside. We have, of course, your string lights going across. And that's also sold for private events. 
Right across from Whiskey Moon is our studio. It's kind of a Zen room. So nice, soft lighting, Asian inspired. Also, a great place to relax during the day to have a coffee, or in the evening time, a great place for a gathering of friends or a reception area. 
Across from that, you have our Texas Tea House. So again, we're more B&F—beverage and food outlets. So, the Texas Tea House has Italian brewed coffee. It has boba teas. It's kind of a light breakfast, light lunch fare type of place. But again, pulling through Asian influence with raku pottery fronts to the countertop. You actually have tea pots—not only tea pot lighting fixtures, but you have actual tea pots hanging at different levels from the ceiling. 
Taylor Smith
That's cool!
Eugene Blabey
So, it's again the art, the design and the thought they put into it has so much detail as you look around. You could spend hours walking around the hotel looking at these things.
Of course, we have room service. Now, believe it or not, Marriott and Renaissance and some of the other brands, many years ago actually. They don't really do room service in the way room service used to be done. Because there was a competition with Uber Eats and other delivery services where they started delivering the food to your door.
But the Moons said, "No, this a luxury hotel. We want to have in-room dining." So, instead of calling it room service, we call it IRD, or in-room dining. We want to bring that experience back to the customer. We're really serving that experience into the room, so we do have room service at the hotel.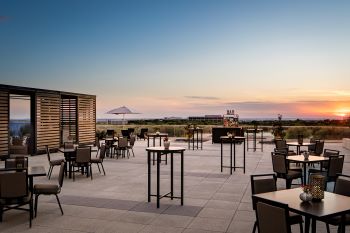 Then you move upstairs. So, you talked about the pool area, our Zen Pool and Bar. Now, the pool here is probably one of the best rooftop pool experiences I have seen. Okay, semi-biased opinion, of course, but in traveling a lot and being with Marriott for almost 29 years now, you see a lot of rooftop experiences, and they really got this right.
So, we have two zones up there. We have an area for the customers staying in the hotel where you have a pool bar, you have firepits, you have lounge chairs. And we also have various cabanas, and these cabanas are five-star. We have soft seating. We have credenzas with safes and refrigerators, ceiling fans, privacy drapes, and they can be rented out. We have a heated jacuzzi and heated pool year-round. And the views are spectacular. You have 180-degree unobstructed views of the South and the West.
So, you talk about a sunset out here for reception or an evening event. Watching the sun go down in the evening is spectacular out here across Lake Lewisville, and it's definitely something to experience. Now, Frisco winds can be strong at times—that's the thing with unobstructed views is there's nothing to stop the wind—but the experience up there is second to none for a pool experience.
Our state-of-the-art fitness center is also on that same level. It's on the third floor of the hotel. Again, when I say, "state of the art," I mean free weights. I mean running, I mean rowing, I mean stairs, ellipticals, every piece of equipment and a large open area. You walk into some hotels and the room is the size of a studio apartment. It's tiny. This is really nicely laid out. We're not too close if you have a busy workout fitness area. 
We have a club lounge. So, you talk about our elite member guests. We have a balcony, which you don't see a lot in club lounges. So, it is also on the third floor. We have a balcony that again follows Legacy Drive. It has a cover, which means you're never in direct sunlight because the sun goes east to west across the top of the building. So, you can sit outside and enjoy it without getting fried to a crisp in the Texas heat. And this is a place that is, of course, open for breakfast for our elite members and also has reception items in the evening. And we're going so far as doing activations up there where we're doing pancake stations or we're making margaritas in the evening. So, there's things to engage the customer beyond not just getting a breakfast bread and some fruit. It's more interesting, more intriguing beverage and food options that we have up in that area.
And I know that's a lot of description for such simple things, but at the end of the day, there's so much more to this hotel than meets the eye if you just walk in and explore.
[Related: Saddle Up for These 5 Unique Offsite Options in Plano, Texas]
Taylor Smith
So, if meetings and event groups want to bring this¬—especially the food—into their events, what does catering look like at the hotel? Can they bring these unique menus that are there fusing Asian and Texan culture together into their dining experiences?
Eugene Blabey
Absolutely. We when we talk about meetings events, we have everything, for the most part, consolidated on the second floor of the hotel, which is nice because when you get to some bigger hotels, you end up going multi levels, and here you are completely consolidated on one floor.
So, between the 17 meeting rooms that we have, you have 35,000 square feet of usable space and two large ballrooms—a 15,000-square-foot and a 5,000-square-foot ballroom—that kind of break up that second floor. We also have the event space on the pool deck, which is utilizable for events, and then we have a huge foyer space in that second-floor area. It's almost 7,000 square feet of foyer space that basically allows people to spread out outside of the meeting room to do large reception or large events out there.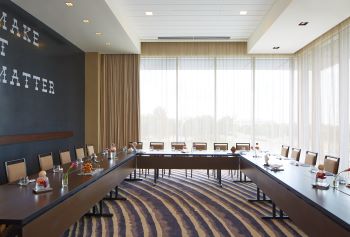 So, when you talk about the space—and I'll get into the B&F in just a moment, the beverage and food—but the one thing that newer hotels bring to the mix, if they design them right, that is, is natural lighting. And the one thing you experience at this hotel is floor-to-ceiling windows in the foyer space. Every of our smaller meeting spaces, they have 14-foot ceilings. These aren't, "I have eight-and-a-half-foot ceilings. I feel like, if I'm a tall person, I might bump my head on the roof," and that's a lot of times what you get with the older-build hotels. You have high ceilings, floor-to-ceiling windows, the functionality of the small meeting rooms. We have chalkboard walls that you can write on, we have corkboard walls, also in the same room, that you can pin things to.
And then, we're just talking about functionality right now, you talk about the experiential part of it. All of our small rooms are Asian inspired, which means they will be Seoul, Tokyo, Osako, Shanghai. Each one of those rooms has wallpaper that is unique. It's a kaleidoscope of the city in which you're in. It's very kind of a reverse-Monet feel. So, when I say that, Monet is clear from a distance, but [his paintings are] really fuzzy up close. This is the reverse. You see a barrage of colors and shapes from far away, but when you get close, there's three-by-three squares of the city that you're in in that kaleidoscope across the entire wallpaper. 
Taylor Smith
That's cool, that's really neat.
Eugene Blabey
Every room has its own unique wallpaper. So, it's definitely something that causes curiosity as you walk around. So, that's the small meeting spaces, and I haven't even begun to talk about the artwork up on that floor, but I can get to that in a moment.
The ballrooms, the two ballrooms, we have the Windrose Ballroom. Very unique. Again, some hotels will call it a junior ballroom. We don't use that terminology, obviously. They're all very different from one another. So, the Windrose is Asian inspired. So, you have these gold velvet drapes hanging down outside of the room. You have Asian artwork in the foyer. The air  walls are patterned like the bark of a tree, so it almost blends to the point where you don't even notice you have air walls in your meeting space when they do separate off the sections. And the really cool part about Windrose is the chandeliers. The chandeliers are rose crystal chandeliers, of course, tying through to Windrose, and they're timeless and classic in nature. But also, the ceiling soffits represent the petals coming out. Again, just a lot to look at. 
Then you have the Legacy Ballroom. Very modern, kind of a neutral palette that matches any company colors. High ceilings, but there's artistic sound bars that come down from the ceilings that kind of flow through the room like ripples on a pond, but actually are representing the scales of a koi fish.
Taylor Smith
Wow. I was looking at a few photos and the ceiling immediately caught my attention.
Eugene Blabey
Yeah, very, very unique things. But then you get to the foyer space, and the artwork, all custom designed for the hotel—everything from the origami steer heads that hang above the glass staircase that goes up from the first floor to the second floor. Again, that East and West. You've got the horse, which is a famous art piece that people come to see in our hotel, that as you walk by this horse, it starts off—depending on the direction you're coming from—as a main dynasty horse from one direction. As you go, it changes and changes into good Old Faithful, that Texas horse. And it changes and morphs as you walk by it. So, if you're not paying attention, these are things that you miss as you walk by.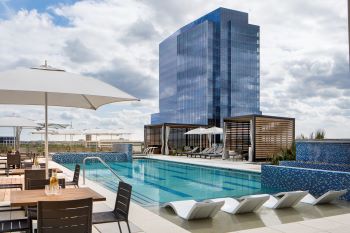 But then there's even the four-inch diskettes. If you're old enough, you can remember what use these had in computers. You used memory diskettes that you pop in, and they're hard discs, and there is two pieces of artwork made up completely of recycled discs. If you look at it closely, you can still see handwriting on the disc, like what people would note what the disc was for, and they painted two opposite-inspired paintings. One is an Asian version, and one is a cowboy version on two ends of a hallway that, as you walk by, just looks like a piece of art. As you look closer, it actually has these individual diskettes that make up the painting, which is very cool.
Taylor Smith
That kind of goes into the sustainability initiatives as well, recycling and taking what we can to make something more out of it rather than creating something entirely new. Can you talk a bit to the sustainability initiatives as well?
Eugene Blabey
Yeah, no, absolutely. So again, we are linen-less operation, and when I say linen-less, it's not quite possibly 100% linen-less when it comes to the meeting space, but we have linen-less tables meaning we are not putting linen down. We are not recycling linen. So, saving on water and saving on the chemicals. And so that is one of our initiatives here.
Of course recycling is big. Obviously, we do go through recycling, but then you get into really more technical things, low-flow showerheads and toilets, things like that. Automatic lighting that goes off when you leave the room. So, these green initiatives…Sustainability has been a Marriott focus for a very long time now and is still alive and well. The biggest thing that we find is that you see a lot of things in marketing print. But it's talk, it's not actually happening. And I think there's a difference between saying you're going to do something and actually following through and consistently doing it on a daily basis. So, I think that's a critical piece of that as well.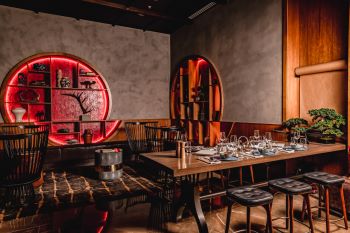 Taylor Smith
Yeah. And that goes right back to the art piece, something as small as—not that it's small—but something as small as a single art piece in your hotel is using something that is recycled and sustainable and taking into account what they could do to be better about things like that, which like you said, it could be all talk in a lot of in a lot of instances. So, seeing that you're taking the responsibility, even when it comes to things like artwork is, I think, very impressive of the property. 
One thing that I want to ask, too, is what makes your hotel stand out in comparison to other hotels in the area and what specifically makes it stand out to meetings and events groups when they may not know all of these details about the hotel until they get to experience it for themselves? How do you make yourself stand out until they could really get there and see all of these details?
Eugene Blabey
Well, obviously you're talking about, and I don't know if you're familiar with this, but we have a meetings platform at Renaissance called R.E.N. Meetings. I've got some dialogue here that I want to go through. But really, it's how we promote that and talk about it when customers come out to site our hotel and to look at our hotels, so it's not just on our website. It is actually part of our site visit experience that people get to see.
So, R.E.N. meetings. All major companies come up with their own purpose, right? And acronyms are a big piece of that. So of course, the R.E.N.—R-E-N—is an acronym. So, to break it down one by one, the R is what we call RLIFE Live events. And basically, in short, what that means is that, not just in the downstairs area, because we do activations downstairs. For example, in the Whiskey Moon bar, we have a beverage ritual Monday through Thursday where they bring in a punchbowl and they do something at a certain time, and it is handed out complimentary. But it is an incredibly engaging experience with the hitting of a gong and letting a guest hit the gong and make the announcement, "The beverage ritual is here." It's time it's really kind of a happy hour. 
Taylor Smith
And blending those cultures again.
Eugene Blabey
Bringing in that culture and indigenous alcohols to Texas. And then some story about the cocktail being made is what they go through. They bring in activations in the way of music. Well, RLIFE Live is about what's going on upstairs. So for RLIFE Live, we bring in activations upstairs. So once a month, we will give a group an activational experience without paying for it. We are going to promote that and put it on a reception or do something for them. A lot of times, it comes in the form of local music. We have a lot of local artists that perform on a consistent basis here at our hotel. It could be acoustical, it could be a DJ. Or it's beverage and food activations, so that we provide complimentary and give those guests that kind of experience. That's kind of the RLIFE Live events. 
The second piece is really a critical piece of this. It's the E, the Experiential Sensory Meetings. So, when we say experiential sensory, we're trying to tug on all the senses. There are a couple of things in this grouping that are more tugged on than others, but we do cover all. So sight, we use lighting. A lot of the lighting we provide is not just in the meeting rooms. We actually have our own wireless uplighting and things like that, that we use to create ambiance for events. We actually as a banquet team provide that complimentary. It's not a cost to the guests.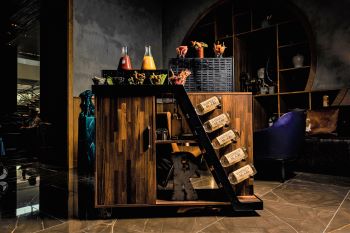 Now, we have a certain number of lighting. It's not like everybody can get lighting. But at the same time, we're trying to enhance an event. We're trying to provide a cost benefit to show, "Look, we have items here that we're going to use to upgrade your experience here that other hotels are not going to do." And that doesn't just come in the form of lighting, but we have soft seating and couches and ottomans and coffee tables and things that we actually provide complimentary as part of the service to enhance the reception. So, sight, they use the lighting.
Sound? Music. Music is obviously always in spaces that are a higher volume. And then, we use beats per minute. So, depending on the time of the day, it is stylized for the time of the day based on the energy level that we feel people are progressing through. Of course, it gets faster and higher as you get through to the evening time.
Taylor Smith
That's really interesting.
[Related: Plano Is Putting on a Show for Groups in the Metroplex]
Eugene Blabey
And that's actually customized by Renaissance as a brand to pull through. We have stylized channels that we can pick from that actually have that built in already.
Scent. We actually, believe it or not, pump in a scent into our hotel, into our meeting space and into the lower level. It's actually a shiso tea leaf. And for those you don't know, shiso is a Japanese mix. So, it kind of pulls through the Asian. But again, we know that scent has an extremely strong tie to memory. We want people to identify Renaissance scent with coming to Renaissance hotels. So again, it is, "Oh, I know where I am."
You know the funny thing, when Marriott was started, Marriott is a brand and every brand is different within the chain, but Marriott  is about consistency. So, if you're in New York, Philadelphia or L.A., if you didn't look outside your window…You've always got the Marriott burger on the menu. The guest rooms were uniquely standardized for a consistency of brand. Why this consistency? It helps customers know that when they go from one hotel to the next, they're gonna get the same.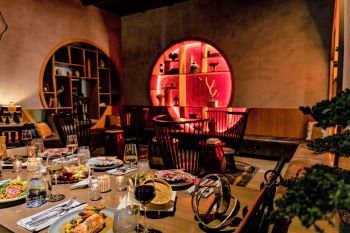 Renaissance is the complete opposite. Renaissance wants it to be individually based on that hotel, that location. Because they understand people are trying to absorb the local and the story and the neighborhood. They want to know that they're in Plano, Texas. They don't want to not know where they are, so the scent in the memory piece, that's a key thing. 
So, taste. For taste, we do a couple different things. We have infused water. We don't just put regular water pitchers on the table. So, in small meeting rooms, we're gonna do sake bottles. We're gonna do bourbon bottles full of water, but the water is infused. It's a shiso grapefruit. Again, the shiso, Asian, the grapefruit, native to Texas. So, we do what we call gratis edibles. Now, gratis edibles is, you go to a hotel meeting experience, what are you going to get? You're going to get a mint. You're going to get rod candy.
Taylor Smith
Maybe a granola bar, right?
Eugene Blabey
Any meter of fare but complimentary on the tables from the hotel, right? We custom build our gratis every day in the kitchen. So, it might be a sesame pecan brittle, right? It might be an ancient grains power ball. This is something that is put in every place setting if you're in a small meeting, or in a communal place, on a very large set in the back of the room. But again, pulling through that taste. That's your candy. That is in the morning and the afternoon, and it is again a very unique experience that you're going to get.
And touch. We have a word in Renaissance, it's called tablescaping, and basically what that means is that they've done—and I know you probably know this—they've done a lot of studies on what it means to kind of fidget and doodle. So, the most recent study was actually done by Harvard Medical, and this was not too long ago, back in 2016. But this has been ongoing for a long time that doodling actually is a connection to memory. And they show that, in tests, people remember 29% more if they're doodling because what happens is that, when you are we call zoning out, right? When you're losing focus, you're tired. Your brain tends to switch off. Doodling or fidgeting, playing with something, connects your brain to staying awake. So even if you think you're not multitasking, you actually are hearing. Your ears are hearing more of what's going on and you will recall more of what you're learning. 
So, they said, "OK, that's a great study. Let's pull this through into the brand." So tablescaping pulls through a lot of different facets that we put on the tables. And it's different things, right? There's high-design items. There's local botanicals that we'll put out there, but they're going to put games. They're going to put things to fidget with play with and different things that are also unique to the hotel and the story it's trying to tell. That is something very unique, I think, to Renaissance as a brand but also to this hotel that you don't really see much. Most manufacturers have to come in and throw a bunch of candy in the middle of the table because that's what they have. 
Taylor Smith
They'll have fidgets that are branded to their company, right?
Eugene Blabey
Exactly. They'll get something branded to see if they can tie into the meeting. We're already providing those things to you on certain sets. Of course, it doesn't really work in a school-room setting necessarily, but on a U-shape or a hall square or crescent. We don't do roundtables, we do crescent squares.  That's what you're going to see. So again, very unique.
The last piece of this is the N—I know, I'm kind of going on a long time. The N is Neighborhood Narratives. This pulls through the Navigator. So, if you've heard about Renaissance, we have a position called a Navigator. So, let me ask you Taylor, what do you think about when you hear that word concierge? What does concierge mean to you?
[Related: Podcast: Why Plano, Texas, Is a Good Bet for a Variety of Groups]
Taylor Smith
They know everything, right? I could go ask them whether or not I could call a taxi at 12 a.m. or what the best place to go get breakfast a few blocks away might be, but they know everything about both the destination and the hotel itself. I feel like they're the person to go to when you've got a question that you need answered.
Eugene Blabey
Right? That's exactly right. And how do you think they're motivated? How are they incentivized?
Taylor Smith
That's a good question.
Eugene Blabey
Places, restaurants, bars. They pay them, right? They pay [concierges] to recommend them, right? "If you bring me customers, I'm going to give you a cut."
We don't have concierges, OK? That's not what we are about. Why? Because we want our Navigators, people who can navigate the local, the neighborhood. We want them to recommend the local. We are not saying we're not about this, but really, Renaissance is not about chains. So, there's some great places in Legacy West. We love all the restaurants up and down the strip, but a true neighborhood experience is about going to the local, the place that is out of the way. And albeit, some of it's probably FOMO-related at the end of the day because people come here, they want to show their friends. "Look what I'm doing that you can get in New York, Miami, L.A., wherever you are. This is only in Plano."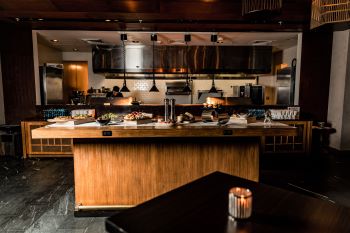 So, a navigator has to be versed in those cool local places that you're not going to find anywhere else. So unfortunately, a chain is something you can get somewhere else. So ideally, you want to recommend something that's not chain. So, imagine the difficulty in the that.  And that's the difference between in the Navigator program that we love to stress. We want people to be versed in what really is in this neighborhood that you should go check out but you won't find anywhere else.

Taylor Smith
That is the No. 1 thing that I think planners are looking for recently is experiencing the destination for what it can offer that is unique to that destination itself. So, I think that having a Navigator like that, too, like you said, there's no one better to speak to about the destination than someone who truly knows its ins and outs. And so, I think that planners will be appreciative of knowing that they've got someone who can speak to that with Renaissance.
Eugene Blabey
And the Navigator, beyond what I said it that's obviously a unique factor of it. It is also about being there to assist the customers. It's not like this person isn't going to bring you your bill in the morning, or that this person isn't going to touch base with you to make sure your lunch is on time. This person is a jack of all trades, but that is an area that they specialize in, as well as being there to assist with the day-to-day and functional things. We don't eliminate the functional capabilities. We just like to enhance the things that are above the function because that is what separates us from every other hotel, in my opinion.
Taylor Smith
Well, Eugene, I appreciate everything you shared with me today about Renaissance, and I want to ask if you have any final thoughts to share? Anything else that you wanted to discuss before I let you go this afternoon?
Eugene Blabey
Yeah, just a couple of things. I know we're talking about the local. I wanted to kind of go into more detail on that and how we pull that through into our operation. We are very much about infusing the neighborhood. So, a lot of the stuff that people may not know about.
We push craft on bars. So, when it comes to our mixology program here, we actually have three types of bars. Every hotel has tiers, right? We have a craft here. We actually price it at the same price as the lower tier bar because we want to push local. So yes, we are pulling wines from Texas. Yes, we are pulling beers here locally and finding new breweries are popping up. Hop and Sting Brewing Company out of Grapevine, or Revolver out of Granbury, or TUPPS out in McKinney. We're pulling these out.
Liquor also from Texas. So again, going to the local we purchase a lot of our items locally. My banquet manager goes out to the Dallas farmers market and finds local vendors that can help supply us with certain things. One of the things we give some of our customers as they're departing is R Gifts, and they're locally crafted. It's a bag of treats or goodies of things. It could be bourbon infused caramels that we got a from guy that we found in the Dallas Farmers Market out of Rockwall. Or we've made flower vases. There's a lady out of Dallas who makes flower vases out of concrete and glass. Just going through some of these local vendors to display works from a local person to planners.  We've even bought tables from a guy up in Sherman who makes wood tables that we use for a water station. So, pulling in the local and support the community is a big thing. 
OK, so, getting into our mixology program. The one thing I say about banquet bartending is most bartenders are old school. They are using sweet and sour mix to make their cocktails. We have come a long way over the last 15 years, Marriott especially. My hotel is utilizing fresh-squeezed juices, we're using simple syrups for well-balanced cocktails. We are making true mixology on our banquet bars that you don't see. We do make smoked cocktails on our bars, we do make palomas, we do make handcrafted margaritas. 
[Related: These Texas Brands Add Authentic Flavor to Group Agendas]
We do custom beverage tastings for our events that come in. So, people come in and say, "I would like a taste panel to try your food." We actually do beverage stations where we pair the customer's preferences. Do they want a spirit board or a drink? What is your liquor of preference? And we will custom craft something for them for those tastings.
We do activations that involve sushi and sake pairings. We do luxury wine and chocolate pairings with Kate Weiser chocolates. We do fresh espresso martini stations. I mean, the sky's the limit. And again, those are things that you don't see, but our bartenders go through extensive training. They don't only do classroom training, but hands-on. They're going out to breweries, out to distilleries and experiencing the places that we're getting these beverages from as well. So, they're getting a full, well-rounded knowledge so that, again, we're not using a person that comes here once a month.
Our team is all full-time, 40 hours a week, and they're all here all day. So, you get a very versed experience team. So again, we're not your normal banquet operation. Our scores for customer satisfaction here at this hotel are some of the top scores in the Renaissance brand from North to South America and the Caribbean. So, customer-experience wise—and that's 94 total Renaissance hotels in that region—but we are performing at a very high level. Tooting my horn, for sure, but my team is who gets it done. They're the ones who make it happen and they're the ones who get our customers to say, "I'm going to come back."
Taylor Smith
Yeah, and like you said, bringing in those local vendors, bringing in that that feel for really experiencing the destination is No. 1 right now. That is what planners and attendees are looking for all around, and when you can deliver not just a program and agenda that helps you experience the destination, but you've got your base that is this hotel that really immerses you completely in everything. Everyone that works there, like you said, knows the destination. They are local, they have experienced it and done the research and have the knowledge to be able to truly immerse attendees in that destination. That is very rare. It's not that consistency that people may be used to when they go to Marriott hotels because it does do its part in differentiating itself. And I think that's very unique to the Renaissance hotels.
Eugene Blabey
It's not just a meeting. It is an experience, and that's what we want people to remember and walk away with.
Taylor Smith
Yeah. Well, Eugene, is there anything else? Any final thoughts that that you'd like to share before I let you go?
Eugene Blabey
No, I appreciate you taking the time today. This has been fun. So, thank you so much, Taylor.
Taylor Smith
Thank you! That was Eugene Blabey, director of event planning and operations at Renaissance Dallas at Plano Legacy West Hotel. Thank you for joining us for this Meetings Today Podcast. I'm Taylor Smith, destinations and features content developer for Meetings Today. If you're interested in listening to any more of our podcasts highlighting premier meeting and event destinations, check out our website at MeetingsToday.com, and thank you again for listening. 
Connect
Visit Plano
(800) 817-5266
Renaissance Dallas at Plano Legacy West Hotel
(469) 925-1800
About Our Guest
Eugene Blabey is the director of event planning and operations at Renaissance Dallas at Plano Legacy West Hotel and can be reached via email at eugene.blabey@renaissancehotels.com or over the phone at (469) 925-1816.