4 New Tech and Design Standouts on the Las Vegas Meetings Scene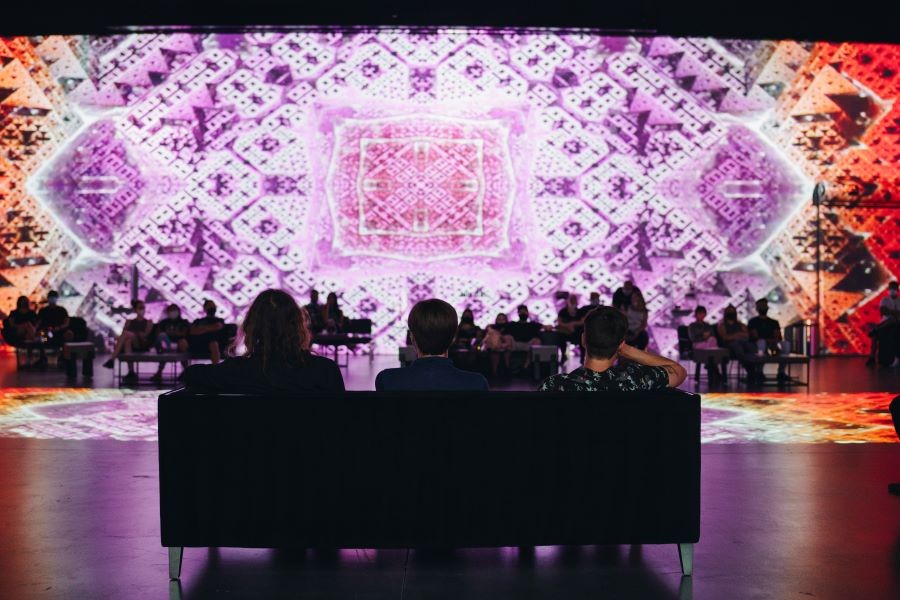 Photo courtesy of AREA15.
Always pushing the envelope to offer the best and brightest in meeting and event facilities, Las Vegas is primed for the acceleration back to in-person meetings with a variety of spaces that offer cutting-edge technology and unique experiences for groups.
Following are four standout Las Vegas venues that will amaze attendees with their tech- and design-forward offerings and provide new options for a full range of meeting sizes and styles.
The home of the NFL's Las Vegas Raiders, Allegiant Stadium is a leader in a new generation of major sports facilities that were built from the ground up to also host corporate and private events as well as major concerts.
"The technology available for private events ranges from state-of-the-art, turnkey features to intricate production support for talent and entertainment," said Samantha Johnson, sales director for Allegiant Stadium. "Each of the four clubs feature existing audiovisual capabilities such as TVs, projectors, sound systems and video walls with the capability to tie these elements into larger features such as the video and ribbon boards. Utilizing the wide variety of technology and equipment within the stadium creates an immersive environment for clients and their guests."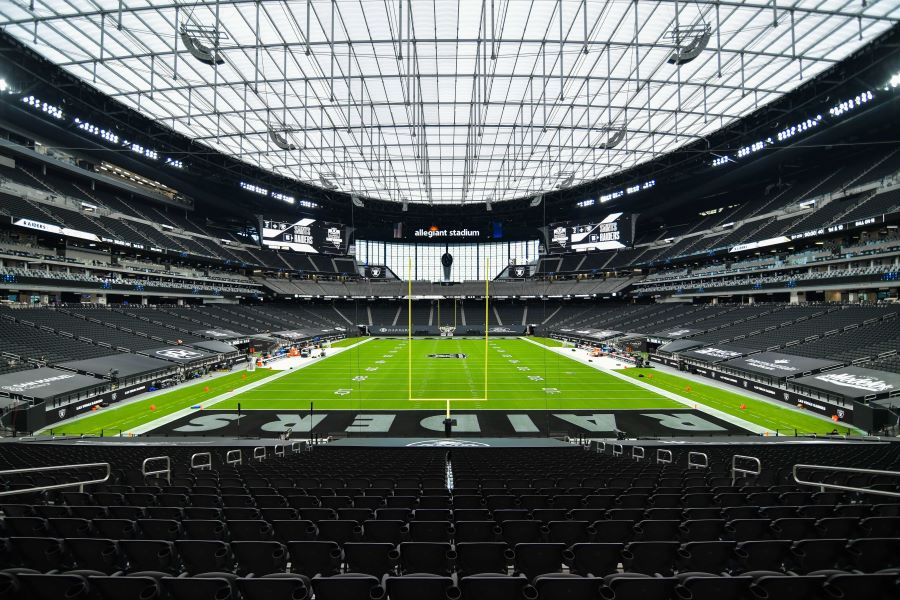 Technology highlights of the 65,000-seat Allegiant Stadium, which features more than 1,700 Wi-Fi 6 access points backed by redundant 40-gigabit optical internet connections, include the following:
Streaming Capabilities
In-house streaming capabilities
Full HDR (High Dynamic Range) capabilities
A broadcast-quality production control room with streaming capabilities
Wi-Fi and Cell Coverage
Enhanced cell phone coverage powered by 29 Matsing Ball Antennas
Uninterrupted coverage for maximum-capacity events
The best cell phone coverage of any stadium in the nation, according to the venue, covering the field as well as bowl seating
Next-generation Wi-Fi 6 connectivity for fans and backstage, which provides the best connectivity experience to mobile devices in high density environments
Wi-Fi and cell coverage that is available throughout the building, including the seating bowl, backstage complex and covers bus/truck parking area as well as parking lots attached to the stadium
Allegiant offers 10 event spaces, including an option to use the Raiders' locker room and various bar and lounge concepts, but its tech features and IT and production staffs are one of its biggest selling points.
"Not only does Allegiant Stadium offer the newest and most robust technology, the venue provides experts in their fields to guide each client through the AV planning and execution process," said Vikrant Bodalia, VP of Tech Ops for Allegiant Stadium. "Knowledgeable production, sound and audio team members are available during each step of the process to navigate the venue's offerings and work hand in hand with each client."
[See Our Dedicated Las Vegas Destination Page]
Not only is the technology experience fantastical at AREA15—an immersive art and entertainment district about seven minutes from the Strip—the venue is also ready to open a new multiuse outdoor event space for large-scale events this summer.
Named "The Grounds" and boasting views of the Las Vegas skyline, the venue spans more than four acres and weighs in at 190,000 square feet.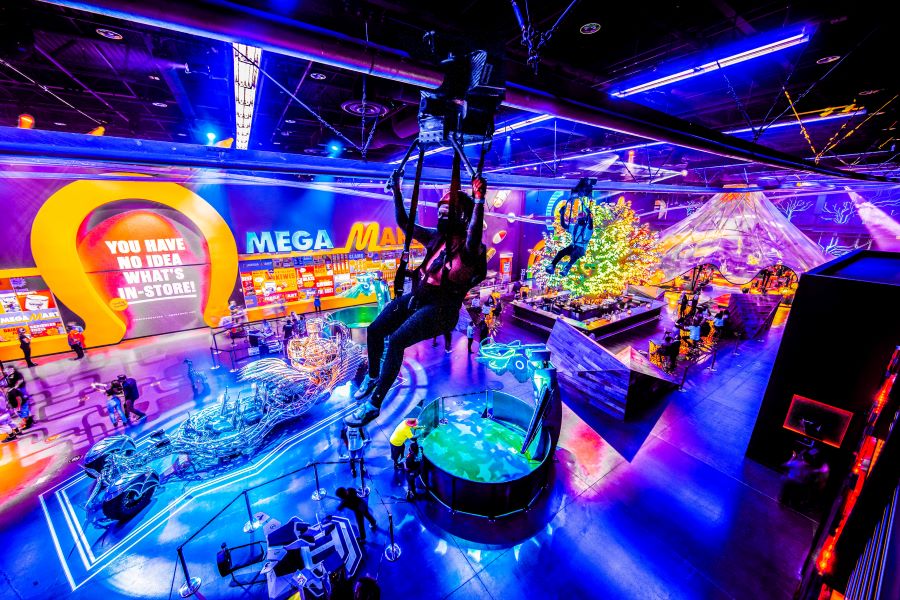 "Expanding the AREA15 campus has always been part of the overall plan for the project," said Winston Fisher, chief executive officer of AREA15, when announcing the project, and adding that the venue expects to be a major music and festival attraction once the time is right for large in-person events. "We look forward to hosting large-scale music concerts and festivals on The Grounds. The proximity of the land to AREA15, the Strip and Downtown Las Vegas will provide the concert-goer with an unapparelled experience."
[Read also: 5 New Top-Shelf Events Facilities Help Las Vegas Up the Ante]
Described as transforming visitors into another dimension, AREA15 is a multivenue carnival of the latest lighting design technology, with indoor and outdoor options providing multiple configurations for special events.
Highlights include:
1. A-Lot
A 32,454-square-foot outdoor event space that boasts jaw-dropping views of the Las Vegas Strip and is customizable for any type of event or party. The venue is surrounded by a 10-foot perimeter privacy wall and can be tented completely or partially to provide shade areas. A-Lot can be rented in conjunction with The Grounds.
2. The Portal
This 6,584-square-foot indoor space is described as taking visitors "down the rabbit hole" and features 360-degree floor-to-ceiling projection-mapped walls. The Portal also allows for access to a green room and a lighting and sound package with professional-grade audio.
3. Sanctuary
A circular indoor space designed by Elora Hardy's Balinese design firm IBUKU Design Studio, Sanctuary was constructed from bamboo imported from Bali and Java. The 1,963-square-foot venue takes the conical shape of a volcano and offers a touch of tranquility in the sensory extravaganza that is AREA15.
With seating under the 30-foot conical roof, Sanctuary is composed of all-natural materials and festooned with a lush array of plants. Guests can enjoy craft cocktails or food from The Beast by Todd English.
[Read also: Nevada Announces Tiered Reopening Timeline]
The newest entrant on the Las Vegas hotel scene, Sir Richard Branson's much-anticipated Virgin Hotels Las Vegas is a Curio Collection by Hilton-brand casino-resort that is located just off the Strip.
With a stunning modern desert design from Rockwell Group and the latest in hotel and audiovisual technology, the three-tower, 1,500-room property (guest rooms are named Chambers, Grand Chambers and Marquee Suites) features a 60,000-square-foot Mohegan Sun Casino operated by Mohegan Gaming & Entertainment, along with a five-acre pool complex and 12 exclusive food and beverage venues.
F&B highlights include Todd English's Olives; Kris Yenbamroong's Night + Market; the famed Nobu; Michael and David Morton's One Steakhouse; restauranteur Nick Mathers' Kassi Beach Club; Hakkasan Group's Casa Calavera; and signature Virgin Hotels restaurants and bars such as Commons Club, Shag Room, Funny Library Coffee Shop and The Kitchen at Commons Club.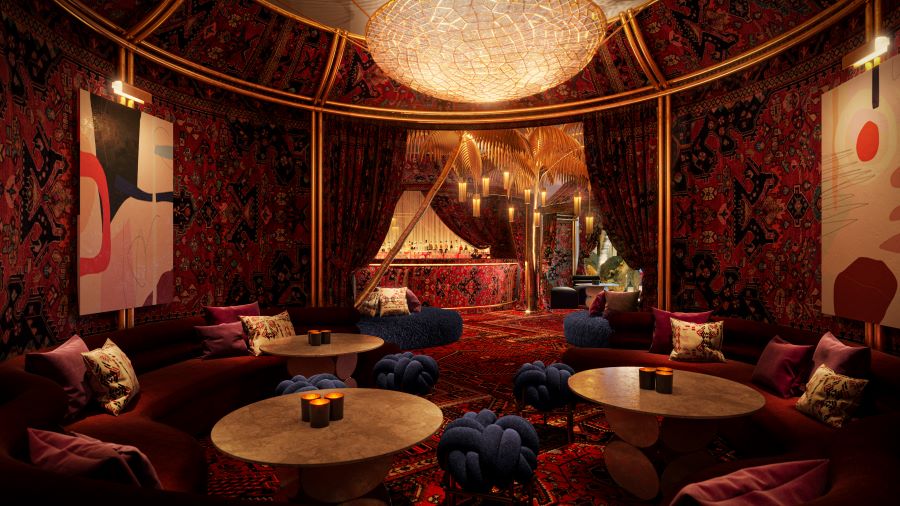 Meetings and conventions highlights include 130,000 square feet of indoor space, the state-of-the-art multiuse The Theater at Virgin Hotels Las Vegas, which offers luxury suites and two VIP lounge areas. The resort's 24 Oxford showroom will be able to accommodate more-intimate presentations.
Unique spaces include an outdoor Event Lawn that connects to the indoor The Manor event space, which in turn opens out to the resort pool and The Promenade. The resort offers a total of five acres of outdoor spaces that can be used for events.
Guest room technology includes Virgin Hotels' Lucy app, which allows guests to check into their Chambers with a mobile room key and control light and thermostat settings and order room service. Another benefit of the app technology is that it aids contactless interactions for guests.
The Venetian Resort Las Vegas—which offers a whopping 2.3 million square feet of space that includes the Sands Expo and Convention Center—added the new 8,000-square-foot The Stella Studio in fall 2020. The addition welcomes an intimate venue option that can pair with its large convention and exhibit options or stand alone for smaller groups.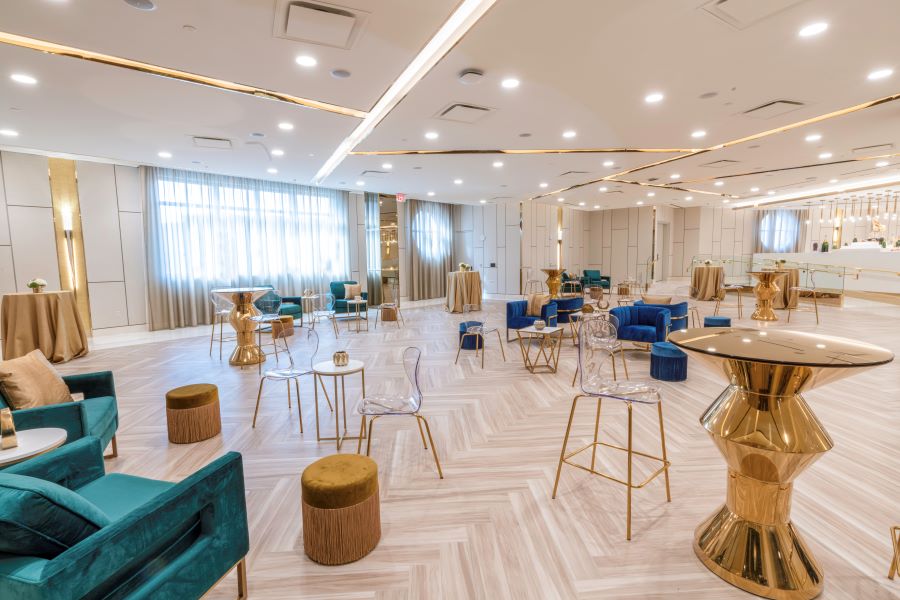 Accessible via the lobby of the Palazzo tower at The Venetian Resort, The Stella Studio also offers a private entrance, dedicated kitchen and bar, and its own restroom facilities.
"It's really an interesting and unique space that adds to all of our other unique space selections, and has a minimalistic, modern design that is really great for small meetings or smaller meetings within larger events," said Chandra Allison, senior vice president of sales for The Venetian and The Palazzo Las Vegas and Sands Expo & Convention Center. "This is really designed to accommodate small groups, but we also see larger events looking for unique spaces to create smaller think tanks and places for groups to gather for receptions, so this is really designed for those purposes."
The Stella Studio is bathed in natural light and features a neutral design that makes it a conducive palette for a wide range of events.
The Stella Studio's technology options are offered pre-packaged for groups, but they can also use Encore, the in-house technology provider, to use its production skills for virtual programs or hybrid meetings that are run in conjunction with larger in-person events elsewhere on-property. Groups can also bring in their own AV provider.
The Venetian also recently upgraded the Wi-Fi in its towers and conference centers, but providing a wide range of unique facilities that can accommodate the needs of a variety of groups is still its priority.
"Certainly, technology is important, but I think the overall experience is important, and that's where we've been investing a lot of our capital," Allison said. "We've really put a lot of investment in these unique spaces to enhance the overall guest experience."
For more information on what Las Vegas is doing to prepare for your next visit: VegasMeansBusiness.com/MeetSmart
Editor's Note: This article is sponsored by and was produced in collaboration with the Las Vegas Convention and Visitors Authority (LVCVA).
Read more: The Las Vegas meetings and events landscape is always evolving. Stay up to date with what's new on our special Las Vegas page!