5 New Top-Shelf Events Facilities Help Las Vegas Up the Ante
While the pandemic put the freeze on many in-person meetings during the last year, Las Vegas was certainly not idle, with a full complement of major new meetings and events facilities launched and ready to welcome groups with state-of-the-art space.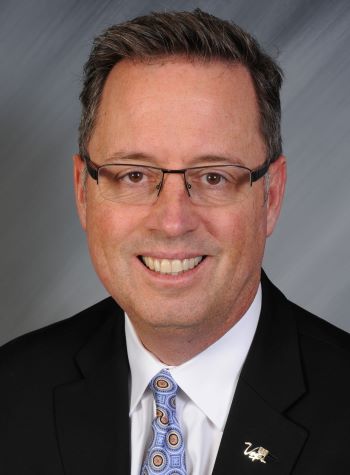 The Entertainment Capital of the World never rests on its laurels of being one of the most popular meetings and events destinations on the globe, with an ever-refreshing offering of premier event spaces that is unrivaled in its scope, technology and amenities. 
"It's really extraordinary that despite the challenges in 2020, Las Vegas moved forward with a number of major development projects, and as a destination, we've added more than 2 million square feet of meeting and exhibit space in the past year, with even more on the way this year," said John Schreiber, Vice President of Business Sales for the Las Vegas Convention and Visitors Authority.
"In addition to the Las Vegas Convention Center's (LVCC) 1.4-million-square-foot West Hall expansion," Schreiber continued, "we've also seen tremendous growth with the addition of CAESARS FORUM, the expansion to the conference center at Wynn Las Vegas, the addition of The Expo at World Market Center, and unique event space at AREA15 and Allegiant Stadium, and this year we'll welcome more conference space with the debut of Virgin Hotels Las Vegas and Resorts World." 
5 Noteworthy New Offerings
Following is a quick look at five noteworthy new meetings and events offerings for groups to tap in Las Vegas.
The expansion of the Las Vegas Convention Center's West Hall added 1.4 million square feet, including 600,000 square feet of exhibit space and a 14,000-square-foot outdoor terrace that can accommodate events for up to 2,000 attendees. 
The facility now boasts the largest column-free space in North America and offers 150,000 square feet of meeting room space, with an additional 80 meeting rooms.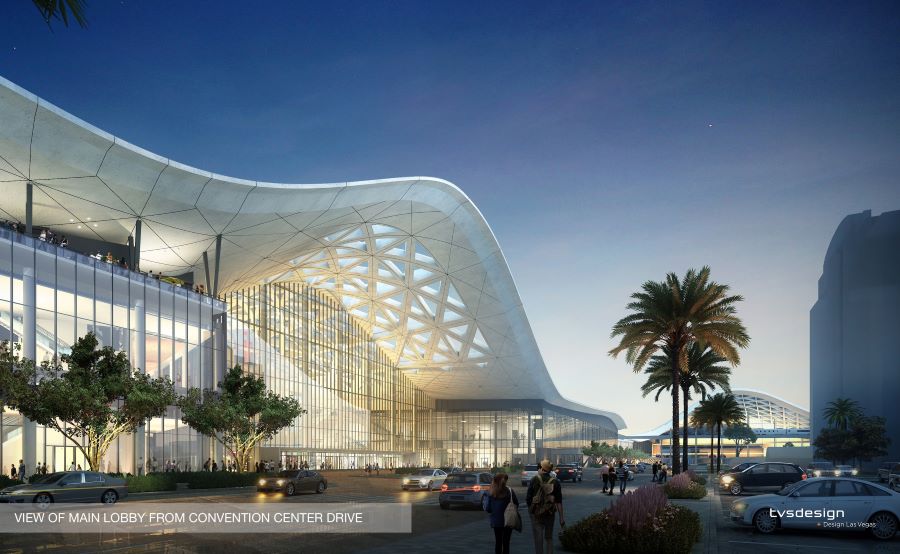 Adding significant "WOW" power is the underground transportation system called the Convention Center Loop and designed by Elon Musk's The Boring Company, which will allow attendees to be transported across the convention center campus in a little over one minute for free in all-electric Tesla vehicles. 
The LVCC was also the first facility in Nevada to earn the Global Biorisk Advisory Council (GBAC) STAR accreditation from ISSA: The Worldwide Cleaning Industry Association. Considered the gold standard in controlling infectious agents such as COVID-19, GBAC STAR accreditation is awarded after public facilities demonstrate success in meeting 20 elements that range from standard operating procedures and risk assessment strategies to personal protective equipment and emergency preparedness and response measures. 
[Related: Las Vegas Sets Foundations and Strategies for Recovery] 
"Accreditations like the LVCC's GBAC STAR, the Sands Expo's by Bureau Veritas or Wynn Las Vegas' Sharecare VERIFIED® and extensive plans like MGM's Convene with Confidence and McCarran International Airport's 'LAS All In' assure planners, attendees and exhibitors that Las Vegas' resorts and venues have put an incredible amount of time, effort and thought into bringing meetings back in a smart way," Schreiber said. "From the airport to conference spaces to restaurants and bars to your room, our resorts and venues are dedicated to providing a clean and sanitized environment while also reminding all of our guests to practice the smart behaviors, like wearing masks and keeping social distance, that will help keep us all healthy."   
Highlights of the GBAC STAR accreditation include the following: 
Having procedures in place that will uphold strict cleaning protocols for infectious disease. 
Making handwashing facilities and/or sanitizing systems easily accessible to everyone. 
Masks and social distancing mandates and recommendations that help prevent the spread of infectious diseases. 
The proper training of employees to carry out preventative measures and reporting functions. 
The use of approved disinfectant chemicals and delivery systems to ensure attendees and staff safety. 
Response protocols for skilled professionals to address potentially infected people and/or places within the facility. 
The new $375 million CAESARS FORUM conference center facility hit the ground running in October to host ConferenceDirect's annual partner meeting. It consists of the two largest pillarless ballrooms in the world, and with more than two miles of airwalls allowing for ultimate flexibility. 
A key special events venue at the 550,000-square-foot CAESARS FORUM is its 100,000-square-foot Forum Plaza, a dedicated outdoor meeting and event space that stands in the shadow of the High Roller observation wheel, itself a popular events option that offers jaw-dropping views of Las Vegas from 550 feet in the air in its 28 40-person pods.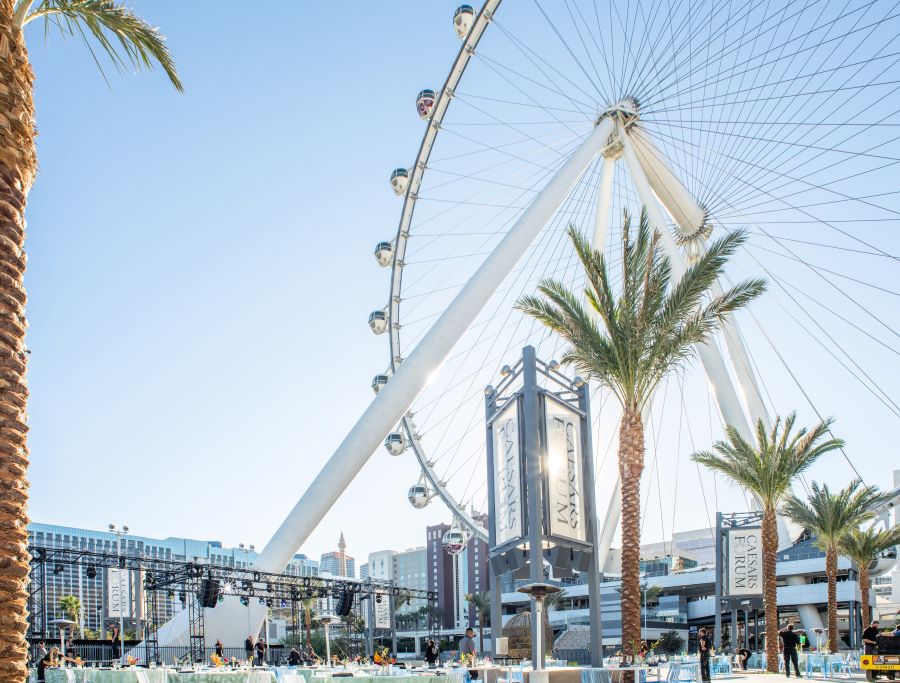 "CAESARS FORUM was built on one level with direct access to Harrah's Las Vegas, LINQ Hotel & Casino and Flamingo with 8,500 hotel rooms," said Lisa Messina, vice president sales for Caesars Entertainment. "The conference space is also connected via sky-bridge to The LINQ Promenade, the outdoor entertainment, restaurant and retail complex." 
Other notable CAESARS FORUM features include a dedicated kitchen with a first-class culinary team committed to providing extraordinary culinary experiences with restaurant-quality catering. In addition, the conference center's biophilic design incorporates elements of nature, which has been proven to increase attendee connectivity and engagement.
[Related Podcast: A Look Inside the New CAESARS FORUM and Its First Event]
"The residential feel and biophilic design are perfect for networking and learning," Messina said. "The large and spacious prefunction space has lots of natural daylight with direct access through large glass garage-style doors to Forum Plaza. Customer feedback on this feature alone has been tremendous." 
Scheduled for a summer 2021 opening, the massive Resorts World Las Vegas resort-casino boasts a 5,000-square-foot theater that's scalable for a wide variety of corporate events. Other event facility features include a 26,000-square-foot nightclub and 38,000-square-foot beach club. A 50-foot-diameter video globe will dazzle attendees via 6,000 square feet of LED content. 
"Our team has been working diligently to perfect the vision for Resorts World Las Vegas and we are excited to begin sharing that concept with the Las Vegas and greater hospitality communities," said Scott Sibella, president of Resorts World Las Vegas. "We believe Resorts World's unique design and commitment to providing cutting-edge amenities and captivating experiences are the foundation to curating a thoughtful resort experience that aims to redefine the luxury hotel standard in Las Vegas."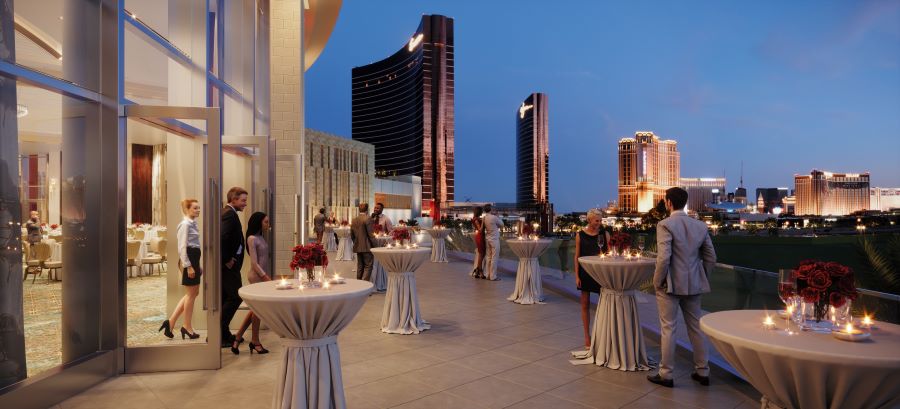 Overall highlights of the $4.3 billion, Asian-design-inspired casino-resort built by Malaysian developer giant Genting Group include:
3,500 guest rooms and suites.
350,000 square feet of meeting and banquet space.
27,000-square-foot, world-class spa.
222,000-square-foot pool complex with nine unique pool experiences, including a 1,800-square-foot infinity pool with views of the Las Vegas Strip.
100,000-square-foot West Tower LED screen (one of the largest LED building displays in the world, according to Resorts World).
A 19,000-square-foot East Tower LED screen.
A food and beverage portfolio that features a wide range of cuisine, from authentic street food to Michelin-starred dining.
Wynn Las Vegas leapt into 2020 with an expansion that more than doubled its meeting space by adding 300,000 square feet of space, bringing its total to 560,000 square feet of flexible space at Wynn and Encore.
On the events side, a highlight of the two-level expansion, with views of its 18-hole championship golf course, is a grand rotunda that leads to 18 meeting and event rooms, offering indoor-outdoor promenades and oversized terraces with floor-to-ceiling windows. The expansion also included a 20,000-square-foot outdoor pavilion that offers a 20,000-square-foot lawn, a 2,500-square-foot hospitality lounge with a 72-by-9-foot LED video wall, and an 83,000-square-foot pillarless ballroom.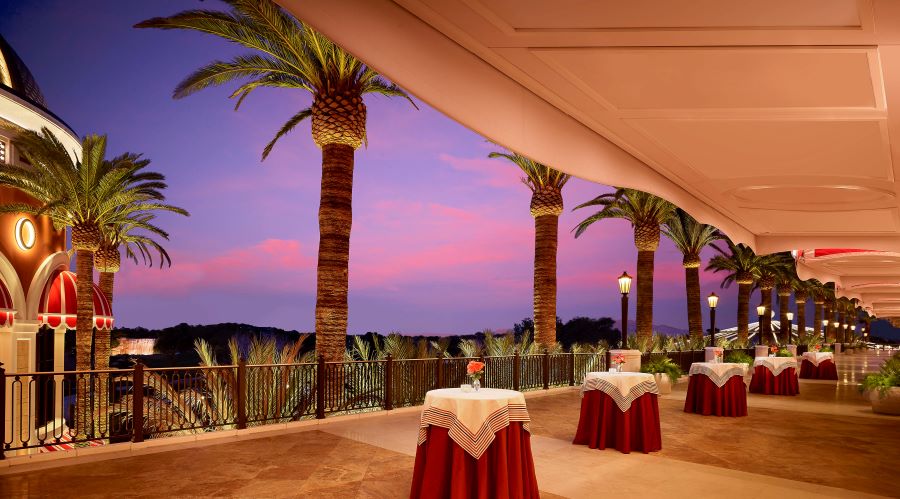 "With this reinvention, Wynn has created something truly special for clients, from museum-quality art that surveys centuries of creative culture to a transporting interplay of indoor and outdoor spaces that inspire attendees to think big," said Chris Flatt, EVP of hotel sales for Wynn Las Vegas. 
The Wynn Las Vegas expansion is on the leading edge of customer preferences, incorporating a variety of sustainable features. 
"In recent years, there has been a considerable amount of interest around "green" spaces, so we situated our expansion on the southeast side of the resort's private backyard to overlook Wynn's 18-hole championship golf course," Flatt said. "All meeting and convention space at Wynn is now powered by 100% renewable energy sourced and delivered directly from the 160-acre Wynn Solar Facility and onsite rooftop solar panels. In addition, many green event components are built into daily operations, including a robust recycling program, materials and waste management, water and energy efficiency, responsible food sourcing, and more."
[Related: Wynn Las Vegas Unveils Health and Sanitation Plan, Paving Way for Vegas Strip to Slowly Reopen] 
Downtown welcomed a major new player in the last quarter of 2020 with the 777-room Circa Resort & Casino—the first ground-up downtown casino-resort development since 1980—that pays homage to the Golden Era of the world's most popular gaming and entertainment destination.
Event facility standouts at Circa include the rooftop Stadium Swim pool amphitheater that boasts a 40-foot-tall, 14-million-pixel screen, as well as the 8,400-square-foot Legacy Club, perched on the 60th floor of the hotel and offering a 360-degree view of Las Vegas and an expansive outdoor terrace with fire pits.
A paean to the majesty of Vegas, the retro-inspired Legacy Club includes metal busts of Las Vegas icons such as Benny Binion, Sam Boyd and Howard Hughes.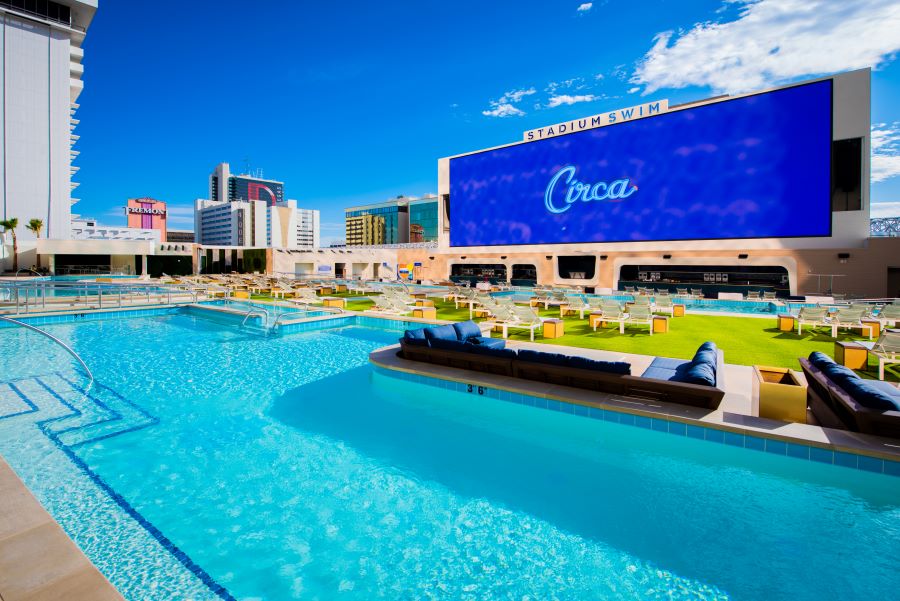 And if that's not impressive enough, the Legacy Club also features a display of 1,000 ounces of pure gold with a ticket tracking its current market value.
Its rooftop lounge, Legacy Club, hosts up to 400 guests. Here, guests can enjoy fire pits on the lounge's outdoor terrace and explore a drink selection that showcases the mixology team's takes on the classics.
 
The resort's primary meetings and events space is set to be online in 2022. 
 
The icing on the Circa cake is the return of the iconic "Vegas Vickie" neon sign in the resort's lobby. The 25-foot-tall art installation of a cowgirl features a kicking knee and was completely refurbished to give guests that retro Vegas vibe as they enter the hotel.
[Related: The Story Behind Las Vegas' Neon Lights]
Stringent Health and Safety Protocols
When groups return to Vegas, they'll not only find new venues, but enhanced safety initiatives to match. 
The LVCVA launched the Meet Smart, Vegas Smart initiative, which follows Centers for Disease Control guidelines and government mandates, and incorporates public health advancements in the application of its health and safety protocols. The LVCVA team is also ready to assist those who are ready to start planning their in-person or hybrid event.  
"Talking to the team at the LVCVA and our counterparts at the resorts and venues is key to planners confidently booking events and gathering and sharing the information that will assure their attendees. Las Vegas is known for world-class events, and we'll continue to lead the industry as in-person meetings and exhibitions return," Schreiber said. "Safety protocols and best practices are in place across the destination, and many venues, including the LVCC, have already put those practices to work with successful smaller gatherings, from meetings and training to testing or vaccination sites. We always say that planners shouldn't hesitate to reach out to us because we're the experts when it comes to Las Vegas, and that is the case now more than ever." 
[Related: Vegas From the Vault: Inside the Las Vegas News Bureau's Archives] 
Highlights of Meet Smart, Vegas Smart include advising hospitality industry employees and attendees to practice social distancing of at least six feet of separation while standing in lines, using elevators and escalators and moving about facilities. Places within facilities, such as meeting spaces, food service areas and registration, have been arranged to ensure proper social distancing. 
Other features include directives for employees to stay at home if they believe they are ill; emphasizing personal hygiene such as handwashing; posting protocol information and signage in conspicuous locations; installing hand-sanitizing stations throughout facilities, both in public areas and back-of-house; and conducting the comprehensive cleaning and inspection of facilities prior to events. 
With attendee health and safety the top priority and a range of new venues and expansions ready to welcome them, Las Vegas is primed for the return of in-person meetings, conventions and events. 
"This is an exciting time—we already know business travelers are eager to leave webinars behind and return to in-person meetings and events," Schreiber said. "Our ability to offer so many new venue and resort experiences is only going to increase their desire to get back to Las Vegas." 
Editor's Note: This article is sponsored by and was produced in collaboration with the Las Vegas Convention and Visitors Authority (LVCVA).
Read more: The Las Vegas meetings and events landscape is always evolving. Stay up to date with what's new on our special Las Vegas page!