Sourcing Hyper-Locally in NYC? This Brooklyn Chef Looks to the Skies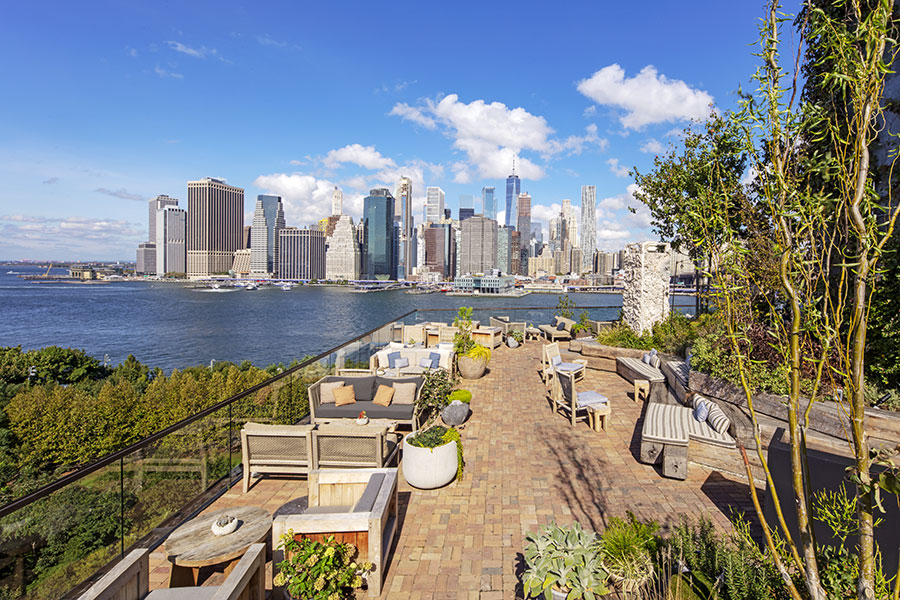 Credit: 1 Hotel Brookyn Bridge
Raised on Long Island, Denevin Miranda's passion for cooking began at home. Inspiration came from his grandmother Liberata and his mother Lilibeth, the last members of his family to emigrate from the Philippines.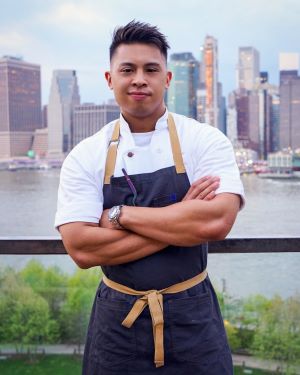 "Liberata immersed me in Filipino culinary tradition, while my mother brought Italian, Greek and other NYC melting pot cuisines to our family table," he said. 
After graduating from Johnson & Wales University, Miranda devoted over a decade to honing his craft in Miami. Resume highlights include the kitchens of luxury hotels such as the Mandarin Oriental and the SLS Lux Brickell, where L.A.-based Master sushi chef Katsuya Uechi entrusted Miranda to run an outpost of his famed Japanese-American Katsuya restaurant. 
In May 2019, Miranda joined 1 Hotels as chef de cuisine at the luxury hotelier's Brooklyn, New York, location. The brand's foundational focus on social and environmental responsibility, said Miranda, "opened my eyes to food sustainability." 
His seasonal farm-to-table New American menu for The Osprey, the hotel's destination restaurant, features "SC" (Sustainable Choice) dishes alongside vegetarian, vegan, modified-vegan and gluten-free options. Greens and herbs harvested from rooftop gardens in the historic Brooklyn Navy Yards and other NYC locales are part of his approach to "fair" local and regional sourcing. 
Focused on maintaining a zero-waste kitchen, Miranda focuses on innovations such as substituting beeswax paper for plastic wrap. He is also big on giving "second life" to ingredients. Used coffee grounds flavor the Sustainable Espresso Martini, while leftover rhubarb from Miranda's take on the classic Australian pavlova dessert goes into the delicious Rhubarb Gimlet cocktail. 
[Related: Florida's West Coast Chefs Talk Post-Covid F&B, Upcoming Food Trends and More]
"The 1 Hotels philosophy both stirred my creative juices and brought me back to my roots," Miranda said. "My grandmother had a green thumb and cultivated a garden of Filipino vegetables and fruits at our Long Island home. Instead of going to the Asian food markets in Queens and Manhattan, she grew her own lemongrass, bitter melons and other produce. Today, I embrace the slow food approach. Healthy food takes time, and I have a deepened respect for the beauty of nature, which I strive to replicate on the plate." 
Miranda's interpretive menus also reflect his mother's broader culinary lens, from his artfully dressed Razor Clams ceviche from Long Island to the Bison Ribeye from sustainable meats producer Fossil Farms in New Jersey.  
"Cattle heavily tax the earth and environment, so I look beyond beef to less impactful meat options," explained Miranda, who was crowned Chopped Champion this February on Food Network's Chopped for his take on the Filipino classic pork dish sisig. 
Group Dining Options
Miranda curates farm-to-table menus for indoor and outdoor events at The Osprey, the 10th-floor Harriet's Lounge and 11th-floor outdoor Harriet's Rooftop, where attendees can soak in unobstructed Brooklyn Bridge and Lower Manhattan views. Other versatile rentals include the 600-capacity Meadow Rue Ballroom, more-intimate meeting rooms and the 50-capacity Screening Room. 
Design elements at this ground-up, LEED Gold-certified "sustainable sanctuary" on the Brooklyn waterfront include wooden floor planks salvaged from Brooklyn's former Domino Sugar factory, lampshades made from mushrooms and greenery throughout.  
White Gazpacho With Jumbo Lump Crab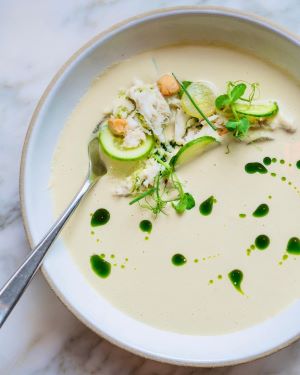 1 1/2 cups cold water 
1/3 cup whole, blanched almonds 
1 clove garlic 
2 tbsp. chopped shallot 
2 cups diced, peeled English cucumber 
1 cup green grapes 
2 tbsp. extra-virgin olive oil 
3 1/2 tsp. sherry vinegar 
1 tsp. kosher salt 
1 tsp. chives, chopped 
2 oz. jumbo lump crab meat 
[Related: Check Out More Top Chefs Recipes] 
Instructions: 
Place the almonds and garlic in a blender and puree until finely ground. Add the shallot, cucumber, grapes, oil, vinegar, salt and 1 cup of water. Puree until smooth. Taste and adjust salt as needed. Add more water to the soup as needed to achieve desired consistency. 
In a separate bowl, gently toss the crab meat with chopped chives and olive oil. 
Serve at room temperature or chilled in bowls topped with crab meat and garnished with extra chopped chives, sliced grapes and olive oil. 
Read Next: Top Chefs Share Their Moms' Love With These 18 Inspiring Recipes