The Sun Rises Again in Los Angeles for Meetings and Events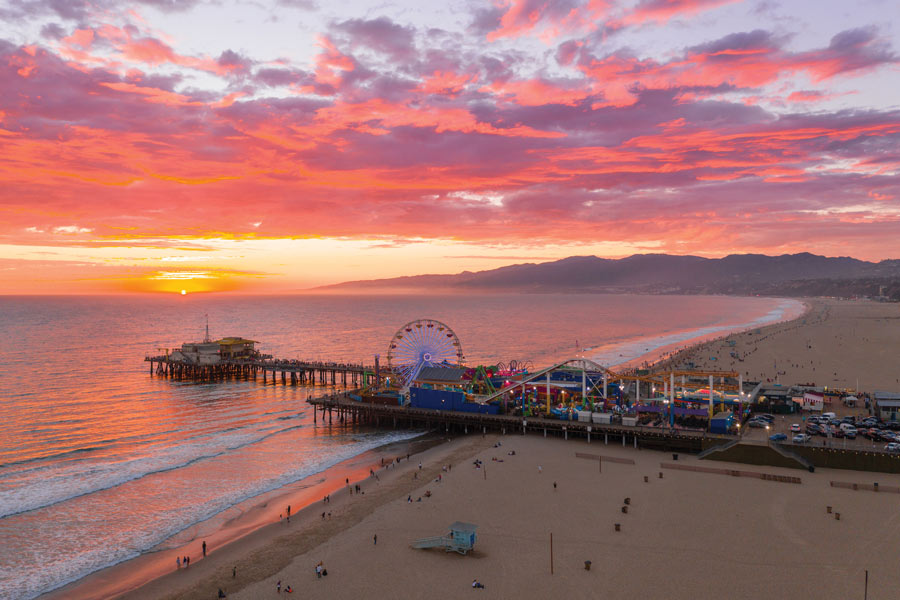 Pacific Park on the Santa Monica Pier at sunset. Credit: Santa Monica Travel & Tourism.
Everyone loves a comeback story, and after fully reopening for groups on June 15, Los Angeles has a movie-grade script prepared. 
First, the guidelines. Prioritizing safety, responsibility and vigilance, L.A. County currently requires proof of full vaccination or a negative COVID-19 test for all indoor events with more than 5,000 attendees. The same protocol is recommended for 10,000-plus capacity outdoor events. As of mid-June, 70% of Californians had been vaccinated, led by L.A. County, where the COVID-19 positivity rate was under 1%. 
In May, the Los Angeles Tourism & Convention Board ("L.A. Tourism") became the first DMO to partner with CLEAR Health Pass, a turnkey solution that enables planners to verify attendees' vaccine and testing status. L.A. is also the first destination to offer the Forbes Travel Guide's trademarked Sharecare VERIFIED program, through which L.A. hotels with 50-plus rooms can be safety-certified on 360-plus global health standards.
[Related: 3 Health-Screening Solutions for the Return to In-Person Events]
Then, the excitement. Before the pandemic, the L.A. travel industry was on a 10-year hot streak, powered in large part by its $23 billion group market. With L.A. Tourism's official "Your Comeback Starts Here" campaign inviting visitors back, the group market, with most locked-out meetings and conventions rebooked, is back on the express track.   
L.A. sees out 2021 with four citywide conventions, including GSMA's Mobile World Congress in October. Blockbuster sporting events are also poised to vault L.A. back into the global spotlight.  
Rated "Best Sports City of the Year" in 2020 by the Sports Business Journal, L.A. hosts the 2021 MLS All-Star Game this August. Future wins include next year's Super Bowl and MLB All-Star Game; the 2023 College Football Playoff National Championship; host city consideration for the 2026 FIFA World Cup; and the 2028 Olympic and Paralympic Games.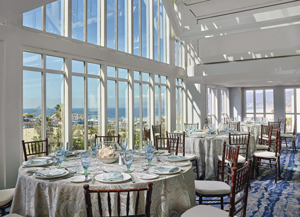 With stunning SoFi Stadium boosting L.A.'s collection of world-class event venues and the historic modernization of LAX (see LAX Soars Ahead) on track for 2023, L.A., already invested in major event infrastructure, is in the fast lane for major economic gain. 
"We are incredibly optimistic about what the future holds for meetings and conventions in Los Angeles," stated Darren Green, L.A. Tourism's senior vice president of sales and services, in a release. 
Reflecting that outlook is L.A. Tourism's sunny new logo, the first rebrand in a decade, and bright consumer sentiment. Oxford Economics forecasts "high demand" for the L.A. experience, with visitation projected to fully return to 2019 levels by 2023. 
As groups return, five local CVB leaders share their thoughts on the positives ahead. 
What silver linings came from navigating the pandemic? 

Sean Keliiholokai, Chief Sales Officer, West Hollywood Travel + Tourism Board: How the community came together to support one another. As the news changed daily, our hotels, restaurants, businesses and city officials stayed in constant communication on best practices and future outcomes to ensure there were opportunities to operate however possible.
Janet Zaldua, CEO, Marina del Rey CVB: Strong local relationships were a major plus, allowing us all to pivot quickly and respond to the needs of visitors, residents and business partners throughout the pandemic. Through industry alliances, we connected with our chamber of commerce and travel colleagues to learn from each other and stay informed on topics such as available grants and loans. 
Businesses such as our yacht charters and kayak and paddleboard rental vendors fared well as people sought safe activities outside of the home and away from crowds. As we reopen, visitors are quickly discovering that our open spaces and water access allow for natural social distancing.  
Steve Goodling, President and CEO, Long Beach Area CVB: We took it as an opportunity to explore and drive new trends in the industry. Examples include our new hybrid events offering, Long Beach Live. Co-developed with the Long Beach Convention & Entertainment Center, the service includes an in-house Director of Creative Initiatives to produce multi-camera, live, interactive client and community events.
[Related: Downtown Los Angeles Hotels Are Stepping Up to the Pandemic Challenge]
Julie Wagner, CEO, Beverly Hills Conference & Visitors Bureau: Taken out of our comfort zones, we explored creative new ways of conducting and generating business.
This made our team stronger and more dynamic, and I am confident that we will meet the next obstacle with even more critical thinking and poise. 
Misti Kerns, President and CEO, Santa Monica Travel and Tourism: Most beneficial would be the community-wide collaboration that resulted in many creative solutions to the pandemic.
With more partners working seamlessly together, we were able to generate quality ideas and better results for the issues. It was truly a public and private partnership focused on the common goal of destination recovery. 
Do you now see opportunities to do things differently? 
Zaldua: Definitely. The pandemic reinforced my belief in family first and fostering a positive and supportive work environment. Providing greater flexibility for staff that may be helping their children with remote schooling or caring for a parent is important. Our structure allows for flexible work hours and remote work for some employees. Being understanding while maintaining expectations is essential for keeping morale high.  
Budget cuts included having to move our office into a bungalow trailer, but we are staying positive by streamlining operations, working smarter, sharing jobs and cross-training staff to maintain our quality service. Above all, the pandemic reminded us to have fun, not sweat the small stuff, and support and encourage each other.  
Wagner: We are looking at new ways to be economically efficient and tend to the morale and physical safety of our team. We are also evaluating our mission to maximize opportunities that will grow our business in a highly competitive market. 
Keliiholokai: We see more streamlining as an organization and an industry. Additionally, we will continue to promote the direct impact that meetings and leisure visitors have on our hotel and business community. 
Kerns: If anything, the pandemic taught us how to be more flexible in our planning, super responsive to the needs of businesses and the community, and even more reactive to our employees' challenges. Flexibility is ingrained in our DNA and the pandemic provided us the opportunity to maximize that trait in our programs. 
Goodling: Hybrid events are here to stay. And contrary to some thinking, virtual event options increase, not reduce in-person attendance. Our July 4 fireworks show, for example, attracted record attendance of 50,000 people, with an additional 41,000 people livestreaming online. Going forward, we will leverage the turnkey facilities at our convention center along with Long Beach Live to offer an even greater suite of options for planners. 
How are you now positioning for the group market? 
Keliiholokai: Our core advantages are unchanged. Located in the geographic heart of L.A., we are close to LAX, the beaches and area attractions. We are California's most walkable city and famed for our eclectic nightlife—the day does not end when the meeting is over in WeHo.  
As meetings rebuild, we will continue to highlight the uniquely scenic outdoor and non-traditional spaces that make our venues and hotels exceptional. And we will continue to make our international planners aware of safety best practices as we hope to have them back soon. 
Goodling: Groups want expertise, authority, trustworthiness and options. Planners want to know about turnkey options and their value, along with unique options for their attendees. Long Beach's value proposition remains based in our urban waterfront location and turnkey spaces with major cost savings. Our new Long Beach Live solution has exponentially increased that value, as hybrid events are an opportunity to increase registration and sponsorships, and host more productive meetings. 
We are leaning heavily on in-house, local expertise to promote Long Beach to planners and visitors through original content in the form of videos and listicles (bite-sized articles), which we repurpose to inspire our marketing. 
Wagner: While particularly focused on safety for all, our messaging remains the same. From a distinctive sense of place to attention to seamless planning, Beverly Hills is the perfect location for mid-sized incentive and meeting groups. And from sending out Beverly Hills-themed gift boxes to attending shows like GMITE, we are actively reaching out to loyal customers and businesses that are ready to meet again. 
Kerns: Having operated at various levels throughout the pandemic, we are now aggressively educating our group audiences on the Santa Monica experience, our open venues and the availabilities for booking new business.  
We are also conducting branding research with the city to introduce a "Shared Identity" program that emerged from public-private collaborations during the crisis, which will help all entities to re-introduce Santa Monica. 
Zaldua: Our post-pandemic messaging strategy will emphasize our appeal for small and mid-size groups. Less crowded than our beach town neighbors, we promote our spacious, flexible indoor and outdoor spaces; convenient location just four miles north of LAX and within driving distance of major attractions such as SoFi Stadium; and "wow factor" venues including 550-capacity yachts, waterfront restaurants and hotels with harbor-facing event rooftops and terraces. 
LAX Soars Ahead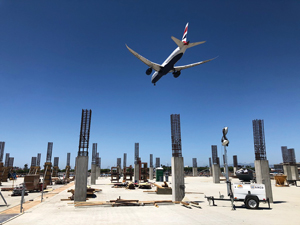 With landing lights filling the sky and L.A.'s vast grid sparkling like diamonds below, nighttime descents into Los Angeles International Airport (LAX) are a fittingly cinematic prelude to arrival in the City of Angels. Ground transfers to and from the world's fourth-busiest airport, meanwhile, can evaporate any fantasy.  
Crowded freeways and clogged surface streets are one migraine. Another on-peak headache can be taking 45 minutes to navigate the terminal loop.  
That's all set to change as LAX progresses with its $5.5-billion Landside Access Modernization Program (LAMP), part of a revolutionary $14.5 billion upgrade plan.  
Ushering in a new era of ease and resiliency by 2023, major components include the centerpiece Automated People Mover (AMP).
Running every 90 seconds around the clock, this $2 billion, 2.25-mile elevated guideway train will deliver passengers from three external stations to three terminal stations with moving walkways. The AMP also connects to the new $1 billion Consolidated Rent-A-Car (ConRAC) Center.  
Combining all rental car operations into one Pentagon-sized building, the LEED Silver certified, solar-powered center directly accesses the 405 Freeway. Housing 18,000 cars, ConRAC is projected to eliminate 3,200 daily shuttle trips around the terminal loop and side streets.  
The AMP also connects with the new Intermodal Transportation Facility-West (ITF-West). Targeting an August 2021 opening, this new passenger drop-off and pick-up center includes 4,800 new short- and long-term parking spaces. 
LAMP incorporates LAX-wide roadway improvements and will also link to L.A. Metro's light rail system via the future Airport Metro Connector (AMC) Station. 
Other major airside investments include the $477.5 million Terminal 1 extension, opened this June with a future APM connection. The $1.7 billion, five-level, 15-gate West Gates expansion of Tom Bradley International Terminal was unveiled in May. 
Travelers can get rapid PCR testing at the nation's first permanent airport lab and free Johnson & Johnson "one and done" vaccinations, with no paperwork or appointment required.
Read Next: 3 Major California Destinations Eager for June 15 Reopening
Connect 
Beverly Hills Conference and Visitors Bureau 
310.248.1015  
Los Angeles Tourism & Convention Board 
213.624.7300 
562.436.3645 
424.526.7900 
Santa Monica Travel and Tourism 
310.319.6263 
West Hollywood Travel + Tourism Board 
310.289.2525