North Carolina's Diverse Event Venues Showcase a State on the Move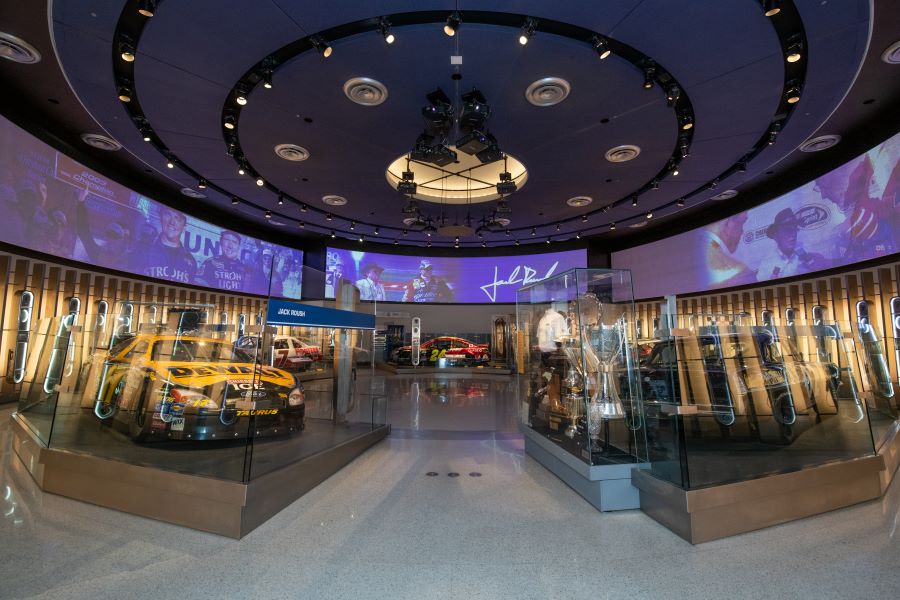 Charlotte NASCAR Hall of Fame. Credit Visit Charlotte.
From the tranquil byways of the Blue Ridge Mountains to the booming urban areas of Charlotte, the Triad and Research Triangle—and up and down the Atlantic Coast—North Carolina is a state chock full of unique experiences. 
Following are some of the top offsite venues in the Old North State that are unique to the destinations where they are located and indicative of the state's tremendous recent growth and diversity of people, experiences and natural environments. 
[Related: Why the Cuisine of the Coastal Carolinas Is Such a Treat]
Asheville 
The progressive Blue Ridge Mountains town of Asheville is a hot meetings destination and center of arts and culture that is drawing young people because of its pleasant climate, surging technology and outdoor recreation industries. The town's booming music, craft beer and brewery scene certainly doesn't hurt, either! 
A top special events venue here is Salvage Station, set along the French Broad River about a half mile from downtown. The venue, which offers ample space for outdoor mingling, features an outdoor stage with lawn seating and also an indoor stage. Groups can rent out the full-service facility for private events with F&B options that center on contemporary Southern cooking.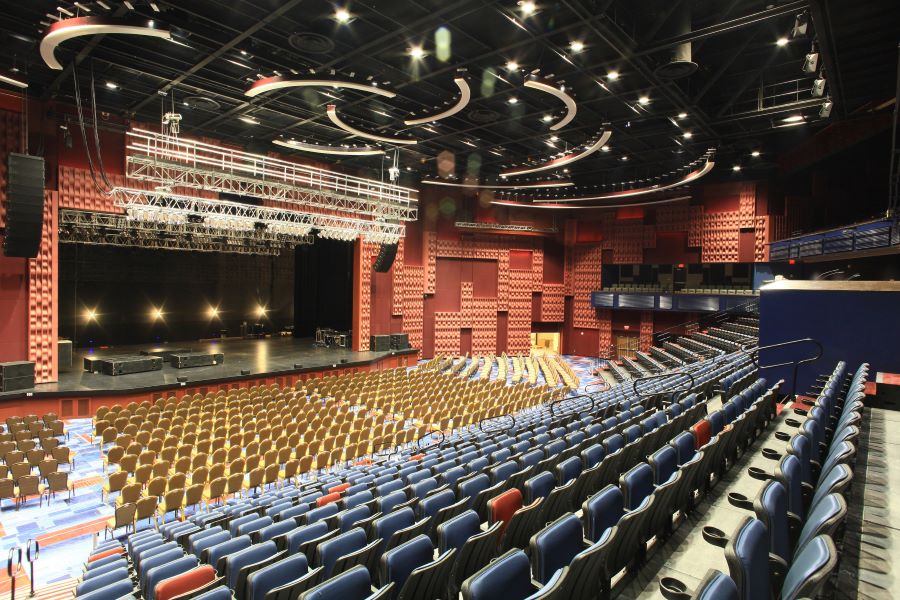 About an hour west of Asheville in the Great Smoky Mountains, Harrah's Cherokee Casino Resort is changing the face of meetings and events in the region, and its tri-level, 3,000-seat, 21,000-square-foot Event Center has drawn A-list acts such as Alicia Keys, Dolly Parton, Chris Rock, George Lopez, Tim McGraw and Willie Nelson. 
[Related: Native American Casinos Have Given Back Big During the Pandemic]
The casino-resort offers a total of 83,000 square feet of conference space that emerged from a $350 million expansion project that wrapped in spring 2021, including a 32,000-square-foot ballroom and a 33,000-square-foot exhibition hall.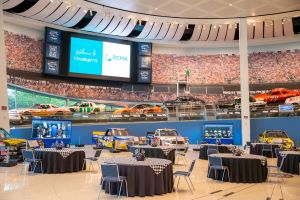 Charlotte 
An offsite venue that epitomizes Charlotte—the sophisticated, fast-growing metropolis that is North Carolina's largest city and corporate center—is the NASCAR Hall of Fame. 
A huge plus regarding the facility is that it is managed by the Charlotte Regional Visitors Authority, along with the 10,000-seat Bojangles Coliseum and the 20,000-seat Spectrum Center performing arts facility. Catering is handled in house by the team at the Charlotte Convention Center. 
"The NASCAR Hall of Fame is perfect for those opening night events, so planners will contract both," said Mike Butts, executive director of Visit Charlotte, in an article on the city in the March 2021 issue of Meetings Today. "It can accommodate up to 3,000 people in a phenomenal atmosphere, so that makes life easier for the meeting planner because we're fully integrated because we're one company." 
[Related: New Meetings and Events Developments Have Charlotte Rocking]
Event rental highlights include a full buyout of the entire facility or in specific areas such as the Great Hall; High Octane Theater & Lobby; Inside NASCAR & Heritage Speedway room; Hall of Honor; Legends Room; and The Plaza. 
Depending on the venue choice, attendees will be feted amongst artifacts and other memorabilia and/or mingle encircled by pristine racing cars. Racing simulators are also in the offing to get attendees blood pumping and heart rates surging.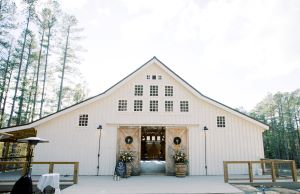 Chapel Hill 
Home to the University of North Carolina, and the arts and culture that environment always brings to a community, historic Chapel Hill also resides in progressively rural Orange County, and as such boasts a variety of upscale "event barns" ideal for offsite functions. 
"Orange County and Chapel Hill, North Carolina, is known as a college town and is home to the University of North Carolina," said Marlene Hampton, director of sales for the Chapel Hill/Orange County Visitors Bureau. "But rural Orange County is home to over 100 working farms and several non-traditional and unique event spaces in barns surrounded by acres of beautiful rolling hills and lush landscapes. It's a great way for attendees to feel connected with nature and open spaces away from city distractions." 
[Related: 8 Historic Venues for Meetings in North Carolina]
Highlights include: 
Lavender Oaks Farm features two restored timber-frame barns on its 60 acres, which also includes 1.5 miles of trails winding through the lavender- and forest-filled countryside. The Main Barn, built near the turn of the 20th century, offers 7,000 square feet that includes a gourmet kitchen. A 3,000-square-foot outdoor patio with a stone fireplace is just off the Main Barn and a covered outdoor Pavilion Barn is ideal for cocktail receptions. 
Barn of Chapel Hill is a 22-acre family flower farm located 12 miles from downtown. The barn was built in 1864 in Marcy, New York, and relocated to the farm in 2016. It can accommodate up to 200 for a sit-down meal or 250 for a reception. Larger events can also utilize outdoor spaces. 
The Barn at Union Grove Farm sits on 500 acres, with more than 10 acres dedicated to grapes, fruit trees and berry bushes. The newly completed post-and-beam barn offers more than 4,400 square feet of indoor space and an additional 1,000 square feet on a covered porch. The barn can accommodate an event of up to 200 guests, with additional grounds available for receptions and other activities. Additionally, the owners' French-country-style farmhouse, with seven bedrooms and bathrooms, plus three fireplaces and a swimming pond, is also available for rental. 
The Barn at Valhalla is nine miles away from downtown Chapel Hill and offers four spaces available for event rental on its 30 acres: The Barn, The Lodge, The Gazebo and the Hearth Deck. All of the venues are connected by wood-bridge walkways. The Barn features a wraparound deck with a fire pit area and a lake, is lit by market lights for evening events, and can accommodate up to 150 guests. Overnight accommodations for up to 26 people are available in The Lodge, with a "secret door" that leads downstairs to a fully equipped game room.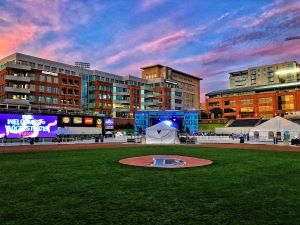 Durham 
Joining Chapel Hill and Raleigh in a booming metropolitan area dubbed "The Research Triangle," Durham is the center of a hip urban scene punctuated by innovative restaurateurs and a growing maker community. But while Durham is on the cutting edge of artful innovation, one of its signature venues hearkens back to tradition, in some respects. 
Durham Bulls Athletic Park, a 10,000-seat venue that's home to the Triple-A Durham Bulls baseball team, may evoke attendee questions as to whether it was the location for the iconic baseball movie Bull Durham, but that was actually filmed in Historic Durham Athletic Park about a mile away. The new facility does show off memorabilia from the movie, however. 
For larger special events, though, you can't beat the current home of the Bulls, which opened in 1995 but benefitted from a significant renovation in 2013 that upped its offering as an events venue. 
"It turned the facility much more into a 365-day facility rather than a six-month facility," said Scott Strickland, assistant general manager of operations for the Durham Bulls Baseball Club. "We're unique in that on one side of the room you have floor-to-ceiling glass overlooking a baseball stadium, which is all surrounded by beautiful office buildings and a reimagined downtown Durham." 
Strickland said the facility frequently hosts organizations that want to do training or teambuilding events, such as a half day of training followed by lunch and some time on the field for activities like batting practice. 
The park's PNC Triangle Club, located on the third level behind home plate, offers an upscale buffet dining experience for groups of up to 277 on games days or can be rented out as a standalone venue on non-game days.  
Strickland said the facility has recently been popular as a space for local organizations to gather team members in a safe outdoors environment during the pandemic.  
"We've had people that have worked here for six months and haven't met each other yet," he said of Durham. "We've had events for 50 people and put them on the field for batting practice. That was something that our field and outdoor spaces could provide last year to a number of companies." 
Greensboro 
Another rapidly growing North Carolina metro area—if you see a theme when it comes to the exploding growth in the state, you'd be correct—Greensboro is located in the "Piedmont Triad" section of the state (which also contains Winston-Salem and High Point), not to be confused with the neighboring Research Triangle, commonly referred to as "The Triangle." 
The big news in the growing metro is the Steven Tanger Center for the Performing Arts, an $85 million, 3,023-seat performing arts venue—one of the largest between Washington, D.C., and Atlanta—that opened in September 2021. A thoroughly impressive venue for national touring acts as well as Broadway-style shows, the facility can also be rented out for special events. 
Centrally located in downtown in the city's burgeoning arts community, the venue's Phillips Hall boasts an 8,000-square-foot limestone and glass lobby. Other rental options include the Koury Family Grandview Room, Brady Services Suite, Lee-Wrangler Lounge, Joseph M. Bryan Starlight Veranda, Carroll Family Terrace and Founders Lounge. 
Befitting its standing as a premiere modern performing arts venue, the facility is equipped with the latest AV and stage capabilities. 
Raleigh 
The state capital of Raleigh is well known for its attributes as a meetings destination, with a compact, special-event-friendly downtown that features the Raleigh Convention Center. Citywide groups such as the annual IBMA World of Bluegrass can hold conventions at the convention center and block off parts of downtown for performance stages, and also use the state-of-the-art Red Hat Amphitheater for larger shows. 
[Related: Raleigh's Live Music Scene Is On Fire]
Another interesting option, and located about a mile and half from the convention center, is Raleigh Beer Garden, which claims a Guinness World Records title as the world's largest selection of draft beers available in one restaurant—with more than 350 on tap!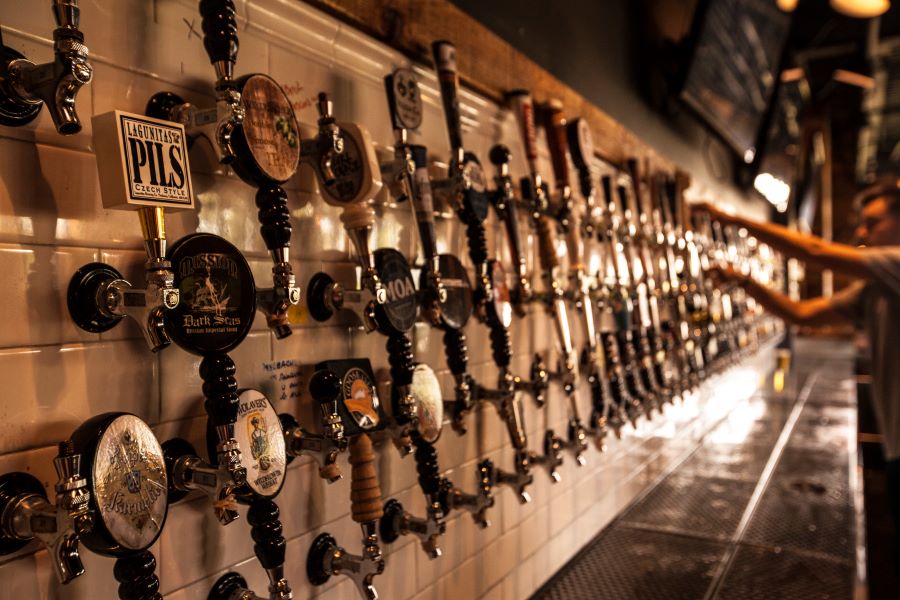 The outdoor portion of the venue can hold up to 400 guests and indoor spaces can hold up to 100. Groups opting to buy out the entire facility can easily hold a few hundred indoors and 400 more outdoors, according to the venue. 
"The Raleigh Beer Garden is not only a sight to behold and a truly unique offsite meeting venue in and of itself, but it's also a perfect representation of Raleigh's diverse population," said Gillian Shepherd, general manager of the Raleigh Beer Garden. "On any given day, you'll find people from all backgrounds and walks of life gathered over a cold beverage of their choice conversing, catching up with old friends and making new ones. With over 350 beers on tap, a great food menu, onsite catering, views of the downtown skyline and multiple spaces—indoor and outdoor—all within one venue, it truly is a meeting planner's dream." 
Wilmington 
The historic coastal town of Wilmington may be more known for its premier beaches, but its Airlie Gardens, near Wrightsville Beach, is definitely a scene-stealer for special events. 
Once the setting for lavish events as the garden estate of Pembroke and Sarah Jones, Airlie is now a public park. Overlooking the Intracoastal Waterway, the lush expanse is famed as the site of the Airlie Oak, the "state champion live oak" that is estimated to be more than 450 years old.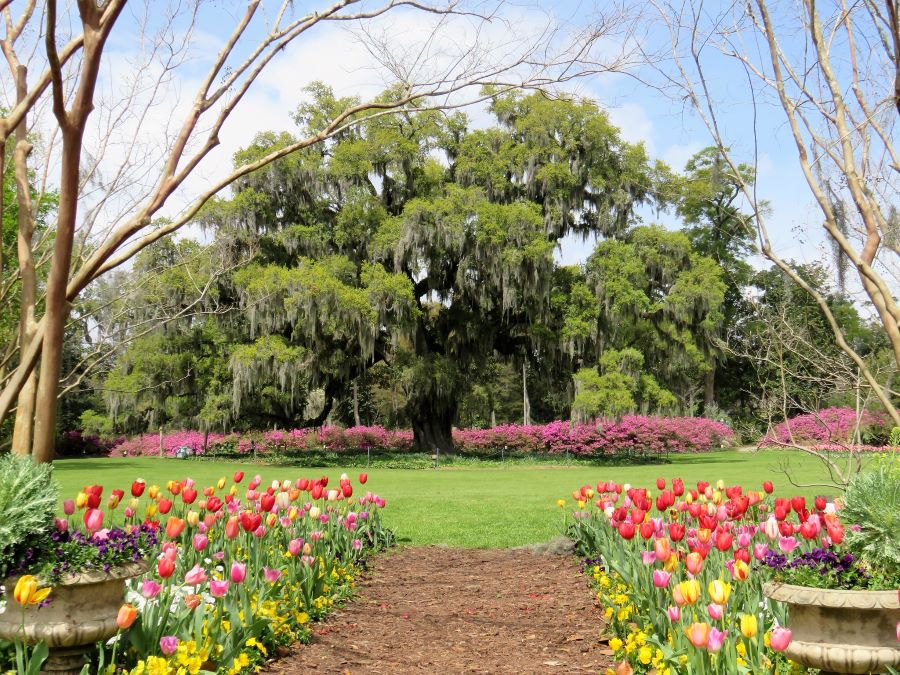 "Airlie Gardens is, simply, the quintessential formal Southern garden," said John Sneed, vice president of sales and services for the Wilmington and Beaches CVB. "If Spanish mossed-draped, ancient live oaks surrounded by water views, colorful blooms, amazing architectural and art installations sounds like a dream setting, we can make it a reality for you. Formerly a playground for the rich, it is now a public park available for all to enjoy as an attraction, or as a private venue for your special event." 
Venues available for rental include the Spanish-moss-draped Oak Lawn, the Bradley Creek Lawn, whimsical Minnie Evans Bottle Chapel and the Pergola Garden. Airlie can facilitate tent rental and catering.
Read Next: The Coastal Carolinas Plates Up a Bounty of Group Dining Options