10 Tips to Make In-Person Meetings Comfortable Again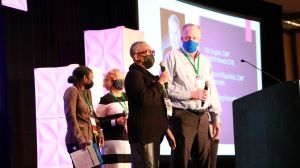 Since the pandemic began, event service professionals have taken a prominent role in helping meeting planners deliver a safe conference at every locale. 
After all, service pros have the local relationships, the insight on ever-changing mandates and industry knowledge from their experience working on a variety of events every day of the year. 
When we at Event Service Professionals Association (ESPA) held our first in-person, annual conference in two years this past January, we used best practices that allowed us to produce a safe event. With the rest of the country transitioning back to in-person, here is our roadmap for a comfortable experience.
[Related: Learn COVID-19 Protocol Best Practices Gleaned From ESPA's Annual Conference]
1. Take Action Before the Event
Pre-event decisions are the secret to success when it comes to producing comfortable in-person events during the pandemic. Regularly review the CVB website, which is a resource for local requirements and guidelines. Decide what the test or vaccine requirements will be for attendees. (ESPA required all attendees to show proof of vaccination, or a negative PCR COVID test performed within 72 hours of the conference. Then, we asked advanced health screening questions to further mitigate any risk.) 
2. Hold Partners to the Same Standard
Review the health protocols of your venue, including fresh air ventilation and cleaning practices, and contractors (i.e., your AV team) to ensure their standards meet or exceed yours. If not, require them to follow your standard during the event. 
3. Use Technology to Your Advantage
Don't put your staff in the position to police registrants. Use an app to collect proof of vaccination and tests results as well as answer any questions before the event.
[Related: 3 Health-Screening Solutions for the Return to In-Person Events] 
4. Request Reassurance
Recommend that registrants get the vaccine booster if they qualify for the shot, and to take a rapid or at-home COVID test prior to departure.  
5. Use the Honor System
Ask registrants to support and abide by the established safety protocols for the best interests of all attendees and agree to remove themselves from the conference if they start experiencing any COVID symptoms. They should also notify a staff member, who will assess the impact it may have on other attendees. 
6. Require Masks
Consider requiring that attendees wear masks indoors—except for eating and drinking—and on transportation. Provide N95 masks—no cloth or surgical masks—to all attendees. 
7. Double-Down on Comfort
Give attendees the option to choose different-colored lanyards to communicate their comfort levels while networking. For example, red could mean, "I'm keeping my distance," while yellow would express, "I'm being cautious; I'm okay with talking and elbow bumps." Green would signify the highest level of comfort: "I'm feeling okay with hugs and high fives." 
[Related: A COVID-19 Convention Services Roadmap to Recovery] 
8. Offer Seating Options
Allow attendees to choose their own seating preference. For instance, each session room could offer one seat per six feet, classroom seating, as well as banquet rounds with four seats. For the general session, you could offer theater seating spaced three feet apart. 
9. Make F&B Faster and Safer
Serve individually packaged breakfast items, which could be wrapped bagels and muffins, individually packaged fruit, yogurt and granola. Present a plated lunch by attendants wearing N95 masks. Organize coffee breaks as an individual grab-and-go, alleviating the chance of lingering and the need for multiple people using the serving utensils. Possible examples could include individual glasses with smoothies, crudités or apples with caramel sauce. 
10. Relax
You got this. Event service professionals are ready to help meeting planners deliver memorable in-person conferences once again that are comfortable for all attendees. 
Read Next: Opinion: You Need Event Service Profs More Than Ever. Here's Why