Fontainebleau Las Vegas Circles Back With More Hospitality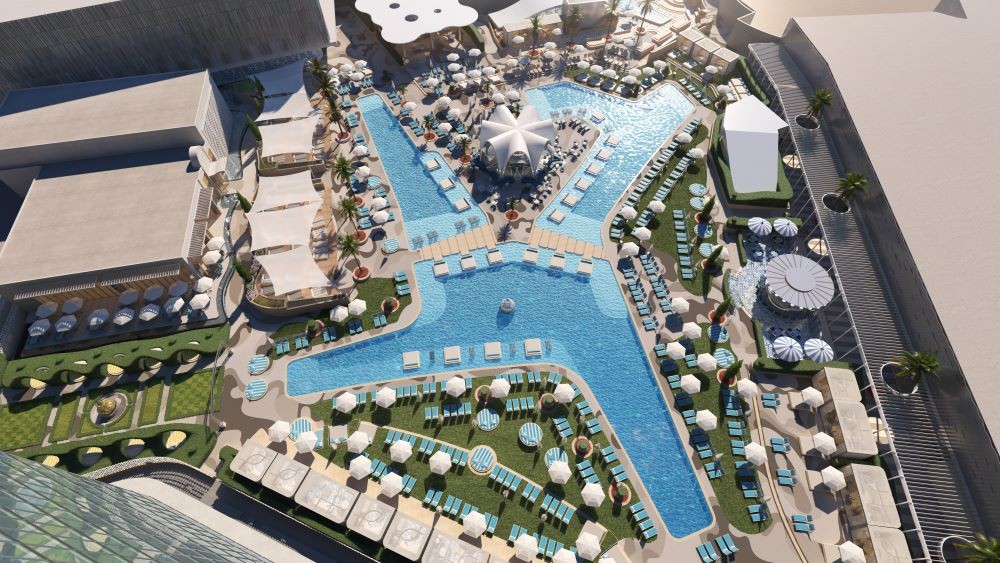 Fontainebleau Las Vegas Pool District. Credit: Fontainebleau Las Vegas.
Between 1948 and 2005, the land cornering at Las Vegas and Elvis Presley Boulevards was home to the Thunderbird, Silverbird, El Rancho and Algiers hotels. The site's next chapter began in 2007 when Fontainebleau Development, with iconic Fontainebleau Miami Beach in its portfolio, broke ground for 67-story Fontainebleau Las Vegas.
In 2009, with the steel and curtain wall up, the global downturn halted construction. Last year, Fontainebleau Development and partner Koch Real Estate Investments returned to finish the idled project.
Neighboring the $1 billion West Hall expansion of the Las Vegas Convention Center, the vertically integrated luxury resort-casino, with 3,700-plus rooms and a major emphasis on meetings and conventions, is slated to open in Q4 2023.
Here, Senior Vice President of Sales, Catering and Conference Services Tony Yousfi, a 15-year Las Vegas hospitality executive, previews the unique and exciting opportunities for groups ahead.
[Related: Hard Rock International to Acquire Las Vegas' The Mirage]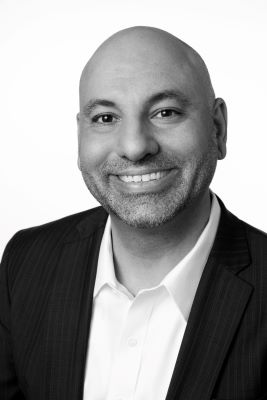 Meetings Today: "If you create the stage setting and it is grand, everyone who enters will play their part," proclaimed Morris Lapidus, the self-described "architect of the American Dream" and mastermind behind the iconic Fontainebleau Miami Beach. What will make Fontainebleau Las Vegas a dream stage for groups?
Yousfi: We designed our meeting spaces with the goal of fulfilling the needs and desires of planners and guests, starting with a focus on exclusivity and the ability to meet without interruption. 
Secluded from the hotel and casino, our conference center will allow for maximum group performance. Knowing that many planners look for an indoor/outdoor experience, we will offer a hospitality garden featuring a waterfall surrounded by with lush plantings. Exclusively for group use, it will be a one-of-a-kind option in the market.
Our vertical design provides additional flexibility and cost savings. Directly serving the conference center without stopping, six freight elevators, which can accommodate multiple vehicles for automotive shows and other large-scale events, will save the average group 30%, labor-wise, when loading in and out.
What is your core selling point and value proposition for groups?
Offering more than 550,000 square feet of space, including one of the largest pillarless ballrooms on the Strip at 105,000 square feet, we are built to concurrently accommodate groups of all sizes.
Large buyout groups have exclusive access with a seamless transition between five floors of meeting space. We can dedicate three floors to smaller groups, for total privacy from larger groups. Our hosting versatility, down to the smallest wedding or business meeting, truly differentiates us.
How will Fontainebleau Las Vegas synergize with the North Strip's renaissance while asserting its own destination appeal?
Fontainebleau Las Vegas is leading the shift of ultra-luxury brands and properties to the North Strip. In seizing the opportunity to make the iconic Fontainebleau brand the centerpiece of this "destination within a destination," we are excited to play a leading role in the future of the area by creating energy and momentum for others to invest around us. 
What does your alliance with global sales leader the Teneo Hospitality Group bring to the table?
Partnering with Teneo allows us to expand our efforts worldwide. We're able to leverage Teneo's invaluable customer relationships, establish our presence in new markets, and offer groundbreaking experiences in a prime meeting destination.
Read this next: Fontainebleau Las Vegas Set to Open in Late 2023