New and Tried-and-True Event Options in Austin and the Hill Country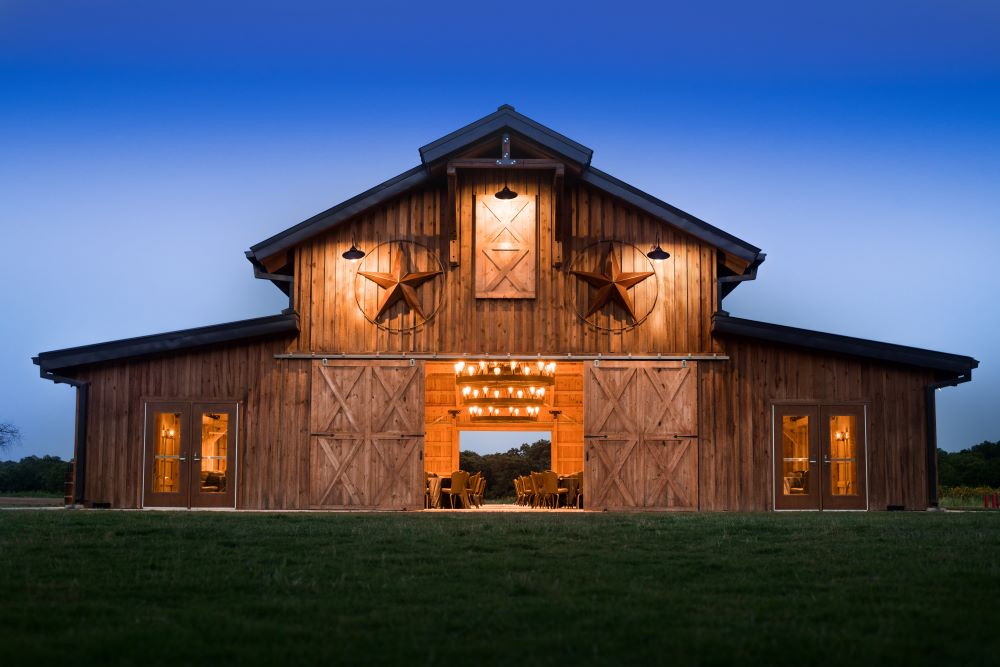 Kalahari Round Rock event barn (Credit: Kalahari Resorts and Conventions)
Held on April 29th, the ribbon-cutting for the new $375 million Moody Center at the University of Texas at Austin (UT) featured an exuberant address from Matthew McConaughey. 
The Texas-born movie star's appearance was more than ceremonial. McConaughey, a UT graduate who later developed and co-taught the curriculum for the UT film department's "Script To Screen" class, is an investor in the 15,000-plus seat multi-purpose venue. More purposefully still, he is the self-appointed "Minster of Culture" for UT in an ambassadorial role that he has since expanded to encourage local and national support for Austin itself.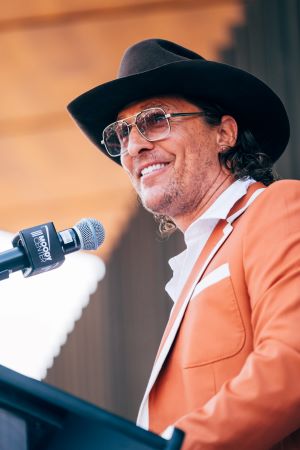 Suited in UT's signature orange, McConaughey proclaimed of the venue, "We got to fill this place with the best of ourselves every time we go in it. That is how we bless the 'Mood'!"  
Austinites did not have to be asked twice. The grand opening celebration for the venue, the new home of UT women's and men's basketball along with other sporting events, concerts and more, featured a sold-out show from country music legend George Strait along with the Randy Rogers Band and another Texas icon, Willie Nelson, celebrating his 89th birthday that night. 
Since then, the "arena that the Live Music Capital of the World deserves" has hosted top acts including The Who, The Eagles and Dave Matthews Band. Aiming for 150 annual events, along with 45-plus concerts each year, the passion surrounding the Moody Center, which is seeking LEED Gold Certification, exemplifies the community connections and celebrations that define the rhythm and vibe of life across the fabled Hill Country region. 
Getting in the Giving Mood 
The Moody Center is named in honor of the Galveston, Texas-based Moody Foundation, which granted $130 million toward the venue's construction. Dedicated to "empowering Texas communities to thrive and prosper," the Foundation has backed projects in the arts, education, health, community and science throughout Texas since 1942. 
Other group-ready Moody benefactions include Austin City Limits Live (ACL Live) at The Moody Theater, home of Austin City Limits, the longest running music series in American television history. Opened last August within historic Waterloo Park, Moody Amphitheater is a new 5,000-capacity open-air venue featuring a large stage and 38,000 square feet of lawn seating. The newly reopened 11-acre park, unfolding one block from the Texas State Capitol, is undergoing a phased revitalization that includes walking trails, food trucks and the 1.5-mile Waterloo Greenway. 
Other event-capable outdoor oases include the Lady Bird Johnson Wildflower Center, Zilker Botanical Garden and Umlauf Sculpture Garden, which turned 30 in April.  
[Read more: Outdoor Venues in Austin and the Hill Country for Fresh-Air Events]
Outdoor art is evolving as a fetching facet of Austin's creative culture. Launched in March 2021, Visit Austin's "Vibrant City" campaign integrates augmented reality (AR) filters, available on Instagram, to showcase Austin's impactful mural scene. 
"Austin's street art scene has grown to where it has become an additional focal point for tourists to visit, right up there with the music and foodie scene!" enthused El Paso-born artist Federico Archuleta, whose "Let's Band Together" work on a Sixth Street cocktail lounge is part of a growing collection of statement-making murals around town.  
Overnight options include two new connected Hyatt lifestyle hotels. The 212-room Thompson Austin offers 10,000-plus square feet of indoor and outdoor space boasting 20-foot ceilings and floor-to-ceiling windows, and a 6,700-square-foot wellness center. Hip 193-room sibling tommi Austin features a 4,000-square-foot pool deck overlooking downtown Austin.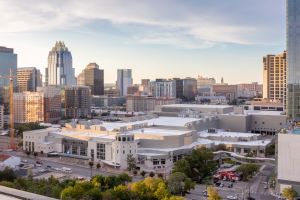 Ramping back up strong, the four-story, hyper-connected, LEED Gold certified Austin Convention Center had at least 15 bookings scheduled for May 2022, including major environmental, healthcare and technology conferences and symposia. In April, the center earned the Facilities & Destinations Safe Site designation for venues "that go the extra mile to ensure that visiting groups are protected by using high levels of sanitation practices and technology." 
Fredericksburg Is for Eclipsing Events  
Early on, the 1846 German settlement of Fredericksburg, named after Prince Frederick of Prussia, was known mostly as the last stop on the way to El Paso. Today, "Fritztown" is internationally regarded as the heart of one of America's fastest growing wine regions.  
Agricultural bounty, including peaches and other produce, make Fredericksburg a magnet for farm-based cuisine. Lined with heritage buildings, the city's Main Street and landmarked Historic District are steps back in time, while the surrounding profusion of springtime Texas wildflowers is mesmerizing beyond words. Immortalized in song by Willie Nelson and Waylon Jennings in 1970, nearby live music shrine Luckenbach Texas is an essential for customized group outings. 
Home to 50-plus wineries, vineyards and tasting rooms, and 80-plus restaurants with local agricultural roots, the Fredericksburg area is a haven for gourmandizing groups. Notable viticultural newcomers include the Foyt Winery & Museum, from the family of Houston-born motorsports legend A.J. "Big Tex" Foyt Jr.  
[Read more: Iconic Foods of Austin and Texas Hill Country—And Where Groups Can Try Them]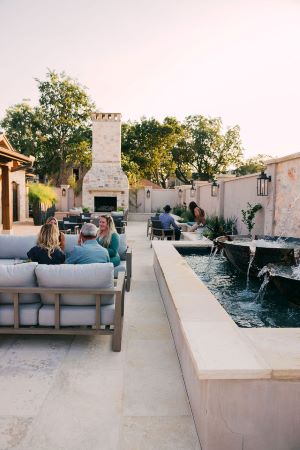 Opened last November, Sage Restaurant and Lounge accommodates upwards of 150 guests for seated and standing indoor and outdoor events, buyouts included.  
Designated as an International Dark Sky Community in 2020, Fredericksburg is one of the best places to stargaze in Texas. Mark your calendars and book now—rooms are going fast—for two starry events on the horizon, the Annular Solar Eclipse in October 2023, and the highly anticipated Total Solar Eclipse in April 2024. 
Willkommen to Wunderland 
While Fredericksburg is often called the "Jewel of the Texas Hill Country," which itself is regarded as the jewel of Texas (the official state gem, blue topaz, is found only near Mason, an hour from Fredericksburg), this rapturously rolling region is rich with other day trip and overnight group destinations. 
Settled by German immigrants in 1850, Boerne ("Bur-nee"), two hours from Austin, has origins as a health resort. Today, this vibrant community lures groups with attractions including guided tours of Cascade Caverns, a living limestone cave system, and stops at the Dodging Duck Brewhaus. The town offers a selection of destination resorts, historic properties and name-brand hotels. 
Escape the summer heat at Kalahari Resorts and Conventions Round Rock, 15 miles north of Austin. Integrating a 200,000-square-foot convention center with America's largest indoor waterpark, the 975-room, 1.5 million-square-foot resort is flush with amenities including four signature full-service restaurants and unique venues like the rustic Event Barn. 
The Great Springs Project aims to link four famed Texas springs along a 100-mile hike-and-bike trail between Austin and San Antonio. 
Offering facilities for groups of 50 or more, corporate event packages, catered events and more, Schlitterbahn Waterpark and Resort in the 1845 German settlement of New Braunfels is another splashy option.  
Located within New Braunfels' city limits, Gruene ("Green") was settled by German farmers in the 1840s and one of the prettiest spots in all of Texas. Signature Historic District attractions include Gruene Hall, the oldest continually operating and most famous dance hall in the Lone Star State. Built in 1878, the faithfully preserved 6,000-square-foot landmark features live music and a large outdoor garden.  
Located beneath Gruene's landmark water tower on the banks of the Guadalupe River, Gristmill River Restaurant & Bar celebrates its 45th anniversary this year. Incorporating the ruins of an 1878 cotton gin, this group favorite offers versatile rentals including the 140-capacity River Room. 
Connect 
Boerne CVB 
(830) 249-7277 
Fredericksburg CVB 
(830) 997-6523 
The Greater New Braunfels CVB 
(800) 572-2626 
Visit Austin 
(512) 474-5171 
Read this next: How Frisco's Mile-Long Omni PGA Will Amplify Metroplex Meetings