Historic Upgrades and New Southern Openings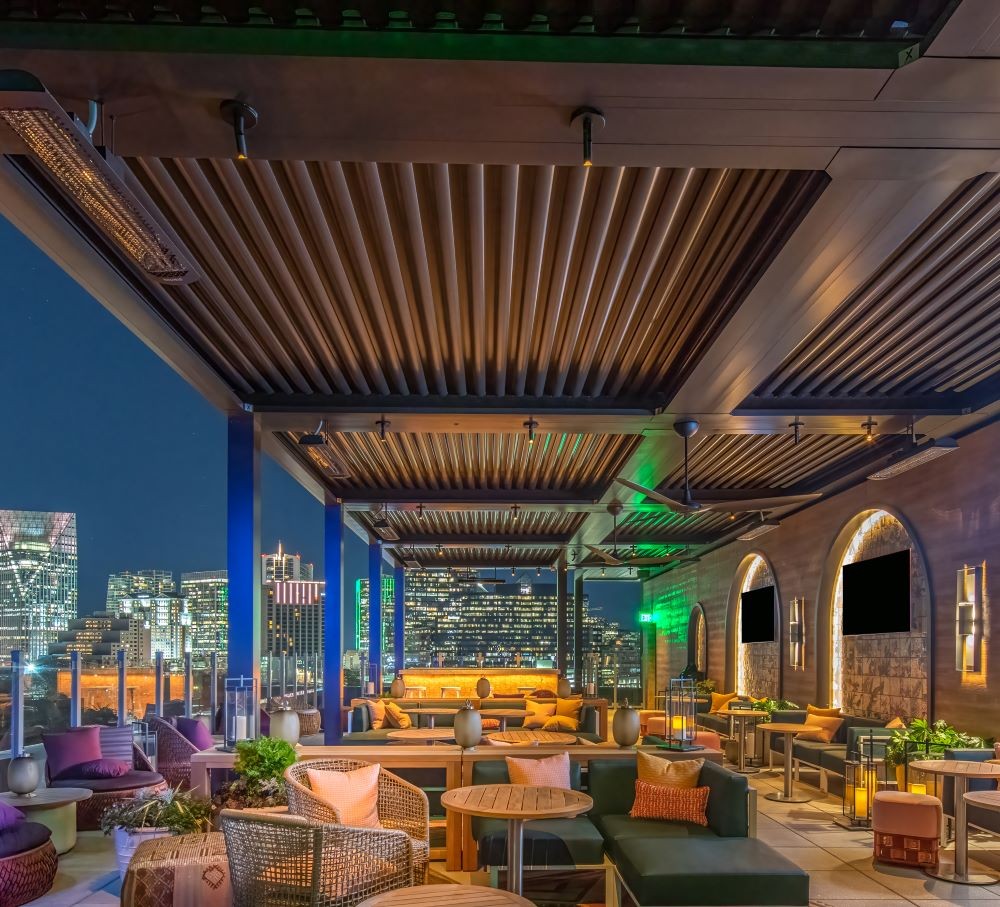 Hyatt Centric Buckhead Terrace at Night
Georgia
The Frank Lloyd-Wright-inspired Emory Conference Center Hotel in Atlanta is undergoing a $20 million renovation with an emphasis and focus on biophilic design, which aims to "bring the outdoors in" to promote wellness within the building.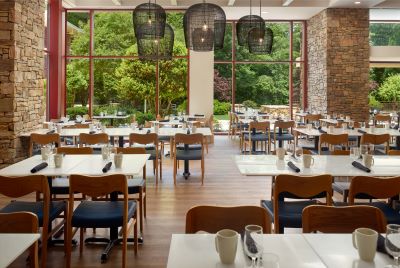 The facility, already situated on a 26-acre forest preserve, features more than 32,000 square feet of complete conference space, with floor-to-ceiling windows in nearly every conference center room for guests to always experience nature no matter the weather.
Outdoor event venues, including the Silverbell Pavilion—a stand-alone venue with a wooded backdrop and outdoor patio—and the Houston Mill House—a 1920s Georgia fieldstone manor connected to the hotel—completely immerse meeting attendees in Atlanta's natural offerings. 
During renovation, Emory Conference Center Hotel created its LEED Silver certified South Wing, sourcing materials from local businesses and providers across Georgia while reducing the renovation's carbon footprint.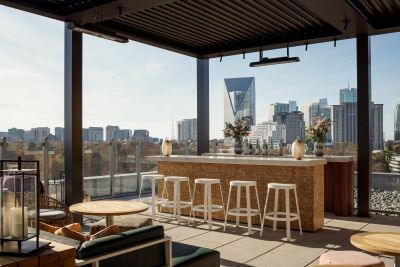 One of the city's newest boutique hotels, Hyatt Centric Buckhead Atlanta, embodies the history of the city as guests step into the past. With six spaces on the hotel's second floor decorated with accent wall coverings and pottery art pieces inspired by Georgia's 19th-century pottery industry, meetings and events from 10 to 140 people can gather in the heart of the district. 
The 218-room boutique hotel offers 9,027 square feet of meetings and events space, the largest measuring 5,027 square feet. Spaces feature floor-to-ceiling windows, built-in wet bars and lounge seating, as well as intuitive technology and natural landscape views.
Hyatt Centric Buckhead Atlanta's Spaceman—the 15th-floor indoor-outdoor rooftop lounge and bar—is ideal for mingling and cocktail receptions. Outdoor TVs, yard games, seasonal cocktail menus and a 270-degree view of the skyline promises the perfect backdrop for all events. 
[Related: South Summer Openings and a Natural Tennessee Getaway]
Tennessee
Set to open September 2022, Southall Farm and Inn, nestled on 325 acres of land in Franklin, brings a new and unique luxury resort to a working farm just outside of Nashville. The inn itself offers 62 rooms and suites, and the resort boasts another 16 separate cottages inspired by the landscape around them.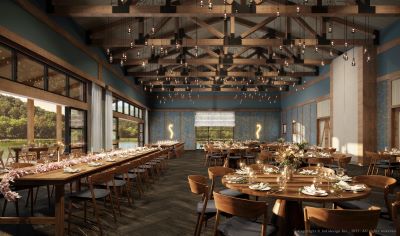 The resort promotes creativity, connection and collaboration through unique, natural meetings and events spaces, as well as teambuilding activities on the working farm away from everyday distractions. The Orchard—a spacious event center with high ceilings, exposed beams and natural light—can host up to 350 guests, and sliding glass walls open to an outdoor patio along Lake Mishkin. 
The Conservatory Terrace, another open-air venue, showcases Southall's conservatories and courtyard and can accommodate up to 65 guests under canvas canopies covering Adirondack chairs.
Nashville's landmark Hermitage Hotel, a gathering place for more than 110 years, has completed its multi-year, hotel-wide restoration and redesign, updating its 122 rooms and suites, lobby and ballroom.
The hotel, a National Historic Landmark, is considered one of Nashville's architectural treasures, and original details including the hand-painted glass ceiling, ornamental plasterwork and Tennessee marble have been restored.
The Hermitage Hotel Grand Ballroom, a 2,500-square-foot, unobstructed space has a versatile floorplan suitable for all events. Seated dinners can accommodate up to 200 guests, while receptions can host 100 more and a classroom setup can accommodate 100 total.
Other meeting spaces include The Veranda, a nearly 1,400-square-foot space with sky-painted ceilings and views of the capital, and The Grand Lobby, which can host up to 300 guests beneath its skylight. 
[Related: Nashville's Facility and F&B Scene Is Hotter Than Its Signature Hot Chicken]
Texas
In recognition of the hotel's 40th anniversary, Hyatt Regency San Antonio Riverwalk announced the completion of a $38 million renovation of its 602 rooms and 28 suites. Updated rooms feature an open floorplan, hardwood flooring and a new color palette.
Each room now boasts a wooden hearth-inspired structure doubling as a wall mount for the rooms' new 75-inch flatscreen TVs, floor-to-ceiling windows showcasing downtown views and new furniture and accent rugs. 
The hotel also offers 40,000 square feet of meetings and events space, including the 10,700-square-foot pillarless ballroom, 21 breakout rooms and outdoor options like La Vista Terrace, which can host up to 250 people.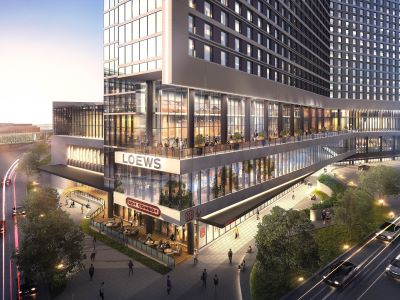 Loews Hotel & Co. held a Topping Off celebration in late July as the last bean was placed in the structure of the future Loews Arlington Hotel, a $550-million, 888-room property opening in 2024 as part of an $810 million expansion of Arlington's Convention Campus.
The expansion will also include a new Arlington Convention Center, which will bring 216,000 square feet of indoor meetings and events space to be connected to Loews Arlington Hotel via skybridge and 66,000 square feet of outdoor space.
Other amenities include five F&B outlets, a 1,550-space parking garage and a resort-style beach club with two pools, a man-made beach, cabanas and firepits. 
Moody Meetings
The AT&T Hotel and Conference Center announced a partnership with the University of Texas at Austin's new multi-purpose arena, Moody Center, as the center's preferred hotel, giving the property exclusive access to premier Moody Center events, special packages and giveaways.
The 297-room hotel, located in the heart of Austin and on the University of Texas campus, also offers 85,000 square feet of flexible meetings and events space across 53 meeting rooms and 10,000- and 15,000-square-foot ballrooms.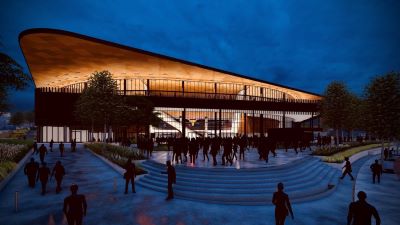 Now, hotel guests have access to the 530,000-square-foot, 15,000-seat entertainment venue with the largest event floor in the nation, according to Moody Center, designed to "exceed expectations" and deliver the ultimate Austin experience through local F&B options, southern luxury and downtown views. 
Moody Center will feature more than 150 nights of unique entertainment throughout the year, and guests who choose to stay at AT&T Hotel and Conference Center receive access to four onsite dining options, a full-service gym and an outdoor pool.
Moody Center will host events including 36 University of Texas at Austin basketball games, family shows, local events and concerts including Justin Bieber, John Mayer and The Weeknd.
Read this next: Saddle Up for These 5 Unique Offsite Options in Plano, Texas