A Sampling of What's New in South Carolina Meetings Destinations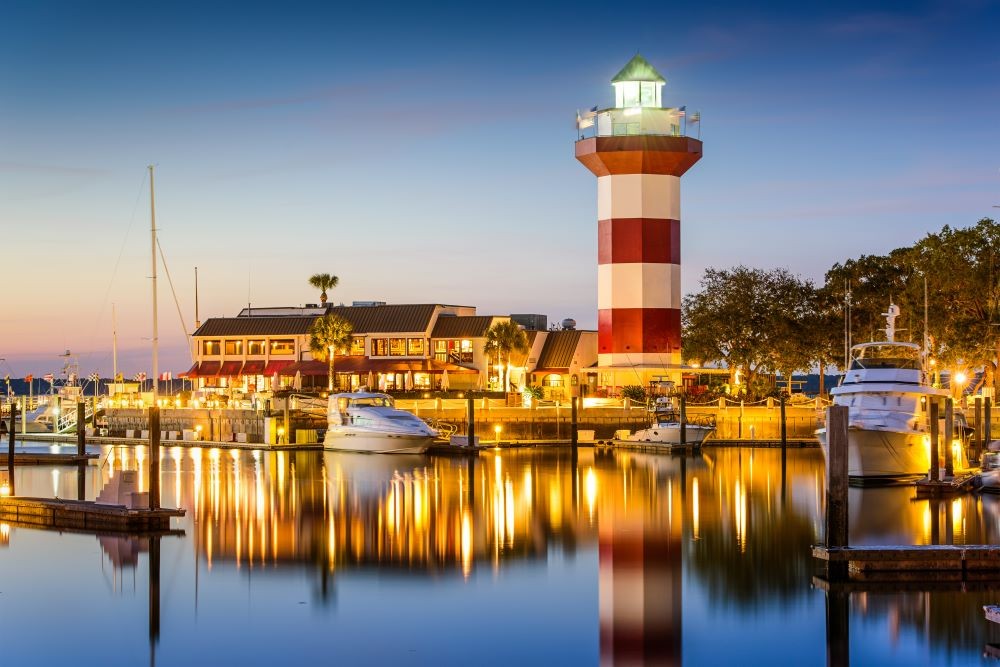 Hilton Head Island lighthouse
South Carolina is a state made for activity-laden meetings, from premier golf courses to miles 
of sandy shoreline begging for fun in the sun and surf.
Following is a compendium of recent happenings in the Palmetto State, from the coastal climes of Charleston, Hilton Head Island and Myrtle Beach to the adorable inland destinations of Columbia and Greenville.
[Related: South Carolina Offers Signature Lures for Meetings and Events]
Charleston
A tourism favorite for its renowned Lowcountry cuisine scene and refined air of sophistication, Charleston is a one of those quintessential Southern towns that groups love. And for meetings that want to get a little time on the links, Kiawah Island offers up some of the best golfing in the country roughly an hour's drive south.
Most anyone who goes to Charleston, however, is going to want to sample some of the most authentic cuisine styles in the nation, a mix of Southern, West African and European traditions. Top Charleston group restaurants include Circa 1886, which actually divides its menus into sections that focus on these different traditions, including pre-European contact Native American cuisine.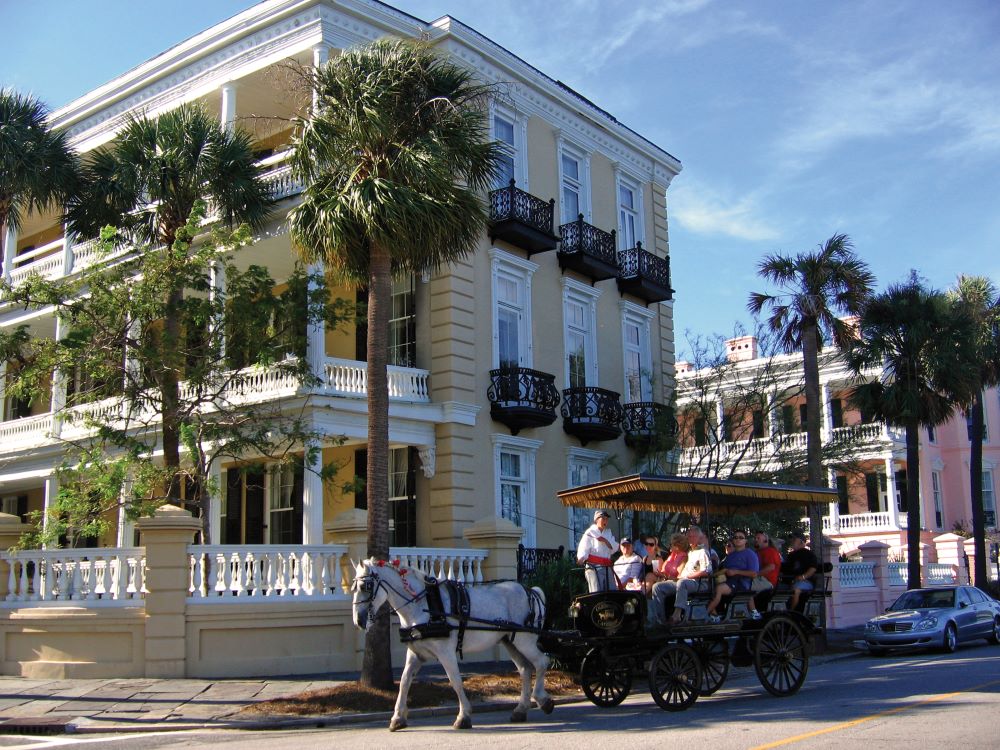 Other standout restaurants where groups can get a taste of the city's signature Lowcountry cuisine include:
82 Queen, a prime restaurant to explore Charleston's Lowcountry cuisine style and which boasts a historic courtyard and dining rooms that date to the early 1700s.
5Church, offering New American/Southern cuisine and a variety of venue options that are great for groups of up to 100.
Hank's Seafood, which has been named the best seafood restaurant in Charleston for 18 consecutive years and is located in a turn-of-the-20th-century warehouse overlooking the popular Charleston City Market.
[Related: 6 Great Group Dining Options in Charleston, S.C.]
Although the city's venue offering has not undergone a significant amount of change since the onset of the pandemic, some of the more recent happenings in the Charleston hospitality scene include the following:
The biggest news in the destination is the $92 million International African American Museum, which at publication time was set to open in January after 20 years in the planning. The venue, which is set on the disembarkation point of an estimated 40% of all enslaved Africans brought to North America, offers more than 40,000 square feet of exhibit space in its two stories, including a genealogy research center and African Ancestors Memorial Garden.
The Isle of Palms, about 40 minutes away on the Atlantic coast, added a 153-room boutique hotel. Named the Sweetgrass Inn, it features a 6,764-square-foot grand ballroom and 2,760-square-foot rooftop ballroom with an oceanview terrace, along with the destination Spa at Sweetgrass.
The Bennet Hotel, a 179-room property with 12,000 square feet of event space, including a 6,600-square-foot ballroom, opened in April 2020. Located on Marion Square, the hotel's rooftop breakout room is a popular option.
Kiawah Island Golf Resort added a 23,000-square-foot conference center with a 10,000-square-foot ballroom right before the pandemic began.
Columbia
The state capital, Columbia is a pleasant "sleeper" destination that features the museums and historic venues one would expect from a seat of state government, but also exudes a small-town friendliness that pairs well with its fun restaurants and watering holes—The Whig is one particularly interesting "underground" bar—befitting its status as the home of the University of South Carolina. For nature buffs, nearby Congaree National Park boasts the largest intact expanse of old growth bottomland hardwood forest remaining in the Southeast. 
[Related: Don't Sleep on Columbia, South Carolina, for Meetings and Events]
The city's historic district is also a favorite for planners, with a number of mansions available for event rental, including:
Seibels House and Garden, for indoor or indoor/outdoor combined events up to 350.
Gardens of the Woodrow Wilson Family Home, accommodating up to 250 outdoors.
Robert Mills Carriage House and Gardens, which can handle 50 seated and 100 standing in its Carriage House and up to 400 outside.
Gardens of the Hampton-Preston Mansion, with a maximum capacity of 400 outdoors.
The biggest meeting venue news in Columbia is the 2019 opening of Central Energy, a repurposed energy facility transformed into a meetings and events venue in the city's historic BullStreet District. Central Energy can accommodate up to 500 in 6,200 square feet of space and offers a state-of-the-art audiovisual system and catering kitchen. Roll-up garage-door-style doors separate its indoor and outdoor spaces.
Other happenings include the following:
The GBAC-approved Columbia Metropolitan Convention Center, which offers 142,500 square feet of space, recently installed new flooring in its Exhibit Hall floor and Ballroom flex space.
The city's largest downtown hotel, Marriott Columbia, which offers 24,000 square feet of space, is nearing completion on a renovation of all of its 300 guest rooms.
The four-story Cambria hotel opened in June in the Vista district, a few blocks from the convention center. The 144-room property also offers 1,662 square feet of meeting space.
Downtown's 41-room, historic Art Deco-style Hotel Trundle is scheduled to open its Flutter Wing next spring with 2,500 square feet of space, including an outdoor patio.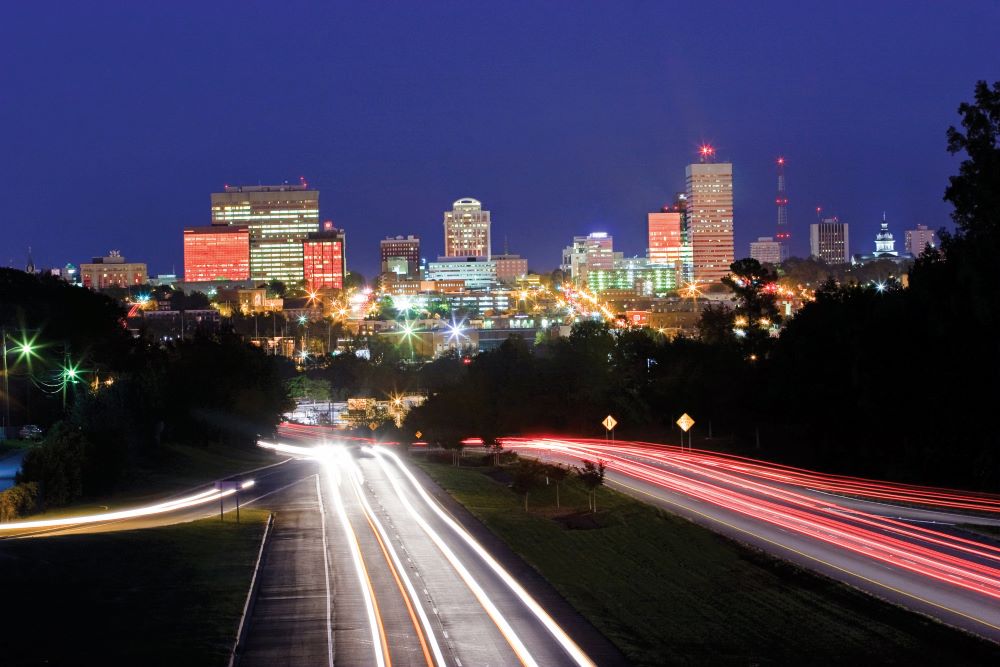 Greenville
This charming destination tucked away in the northwest of the state offers a quaint, tree-lined Main Street and a collection of waterfalls, with one even downtown. Other group attractions include urban wineries and meaderies, more than 20 breweries and a thriving arts and culture scene.
But what most groups will want to at least consider are the heart-stopping, high-octane thrills available at the BMW Performance Center, which, like its counterpart in Palm Springs, California, excels—maybe "accelerates" is a better word?—as a teambuilding and group event venue. Attendees can get behind the wheel of seven different BMW models and push them to the limit in a variety of timed settings.
[Related: 6 Unexpected Ways for Event Groups to Get Locally Immersed in Greenville, South Carolina]
New hospitality happenings in the city include the following:
Grand Bohemian Lodge Greenville, a Kessler collection property, will be the first luxury boutique hotel in the city that occupies what many consider the most-prized real estate in town—overlooking the 350-foot single-cable suspension bridge that curves over natural waterfalls. Expected to open in October, the 187-room hotel will also feature an art gallery, wine room, library, spa, restaurant, bourbon bar and five event rooms within its 4,270 square feet of meeting and event space, with the largest room accommodating up to 150.
The new Unity Park is a 60-acre gathering spot that opened in May that resides on a formerly segregated space that is a reminder of the city's past and the need to embrace inclusiveness for the future. Features include playgrounds, water features and six acres of greenspace.
The new downtown Group Therapy venue offers indoor mini golf, axe throwing, ping-pong, ice curling, karaoke, trivia, bingo and backyard-style games, and is available for group rentals for up to 400. Opened in June, Group Therapy also serves specialty cocktails and features a 30-tap self-serve beer wall.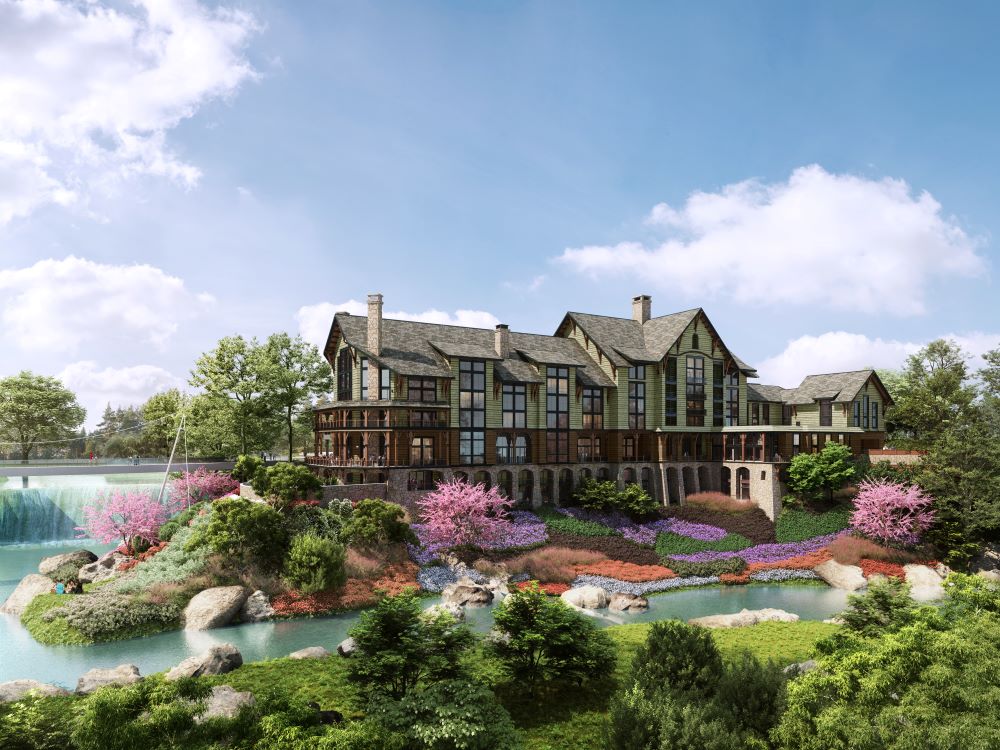 Hilton Head Island
With 12 miles of pristine beaches and 32 golf courses, Hilton Head Island is a recreational paradise that also offers the authentic, and endlessly fascinating, opportunity to learn about its resilient Gullah people and their impact on Lowcountry cuisine, which is available at many of the destination's more than 250 restaurants.
Hilton Head Island has also recently invested more than $50 million into hotel renovations, new-build properties and recreational facilities.
[Related: Meetings and Group Activity Options on Hilton Head Island]
The destination offers a total of 3,000 guest rooms for groups at hotels that include the Marriott Hilton Head Resort & Spa, Omni Hilton Head Oceanfront Resort, The Westin Hilton Head Island Resort & Spa, Sonesta Resort Hilton Head Island, Beach House Hilton Head Island and The Sea Pines Resort.
Offsite activity favorites include:
Page Island, a series of eight connected islands where groups can stretch out for teambuilding and reception fun that most certainly should include a Lowcountry boil or oyster roast.
Daufuskie Island, which is located between Hilton Head Island and Savannah, Georgia, and is where groups can partake in dolphin tours and teambuilding.
Hilton Head Distillery, the destination's first craft distillery, and where groups can indulge in tours, tastings, hands-on mixology classes and hold large events underneath Lowcountry oaks and pines.
Coastal Discovery Museum, a 68-acre property that offers Lowcountry-inspired events under the canopy of 300- to 400-year-old Virginia live oaks draped in Spanish moss.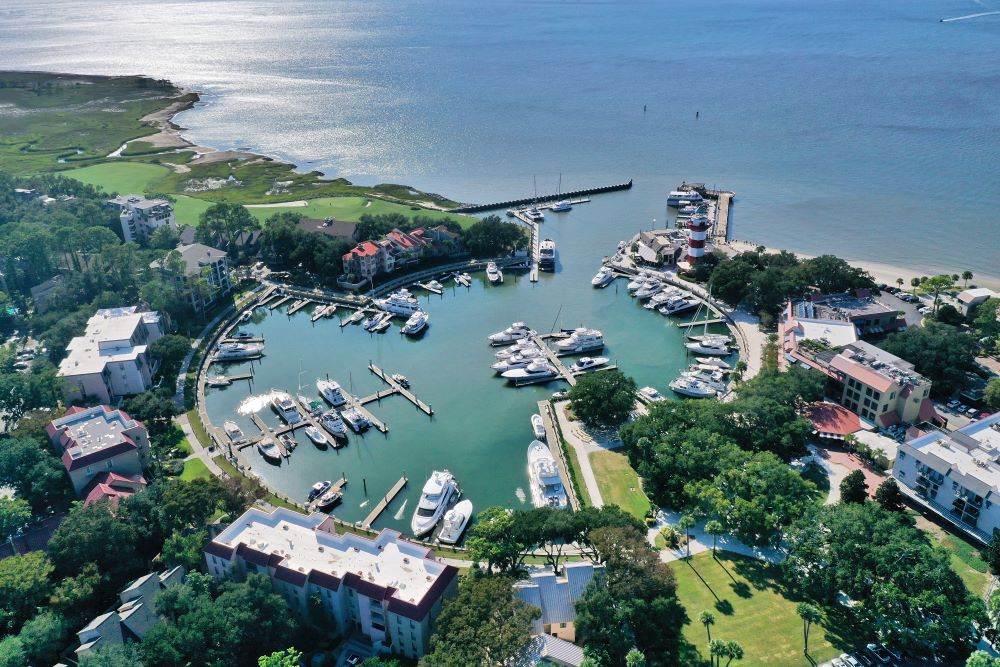 Myrtle Beach
Myrtle Beach is both a leisure tourism and meetings magnet, with 60 miles of white-sand beaches, scores of entertainment options and the buzzing Myrtle Beach Boardwalk and Promenade, along with a massive array of meetings-focused hotels and resorts. 
One of the hottest trends in the destination is the recent proliferation of craft breweries, including Grand Strand Brewing Company, Tidal Creek Brewhouse and Crooked Hammock Brewery, all of which offer outdoor spaces for groups to gather and play games.
[Related: Myrtle Beach Weathered the Pandemic Well, and Emerges With New Options]
The biggest recent news in the destination is the completion of a $65 million renovation at the multi-property, beachfront Kingston Resorts, described as the most comprehensive Myrtle Beach renovation project in the last five years. The project upgraded its rooms, suites and meeting and event space at Hilton Myrtle Beach Resort and Embassy Suites by Hilton Myrtle Beach Oceanfront Resort. This summer and fall will welcome a new restaurant, pool and two waterparks.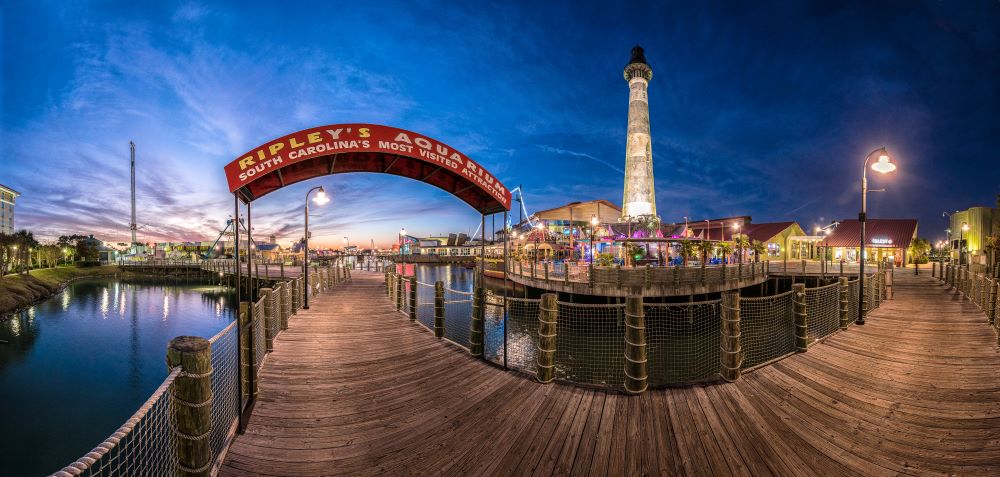 Highlights of the massive project include the following: 
Hilton Myrtle Beach Resort finished a complete refresh of rooms, suites, event space, dining outlets and its pool area. The resort's 56,579 square feet of meeting space, including a top-floor ballroom that overlooks the ocean, spans 24 rooms and is suitable for groups up to 1,000 guests.
Embassy Suites Myrtle Beach completed updates to its suites, event and activity spaces. The hotel offers 61,165 square feet of event space and 30 meeting rooms, including a pillarless Kensington Ballroom that can accommodate 2,000 people, along with climate-controlled pavilions for outdoor receptions. The final phase of the renovation will bring a new waterfront dining venue, Black Drum Brewing, which will offer waterfront dining overlooking the Atlantic Ocean, as well as two event lawns and an upstairs ballroom space with a terrace.
Opening in late August, Currents Seaside Entertainment will feature a new grand pool outfitted with 28 cabanas and 350 lounge chairs, in addition to two Currents Waterparks.
Connect
Experience Columbia SC 
(803) 545-0000

Hilton Head Island–Bluffton VCB
(843) 341-8360

Meet Charleston
(800) 868-8118
VisitGreenvilleSC
(864) 421-0000

Visit Myrtle Beach
(843) 626-7444
Read Next: Why the Cuisine of the Coastal Carolinas Is Such a Treat