These Theme Parks Double as Immersive Event Environments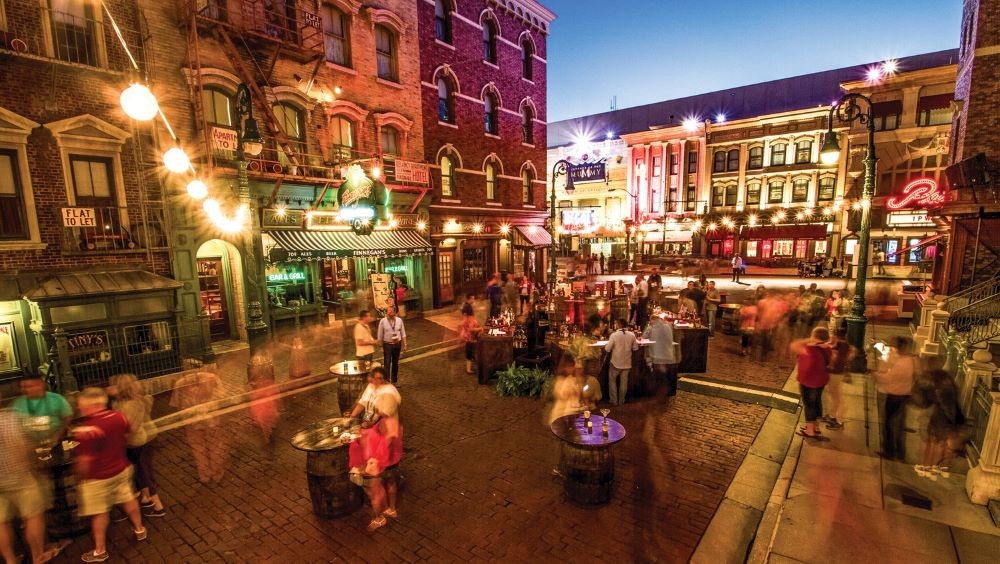 Event setup at Universal Orlando Resort
Theme parks have long been tourist draws. Their sense of wonder and imaginative environments captivate guests—of all ages—and provide a thrilling escape from everyday life. 
While attendees may jump at a chance to attend a meeting or convention in Orlando or Anaheim, California, due to the scores of A-list theme parks in those destinations, perhaps with hopes of blocking some time before or after the business trip to indulge in some onsite fun, planners can really surprise and delight their attendees by hosting a special event inside the parks. 
With built-in decor, onsite event and catering teams, and immersive activations you can't experience anywhere else, the following theme parks are guaranteed to make your attendees feel like VIPs and kids again, all at once. 
Universal Orlando Resort 
Home to 295,000 square feet of meeting space and 9,000 hotel guest rooms across eight hotels, three theme parks and the CityWalk dining and entertainment complex, immersive events are just a walk in the park at Universal Orlando Resort. Planners can work with Universal Orlando's team to even combine venues to accommodate events from 600 to 4,000 attendees.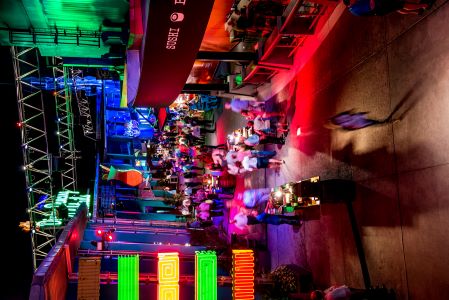 One of the best illustrations of Universal Orlando's creativity is a private event inside the parks. Recently, more than 4,000 IPW (U.S. Travel Association's international inbound tradeshow) attendees enjoyed a park-wide closing night event at Universal's Islands of Adventure where they had the entire park to themselves and a chance to experience unlimited access to rides and attractions throughout the park's seven themed lands: The Wizarding World of Harry Potter–Hogsmeade, Marvel Super Hero Island, Toon Lagoon, Jurassic Park, The Lost Continent, Seuss Landing and Port of Entry. 
"Universal Orlando's event planners went above and beyond to create unique and immersive experiences for the attendees," said Eric Marshall, SVP destination sales for Universal Parks and Resort. "The event started with a red carpet arrival at the entrance of Universal's Islands of Adventure, where guests were greeted by Universal Team Members, a cast of characters that you can only find at Universal Orlando Resort, music, lights and welcome signage in several languages." 
Marshall added that the park provided entertainment in the form of performances from the Hogwarts Frog Choir in The Wizarding World of Harry Potter, character meet-and-greets, and multiple DJs. Food and beverage options were also themed, with catering inspired by global cuisines, such as Greek and Moroccan cuisine in the Lost Continent, butterbeer in The Wizarding World of Harry Potter, modern fare at Marvel Superhero Island and more. Photo opportunities and giveaways were in abundance throughout the event. 
According to Marshall, the overall reaction from the international group of attendees was nothing short of impressed, and the park closure for the group gave it the air of a VIP experience.  
"We received excellent feedback from attendees and IPW event planners," he said. "From beginning to end, attendees were amazed by all the details and experiences that our team was able to create for this important international and domestic trade audience. The welcoming moment was one of the highlights of the night. We keep hearing how guests described this as a one-of-a-kind experience." 
[Related: Minions, Meetings and Harry Potter: Why You Should Book Your Next Event at Universal Orlando]
SeaWorld Orlando 
One mile from Orange County Convention Center (OCCC) and in close proximity to many of Orlando's convention hotels, SeaWorld Orlando is a convenient option for special offsite events. Whether you're planning a networking session or meal event, attendees will enjoy much of SeaWorld's open-air venues, rollercoaster rides and opportunities to interact with animals. 
SeaWorld is a fully accredited zoological institution and has helped rescue over 40,000 animals, including rehabilitating many and releasing them back into their natural habitats. Events at the park help contribute to this mission, and attendees can learn about the various animals SeaWorld helps rescue, along with getting up-close-and-personal with a few of the park's residents. 
A few of the spaces that can provide immersive environments for meetings and events include: 
Sea Harbor Pavilions: These open-air pavilions right outside of the group arrival entrance are an ideal spot to for a kick-off event before a day spent in the park. 
Shark's Underwater Grill: Groups of 50-240 can dine among sharks in this unique restaurant with floor-to-ceiling aquarium walls and an 85-foot entrance tunnel filled with barracuda, sharks and venomous fish. 
Antarctica: Empire of the Penguin: Experience winter in Florida during an event at the home of SeaWorld's 200-plus penguins. 
Discovery Cove: Host a beach party for large groups at Discovery Cove, an all-inclusive day park owned and operated by SeaWorld Orlando. Groups of up to 1,300 even have the option to buy out the park. 
[Related: Latest Property Openings and Renovations in Florida (2022)] 
Disneyland Resort, Anaheim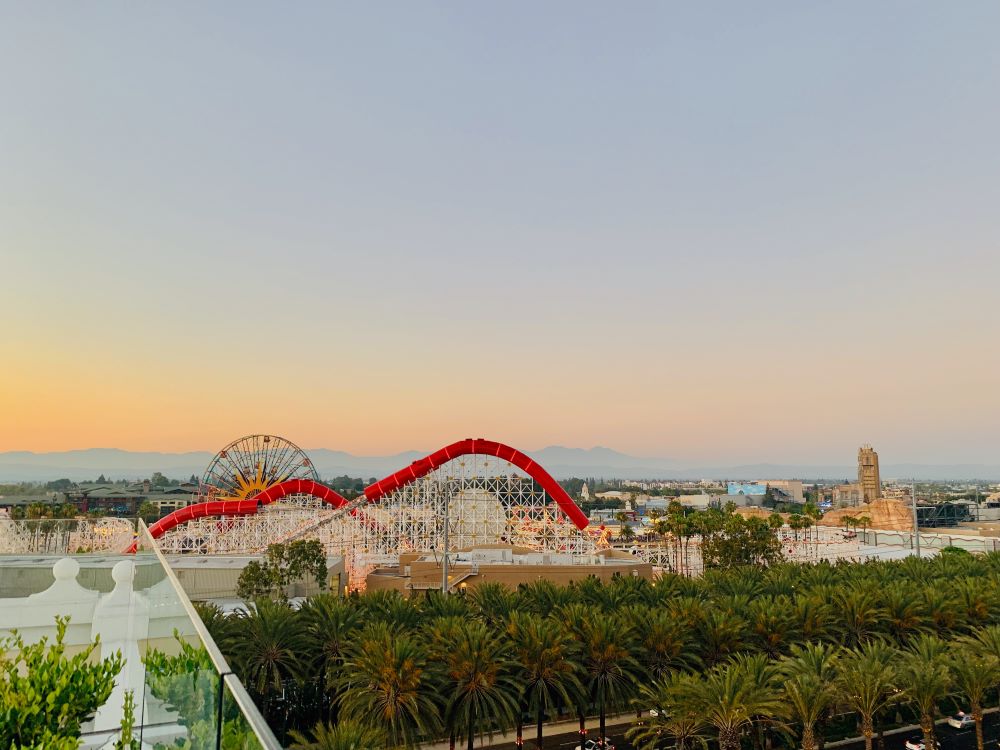 With flexible meeting and event space spanning over 180,000 square feet, nearby hotels, two theme parks and the Downtown Disney District, Disneyland Resort, meeting and convention powerhouse Anaheim has much to offer special offsite events—much of it within walking distance.  
Recent luxury hotel upgrades to the destination nearby Disneyland Resort and the Anaheim Convention Center, JW Marriott, Anaheim Resort and Westin Anaheim Resort, add to the lodging options in town. Once settled at their hotels, groups can attend an awards ceremony, teambuilding activity, special dinner events and more at Disneyland Park or Disney California Adventure Park. 
Examples of impressive and immersive backdrops for events include: 
Starcade, Tomorrowland at Disneyland Park: For groups that want to weave vintage Disney into their event, this venue adorned with a collection of original Disney sketches and portraits can host groups of 50-225. 
Disney Theater at Disney California Adventure Park: For breakfast or after in-park performances conclude, groups can take advantage of the high-tech theater, which offers LED screens and other modern features for groups of 50-200. 
Planners can also work with Disneyland Resort for special evening tickets for convention and meeting attendees, in addition to buyout areas for large groups. For after-meetings meals and entertainment, attendees can also venture to Downtown Disney District for restaurants, entertainment, shopping and a nice view of the famous Disneyland fireworks.  
Walt Disney World Resort, Orlando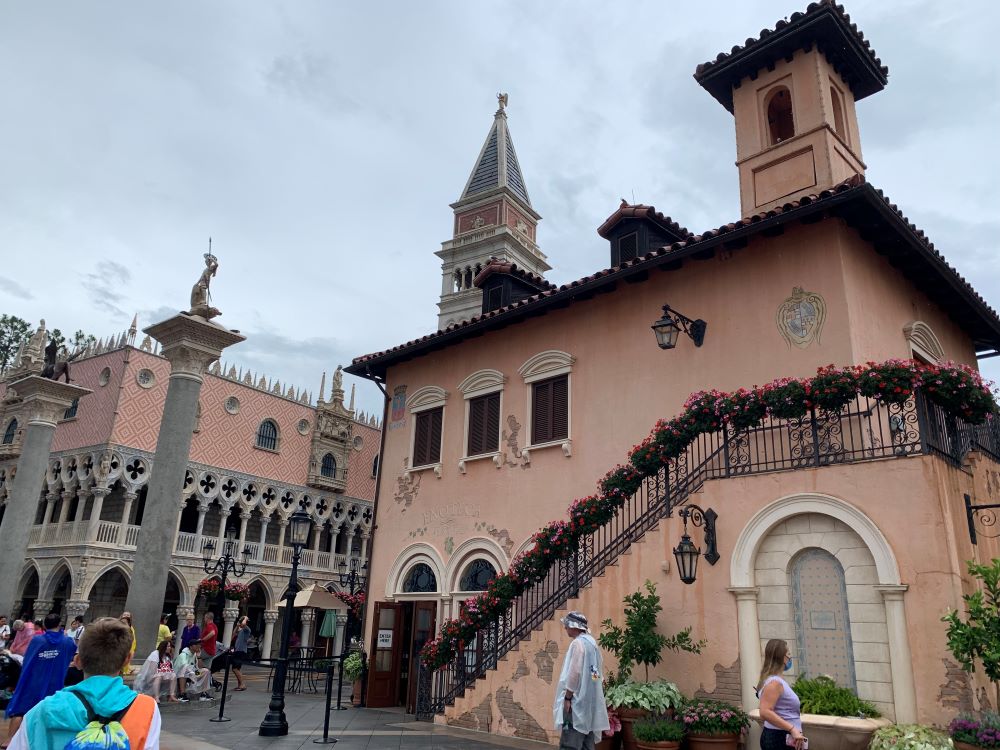 Off the heels of its 50th anniversary in 2021, Walt Disney World Resort is more magical than ever, with the new Star Wars: Galaxy's Edge land captivating Star Wars fans and recent partnerships with National Geographic providing meeting planners with a new host of motivational speakers from around the world. 
Surrounding the parks, five convention hotel properties equipped with 495,000 total square feet of indoor meeting space plus 140 meeting rooms means there's plenty of room to get business done. Following programs at the hotels, planners can work with parks like EPCOT, Disney's Hollywood Studios, Disney's Animal Kingdom and Disney's Typhoon Water Park for onsite events.  
Some notable locations include: 
Italy Isola at EPCOT: Meet among Venetian-style buildings in piazzas on this private island at EPCOT's World Showcase Lagoon for cocktail receptions, dining events or dessert parties. 
Pandora–The World of Avatar, Disney's Animal Kingdom: Events thrive in this environment that evokes the mystical environment of the wildly successful 2009 movie Avatar. 
Indiana Jones Epic Stunt Spectacular, Disney's Hollywood Studios: Fans of the Indiana Jones franchise will love witnessing the movie-making magic of the series in a show, followed by a dinner party on the streets of Cairo. 
Read this next: Outside-of-the-Box Florida Beach Event Ideas