The Orlando Dining Scene Is Growing With Michelin Stars and Other Accolades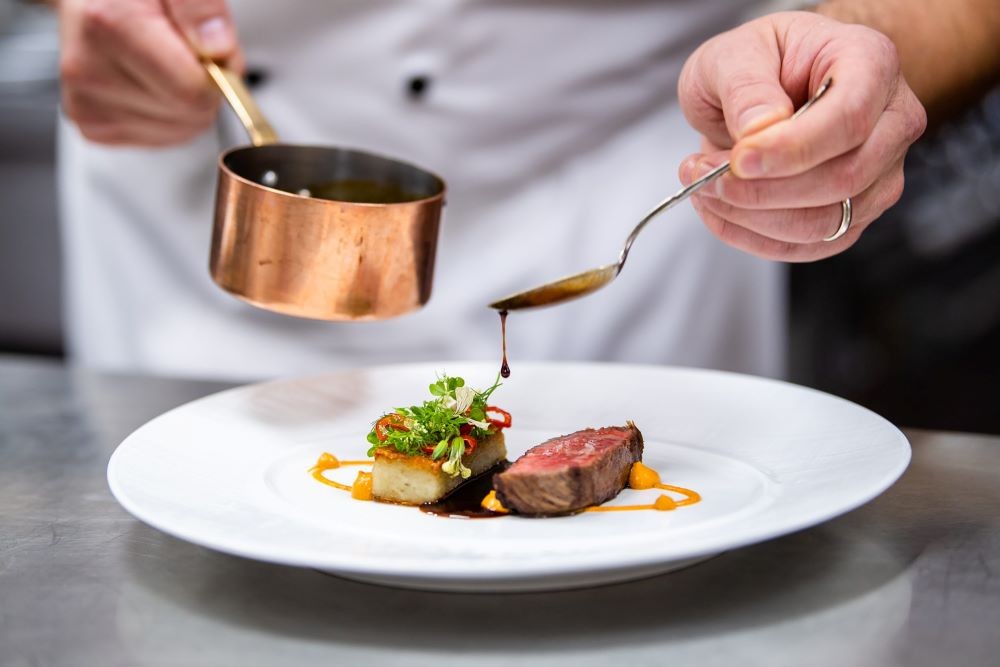 Dish from Victoria & Albert's at Walt Disney World Resort at Disney's Grand Floridian Resort & Spa
When Michael Dunton, Rosen Shingle Creek Resort's executive chef, first arrived in Orlando in 2015, he remembers seeing a panorama of chain restaurants during his introductory drive. "That's what my idea of the food scene was then," he recalled.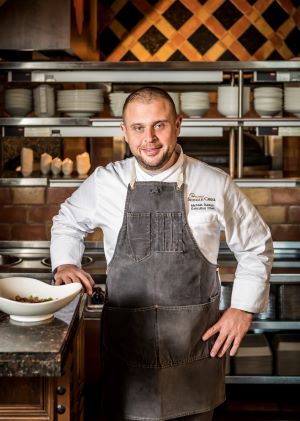 Fast forward to today and Orlando is filled with celebrity chef-driven restaurants, local James Beard nominees and winners, breweries and wine bars across its now vast culinary landscape—as well as newly awarded Michelin Guide winners. 
"Orlando has turned out to be a great food city, whatever the cuisine. And we have it all. Whether it's great Mexican, Venezuelan or dim sum. I see authentic food as the biggest trend today," Dunton said.  
And, when it comes to authentic, Dunton said one way to do it is to source from local farms such as Frog Song Organics in nearby Hawthorne, Florida, and Mick Farms in Saint Cloud, Florida.  
"We see what they are harvesting and coordinate with our events and write menus around what they're growing," Dunton said. 
Whether it's a meal for a group of four or for a function for 500, Dunton feels it's critical to know what the local farms are producing and what is in-season. "I can customize a menu for any group, any size, but making sure every meal, every catering event at Rosen Shingle Creek is restaurant quality, with great flavor, is something I take pride in every time. 
"Meeting planners want restaurants with awesome quality food that's authentic," he continued. "And it all started in Orlando with Ravenous Pig by James and Julie Petrakis [a Michelin Bib Gourmand awarded for great value], Primo by Melissa Kelly [Michelin Recommended at JW Marriott Grande Lakes] and Norman's by Norman Van Aiken [who will open a new restaurant on Orlando's Restaurant Row in the Fall]." 
It's an incredible time to be in the restaurant business in Orlando. Following, we explore what groups can look forward to during their next visit. 
[Related: Florida Chefs Supply Fresh, Farmed Ingredients for Impressive Group Dining Experiences]
Michelin Comes to Orlando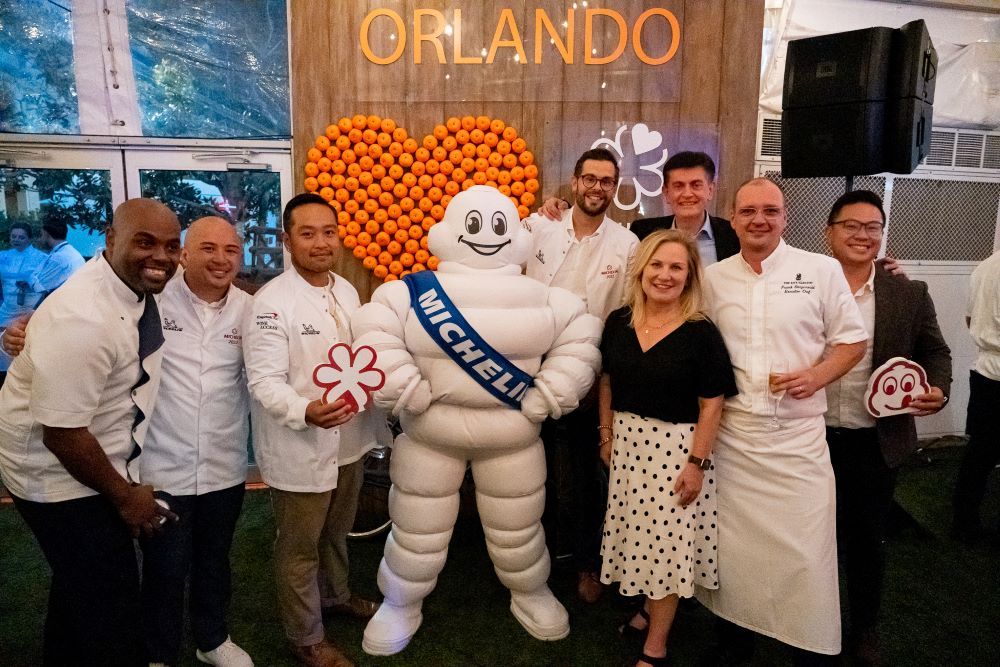 As far as the MICHELIN Guide: Miami, Orlando and Tampa, it's the first time the guide has sent inspectors to Florida.  
While Casandra Matej, president and CEO of Visit Orlando, says there's a place for chains for visitors who like familiarity and for families with children, other guests will look for James Beard nominated and Michelin starred restaurants during and after the meeting.  
"The Michelin Guide really provided us the ability to tell a great story in Orlando for our dining scene," Matej said. 
Four Orlando restaurants were awarded one star. Capa, in the Four Seasons Resort at Walt Disney World, is one.  
"We have been lucky enough to have a consistent guest base even before the award, but it's been great to have the Michelin Star recognition," said its executive chef, Fabrizio Schenardi. "We've definitely seen a bump in weekend reservation requests from locals who are excited to experience a Michelin Star restaurant, and our regulars have expressed how thrilled they are for our team." 
Knife & Spoon at The Ritz-Carlton, Orlando Grande Lakes, also garnered a star. "I am so honored and proud of the team, the opportunity and the achievement," celebrity chef John Tesar said, adding that operating a restaurant at a luxury resort is a team effort. "The Michelin one-star recognition is a tremendous accomplishment for all of our chefs." 
Two other establishments receiving the coveted star include Soseki Modern Omakase in Winter Park, a 10-seat restaurant with a monthly changing menu, and Kadence, a fashionable sushi and sake bar in downtown Orlando. 
The Michelin Guide also awarded seven Orlando restaurants with Bib Gourmands, and 23 Recommended restaurants (see below).
"At the end of the day, great destinations have great culinary arts. Orlando has certainly evolved and with the Michelin Guide recognition there's a new sense of culinary pride and energy across Central Florida," Matej said. "Whether it's a stand-alone restaurant, or a celebrity chef-driven restaurant like Todd English's blueZoo, Morimoto Asia or Art Smith's Homecomin' in Disney Springs, we have 6,000 restaurants with 40 different international cuisines here.  
"The fact that we had 34 restaurants recognized is a huge number—and in so many different pockets of the city," she added. "If you want a hidden gem, a casual restaurant or a high-end restaurant with elevated service in one of our convention hotels, we have great dining no matter where you are—and they are all no more than 20 minutes away from the convention district." 
[Related: 6 Great Group Dining Options in Charleston, S.C.]
Resort Restaurants Up the Ante 
David Hackett, executive chef at Caribe Royale Orlando hotel with prestigious The Venetian Chop House and the Rum Bar, started his career in 1988 at Walt Disney World and has watched the dining scene evolve greatly over the years.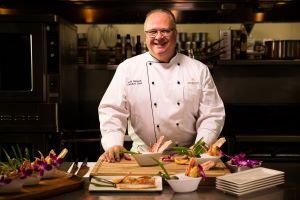 "I'm shocked to see even the franchise restaurants up their game, especially Darden, (the premier full-service dining company with 1,800 restaurants throughout the country)," Hackett said. "When I was growing up, it was the hotel restaurants that were the best. Then they went in the opposite direction, probably because of the confines of corporate hotel chains. Now, hotels again have their own identity. At Caribe, we are wide open to what we want to do. We can use any vendors we want." . 
Hackett wants Caribe Royale dining experiences to be more like a free-standing restaurant. Even if it's a banquet for 1,200-1,500, he aims to create fine dining with exquisite flavors using locally sourced ingredients (within a 500-mile radius) with no restrictions. Hackett believes this farm-to-table approach helps set them apart.  
"We buy from Vita Pasta—No. 1 for gluten-free pasta in Orlando—where their semolina comes in fresh from Italy every day."  
The company also sources Black Angus steaks from Halperns' Purveyors of Steak & Seafood in Orlando, and their burrata direct from Miami. 
"Our food is sexy, limitless. We've done away with chafing dishes and switched to All-Clad pans. We want the best experience for guests and we know we're doing it right because we have a huge local following—so much we added 50 seats to the dining room," he said.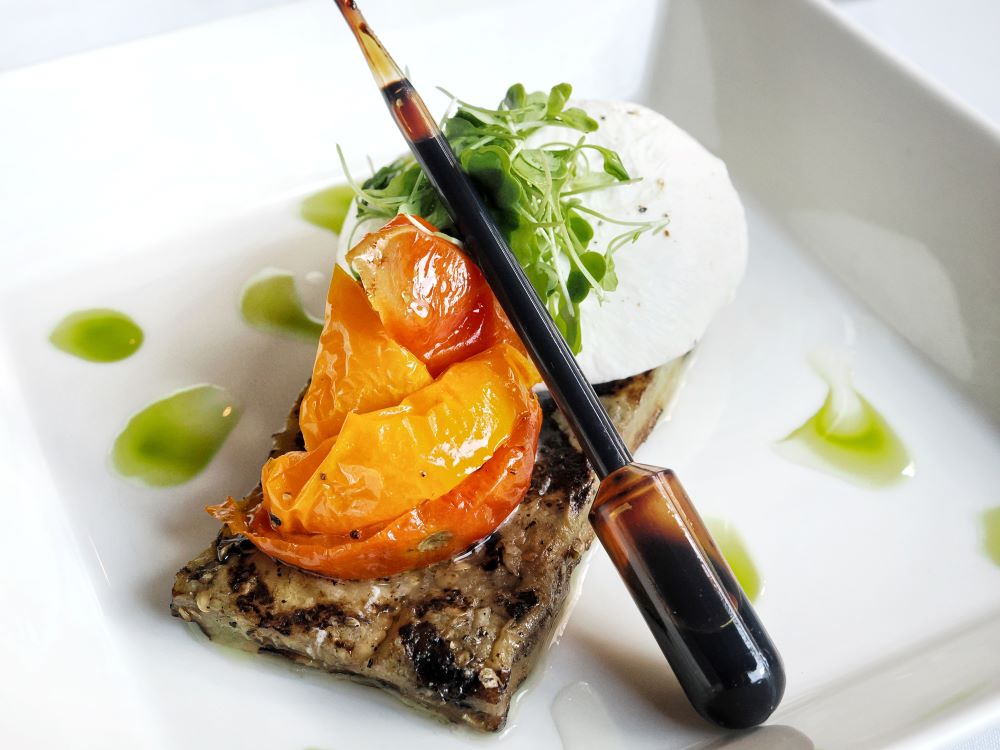 When it comes to corporate clients, Hackett said he loves to work on custom menus.  
"It's an opportunity for us to shine," he said. "We like doing action stations where we do poke bowls, crepes and stir-fry stations so people can choose what they want."  
Hackett attributes much of his success to clients who tell him what they enjoy so he can curate their menus accordingly.  
"We also have phenomenal regular, permanent staff who are highly enthusiastic, and our on-call servers are all empowered and super psyched to be here," he said. 
Action stations are here to say, added chef Guillaume Robin, executive chef for Lake Nona Wave Hotel. "I'm seeing meeting professionals requesting more and more interactive experiences, such as live stations to engage with and entertain guests, as well as more restaurant-style events with restaurant quality. 
"I also think we are going back more and more to the classics, but with a modern and unexpected way to present and cook the dish," Robin said, adding that he believes dining is also more about entertaining in addition to a great meal, and that guests get a whole experience with more tableside service. 
[Related: Explore These Unique Florida Neighborhoods After Your Next Meeting]
Michelin Guide: 23 Recommended Orlando Restaurants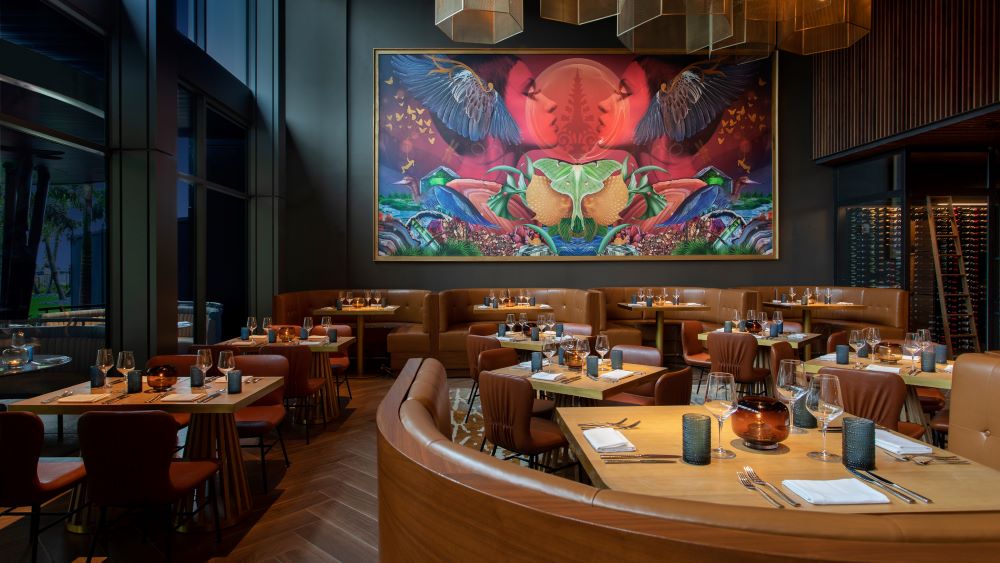 Michelin Guide announced 23 Recommended Orlando restaurants that include the following: 
BACÁN, Lake Nona Wave Hotel 
California Grill, Disney's Contemporary Resort 
Citricos, Disney's Grand Floridian Resort & Spa 
Four Flamingos, A Richard Blais Florida Kitchen, Hyatt Regency Grand Cypress 
Kabooki Sushi, Milk District (Second Location on Restaurant Row) 
Maxine's on Shine, Colonialtown 
Morimoto Asia, Disney Springs® 
Prato, Winter Park 
Primo, The Ritz-Carlton Orlando, Grande Lakes 
Ravello, Four Seasons Resort Orlando at Walt Disney World Resort 
Sear + Sea, JW Marriott Orlando Bonnet Creek Resort & Spa 
Se7en Bites, Milk District 
Black Rooster Taqueria, Mills 50, downtown 
Hawkers, Mills 50, downtown 
Kai Asian Street Fare, Winter Park 
Orlando Meats, Winter Park 
The Pinery, Ivanhoe Village Main Street 
Pizza Bruno, Curry Ford West 
The Polite Pig, Disney Springs 
Selam Ethiopian & Eritrean Cuisine, SeaWorld® Orlando Area 
Shin Jung, Mills 50, downtown 
Sticky Rice, Mills 50, downtown 
Tori Tori, Mills 50, downtown 
[Related: Visit Orlando's Casandra Matej Unveils New Meetings Experiences for 2023, From PCMA Convening Leaders]
Bib Gourmand Designation Orlando Restaurants
In addition to the four one-star Michelin restaurants, inspectors found seven restaurants worthy of the Bib Gourmand designation, which recognizes great food at great value. They include: 
The Ravenous Pig, Winter Park 
The Strand Food & Drink, downtown Orlando 
Z Asian, downtown Orlando 
Bombay Street Kitchen, South Orlando 
Domu, downtown Orlando 
Papa Llama, Curry Ford West 
Swine & Sons, Winter Park 
Plus: Orange County Convention Center Grows Its Own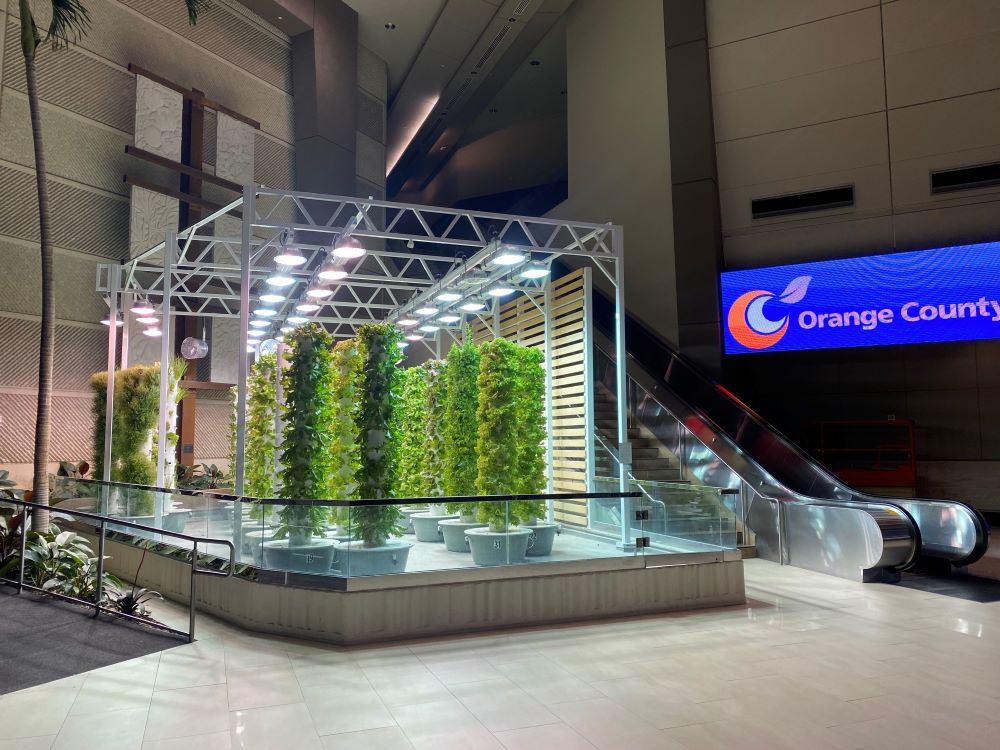 Even in the world of convention centers, food quality has increased in recent years. Molly Crouch, corporate director of sustainability for Sodexo Live!, provider of food and beverage at Orange County Convention Center (OCCC), says it's because people's expectations have increased.  
"It's from years of watching cable TV and all the cooking shows and people learning about—and getting healthier about—the food they are eating," she said.  
"It used to be you had a convention where 500 people were coming in and you made a certain number of hamburgers, hot dogs and chicken—and all the outlets were selling the same thing. You can't really do that when your convention center is in the heart of the tourist district. You're going to lose guests who want to get out and try something different. People's palates have progressed." 
To that end, the OCCC has called on local restaurants to round out some of the offerings in the food courts, including Beth's Burger Bar, always atop Orlando magazine's top burger in the city list. Also de rigeur are Ellie Lou's Brews and BBQ, Cusano's Baking Company for artisan bread, and ZaZa Cuban Comfort Food for fresh baked goods and Cuban coffee. 
"We've also been doing open kitchens so attendees can actually see chefs preparing the food—not pulled from a drawer where you have no idea how long it has been there," Crouch said. "We want attendees who come to the convention center for new product rollouts to have the full experience and that includes food, and our chefs always want to do something more innovative." 
Innovation at the OCCC also comes in the form of 92 Center-to-Table aeroponic vertical growing towers with 44 plants each, bringing greens and herbs to the OCCC kitchen literally just picked.  
[Related: 6 Meeting Professionals Detail Why They Pick Florida for Events]
New & Renovated Restaurants for Groups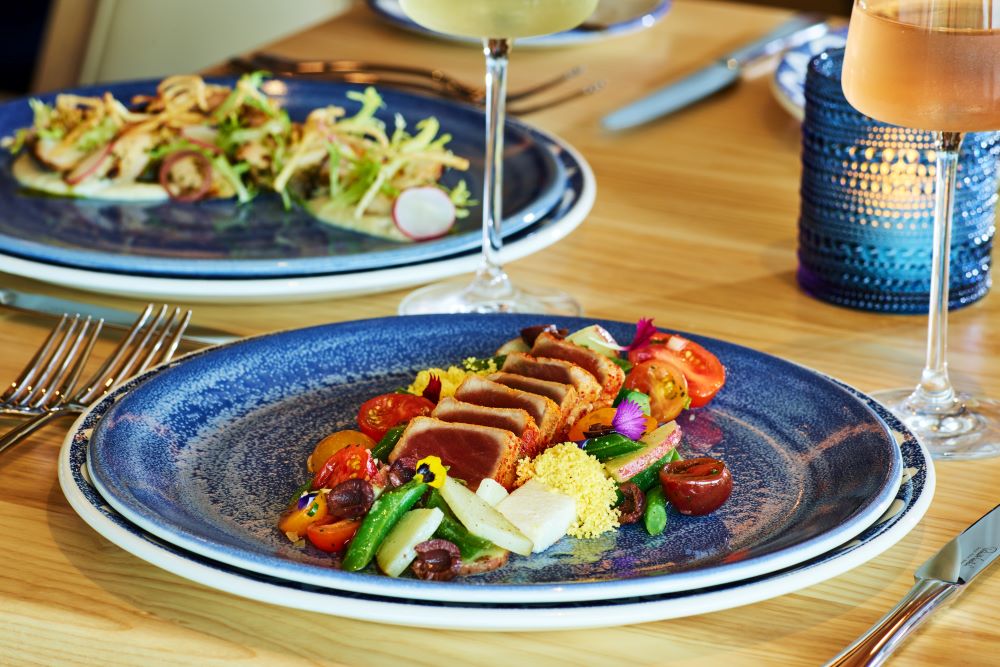 As its dining scene receives accolodades, the number of restaurants in Orlando continues to grow. Here's the latest openings and renovations that foodies should know about.
Victoria & Albert's at Walt Disney World Resort at Disney's Grand Floridian Resort & Spa reopened in July. Known for its lavish setting, the restaurant has been a recipient of the prestigious AAA Five Diamond Award since 2000. The Dining Room presents a delectable tasting menu easily tailored to suit guests' specific dietary restrictions. For a more intimate evening, the private Queen Victoria's Room offers an expanded prix-fixe tasting menu specially created by the chef de cuisine.  
Norman's, at the Dellagio Town Center on Restaurant Row near the OCCC, will open in the fall. This unique 7,500-square-foot space was created with groups in mind and includes an additional 1,750 square feet of outdoor event space. For more intimate gatherings indoors, planners can choose from a boardroom setting for up to 16 people and another space for parties of up to 25. A spacious outdoor patio accommodates 85 people seated or 150 reception-style, and can be set-designed with food stations. 
Michelin Recommended Primo was co-founded by James Beard Award winner Melissa Kelly. The restaurant, in the JW Marriott Orlando, Grande Lakes, has been completely refurbished. "The restaurant was a bit dated so we gutted it, so it's got a whole new life. It's now open and bright. We built a pergola and planted vines in the garden so it looks like Italy," Kelly said. The restaurant is available for a variety of groups, like the Chef's Table for 16 or up to a full buyout for 175.  
Four Flamingos, A Richard Blais Florida Kitchen opened in December at Hyatt Regency Grand Cypress—and it's already a Michelin Guide Recommended restaurant. Watch for tropical-inspired fare with fresh flavors and local ingredients, including native fruits, crisp vegetables and straight-from-the-docks seafood. The 2,750-square-foot restaurant seats a total of 140 in its four dining rooms with the smallest room accommodating 30 for dinner and up to 48 seated in the larger room. Four Flamingos offers full buyouts, semi-private dining rooms for smaller events, an open kitchen and screened wraparound porches. 
New Mediterranean restaurant, Amare at Swan Reserve, features a mouthwatering selection of fresh-caught seafood seasoned with tangy citrus, olive oils, and a selection of pastas and pitas to tempt any palate. An extensive Mediterranean-based wine list offers several specialized wine flights with selections from across the region.  Amare's capacity is 100 for a buyout and a private dining room for 26. 
Two new restaurants are coming to Pointe Orlando, aka The Pointe, in 2022: Kavas Tacos & Tequila and JoJo's Shake Bar. Kavas features savory comfort food, fresh tableside experiences and recipes handcrafted from the freshest ingredients. JoJo's serves up shakes that are a visual treat, topped with an array of items like Oreo cookies, candy and more. 
Sloppy Joe's, the legendary Key West saloon, opened at ICON Park on I-Drive in December, offering live music and island-inspired food and libations. The restaurant accommodates groups of up to 140 inside and 54 on the outdoor patio. 
Brother Jimmy's BBQ opened in ICON Park in June serving Carolina-style barbecue and Gordon Ramsay's iconic Fish & Chips, the celebrity chef's first Orlando restaurant, also at ICON Park. 
Located inside Lake Nona Wave Hotel, BACÁN is a lush restaurant just recently Michelin Guide Recommended. Available for private group dining, this restaurant offers a visual treat and an outdoor dining experience from its extensive outdoor patio overlooking the Lake Nona Sculpture Garden. The restaurant can accommodate 160 indoors and 40 outdoors. 
AVA MediterrAegean opened in February in Winter Park, north of downtown Orlando. This 170-restaurant specializes in authentic Greek food and ambiance and is one of many dining options on Winter Park's upscale Park Avenue. The 165-square-foot, semi-private dining room can seat up to 12. Downstairs, the 1,133-square-foot Lounge will accommodate up to 42. Groups can also gather in the 1,255-square-foot main dining room; an 809-square-foot raw bar; or the 300-square-foot bar that merges with an outdoor terrace to double the space to 600 square feet. Full or partial buyouts accommodate up to 170 seated, or 280 reception-style. 
The Monroe, in downtown Orlando, has emerged as the area's culinary hot spot. Barbecue salmon, an acclaimed fried chicken platter, pastrami-spiced corn dogs and more are served from a midcentury modern venue with more than 3,000 square feet of interior space and 1,500 in the backyard patio, making it ideal for special events. Restaurant buyouts can accommodate up to 250 for a buffet and cocktails, or 130 seated. Additionally, the outdoor patio can accommodate 75 for cocktails or 32 seated. 
John Rivers, founder of 4 Rivers Restaurant Group, will open the first phase of the 4Roots Farm Campus in late 2022. This 18-acre urban farm is coming to Orlando's Packing District north of downtown. Plans include classrooms, a community green space, farm-to-table restaurant, more than 49,000 square feet of greenhouses and a diverse and fascinating range of growing systems. 
Drury Plaza Hotel Orlando will open in the fall with two new restaurants: The Kitchen + Bar, within the hotel lobby and open daily for a casual indoor meal with seating for up to 120. Handcrafted cocktails, carefully selected wines, spirits and locally sourced craft beers, tasty appetizers, salads, sandwiches and wraps are just a few of many tempting choices. The Lakeside Bar & Grill, the hotel's poolside restaurant and full-service bar offers both indoor and covered outdoor seating and overlooks the resort pool delivering breathtaking lake views.  
Read this next: 4 Key West Chefs Dish on Why Groups Should Experience Local Seafood