3 Desert Destinations With Thrill-Seeking Teambuilding Activities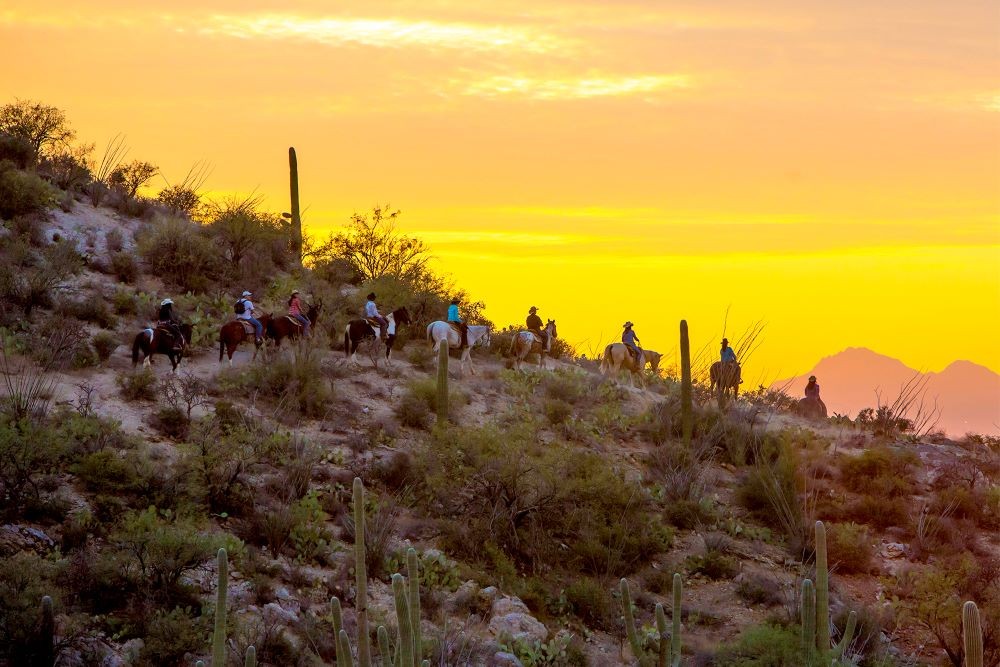 Horseback riding in Tucson. Photo courtesy of Tanque Verde Guest Ranch
A common misconception is that desert destinations are just vast stretches of sand paired with unforgiving heat. And while you'll find sand and sunshine to be sure, desert destinations across the Western and Southwestern U.S. offer some of the most beautiful landscapes in the country, filled with interesting wildlife, scenic surrounding mountains, lakes and rivers (Yes, they do exist in the desert.) and more—not to mention bustling metros with some of the most exciting meeting facilities in the country. 
Three popular meetings destinations—Tucson, Arizona; Albuquerque, New Mexico; and Las Vegas—are in desert climates and offer adventurous teambuilding activities for groups that want to get out and explore the scenery beyond the cities, from ATV-ing through the site of a gold rush to horseback riding at sunset and ebiking along one of the country's biggest rivers. Following, we break down some of the best ways to bust out of the boardroom and enjoy the desert, while building team culture in the process. 
Tucson, Arizona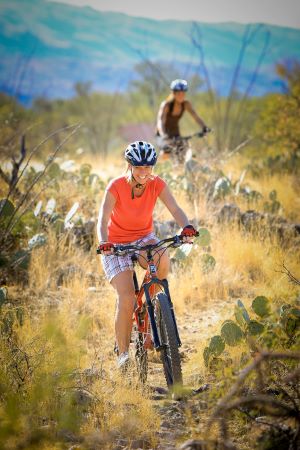 Opportunities to bond outside of the ballroom abound in Tucson, Arizona. Stunning vistas of mountains, saguaro cacti, clear skies and brilliant sunsets are the norm in this popular desert destination, and locals are keen to show visitors how they can experience the unique outdoors.  
Tanque Verde Ranch is an old-time cattle and guest ranch located on 60,000 acres near the Rincon Mountains and adjacent to Saguaro National Park and Coronado National Forest. The historic property has much to offer meetings and events groups, with 17 event spaces, including a plethora of outdoor spaces.  
Teambuilding activities shine at Tanque Verde Ranch. More than 25 teambuilding activities are in the property's repertoire, specifically designed to enhance groups' cooperation, decision-making skills and to encourage teamwork. Daily scheduled activities are included in the ranch's all-inclusive package, and private, customized outings can be planned as well. Some activities include: 
Horseback riding: Experienced and novice horseback riders can journey on leisurely guided horseback rides through the surrounding mountain and desert trails. Rides can also be arranged at sunset, where participants will get treated to views of the Santa Catalina, Tucson and the Santa Rita mountain ranges. 
Mountain biking: Adventurers will jump at the chance to take on the more challenging sport of mountain biking through Arizona's mountain and desert landscapes. Experienced mountain biking guides lead the treks, providing suspension mountain bikes, helmets, gloves and water. 
Hot air balloon rides: Enjoy the desert views and sunrise skies from a different vantage point by joining the ranch's morning hot air balloon rides. 
Hiking: A variety of themed hikes are offered at the ranch, ranging from the Private Food & Pharmacy Hike, where naturalists teach participants about edible and medicinal plans found in the Sonoran Desert, to Private Photography Walk, where hiking guides help amateur photographers catch iconic Sonoran Desert shots. 
Stargazing sessions, cookouts, casino nights and more round out some of Tanque Verde Ranch's less active—but no less fun—teambuilding activities. 
[Related: 9 Inviting Outdoor Venues in Phoenix and Scottsdale]
Las Vegas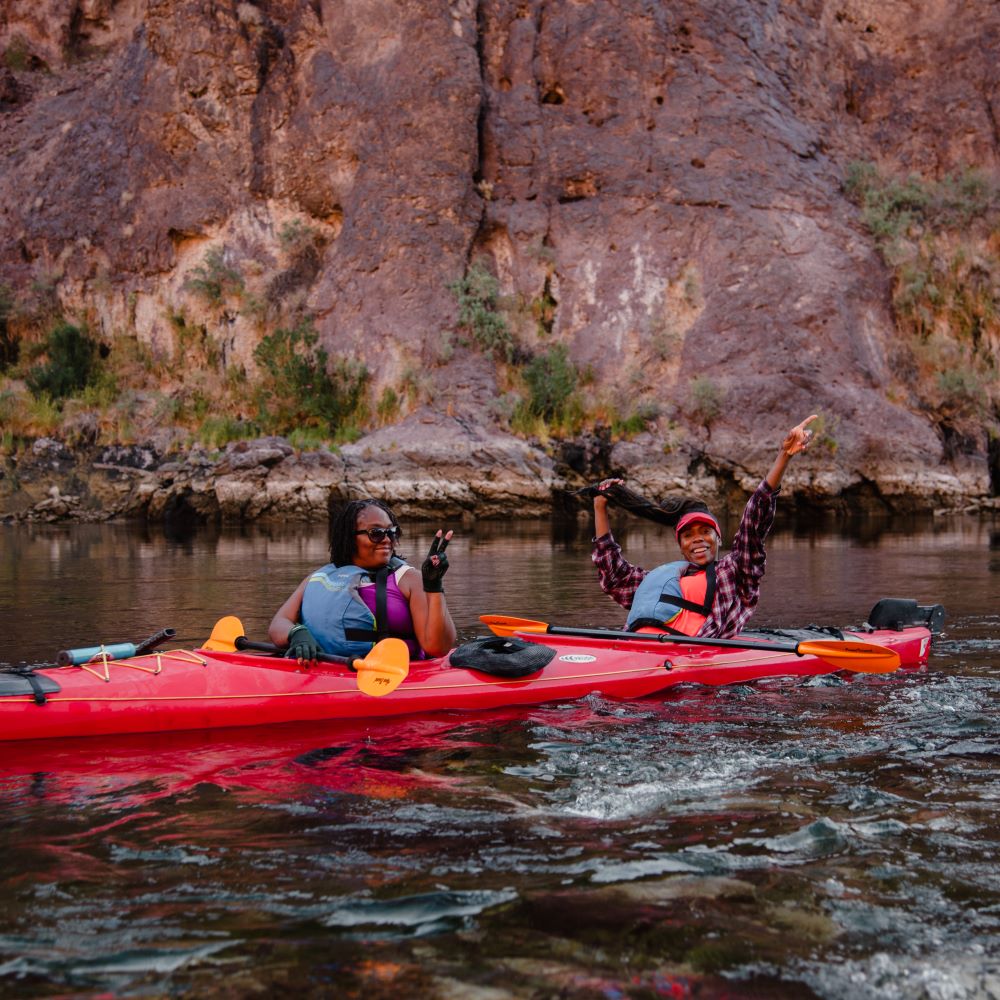 Conventioneers in buzzing Las Vegas may be surprised to learn that beautiful natural landscapes are just a short drive away from the Las Vegas Strip, and that teambuilding activities for attendees that prefer to avoid the sensory overload of casinos and shows and get outdoors are easy to find. 
The Las Vegas Convention & Visitors Authority recommended these three ways groups can bond outdoors and see beyond the Las Vegas lights in Nevada's pleasant-weather months. 
Kayaking on the Colorado River: Kayaking on the water—at a meeting in Vegas? It's possible with Evolution Expeditions, which offers full- and half-day tours down the Colorado River and its surrounding canyons. Guides provide groups with historical facts about the land while taking them through caves, slot canyons and even to the base of the Hoover Dam. Pick-up and drop-off can be arranged from Las Vegas hotels. 
Pink Jeep Tours: Discover Nevada's first and largest state park, Valley of Fire, in the Mojave Desert with Pink Jeep Tours. Participants get picked up in the company's signature bubblegum pink tour trekker vehicles from their hotel in Las Vegas, and will learn about the ecology, geology and history of the 40,000-acre park—famous filming locations for movies such as Viva Las Vegas and Stark Trek: Generations and Transformers are visible on the tour as well. 
ATV Tours: For adventurers and history buffs, an ATV tour of the Mojave Desert and Eldorado Canyon will give attendees a glimpse into the gold rush of 1861. Awesome Adventures offers tours that include pick-up and drop-off at Las Vegas hotels, an ATV tour, lunch, gold mine tour and photos. Awesome Adventures also offers custom group events for groups of 24-150. 
[Related: Las Vegas Mainstays and New Entrants Keep the Group Market Rolling in 2022]
Albuquerque, New Mexico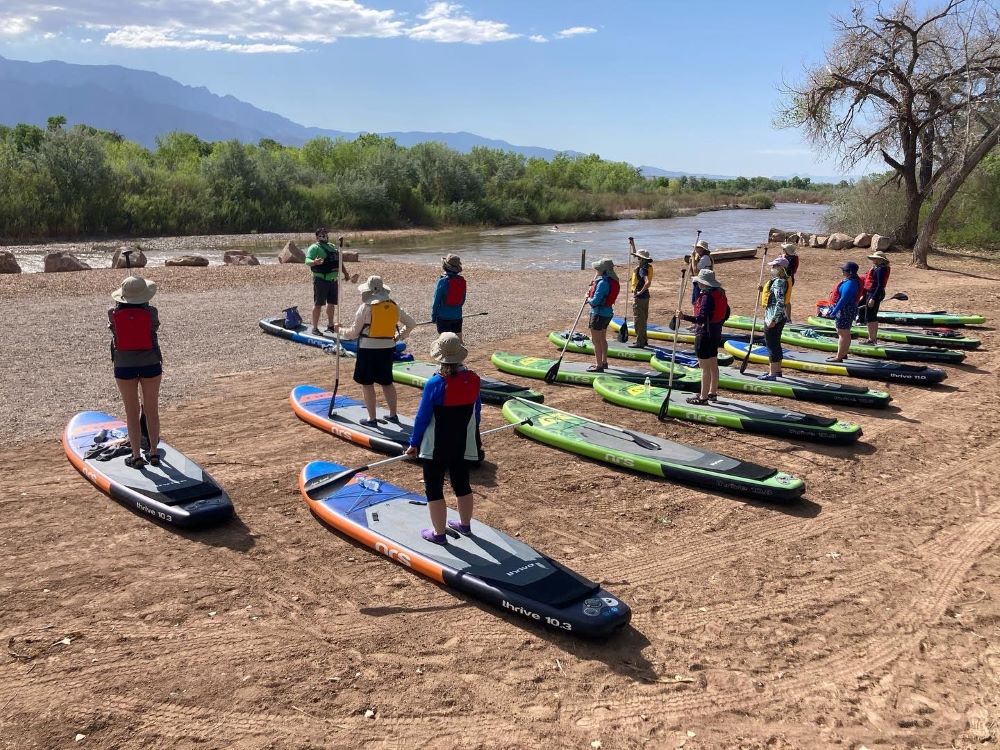 With more than 310 days of sunshine a year, thanks to its high-desert climate, New Mexico's largest city, Albuquerque, offers a playground of outdoor teambuilding activities. Popular meetings hotel Hyatt Regency Tamaya Resort & Spa, which boasts more than 25,000 square feet of indoor space and more than 29,000 square feet of outdoor space, offers onsite adventure and cultural activities, including the Stables at Tamaya, said Brenna Moore, director of communications and public relations for Visit Albuquerque. 
"Guests can experience horseback riding while learning more about the Horse Rehabilitation Program and can even volunteer at the Stables," she said, noting that the teambuilding activity can double as a CSR activity. 
Outside the resort, there are many ways to experience the outdoors of Albuquerque while encouraging team camaraderie. Other options include: 
Routes Bicycle Tours & Rentals: Specific teambuilding packages are available through Routes Bicycle Tours & Rentals, including team scavenger hunts on foot or on bike, city tours and bike-building workshops that give completed bikes back to local children in need. 
Heritage Inspirations: For less experienced cyclists, attendees will enjoy ebike tours with Heritage Inspirations, including guided rides along the Rio Grande where participants will learn more about the agricultural heritage and water management system of Albuquerque's Rio Grande Valley. For groups that want to stay in the city, the Duke City tour shows off the heart of Albuquerque's historic, cultural and artistic center. 
MST Adventures: Mountain, Stream and Trail (MST) Adventures gives adventure-seekers many ways to experience the natural beauty surrounding Albuquerque. Snowshoeing in the Sandia Mountains, standup paddleboarding tours on the Rio Grande, wildlife walking tours and more can be arranged.  
[Related: How Nature Inspires New Mexico's Wellness Offerings]
Connect 
Las Vegas Convention & Visitors Authority 
(702) 892-0711  
Visit Albuquerque 
(800) 284-2282 
Visit Tucson 
(520) 624-1817  
Read this next: 5 CSR Programs That Give Back to the Desert