Outdoor Teambuilding Excursions and Activities Unique to California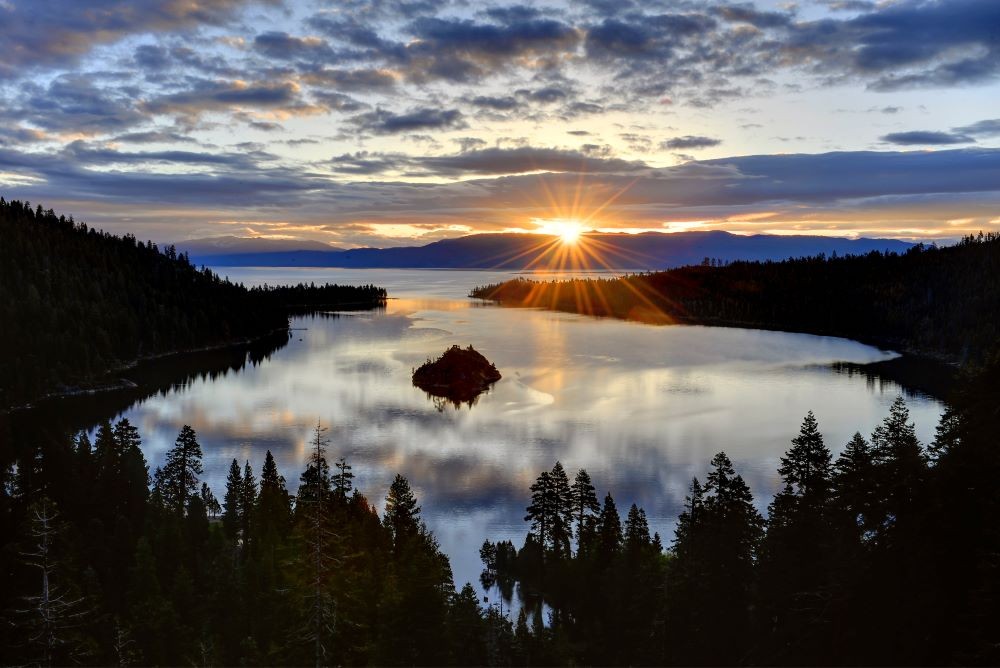 Scenic views of Emerald Bay. Credit: Visit Lake Tahoe
Boasting some of the sunniest cities in the U.S., 280 state parks and 840 miles of coastline with more than 420 public beaches, California's outdoor offerings are second to none.  
The one-of-a-kind opportunities to experience the natural wonders of the Golden State are abundant, from the north near Lake Tahoe down to Temecula Valley. Give your attendees the chance to see the following sights for themselves with outdoor excursions found only in California.
Lake Tahoe 
At 22 miles long and 12 wide, Lake Tahoe is North America's largest alpine lake, with enough water to cover the entire state of California to a depth of 14 inches, and the 72-mile drive around the lake—half of which is along California's state line—is "America's Most Beautiful Drive," according to Visit Lake Tahoe. And while Visit Lake Tahoe obviously has some skin in the game with that proclamation, those who have taken the drive would be hard-pressed to disagree.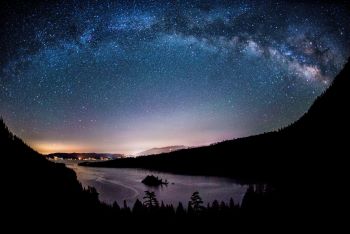 Groups can begin their outdoor excursion at any point along the 72-mile route around the lake, and Lake Tahoe's shoreline guide at www.MostBeautifulDrive.com starts the journey at the California-Nevada state line, traveling west from Nevada on Highway 50 to Highway 89 north and heading up and around the west side of Lake Tahoe. 
Starting with The Shops at Heavenly Village, groups looking to experience something uniquely California can peruse more than 40 shops and eateries along cobblestone sidewalks offering a blend of local and national brands. Heavenly Village's seasonal outdoor pavilion features ice skating or mini golf, and official village guided tours are viewable via Google Maps and Google Business.  
Heavenly Village also features one-of-a-kind venues like The Loft Tahoe, the only live-entertainment theater in South Tahoe featuring an upscale living room lounge and bar, a 107-seat theater and 5,500 square feet of versatile event space.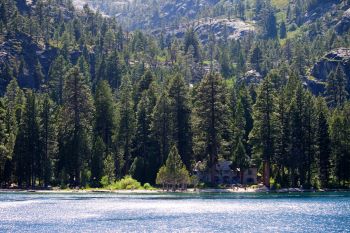 Continuing up Highway 89 North, groups can stop at one of the most photographed places in the world, Emerald Bay Lookout, for an outdoor escape with both nature and history unique to California. The crown jewel of Lake Tahoe, Emerald Bay is situated on the west shore as the only inlet on the lake and was declared a National Natural Landmark in 1969. 
In addition to taking in the sights, groups can enjoy summertime tours of Vikingsholm Castle, one of the first summer homes at Lake Tahoe, built in 1929. The 38-room mansion has long been considered one of the finest and most incredible examples of Scandinavian architecture in the U.S., according to Visit Lake Tahoe, and the National Landmark offers tours daily in the summer.  
Once groups reach Tahoe City, Palisades Tahoe is situated on the site of the 1960 Winter Olympics, the first to be nationally televised, with Walt Disney leading the opening ceremonies. Groups can explore the Olympic Museum and enjoy activities like skiing, chairlifts, swimming, ice skating and bungee jumping at Palisades Tahoe, and the resort offers 40,000 square feet of customizable space for up to 900 people.   
[Related: How Santa Rosa Stands Out for Meetings in Sonoma County, California]
Joshua Tree National Park 
Less than an hour away from Palm Springs and just over two hours by car from Los Angeles, Joshua Tree National Park is an easily accessible, one-of-a-kind outdoor excursion unique to Southern California. The protected area of rugged rock formations and desert landscapes encompasses two desert ecosystems where the iconic Joshua trees grow and the cactus-dotted Colorado Desert meets the Mojave.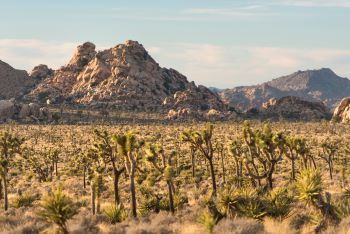 The park, "where two deserts meet," has nearly 300 miles of hiking trails to explore, some of which are recommended year-round and are wheelchair accessible. Groups can enjoy easier walks and nature trails shorter than a quarter of a mile, learning about desert plants along the path and completing their adventures within 1-2 hours, like: 
Barker Dam Trail: This 1.1-mile loop is one of the easier hiking trails at the national park and takes hikers through Joshua Tree's iconic monzogranite boulders and Joshua trees, past the historic Baker Dam and through the Mojave Desert. Interpretive exhibits along the trail tell the history of Barker Dam and its impact on desert agriculture.  
Keys View Trail: This 500-foot paved loop takes less than 30 minutes to walk and brings hikers to the crest of the Little San Bernardino Mountains overlooking the Coachella Valley, the Salton Sea, Mt. San Jacinto, Mt. San Gorgonio and the San Andreas fault.  
Skull Rock Trail: A 1.7-mile dirt loop, this trail takes hikers through boulder piles and desert washes to the namesake Skull Rock, the iconic Joshua Tree National Park boulder bearing a resemblance to a human skull and which draws visitors from all over year-round.  
Longer, more intensive hikes and trails include the Lost Horse Mine Trail, taking groups four miles through one of the most successful gold mines in the park; Hi-View Trail, looping hikers up and over a steep ridge to discover Joshua tree forests on the western side of the park; and Ryan Mountain Trail, one of the park's most popular hikes to the summit of Ryan Mountain and back.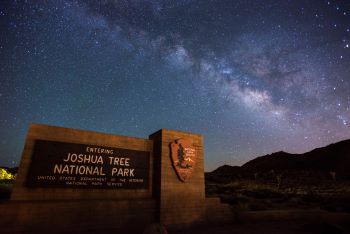 While Joshua Tree National Park's trails provide unique options for a popular outdoor pastime, groups looking for more of a guided adventure can work with Joshua Tree Excursions for private "one of a kind, memorable, personalized, Hi-Desert hiking, camping or backpacking experiences, for locals and visitors alike," as their mission states.   
Through Joshua Tree Excursions, corporate groups are invited to customize teambuilding experiences like scavenger hunts, hiking and climbing adventures, cliff-hanging tours and even a camping getaway within Joshua Tree National Park. Experiences and tours accommodate all ages, abilities and skill levels, and even include stargazing outings—an easy outdoor adventure to fit on the agenda after-hours and one most attendees likely can't take advantage of at home.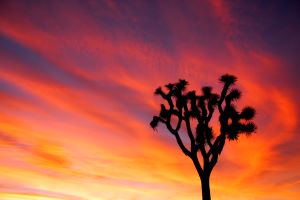 The night sky over Joshua Tree National Park is "a glittering dome peppered with stars, planets and passing meteors," a sight those living in urban and suburban settings drenched in artificial lighting and clouded by atmospheric pollutants don't get to see often.  
Offering some of the darkest skies in SoCal, Joshua Tree National Park is an International Dark Sky Park (as designated by the International Dark-Sky Association) and offers visitors once-in-a-lifetime views of the Milky Way. Those looking to see the stars should use red lights only, as it takes 20-30 minutes for the human eye to fully adjust to low-light conditions, and bright lights delay the process even more, according to the National Park Service. Avoid fuller phases of the moon, bring a chair and layer up!  
[Related: Relaxing Beaches, Secluded Forests and Polished Properties Make Santa Cruz Retreat-Ready]
Temecula Valley 
Centrally located in Southern California between Los Angeles and San Diego sits Temecula Valley, a Wine Enthusiast Top 10 Wine Travel Destination where meeting attendees can brainstorm in a hot-air balloon basket or team build on horseback after meeting among the vineyards.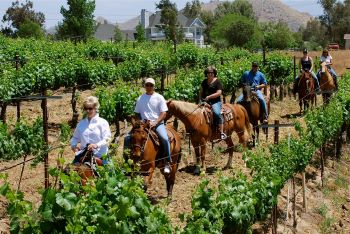 With sunshine year-round, Temecula Valley's outdoor offerings—from vineyards and gardens to fireside chats under the stars—draw groups of all sizes to the destination. Wineries like South Coast Winery Resort & Spa and BOTTAIA Winery offer flexible meeting spaces, onsite catering opportunities and outdoor seating like firepits, or groups can get down and dirty with team challenges including grape stomping and food and wine pairings at Wilson Creek Winery.  
Temecula also features five golf courses for a combined 99 holes, including Temecula Creek Inn's 27-hole championship golf course and the award-winning Journey at Pechanga Resort and Casino, consistently recognized as one of the nation's best by Golf Week magazine.  
Meetings in Temecula Valley can literally soar to new heights with A Grape Escape Balloon Adventure, offering a fleet of 16 colorful hot-air balloons that can accommodate up to 16 passengers each. The scenic flights are 60-75 minutes in length and take groups over the vineyards, wineries, lakes and citrus groves of Temecula Valley's wine country while the sun rises over the mountains and estate homes.  
On each ride, an FAA-certified commercial pilot navigates the flight while acting as a "tour guide," identifying local points of interest and answering attendee questions until safely back on the ground, where riders are invited to celebrate their new status as "aeronaut" over champagne and orange juice and a souvenir certificate of flight.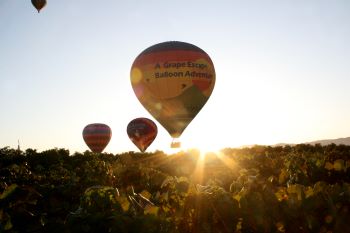 For those who prefer their feet stay planted on the ground, Wine Country Trails By Horseback offers one-of-a-kind horseback riding experiences through Temecula Wine Country vineyards. The teambuilding exercise takes groups on guided tours on docile and gentle horses, and each tour is led by a seasoned guide through the "back roads" of Temecula Valley.  
Another unique way groups can experience Temecula Valley's outdoor offerings is with Sidecar Tours. The owners of So Cal Sidecars modified the standard motorcycle sidecar to accommodate two passengers in the world's first and only tandem sidecars, taking pairs on wine tour experiences completely different from any other in a unique, fun and intimate way. Tours offer real knowledge, history and winery recommendations.  
Connect

Visit Lake Tahoe
(775) 588-5900
Joshua Tree National Park
(760) 367-5500
Visit Temecula Valley
(888) 363-2852
Read this next: How to Explore California Wine Country Through Food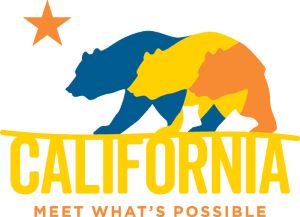 This article was produced in partnership with Visit California