Historic Venues in Iowa for Hosting Showstopping Events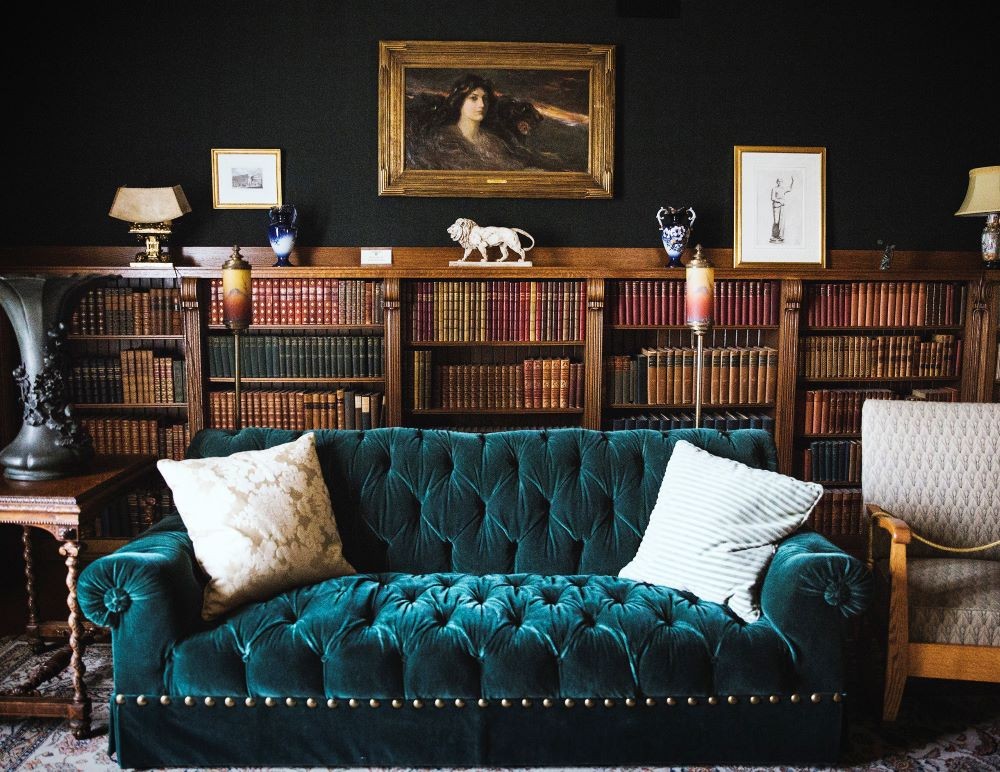 The Brucemore, Cedar Rapids
Creating and hosting showstopping events should be easier following the sharp increase in trends and technologies that came after the pandemic's lull, but with so many new interests and tools to experiment with, deciding where to start can be a daunting task. 
One method that has proven tried-and-true, though, is based in the past rather than the present, when our present "trends" were inconceivable and the newest technology craze was Henry Ford's Model T.
Something about historic venues will always bring a showstopping element, whether it be the ornate details lining a ballroom's trim, the decades-old chandeliers hanging from the ceiling or architecture evoking the past. Here's where you can find those showstopping historic elements in Iowa.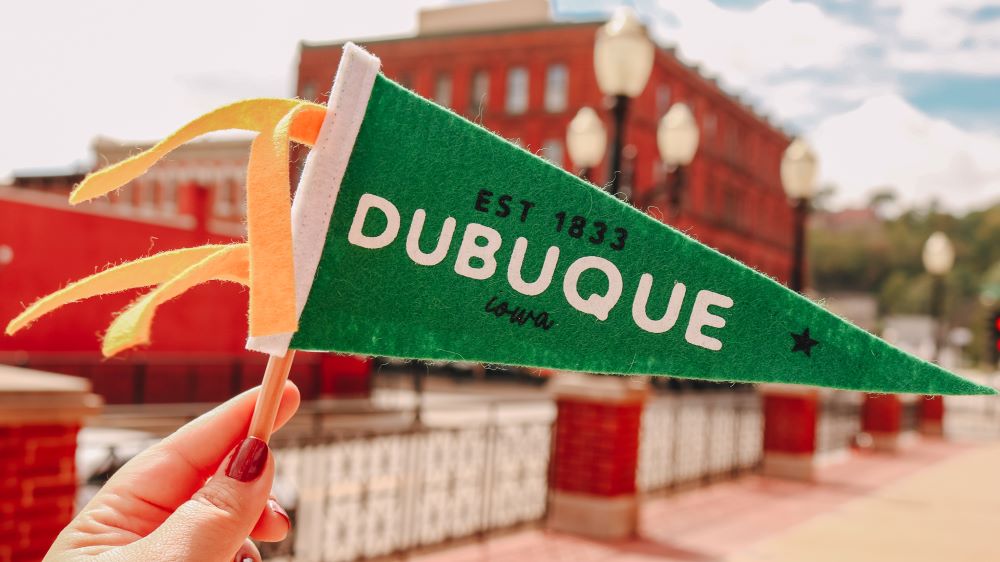 Dubuque
To truly experience the history and heritage of the state of Iowa, consider hosting your next meeting or event in the city that started it all.
"Dubuque is the oldest city in the state of Iowa, so when you talk about wanting to do anything historical, we're going to be the place to go because we started where Iowa is today," said Julie Kronlage, vice president of sales at Travel Dubuque. "In fact, that's what one of our taglines is, 'Where Iowa started.'" 
The city was founded in 1833—13 years before the state of Iowa itself—by a French-Canadian fur trader named Julien Dubuque and is home to both the first brewery and first place of worship in Iowa. Today, the Julien Dubuque Monument built in 1897 stands tall atop a limestone bluff at the Mines of Spain, serving as a burial spot for the city's founder and one of Dubuque's most iconic landmarks.
Groups can hike to view the monument and explore the Mines of Spain, an "outdoor oasis" with prairie lands, wetlands and trails like the iconic 3/4 -mile Horseshoe Bluff Nature Trail, featuring scenic overlooks and views of the old quarry.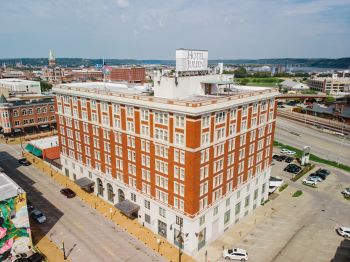 "Our oldest property in the community is the Hotel Julien Dubuque, and that would be a facility that you'd definitely want to focus on," Kronlage said. "There's been a hotel where Hotel Julien Dubuque currently stands since the mid-1800s. Abraham Lincoln visited the hotel. Al Capone is rumored to have once owned the hotel. They found his tunnels when they did a renovation in 2009 that he used to escape when law was coming out of Illinois after him."
In 2009, the hotel opened after a more than $30 million renovation in the heart of the Old Main District, immersing guests in the property's historic charm while providing them with modern amenities. Prior to the renovation, Kronage said, the hotel offered more than 160 rooms. Now, Hotel Julien Dubuque currently features 133 guest rooms, the hotel's original marble floors and some of the original marble columns.
"Today, the facility hosts about 14,000 square feet of meeting space, and we can host groups there of about 300," Kronage said. 
The Grande Ballroom can accommodate 215 guests beneath its 17-foot ceilings festooned with chandeliers and can be combined with the Fleur de Lis, featuring windows overlooking historic Main Street and space for up to 150 in a banquet setting. The hotel also features the River Room, a unique and modern setting suitable for events of up to 120 guests, and the adjacent River Terrace, an outdoor patio space overlooking the Mississippi River.
"Unique to Hotel Julien Dubuque, they have a Capone Suite, and in the Capone Suite is the hotel safe," Kronage continued. "Geraldo Rivera, who was a talk show host in the '90s, came and actually opened the safe one time and it was this big ordeal. It's a pretty cool space."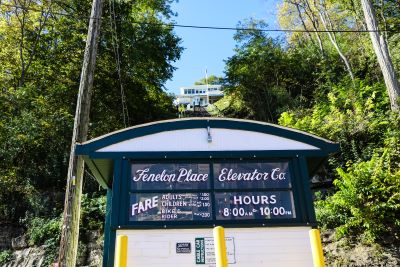 The city takes historic preservation very seriously, Kronage said, which can be seen across Dubuque's historic Millwork District. The city has put more than $500 million into the area through revitalization and reinvestment projects, repaving the streets and renovating buildings like the iconic Caradco Building, home to the manufacturing company responsible for producing more than 30 million doors and 55 million windows.
"Our woodworking, metalworking, windows and doors, a lot of that came from Dubuque," Kronage said. "In fact, some of the doors that were made here still stand today in the White House."
The Caradco Building has been completely revitalized and features award-winning restaurants, housing, shopping and coffee shops. It sits across the street from the Novelty Iron Works Building, now home to an event venue that can host up to 600 people, as well as Gino's East Pizza, the Comedy Bar and Gary Dolphin's Iron Bar, a gathering place paying homage to the sports broadcaster known as "The Voice of the Hawkeyes."
For a historic activity in Dubuque, groups can visit the country's oldest, shortest and steepest railway, the Fenelon Place Elevator, measuring 296 feet in length. The cable car takes passengers 189 feet from Fourth Street up to Fenelon Place for views of downtown Dubuque's business district, the Mississippi River and three states in the distance. 
"Dubuque has so much history," Kronlage said. "We have a lot of very historic Victorian architecture here. We've got some unique opportunities to really get out and touch and see Dubuque's history." 
[Related: Farm-to-Table Cuisine Shines in Eastern Iowa Cities]
Des Moines
Ten years after the founding of Dubuque and three before the state of Iowa, the city that would later become the state capital was established. In 1843, Fort Des Moines was built along the Des Moines River, and in 1857, Des Moines became an official city, shedding its "fort" title. Today, Des Moines stands as Iowa's largest city with a population of more than half a million. 
"[Des Moines' historic properties] are extremely important to the community," said Trina Flack, vice president of sales for Catch Des Moines. "A lot of times, when planners look for venues or look at a city, they want something that is unique to that city or that location. And one thing that historic buildings can offer is they're not buildings or venues that are found anywhere else. They give character to the community and an element of difference to an event."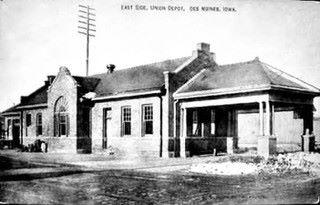 The Des Moines Heritage Center, housed within the East Des Moines Union Depot built in 1909, is one space offering that element of difference. The depot, for a long time, was a literal "hidden gem" in the city, tucked away behind a Wabash Railroad warehouse built in 1950. 
"It was hidden for many years. People didn't even realize it was there," said Tim Waddell, chair of the Des Moines Heritage Trust, a nonprofit organization created to save and preserve historic buildings in the City of Des Moines. "It was kind of a surprise to the community that it was there after all these years, and I think it was partially preserved because of that warehouse in front of it. People weren't aware of what it was, but [the Des Moines Heritage Trust] was aware, and we wanted to protect it."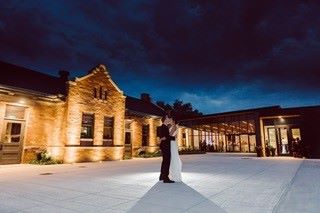 Today, the Des Moines Heritage Center looks like it did more than 100 years ago, with its original floors, color palette and baggage room restored to reflect what they looked like in 1909. The historic space can accommodate up to 80 guests in rounds and more than 100 theater-style. Plus, in restoration, the Des Moines Heritage Trust added an event space to the depot, with floor-to-ceiling windows on the east wall facing the depot for guests to experience modernity mixed with history while overlooking the State Capitol.
"Everybody wants to see the depot, and it's a part of [the event space]," Waddell said. "It's right there, all lit up and backlit at night, and everybody wants to come in and see this beautiful building. It's a jewel box of a depot and it just looks great. People love it.
"At our grand opening, we had a gentleman come with a photograph of his family arriving from Italy at that depot," Waddell continued. "It was such an important part of that family's history, that they arrived here at the depot. Down the line 120 years later, their granddaughter can get married here. For 120 years, it's been here in different ways, but it still serves that family."
A second historic venue dating back to 1877 is Hoyt Sherman Place, where "a founding father of the city  of Des Moines," Hoyt Sherman, and his wife raised their five children. Sherman built the first post office and bank and helped establish the Equitable of Iowa, which led to Des Moines' title as the insurance capital of the country, said Robert Warren, chief executive officer of Hoyt Sherman Place.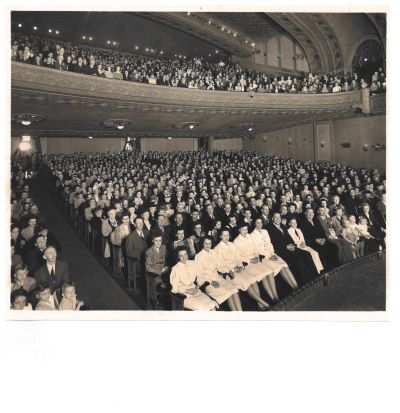 "Hoyt Sherman Place is a gorgeous 37-room Victorian mansion that was the showplace of Des Moines," Warren said. "Very fortunate for the city, the Des Moines Women's Club had outgrown their clubhouse, and they struck a deal with the city to lease the mansion as their clubhouse for $1 a year and agreed to build an art gallery and small auditorium…The beautiful 1,400-seat Victorian theater just turned 100 this year."
Groups can gather in the historic Hoyt Sherman Place Theater, restored in 2003, on both the main floor, which seats 776, and the balcony, which seats 476. The space has hosted concerts, comedians, lectures, dance recitals, corporate meetings and more. Hoyt Sherman Place Art Gallery offers space for up to 150 people to gather surrounded by a collection of notable paintings. 
"We put a brand-new, $6 million addition onto the back side of the theater, which is our Center for Artists and Education," Warren said. "It has a second-floor community room with a catering kitchen that seats about 120 and a beautiful third-floor VIP room, which we use for post-show meet-and-greets."
Completed in March 2020, the Center for Artists and Education comprises three levels, all of which are available for rental. The first floor features a covered loading dock, star dressing rooms and rehearsal space, while the Fred & Emily Weitz Community Room can seat up to 100 or host 175 standing. Hoyt Sherman Place also offers group tours "for 20 to 1,000," Warren said, at www.hoytsherman.org. 
[Related: Teambuilding Experiences in Eastern Iowa to Rebuild and Reacquaint Groups]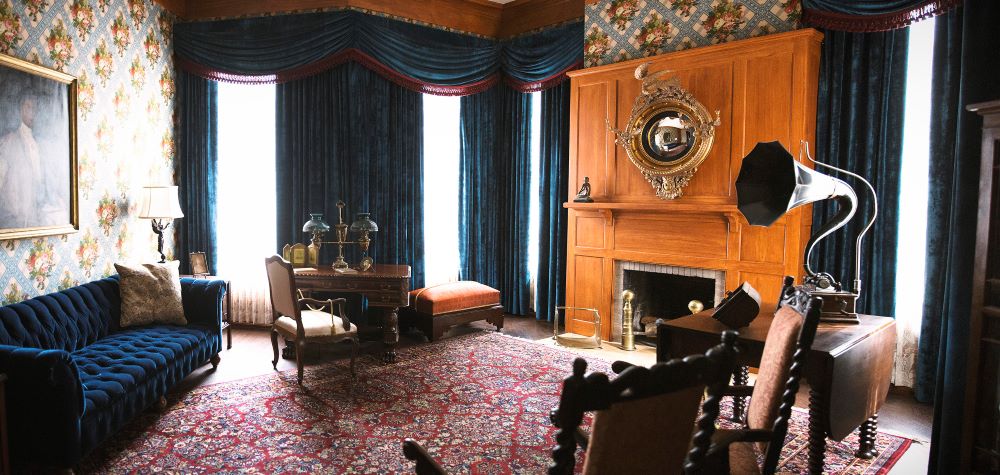 Cedar Rapids
Six years after the founding of Iowa's capital city came Cedar Rapids, the second-largest city in the state, and at the History Center of Cedar Rapids, groups can learn more about how the city came to be. 
In 1969, The History Center began as the Linn Country Historical Museum Association, formed by several local residents dedicated to permanently preserving Linn County's history. Some even housed historical artifacts in their own homes. In 1999, the center opened its first official museum at First Avenue and Sixth Street on the site of the former Rapids Chevrolet, and in 2014, The History Center purchased the Douglas Mansion, built in 1897 in Colonial Revival style for the Douglas family. The cereal mill they founded in 1873 later merged with the Quaker Oats Company.
In 2018, The History Center officially opened within the Douglas Mansion, showcasing rotating exhibits that share the stories of Cedar Rapids and greater Linn County with the community.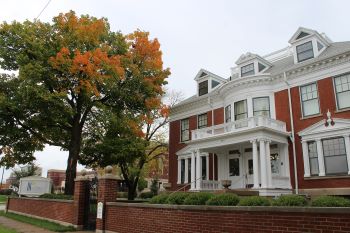 "We're in a historical house, but we're not a house museum, so our rooms are not set up to be the living room and kitchen and dining room. It's really set up as a museum in a house," said Jenny Thielman, program manager at The History Center. "Our first floor has our program space, which is used for different events and programs that we offer to the community, and then people can also rent that space for private programs and events."
The History Center of Cedar Rapids can accommodate up to 200 guests inside the mansion and more outside on the Douglas Mansion's lawn. Groups can also book experiences in The History Center's escape room, which changes themes over time but remains tied to Linn County history. 
"There's always something happening here. People have a misconception that if they've been here, they've seen it," Thielman said. "Well, it's not a one-and-done experience. It's something to come back to because there's always new stories to tell, and we have no shortage of artifacts to display and tell their stories." 
In 1884, Caroline Sinclair, a widow and mother of six living in Cedar Rapids, began construction on a 15,000-square-foot country home, Brucemore. Upon its completion in 1886, the house had 21 rooms and 14 fireplaces, and in 1906, the Douglas family    (Yes, that Douglas family!) purchased the property.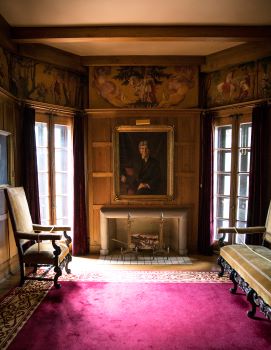 While living in Brucemore, the Douglas family made several changes to the mansion and the estate, shifting the main entrance to the south side of the house, building a terrace and two porches and adding a duck pond and formal garden. Ceiling beams were added to the Great Hall, a Skinner player organ was installed and the dining room was paneled. 
When the last of the Douglas family passed away in 1981, the Brucemore estate was left to the National Trust for Historic Preservation and opened to the public. 
"The families that lived at Brucemore all made significant impacts on the community," said Jennifer Beall, events and communications coordinator at Brucemore. "Caroline Sinclair donated to many causes throughout Cedar Rapids, including being a major funder of Coe College. The Douglas family were advocates for arts and culture. They hosted theatrical performances, concerts, book clubs and other cultural events at Brucemore. Margaret Hall continued this legacy and left Brucemore to the National Trust for Historic Preservation so that it could continue to be used as a cultural hub."
Groups can rent space at Brucemore for unique and memorable events in the historic Cedar Rapids venue. The Hall-Perrine Suite on the second floor of the Queen Anne mansion seats 10 and features a boardroom and sitting room overlooking the formal garden, while the Visitor Center Meeting Room located in the historic carriage house can seat 15 at tables or 30 theater-style. 
Outdoor spaces include the Courtyard, near the 1912 carriage house within the historic servants' village at Brucemore, which can host 350 standing; First Avenue Lawn, framed by the Queen Anne mansion, has hosted more than 20,000 visitors; and the West Lawn, with a capacity of 200 seated or 400 standing. 
"Companies and organizations renting space at Brucemore have the option to add a private tour of the mansion to their rental package," Beall said. "These tours typically last 45 minutes and provide an option to visit all three floors and basement of the mansion and learn more about this important piece of Cedar Rapids history."
Connect
Catch Des Moines
(800) 451-2625
Cedar Rapids Tourism
(319) 731-4560
Travel Dubuque
(800) 798-8844
Read this next: Tap These Unexpected Eastern Iowa Offsites for Group Outings