Destinations International Expands and Tackles Global Tourism Issues at Annual Convention in Dallas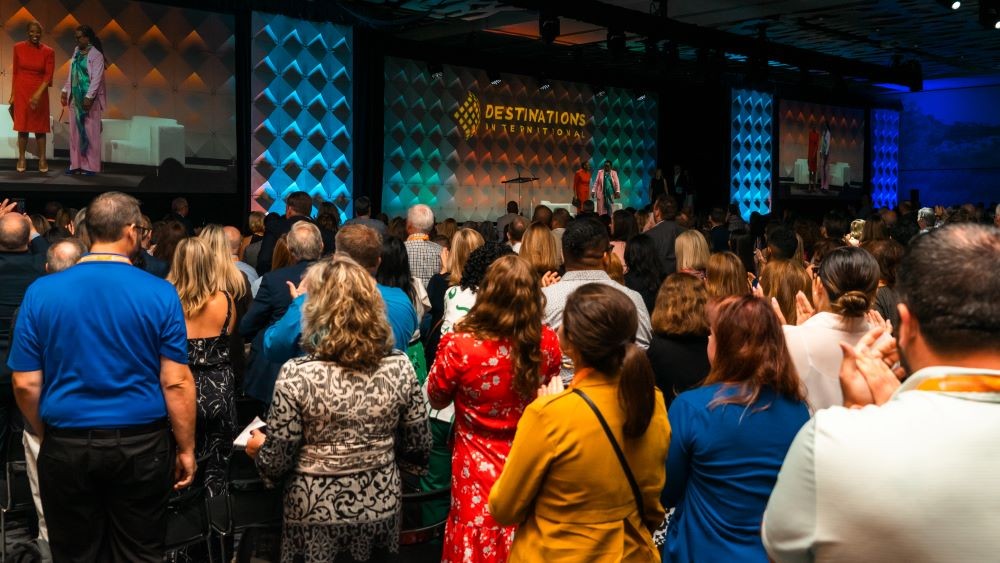 Keynote speaker Cynt Marshall, CEO of Dallas Mavericks, at Destinations International Annual Convention. Credit: Destinations International
Destinations International (DI), the world's largest association for destination organizations and CVBs, took its Annual Convention to Dallas July 18-20, where tourism professionals from around the world converged to tackle the rapidly evolving roles of CVBs and collaborate with colleagues to work through some of the most pressing issues affecting the industry.
DI Continues Global Expansion
Global expansion was a major theme at the convention. At the sold-out event, which included nearly 1,600 attendees with 565 first-timers, DI announced that its membership now includes 26 countries and territories and over 700 members around the world. The newest members include Saudi Arabia's Royal Commission for AlUla and Istanbul, Turkey.
"We all realized both during and post-pandemic that there is much to be gained by a global membership engaging and collaborating with one another," said Don Welsh, president and CEO of DI. "Our organization believes in the power of travel, and having a strong member community around the world allows destination leaders to engage with and learn from one another to enrich the lives of the people who live, work and travel within their destinations."
Al Hutchinson, president and CEO of Visit Baltimore and DI board chair, added that the organization is seeing momentum in Canada, Latin America and Europe as well. 
"Destinations International has long been a recognized name in the United States but with a more focused engagement strategy in certain areas of the world," he said. "By pulling in the right partners and setting the stage for more robust and localized conversations, we have grown interest and membership around the globe."
DI has also added 10 destinations to its European Pathfinders Programme this year, bringing the total number of members within the group to 20. The Pathfinders Programme is comprised of forward-looking European destination leaders committed to tackling key issues facing destination organizations today.
Many of these key issues were reflected in many of the convention's sessions. A number of keynotes focused on climate change, sustainability and regenerative tourism, acknowledging that the U.S. in particular is woefully behind on the issues, and gave platforms to global leaders to propose solutions and share ideas, like the Netherlands Board of Tourism & Conventions' plan to climate-neutral tourism. Workforce development, community alignment, DEI and accessibility were also highlighted throughout.
[Related: DestinationNEXT Futures Study Reveals Critical 2023 Trends and Systematic Shifts for DMOs]
Dallas on Display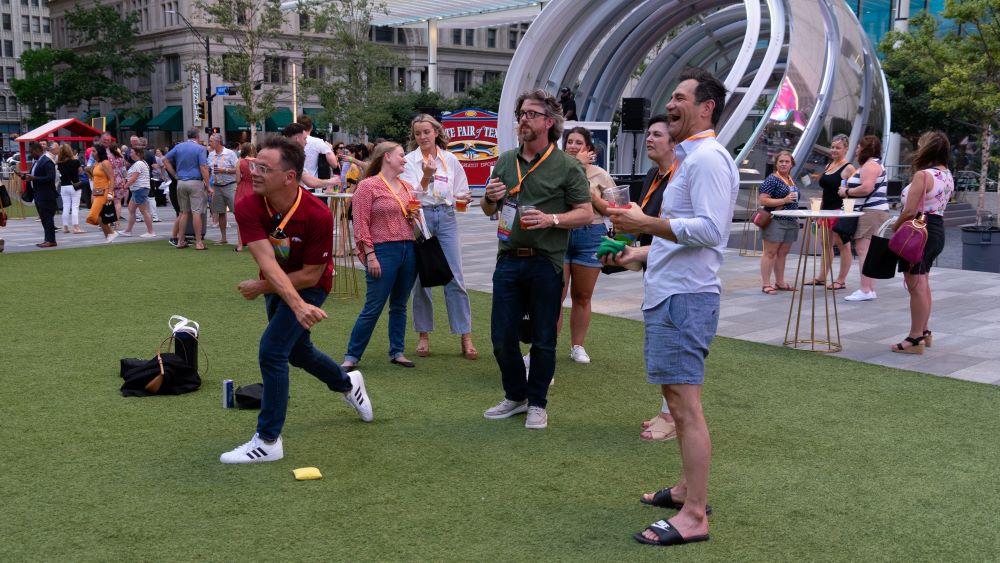 Dallas played host to this year's Annual Convention at the 1,001-room Omni Dallas Hotel with keynotes taking place at the connected Kay Bailey Hutchison Convention Center downtown. Greeted on opening night to sweltering 100-plus-degree temperatures, attendees mingled outdoors with AC-equipped indoor options at the Texas State Fair-themed opening celebration at AT&T Discovery District, a high-tech downtown work/play area with an event plaza and food hall. 
Despite the city's warmer-than-expected welcome, its event capabilities were on display, especially for the group of trade press invited to explore more of Dallas ahead of the show with Visit Dallas. Home to the sixth-largest LGBTQ+ population in the U.S and brimming with rich, diverse cultural heritage, the city's neighborhoods, restaurants and venues push back on the Texas cowboy stereotype, positioning Dallas as an inclusive meetings destination.
The convention district that DI attendees experienced will drastically change for the better in the coming years. The Kay Bailey Hutchison Convention Center expansion is set to break ground next year and wrap in 2028. The $2 billion project will add 800,000 square feet of space to the venue and anchor the all-new restaurant and entertainment experience surrounding the convention center. Hotel options will continue to abound, with Dallas boasting the largest hotel construction pipeline by projects in the U.S. in 2023.
At the conclusion of the Annual Convention, DI announced that Tampa Bay, Florida, will host next year's event.
[Related: 10 Ways Meeting Planners Can Work With CVBs to Create a Welcoming Environment]
DI Announces New Chairs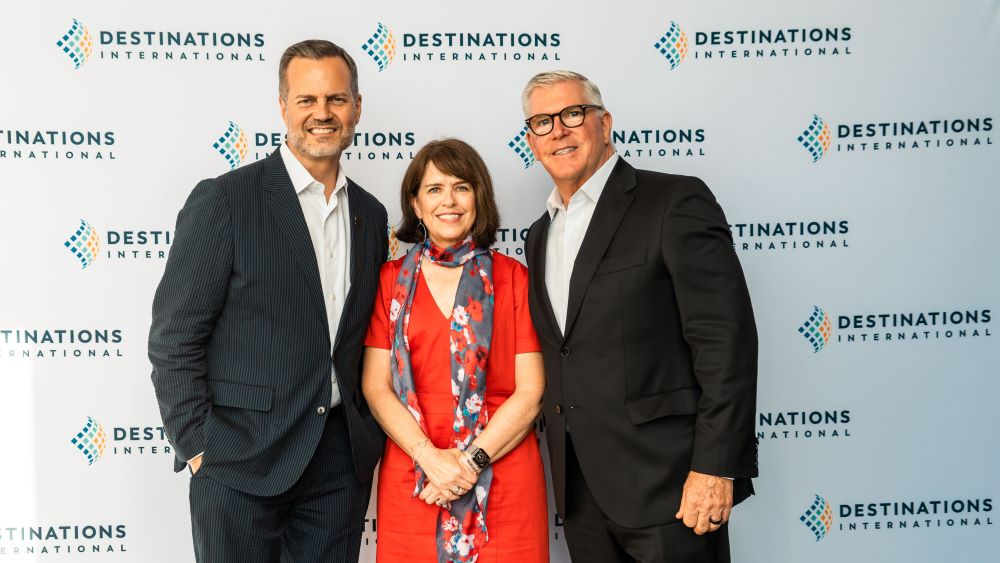 More news to come from DI's Annual Convention included the announcement of its 2023-2024 Board of Directors and foundation Board of Trustees. Fred Dixon, president and CEO of New York City Tourism + Conventions, assumed the role of chair of DI, succeeding Al Hutchinson. Ellie Westman Chin, president and CEO of Destination Madison, assumed the role of chair of the DI Foundation, succeeding Vail Ross, senior vice president, global business development and marketing, STR. 
[See the full list of new board members]
As the 2022-2023 chair, Hutchinson majorly focused on DEI and workforce development, and led the launch of DI's HBCU Scholarship, which was announced at last year's convention. At the 2023 convention, five recipients were awarded scholarships, and DI revealed that it raised $300,000 to support the scholarship program.
The goal of the scholarship is to help underrepresented students overcome their academic barriers and attract underrepresented and ethnically diverse students who are seeking a degree in hospitality management or tourism management. 
"We recognize that underrepresented students have barriers such as enrolling, attending and graduating from college, and there is also the obstacle of student loans," Welsh said.
The students will continue to receive support and guidance throughout their academic career by being partnered with a mentor in their local area and participating in future panel discussions with DI members.
New chair Dixon aims to continue the DEI work at DI, and added accessibility, continued growth of DI membership and sustainability (and leaning on DI's global partners for their leadership on this topic) as his main priorities for the association in the next year.
Read this next: How CVBs Are Connecting the Next Generation to Jobs in Hospitality