New Hotels, Attractions and Restaurants Elevate Orlando as a Meetings Destination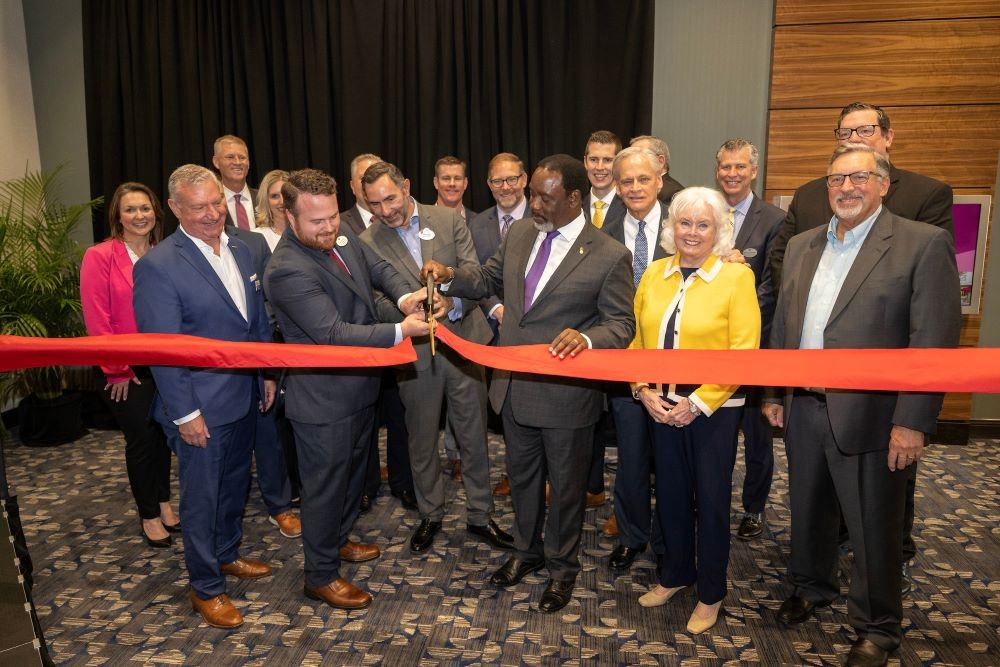 Ribbon cutting at Drury Plaza Hotel Orlando opening
Year after year, Orlando stands firmly atop Cvent's's list of Top Meeting Destinations in North America. 
It's no surprise, because at every turn, new hotels in Orlando are emerging or standbys are reopening their doors after extensive renovations. New restaurants continue to surprise and delight, as do the tried-and-true eateries, many receiving kudos from the famous Michelin guide.  
New venues mean nearly endless discoveries, ensuring meetings in Orlando are always exceptional and certain to wow attendees. While it's difficult keeping up with all the changes, here is just a sample of all the happenings in The City Beautiful.  
New and Renovated Hotels in Orlando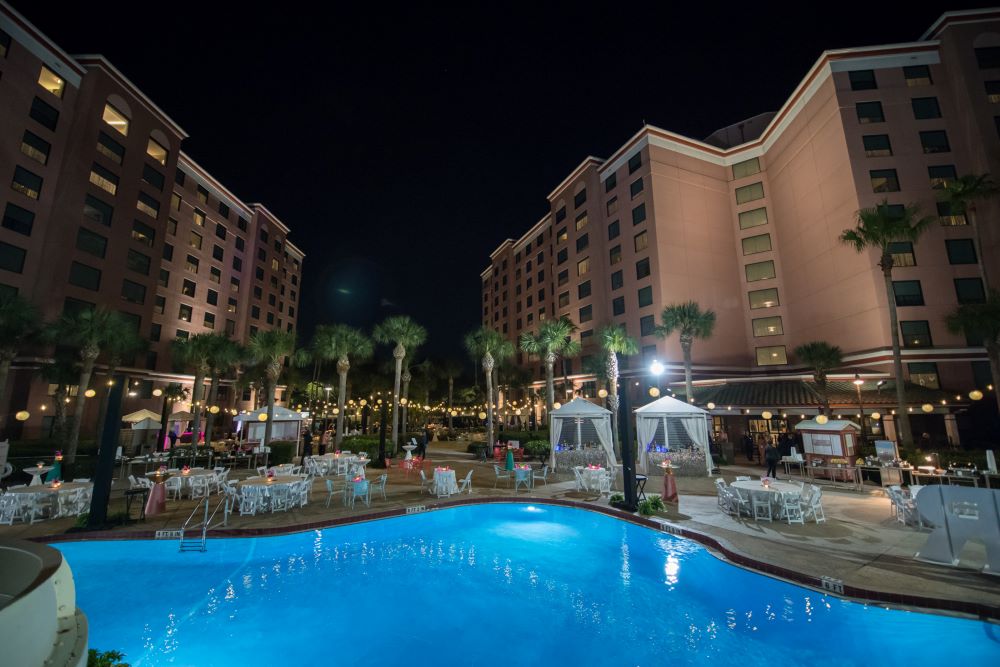 The AAA Four-Diamond Caribe Royale Orlando Resort has just opened an outdoor event space aptly called The Grove. This 19,000-square-foot verdant green space gives planners added flexibility for their groups to customize both indoor and outdoor events for groups of up to 2,000 in an open-air, palm tree-lined outdoor setting.  
Meeting professionals asked for it and the Caribe Royale listened.  
 
"As part of Caribe Royale Orlando's recent $140 million reimagination, we've updated many of our spaces groups utilize for events based on feedback from meeting planners and the changing nature of what they're looking for in spaces post-pandemic," said Amaury Piedra, managing director, Caribe Royale Orlando. "Florida weather affords us the opportunity to host many events outside, and increasingly, more planners are looking for creativity and customization when it comes to open-air events, giving our meeting planners even more expansive options when they choose to host their events here." 
Looking for that proverbial wow factor? Consider The Caribe Royale Stadium Club: It's what happens when a high-tech nightclub sports bar meets VR. 
Set to open in January, this 9,000-square-foot, two-floor entertainment destination will feature two bars, eight pro-level sports simulators and multi-venue private buy-out areas for groups. "We sought to reimagine the average sports bar space by infusing unexpected layers of iconic sports memorabilia," Piedra said. Fans will watch myriad sporting events while gazing agog through 360-degree viewing from both levels.  
Caribe Royale Orlando features 1,337 completely redesigned guest suites, the new 50,000-square-foot Palms Ballroom (bringing total event space to an impressive 240,000 square feet), an updated, reimagined lobby, new dining and networking concepts, and more. 
[Related: The Latest Property Openings and Renovations in Florida (2023)]
A relaxing, boutique feel is how the VIP suites at Rosen Centre can be described as they now feature modern decor, sleek furnishings and cool, crisp color palates. The hotel's 1,334 guest rooms and suites all feature impressive views of Orlando and its entertainment district, International Drive. Meeting professionals will appreciate the more than 150,000 square feet of dedicated, imaginative, high-tech meeting space. The hotel's nearly three dozen dedicated meeting rooms allow planners to customize their event, highlighted by the 35,000-square-foot Grand Ballroom, 18,000-square-foot Executive Ballroom and the nearly 15,000-square-foot Junior Ballroom.  
Scheduled to open this winter, Evermore Orlando Resort will debut as a 1,100-acre resort offering groups myriad accommodation and recreation options. Accommodations include the Conrad Orlando, featuring 433 rooms, including 61 suites in varying configurations, luxury flats offering two to four bedrooms and vacation homes with up to 11 bedrooms. This welcoming retreat offers a water garden, aquatic adventures, an eight-acre crystalline lagoon, tranquil spa, golf at the acclaimed Links Course, and dining to please any palate. Look for fabulous food at five restaurants and lounges that dish up assorted delicacies, drinks and a signature rooftop experience. Planner needs are met with 40,000 square feet of indoor meeting space and a dedicated motorcoach will ferry attendees to Walt Disney World Resort, less than three miles away. 
As an Official Walt Disney World Hotel, the 604-room Drury Plaza Hotel Orlando, just a half mile from Disney Springs, provides meeting attendees with a scrumptious complimentary hot breakfast menu that includes French toast, fresh fruit and every other breakfast craving your guests might have. Drury's signature 5:30 Kickback serves salads, soups, hot chili and sliders, in addition to cold beverages. The 78 two-room suites and more than 17,000 square feet of meeting and event space prove ideal for groups of up to 250. Guests will be on board with the free shuttle service to all four Walt Disney World Theme Parks and early entry to the parks.  
Signia by Hilton Orlando Bonnet Creek has started the new Waterside expansion, slated to wrap in late 2023. This 90,000-square-foot, two-story meeting space, located directly adjacent to the existing meeting space, overlooks the scenic Bonnet Creek waterways. Other expansion plans include a ballroom spanning the lake, an outdoor patio, event lawn and seven additional meeting rooms, and a screened lanai with breathtaking views of the Walt Disney World fireworks. The property shares 12 restaurants and lounges with the adjacent Waldorf Astoria Orlando, each serving up an exclusive ambience, inviting decor and distinctive menu offerings from casual bites to signature fine dining. 
Set on a lush 500-acre property, the 1,582-room JW Marriott Orlando, Grande Lakes is the ideal base from which to explore the Orlando area. The resort has completed several multimillion-dollar renovations and revitalized its guest rooms and more than 144,000 square feet of flexible meeting space. Guests will have a splash discovering Grande Lakes Water Park, a lazy river, Headwaters Slide Tower with three waterslides, and soothing lagoons and luxury cabanas.  
Scheduled to open later this year, the avant-garde, 205-room Aloft Lake Nona presents eclectic decor with design nods to the hotel's music and technology roots. Each urban-inspired loft-style guest room has its own unique character. Meetings groups will find many set-up options with the resort's 10,000-square-foot conference center. Tempo + Grace will have meticulously crafted, sustainable and scratch items. Après dinner, get down with live music and a tempting selection of beers, wines and cocktails from the accompanying W XYZ bar. 
[Related: 9 Historic Venues in Florida for Special Events]
New Restaurants and F&B Outlets in Orlando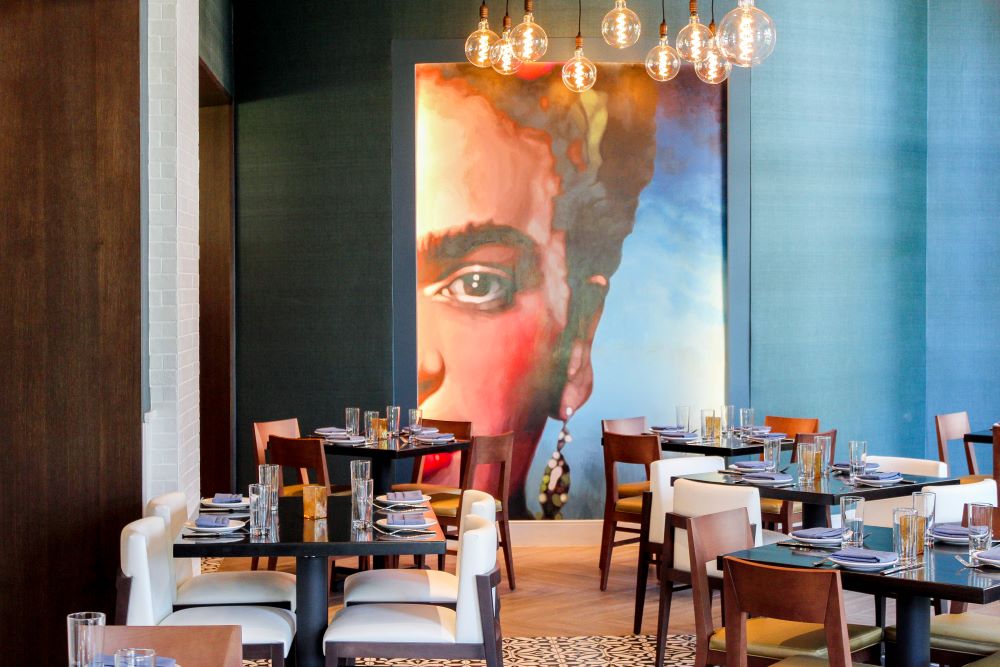 Founding chef Josefina Howard's first establishment opened in New York City in 1984, and with locations throughout the northeast, Rosa Mexicano is finally bringing its Latin hospitality to its first location in Orlando. Set in the iconic Walt Disney World Swan and Dolphin, a creative culinary menu celebrates the Mexican classics in addition to reimagined dishes such as black bean and cheese empanadas and Rosa's signature nachos, paying tribute to Mexico's richly varied culinary regions. Working with a private events team, an unforgettable dining experience for groups of 12 to 200 guests can be arranged. 
Located on Orlando's famed "Restaurant Row," Norman's satiates all cravings with an inspired selection of culinary and mixology delights set amidst a glass-enclosed wine cellar featuring a boundless array of varietals. In addition to the main dining room, there are two private dining rooms and a stunning indoor bar and lounge. The Terrace, an exterior covered patio, will thrill guests with its upscale yet relaxed vibe with a 12-seat bar and ancillary high-top tables to savor signature cocktails and conversation.  
In 2023, the Hyatt Regency Orlando opened Descend 21, a lounge and entertainment venue to host private events with indoor and outdoor seating, communal tables, billiards, virtual golf and an expansive terrace with cozy fire pits. Featured dishes include chicken pinchos with guava BBQ sauce, and a sushi bake with dynamite sauce. But no meal is complete without the signature dessert, a decadent bourbon bread pudding drenched with Descend 21 Single Barrel Bourbon.  
As Pointe Orlando's newest restaurant, Kavas Tacos + Tequila, created by the owners of popular Tapa Toro and Taverna Opa, is a 7,000-square foot-venue that can host groups as large as 500. An expansive menu might leave your guests dizzy, but you can't go wrong with the antojitos platter with chicken flautas, black bean empanadas and Kavas queso. 
Emma's Creekside Farm is the newest edition to the Rosen Shingle Creek and is named for a character in the Florida-inspired novel A Land Remembered, which is also the name of Shingle Creek's signature restaurant. 
 
Chef Michael Dunton, the resort's executive chef, says if you want to taste as many vegetables as possible growing in Emma's Creekside Farm, try the Hertaberkschwein Farms pork chop with apple cider and honey jus accompanied by seasonal vegetables, cucuzza squash, seminole pumpkin, spinach, kale and escarole.  
"It's one of our most popular dishes," he said. 
Since the opening of the garden and its adjoining patio, several groups have enjoyed dining in the tranquil setting filled with lush and fragrant greenery.  
"Our patio is surrounded by herb planters," Dunton said. "We also have edible flowers growing, as well as beets, sweet potatoes, Korean squash, a variety of peppers, avocados and 23 fruit trees, including mango, key lime, sour orange, Meyer lemon, peaches…" 
Another item on the menu that gets raves and comes directly from the garden is the pureed beet and grilled peach salad with an herbed vinaigrette. Alas, according to Dunton, peach season is ending so guests will have to wait until next season to try it. Not to worry, though. Chef will replace the peaches on the salad with thinly sliced Korean melon—equally delicious. 
[Related: The Orlando Dining Scene Is Growing With Michelin Stars and Other Accolades]
New Orlando Attractions in 2023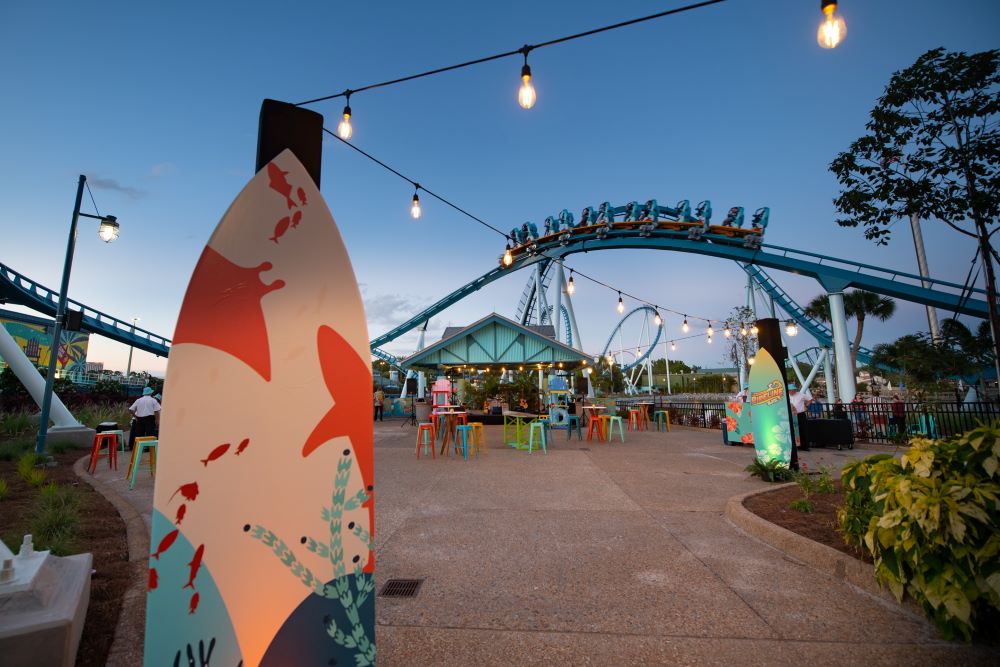 Looking for a new and interactive experience? ICON Park has added The Great Florida Road Trip at The Wheel, following the adventures of a flamingo family on a photo travelogue vacation through mid-century Florida.  
Recently opened at Magic Kingdom Park is TRON Lightcycle/Run, one of the fastest coasters at any Disney theme park in the world. Based on the Disney sci-fi film TRON: Legacy, guests will tighten their seat belts in a high-stakes race aboard their own Lightcycle while jetting across a world with no horizons.  
Walt Disney World announced an updated nighttime spectacular with the return of  "Happily Ever After," the resort's premiere fireworks show featuring lights, lasers and special effects––including all-new projections down Main Street U.S.A. 
Journey of Water, inspired by Moana, opens this fall within World Nature, the EPCOT neighborhood dedicated to understanding and preserving the balance of the natural world. This remarkable attraction allows guests of all ages to explore and engage with water on a breathtaking journey from the skies to the oceans and back again.  
Inspired by Jurassic World and Back to the Future, Universal's Great Movie Escape at Universal CityWalk is the first-ever escape room experience that features two rooms with interactive state-of-the-art missions, captivating storytelling and intricately detailed sets.  
Pipeline: The Surf Coaster, SeaWorld Orlando's seventh roller coaster, is on deck to be the world's first "Surf Coaster." This one-of-a-kind ocean adventure includes a dynamic surfing launch and "wave jumping" motions. 
Pointe Orlando, the fashionable dining, shopping and entertainment venue, has added new dazzling attractions Will to Escape, an immersive escape room experience; The Greens Indoor Golf & Bar, an indoor golf simulator; and Earth Illuminated, a photo experience with over 40 unique photo scenes that accommodates up to 325 guests.  
Downtown Orlando's Dr. Phillips Center for the Performing Arts is scheduled to open Judson's this fall, offering intimate cabaret-style seating for 150 for live performances. Joining Steinmetz Hall, Walt Disney Theater and Alexis & Jim Pugh Theater, Judson's is the fourth performance space in the $613 million, nine-acre venue.  
Drawn to Life by Cirque du Soleil in Disney Springs has introduced exciting additions to its show including an all-new acrobatic act, aerial artists and a "flying" guitarist. A brand-new act, Icarian Games, plays tribute to Disney's animated forests—and the mysterious creatures that inhabit them—featuring a pair of Ethiopian artists performing acrobatic feats in which one lies on their back and uses their legs and feet to toss the other performer in the air. 
[Related: Florida's Best Attractions for After-Meetings Fun]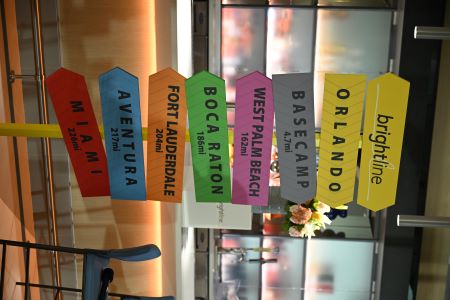 Travel Updates: Brightline Orlando Station and Airport Improvements
Travel to and from Orlando is even easier with the opening of Orlando International Airport's South Terminal Complex, which adds 15 gates to the airport, and Brightline Orlando Station that connects visitors traveling between Orlando and Miami with stops in Fort Lauderdale and West Palm Beach. 
Expect luxurious in-station lounges, complimentary Wi-Fi and topflight bars and restaurants available at every Brightline station. Meeting professionals will want to climb aboard and book a private train car for full-throttle events. For groups of 30 or more, Brightline features plenty of futuristic spots in spacious stations or onboard for groups to host a party, a guided history tour, meeting or corporate teambuilding. Choose from premium food and beverage packages to transform any group activity into an memorable experience. 
Plus: Q&A Casandra Matej, President and CEO, Visit Orlando 
What are some of the newest happenings in Orlando for meeting groups? 
This year Orlando has a wide range of new or expanded meeting options and all-new experiences for planners to include in their next event. We've welcomed several brand-new hotels with more on the way. We've increased accessibility for business travelers with the addition of the Brightline high-speed rail connecting Miami to Orlando and had major new attractions debut at our theme parks.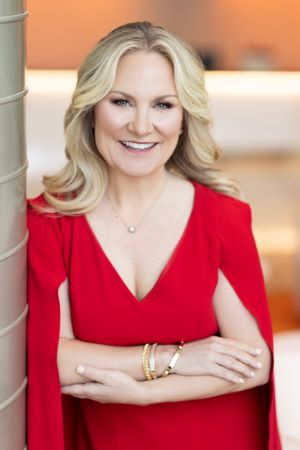 What makes groups come year after year? 
One of the great selling points for Orlando is that our destination is continually changing and evolving with the regular additions of new and renovated hotels, award-winning restaurants, innovative and thrilling attractions, and enhanced services to keep attracting new business and retain current clients. 
What would you say are the top reasons groups come to Orlando—the convention center, the diversity of hotel product, the restaurants?  
All of the above and more as there are so many reasons for planners to choose Orlando for their next meeting or convention. The award-winning Orange County Convention Center (OCCC) provides a multitude of meeting options in two beautifully appointed buildings—the West and North-South. With its variety of space and flexibility, the OCCC offers 7 million square feet of combined meeting and exhibit space for events of all types and sizes.   
Planners have an abundance of choices for accommodations as Orlando is home to more than 490 hotels and nearly 130,000 rooms. Also, there are more than 7,600 hotel rooms within a mile of the OCCC and more than 75 restaurants and over 100 experiences within a two-mile radius. 
Orlando's dining scene has certainly become a top reason, with more than 6,000 restaurants representing 40 different international cuisines to add to itineraries. And the scene grows stronger every year with new Michelin-recognized establishments, restaurants from nationally recognized chefs and celebrity chefs. 
Also, Orlando has a welcoming, diverse and inclusive community that is ready to infuse any event with global cultures and customs found throughout Orlando's eclectic neighborhoods and districts.  
A partnership with Visit Orlando provides planners with a set of "boots on the ground" to help craft unforgettable events in our city. Our Destination Experience team, most of whom are Certified Meeting Professionals (CMP), are well-versed in the complexities of planning events of all sizes and can provide hands-on assistance with coordinating venues to offering deep expertise on the destination. 
On a personal note, what are your favorite things to do in Orlando? 
Favorites are tough for me to choose since there is so much to do in Orlando. 
I like to have spa and pool days and with so many amazing resorts in the area, there are so many options to be able to enjoy Orlando's amazing weather, have fun in the sun, as well as have a nice relaxing experience.  
My family and I host many personal visitors and we like to share with them authentic Florida excursions from airboat rides to ziplining over alligators at Gatorland.  
I also like to have culinary experiences, so I enjoy trying new restaurants throughout the Orlando area.  
Additionally, I do go to the theme parks frequently. Some of my favorite attractions there are Guardians of the Galaxy Cosmic Rewind at EPCOT, Velocicoaster at Universal Orlando, and Pipeline: The Surf Coaster at SeaWorld. 
 Read the 2023 Edition of Meetings Today Florida for more meetings news across the state!