Rio Nuevo District Set to Launch Downtown Tucson in the Meetings World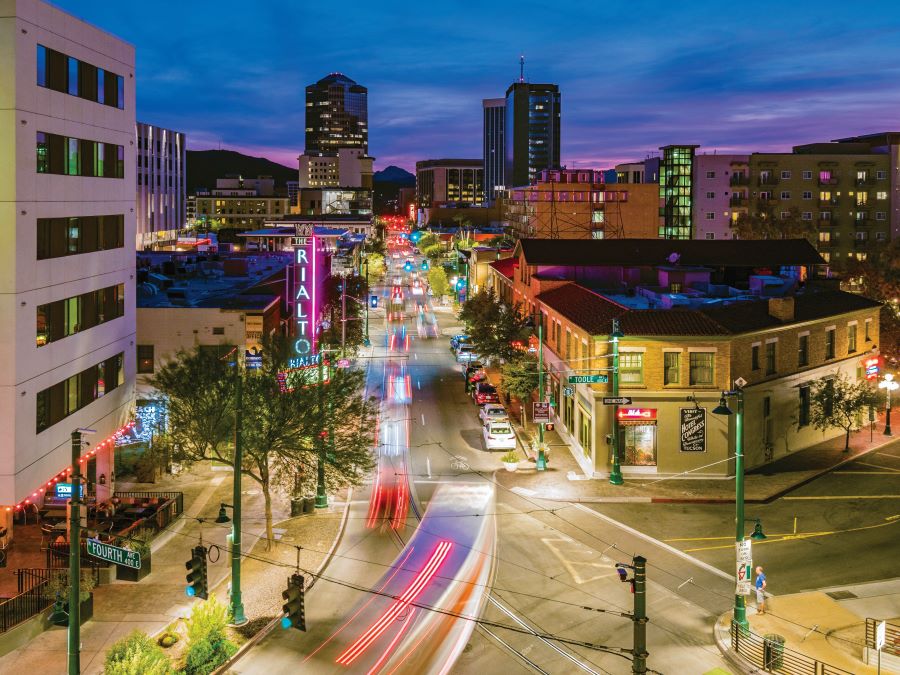 Downtown Tucson. Credit: Visit Tucson.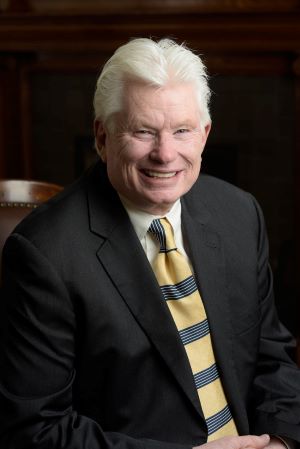 Big changes afoot in downtown Tucson will dramatically increase the Southern Arizona destination's profile as a meetings and conventions destination. This includes a massive improvement project in the works for more than 20 years that is set to make maximum impact.
One could argue that the new TIF (Tax Increment Finance District) project, named the Rio Nuevo District, will actually succeed in making downtown, well, a real downtown.
"Downtown Tucson was the place to go in the early 20th century, with saloons and bars and Wild West things," said Fletcher McCusker, chairman of the Rio Nuevo District. "The city's focus drifted to the suburbs and a lot of the storefronts were abandoned, and along with a lot of other Southwestern towns, our focus has been to revitalize this downtown urban core."
[Related: Tucson Powers Through the Pandemic with Major Convention Core Projects]
The resulting project is intended to increase the desirability of Tucson to compete on the tourism, and meetings and conventions, stage with the likes of Austin, Texas; Portland, Oregon; and San Diego. The project also resulted in the addition of a dual-branded Hilton property, a new Marriott-brand hotel and another Marriott in the planning stages.
Tucson Convention Center Expansion
The convention center has also been the beneficiary of an expansion and renovation, which local tourism officials believe will bring it on par with a new competitive set.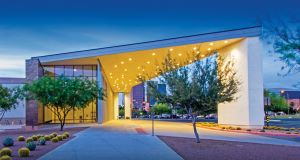 "Tucson has never competed at that level as a regional convention center, i.e., like Albuquerque, Colorado Springs, Boise, so it's exciting that we're building from the ground up now," said Graeme Hughes, senior vice president, sales, for Visit Tucson. "We're trying to get some momentum going in terms of pairing this new hotel inventory with an expansion of the Tucson Convention Center, which includes 25,000 square feet of new breakout space to complement the ballroom and exhibit halls."
The additional breakout space—so important to meeting and event planners—also remedies a long-term problem at the convention center, according to Hughes.
"The breakout meeting space that they had was on the opposite end of the ice arena from the ballroom and exhibit space, so it wasn't feasible for a convention," Hughes said. "The new construction brings in all those facilities together with the Hampton Inn a block away, and the DoubleTree attached."
Apply for our Meetings Today LIVE! Wellness & Incentive in Tucson!
History of the Rio Nuevo District
The Rio Nuevo District project began in 1999 when voters approved the creation of a TIF District to vastly improve Tucson's city center, which, like many Southwestern cities that date to the Old West days, was languishing, seemingly abandoned in the desert sun. And anyone who organizes meetings and conventions knows that a destination must have a vibrant downtown to attract the widest range of events.
Jumping off to a fast start, the Rio Nuevo District chugged along until the pandemic hit, which understandably threw a wrench in the works. The effort is up and running again, however, with major features quickly becoming ready for their time in the sun.
[Related: All the Ways to Meet Under the Sun in Phoenix and Tucson]
"In the last nine years we've done 21 projects with a $2 billion impact, and invested about $360 million of state tax dollars," McCusker said. "Tucson was really advancing as a case study on how to revitalize a downtown urban core until March of 2020. During the coronavirus, everything went dark—restaurants closed down, the convention center closed down. The good news is, Tucson not only seems to be back, but thriving."
Providing context about the importance of the district to the downtown core, McCusker joked that "downtown went from zero to 85 restaurants, and Marriott was the first hotel with the AC [Hotel by Marriott Tucson Downtown], and Hilton followed with two properties, and now Marrott is planning another property."
According to Rio Nuevo, highlights of the district include the following:
Partnering with Marriott International to build the new AC Hotel Tucson Downtown at Broadway Boulevard and Fifth Avenue.
Partnering with restaurants Hub, Playground and Elvira's to enhance the downtown dining experience, which currently offers approximately 85 restaurants.
Partnering with Bank of Tucson and development group Bourn Companies on the five-story City Park project, a retail, restaurant, office and entertainment complex planned for downtown's Congress Street at what is now the site of the U.S. headquarters of Hexagon Mining.
Partnering with the Gadsden Company to build 15,000 square feet of new retail, restaurant and community space at Mercado San Agustin, off Congress Street west of downtown.
Partnering with the City of Tucson and Pima County Regional Transportation Authority to restore 39 properties along Broadway Boulevard and create destination food and shopping corridors flanking downtown.
Providing the land, site preparation and building for Caterpillar, whose Tucson offices are estimated to create 600 regional jobs and drive $600 million in economic impact.
Partnering with Greyhound Lines to build a new terminal at the southeast corner of Broadway Boulevard and Euclid Avenue.
Partnering with the Phoenix Coyotes NHL franchise to bring professional hockey to the Tucson Arena, now home of the American Hockey League's Tucson Roadrunners.
Partnering with the Catholic Diocese of Tucson to renovate downtown's Cathedral Square, restore Marist College and add a restaurant on the grounds of the cathedral.
Tucson Comes in From the Desert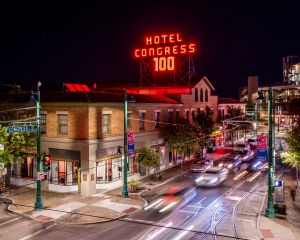 Tucson has always been sought after because of the top desert resorts on its periphery, many with top-shelf golf options, such as Westward Look Wyndham Grand Resort and Spa; The Westin La Paloma Resort and Spa; El Conquistador Tucson, A Hilton Resort; Hacienda Del Sol Ranch Resort; JW Marriott Tucson Star Pass Resort & Spa; and the new Ritz-Carlton, Dove Mountain in nearby Marana; among others.
Although the Rio Nuevo District will not upend that equation, the addition of a desirable downtown will certainly open up opportunities to attract a different range of convention clients. According to McCusker, the convention center is already noticing a spike in future bookings.
"Tucson has not been as well-known of a meeting or convention destination because of the lack of nearby hotel space," he said. "The resort properties out in the desert always did well, but there was no activity downtown.
"The silver lining of COVID for us is we own the Tucson Convention Center," he added, "so we've used this year and a half to totally renovate the convention center. We invested $100 million in the renovation of the arena and exhibit hall, added 25,000 square feet of meeting rooms and restored its historic plazas."
McCusker noted that the convention center will also be the beneficiary of $10 million in technology upgrades, with hybrid production facilities and tech upgrades with eGaming tournaments in mind playing a large role.
A highlight of the convention center project is the renovation of its public plazas, which feature a waterscape designed by Garrett Eckbo. Considered quite the work of public art when itopened in November 1971, the fountain fell into disrepair over the years.
"At the time it was quite extraordinary. It featured open-area wading pools and wading streams," McCusker said. "During the last year and a half, we've restored those plazas back to their original design and they're now a registered historic landmark. Those will open in November of this year, coincidentally exactly 50 years since they originally opened. We think now that they've been revitalized, people will want to use them more in conjunction with events inside the convention center."
Getting all people, visitors and locals alike, engaged in downtown life will be the realization of a dream a long time coming for Tucson.
"It really is the evolution of our downtown," said Visit Tucson's Hughes. "We've always been known for our resort meetings and midtown upscale hotel meeting package, but we've never been known for our meetings in our downtown core, with light rail, restaurants, bars, etc. Visitors want to hang out where the locals are at, so we want to get those businesses back and up and running so we can create that critical mass of activity that visitors can access when they visit the destination."
[Related: 7 Ways to Savor Sonoran Cuisine in Tucson]
Tucson Meeting Facility News
Arizona winemakers Sarah and Rob Hammelman partnered with Tucson hotelier Moniqua Lake to open The Citizen Hotel, a boutique property that will feature a tasting room and have wine barreling and cellaring on property. Housed in a historic building downtown, the hotel is targeting a fall 2021 opening date and will offer 10 guest rooms and a 5,000-square-foot wine barreling and tasting room in the basement that can be used for small events.
The Forbes Four-Star Hacienda Del Sol Guest Ranch Resort completed an expansion in May that added 40 guest rooms, a pool area with a 40-foot lap pool, spa, an infinity-edge wading pool and large sun deck. The property offers 14,000 square feet of meeting space and 137 guest rooms.
El Conquistador Tucson, a Hilton Resort completed a multimillion-dollar SpaWell facility in October 2020 that features eight therapy rooms, including a salt therapy room, wet-steam room and a pool deck with mountain views. The 428-room Oro Valley resort is set on 500 acres and has 100,000 square feet of IACC-certified meeting space, including two 11,000-square-foot ballrooms and an 11,000-square-foot executive conference center.
A 170-room DoubleTree by Hilton Tucson Downtown Convention Center opened in March connected to the Tucson Convention Center. The six-story property offers 4,000 square feet of meeting space, a second-story pool, a Southwestern-style restaurant and two bars.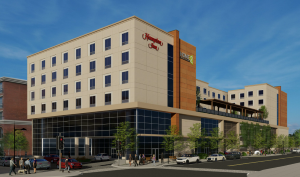 Hilton opened a dual-branded hotel development in August in downtown. The dual-flag hotel includes a Hampton Inn by Hilton and the Home2 Suites by Hilton Tucson Downtown. Located less than a quarter mile from the convention center and designed for extended-stay guests, the six-story property offers 199 rooms (76 in the Hampton Inn and 123 in the Home2 Suites). The properties contain a total of 1,500 square feet of meeting space.
The Graduate Tucson opened in October 2020 on the campus of the University of Arizona. Part of the college-themed and located Graduate Hotels brand, the 165-room property is located steps from Arizona Stadium and near downtown Tucson. Highlights include a ground-floor bar and café and a rooftop bar and swimming pool. The hotel contains more than 2,700 square feet of meeting and event space in its Button Ballroom and also offers its rooftop space for event rental.
Opwest Partners will convert 10 floors of the One South Church building—at 23 stories the largest building in Tucson—to a luxury lifestyle hotel that will be independently branded under the Marriott Hotel Tribute Collection. The hotel will be 145 keys with associated food and beverage, market, function, and fitness amenities. The hotel is anticipated to open at the end of 2022.
Connect
520.624.1817
Read Next: Best Event Venues and Experiences in Phoenix, Tucson and Scottsdale