On the Scene: Experiencing Marriott's Meet With Momentum Series in Chicago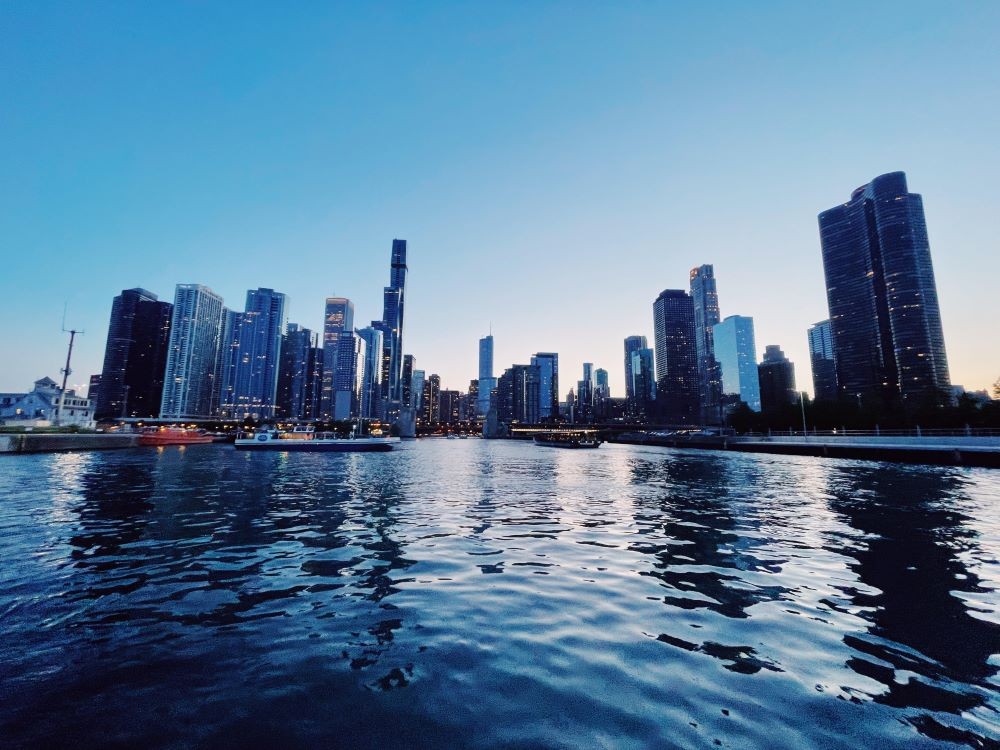 Chicago Skyline From the Chicago River
Growing up in the city where buildings first scraped the sky turned me into a city girl at heart. With Chicago in my backyard, I saw streets of endless possibilities and limitless potential to always be doing something new, and, up until now, I thought I had experienced all my city had to offer.
I was wrong in the best way imaginable.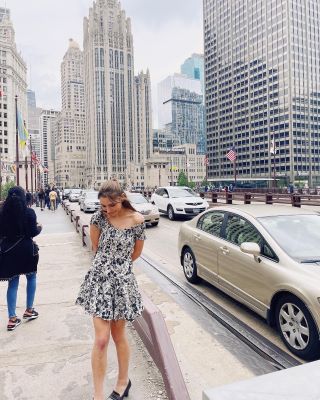 On June 10, Marriott rolled out a new series, Meet with Momentum, created to immerse and educate meetings planners at Marriott hotels in cities nationwide.
The three-day, two-night events showcase brand innovations as the world returns to in-person meetings and events; introduce attendees to local partners, granting attendees access to exclusive destination experiences; and offer tours of reimagined spaces, as well as introductions to innovations in meetings and events technology.
The series kicked off in Chicago, and I had the opportunity to experience my city as an attendee.
Chicago's Comeback 
It's been difficult to view Chicago in the same light I did prior to the pandemic, before once-bustling streets quieted and storefront neon signs were shut off forever—I wasn't sure how my Windy City would recover. But walking through Chicago Marriott Downtown Magnificent Mile's golden-framed revolving doors into a lobby lit not just with dangling lights, but smiles on everyone's faces, proved to me that the city was coming back.
The hotel's great room lobby and Reviver bar, both renovated and modernized in 2019, reflect the vibrant and busy atmosphere of its urban destination in the heart of Chicago's Michigan Avenue.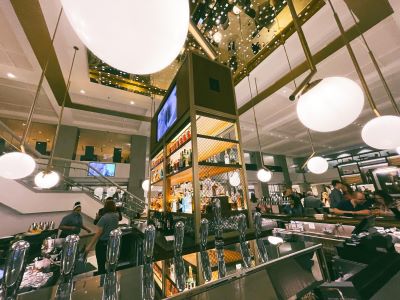 The lobby embodies the grace of the city, providing a professional work environment for all to focus and network, while Reviver—a cocktail bar at the center of the great room offering classic cocktails affectionately called "Chronomixology" coupled with a curated wine, detailed beer offerings focused on local Chicagoland breweries and street food inspired by the diverse neighborhoods of Chicago—highlights all the city's grit.
This was Chicago, in the brightest and greatest of light. This was bringing people, and subsequently my city, together the way it once used to, uniting them in an environment filled with possibility and potential once more—a world of people just like me, ready to take advantage of all Chicago had to offer.
And Marriott's Chicago hotels are prepared to make that possible.
[Related: Disney Reveals Meetings Products and Readies for 50th Anniversary Fete]
Chicago Marriott Downtown Magnificent Mile
Our group stayed in some of Chicago Marriott Downtown Magnificent Mile's 1,200 newly renovated guest rooms and 35 suites, reimagined to promote comfort, convenience and creativity. Waking up to views of Chicago like I have never seen before made me feel like a princess in my own city.
The hotel's 45 meeting rooms, totaling 70,327 square feet, are suitable for almost any event you can think of—from grand receptions to intimate gatherings, like the one we had with Jon Dorenbos, former NFL long snapper  who played 11 seasons with the Philadelphia Eagles in 162 consecutive games.
Dorenbos, a motivational speaker, magician and author, is just one of Marriott's exclusive partnerships to make meetings and events even more magical for its attendees—literally.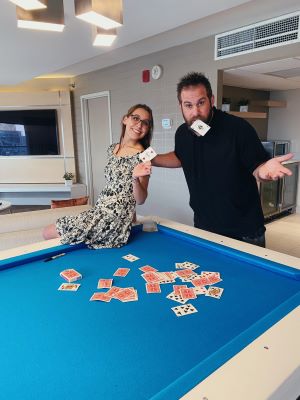 A touch I appreciated, too, is how Chicago Marriott Downtown Magnificent Mile named a handful of their meeting spaces after downtown destinations, streets and places—a subtle yet effective reminder of the atmosphere surrounding us and the city I love to explore.
A dinner and river cruise aboard Chicago's First Lady up and down the Chicago River featured another local partner, giving attendees a view of Chicago's famous architectural structures from the veins running through the city itself—something I, as a Chicago-native, had yet to have done myself.
JW Marriott Chicago
JW Marriott Chicago, whose staff welcomed our group with champagne flutes at the door beneath glistening chandeliers, introduced us to The Second City, a Chicago-based improvisational comedy troupe with locations in Toronto and Hollywood, with an exclusive improv performance and workshop geared toward meeting planners.
In between belly laughs and rounds of applause, the troupe guided us in a series of exercises geared toward being more open-minded, confident and collaborative in not only working with clients, but conversations in general. By teaching us what it means to take a "Yes, and …" approach rather than "No, because …," we saw the benefit of open-ended communication inside the industry and out. 
JW Marriott  Chicago also recently renovated their 610 guest rooms and 30 luxury suites with designs and décor inspired by the iconic Pullman rail car, railroad sleeping cars built and operated on U.S. railroads by George Pullman's Pullman Company from 1867 through December 31, 1968. Guest room windows are double-paned, with the building's original sliding glass windows still on display.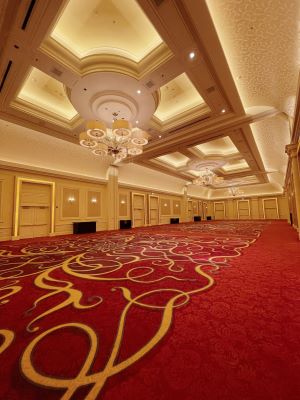 With the intent to implement concepts that transport guests to a bygone era of Chicago, we not only experienced Chicago as it is, but Chicago as it was.
The hotel also offers 37 modern event rooms totaling 41,973 square feet, the most expansive room able to accommodate more than 900 guests for large-scale conferences and events. The largest venue, the Grand Ballroom, has a maximum space of just over 8,000 square feet and seating capacity of 939, and 36 breakout meeting venues are available to book for smaller sessions and gatherings.
Our group experienced a trade show and lunch in the hotel's Burnham Ballroom, which features a 30-foot barrel-vaulted ceiling, original to Daniel Burnham himself and part of the original banking hall opened in 1914. Hand-blown glass chandeliers illuminated the ballroom as we networked, connected and enjoyed a selection of Greek-inspired cuisine.
The hotel has plans to renovate its meeting space using the same concepts as it did for its guest rooms.
[Related: What to Do and Where to Meet in Houston]
The Marriott Marquis Chicago
A bus ride to South downtown Chicago took us to The Marriott Marquis Chicago, which opened in September 2017, making it the newest of the four hotels we toured. The 1205-room, 39-story hotel is blocks away from the lakefront and museum campus.
Looking out a 39th-floor window in the hotel's presidential suite, I could see my favorite place to park near the Shedd Aquarium to watch the waves crash onto the shore. Again, I was seeing my city from an entirely new perspective, and it was beautiful. 
The hotel features 90,000 square feet of event space, including the Great Lakes Ballroom and the 3,000-square-foot Level 33 Premier Event Space, which can accommodate up to 180 people and features 180-degree views of downtown Chicago and Lake Michigan through floor-to-ceiling windows.
Our group experienced a four-course meal in the space, and it was hard for me to keep my eyes from chasing the rolling clouds as they billowed through the skyscrapers in the distance from 33 floors above home. The lobster mac and cheese, bone-in pork chop and summer berry pie on my plate were just as difficult to turn away from.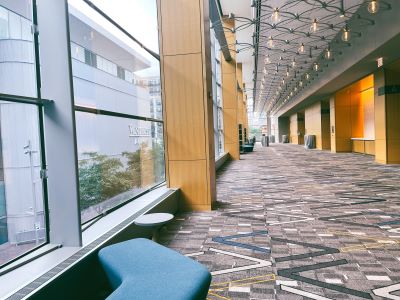 The Marriott Marquis Chicago is also part of the McCormick Square Complex with access to Hyatt Regency McCormick Place, McCormick Convention Center (still the largest center in North America) and Wintrust Arena, which can host up to 10,000 people in its auditorium. Three different dining options include the recently opened Woven & Bound restaurant, which ties directly into the hotel's history.
Despite its youth, the hotel has a story to tell as it's directly connected to the old American Book Company, originally built in 1912 as the company's Midwest warehouse and distribution center. The Marriott Marquis Chicago repurposed the historic building as meeting rooms, office space and dining and retail experiences, and the first floor of the former book company features Level 1, an event space that can hold up to 500 people. 
Steve Conklin, director of group sales at Marriott Marquis Chicago, called the space "a blank canvas" with the potential to be turned into a speakeasy, sporting event or anything in between, and, after seeing how the hotel prepared for Jon Dorenbos' performance in its Grand Horizon Ballroom, I have no doubt Conklin is right.
Dorenbos' performance, despite the open space the hotel offers, was incredibly intimate. We were greeted at the doors by an open bar and wall of snacks. Jon Dorenbos' stage was lit on the back wall, and seating was curated and arranged in such a way that it felt like a true VIP experience.
It all felt too good to be true, and when we began our final day with a stroll down Chicago's Riverwalk to Millennium Park as the sun rose above the city, it all felt like my Chicago was finally back again.
Sheraton Grand Chicago Riverwalk
Sheraton Grand Chicago Riverwalk, which celebrates its 30th anniversary this year, hosted us in its 40,000-square-foot ballroom for a mobility and exercise experience with Gideon Akande, two-time Chicago Golden Gloves champion and national winner of the Men's Health Next Top Trainer competition.
Akande, who started a community focused on health and fitness on his Instagram @getfitwithgiddy, is based in Chicago, but it's only because of his local partnership with Marriott that I was able to experience what Akande has to share up-close and personally.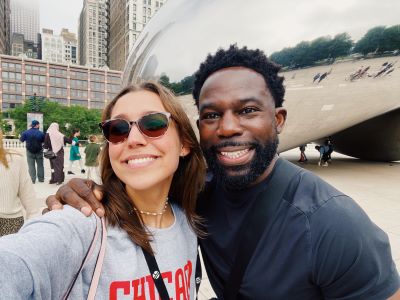 In addition to unique local partnerships, the 30-year-old luxury hotel offers 43 event rooms and 125,000 square feet of meeting space with one of the most versatile ballrooms in the city of Chicago, as well as 1,214 guest rooms, of which the hotel recently completed phase three of a four-phase renovation plan. 
To close it all out, Sheraton Grand served the group brunch along the Riverwalk beneath a canopy of trees and to the soundtrack of cars rumbling over the Columbus Street bridge. The hotel's culinary team prepared omelets, eggs benedict, sausage, bacon, bagels, pastries, chicken and waffles and more.
With a mimosa in hand, I walked through my city one last time before the end of the trip, still feeling like a princess in Chicago as it finally returns to the city it used to be—pizza in the air, hair in the wind and people in the streets.
Read this next: Two New Luxury Hotels and ocV!BE District Catapult Anaheim, California's Meetings Capabilities