MPI Releases New Strategy Update, Educational Offerings and More at IMEX America 2022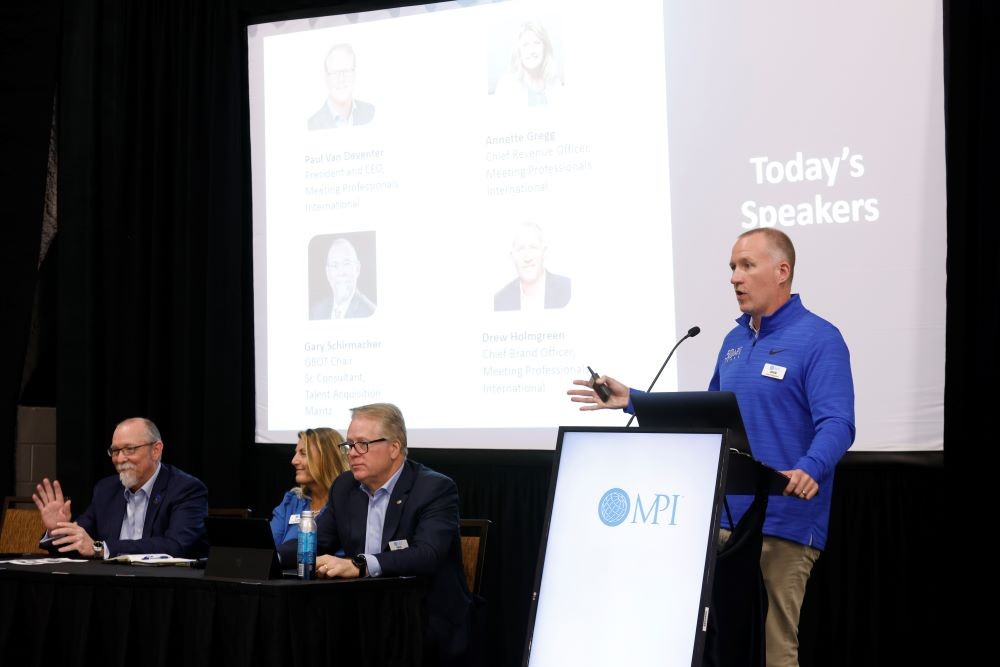 MPI presents its updated strategic goals, new educational offerings an more at IMEX America 2022. Credit: IMEX
MPI, whose long-time partnership with IMEX has been extended through 2025, made a series of announcements about its strategic vision for the next five years, its educational offerings via MPI Academy and updated numbers from its impact at IMEX America 2022 in Las Vegas.
Paul Van Deventer, president and CEO; Gary Schirmacher, chair of the MPI Foundation Global Board of Directors and senior consultant, talent acquisition, Maritz; Annette Gregg, chief revenue officer, MPI; and Drew Holmgreen, chief brand officer, MPI; presented these updates to the press on the show floor of IMEX America.
IMEX America Recap
Two major activations—Smart Monday and Rendezvous—posted big numbers at IMEX America, which took place October 10-13 in Las Vegas.
Smart Monday attracted 815 total attendees—up nearly 200 people from 2021's program—throughout 31 educational sessions. MPI also offered education from its booth on the tradeshow floor at IMEX America, providing 13 sessions to 309 total attendees over the course of three days. MPI also sponsored daily keynotes to 798 total attendees.
The MPI Foundation raised over $400,000 in total during its activations at IMEX:
Rendezvous, sponsored by Caesars Entertainment, was a sold-out party at Drai's Beachclub and Nightclub, with more than 2,700 attendees and raising $315,000.
Red, White and You event, a private dinner hosted in partnership with MGM at Mandalay Bay the Sunday before IMEX with silent and live auction prizes, raised $55,000.
Silent Auction raised over $33,000.
Since April 2020, MPI Foundation has distributed more than $1.7 million in scholarships and grants, benefiting over 3,200 members and non-members and impacting approximately a quarter of MPI's membership. The beneficiaries represented every chapter in the MPI global community and were shared in the form of membership renewal grants and new member grants to support individuals in financial distress.
[Related: Destinations International Announces New Destination Booking Agreement]
MPI Strategy Update
During its press conference at IMEX America, the panel of speakers discussed the association's aggressive goals for 2027. These goals are geared toward continued global expansion, enhanced community value and long-term sustainability. The goals include:
Increasing its active global community to 250,000 (currently at 80,000).
Increase customer network to 40,000 (currently at 15,000).
Diversify revenue: Currently, 92% of MPI's current revenue comes from North America. MPI hopes that by 2027, 20% of its revenue will come from outside North America.
Grow partnerships: MPI wants 20-plus alliance partners by 2027, up from about a half dozen, currently.
"What we're learning coming out of COVID, especially with the dynamics of our workforce changing so dramatically, and new generations, is that the concept of membership and association looks very different," Van Deventer said during the press conference. "What we want to focus on is the concept of an engaged community of people who want to interact with each other, do business with each other and be involved. Membership may very well be an outcome of that engagement with the community."
Expanding its reach globally caused MPI to also rethink its global pricing structure. To further provide global equality for event professionals and their ability to join the MPI community, MPI tested a beta global pricing model in 2021 and launched in full in the first quarter of 2022. The global pricing takes regional socio-economic data and currency exchange into account to identify and level membership fees. Four global tiers were created based on a primary rate.
According to MPI, results have been positive, with member count in non-primary rate markets increasing 25% and member revenue rising 17%. Much of the growth has been experienced in Latin America, where membership has increased 43% year-over-year.
[Related: IMEX America 2022 Hosts a Meetings and Events Industry on the Rebound]
MPI Academy Updates
Education continues to be a priority for MPI. Two new initiatives were announced at IMEX America, which follows a number of new programs released in 2022:
User-Generated Content: In an industry first, MPI announced its user-generated content library, dubbed "Community Content." Any member of the MPI community can submit short (up to five-minute) videos on any topic, and MPI will host them for everyone to view. MPI calls it the "Great Democratization" of content. "Think user-generated content, or think TikTok for the meetings and events industry," Gregg quipped when announcing the program. "We're trying to unleash our 13,000 members in our 80,000-person community to really unlock their knowledge base."
African Education Launch: MPI Academy has partnered with the Southern African Association for The Conference Industry (SAACI) to deliver educational content. The partnership debuted in October with the first-ever delivery of the Basics Boot Camp: Meeting and Event Fundamentals certificate program, with more than 50 students at the Cape Peninsula University of Technology.
Learn more about the latest initiatives at MPI and don't miss more news released at IMEX America.
Read this next: MPI Shows Its Resilience at 2022 WEC San Francisco